krainaksiazek leading agile teams 20095867
- znaleziono 12 produktów w 1 sklepie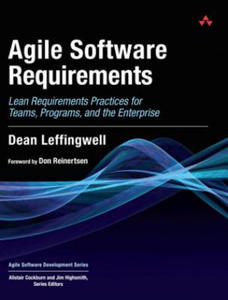 245,63 zł
Książki / Literatura obcojęzyczna
"We need better approaches to understanding and managing software requirements, and Dean provides them in this book. He draws ideas from three very useful intellectual pools: classical management practices, Agile methods, and lean product development. By combining the strengths of these three approaches, he has produced something that works better than any one in isolation." -From the Foreword by Don Reinertsen, President of Reinertsen & Associates; author of Managing the Design Factory; and leading expert on rapid product development Effective requirements discovery and analysis is a critical best practice for serious application development. Until now, however, requirements and Agile methods have rarely coexisted peacefully. For many enterprises considering Agile approaches, the absence of effective and scalable Agile requirements processes has been a showstopper for Agile adoption. In Agile Software Requirements, Dean Leffingwell shows exactly how to create effective requirements in Agile environments. * Part I presents the "big picture" of Agile requirements in the enterprise, and describes an overall process model for Agile requirements at the project team, program, and portfolio levels* Part II describes a simple and lightweight, yet comprehensive model that Agile project teams can use to manage requirements* Part III shows how to develop Agile requirements for complex systems that require the cooperation of multiple teams* Part IV guides enterprises in developing Agile requirements for ever-larger "systems of systems," application suites, and product portfolios This book will help you leverage the benefits of Agile without sacrificing the value of effective requirements discovery and analysis. You'll find proven solutions you can apply right now-whether you're a software developer or tester, executive, project/program manager, architect, or team leader.
Sklep: Libristo.pl 104,52 zł
Książki / Literatura obcojęzyczna
Build Agile Cultures That Unleash Passion, Innovation, and Performance What do you want? Delighted customers. How do you get them? By rapidly delivering innovative, exciting products and services your customers will love to use. How do you do this? By uniting talented people around shared ideas and purpose, trusting them, helping them take ownership, and getting out of their way. It sounds easy-but you know it isn't. To make it happen, you must create an agile culture: one that's open to change and can respond quickly to whatever your customers need and desire. The Agile Culture gives you proven models, pragmatic tools, and handy worksheets for doing just that. Building on their experience helping hundreds of companies, three world-class experts help you align and unleash the talents of everyone in your organization. Step by step, you'll learn how to move toward a culture of trust, in which everyone knows, owns, and improves the results. You'll learn practical ways to refocus on differentiators and value, resurrect energy and innovation, deal more honestly with ambiguity and risk, and overcome resistance, no matter where it comes from. This text will help you go beyond buzzwords to transform the way you deliver software-so you can delight customers, colleagues, and executives. Coverage includes * Creating cultures of trust and ownership, in which individuals, teams, and organizations can do amazing things * Assessing where you stand, so you can move toward higher levels of performance, innovation, and motivation * Leading as an enabler, not a controller * Rebuilding trust where it's been lost-or building it where it never existed * Clarifying quickly the design goals of any project, product, or process * Using iteration to reduce risk and make commitments you can keep * Managing uncooperative people (and processes) * Selecting metrics that focus on business value, foster trust, and don't compromise ownership
Sklep: Libristo.pl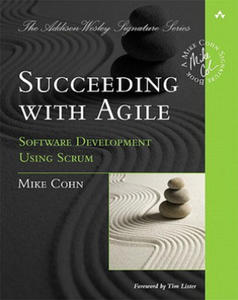 167,16 zł
Książki / Literatura obcojęzyczna
This is the definitive, realistic, actionable guide to starting fast with Scrum and agile--and then succeeding over the long haul. Leading agile consultant and practitioner Mike Cohn presents detailed recommendations, powerful tips, and real-world case studies drawn from his unparalleled experience helping hundreds of software organizations make Scrum and agile work. Succeeding with Agile is for pragmatic software professionals who want real answers to the most difficult challenges they face in implementing Scrum. Cohn covers every facet of the transition: getting started, helping individuals transition to new roles, structuring teams, scaling up, working with a distributed team, and finally, implementing effective metrics and continuous improvement. Throughout, Cohn presents "Things to Try Now" sections based on his most successful advice. Complementary "Objection" sections reproduce typical conversations with those resisting change and offer practical guidance for addressing their concerns.
Sklep: Libristo.pl 158,75 zł
Książki / Literatura obcojęzyczna
The Art of Agile Development contains practical guidance for anyone considering or applying agile development for building valuable software. Plenty of books describe what agile development is or why it helps software projects succeed, but very few combine information for developers, managers, testers, and customers into a single package that they can apply directly. This book provides no-nonsense advice on agile planning, development, delivery, and management taken from the authors' many years of experience with Extreme Programming (XP). You get a gestalt view of the agile development process, including comprehensive guidance for non-technical readers and hands-on technical practices for developers and testers. The Art of Agile Development gives you clear answers to questions such as: * How can we adopt agile development? * Do we really need to pair program? * What metrics should we report? * What if I can't get my customer to participate? * How much documentation should we write? * When do we design and architect? * As a non-developer, how should I work with my agile team? * Where is my product roadmap? * How does QA fit in? The book teaches you how to adopt XP practices, describes each practice in detail, then discusses principles that will allow you to modify XP and create your own agile method. In particular, this book tackles the difficult aspects of agile development: the need for cooperation and trust among team members. Whether you're currently part of an agile team, working with an agile team, or interested in agile development, this book provides the practical tips you need to start practicing agile development. As your experience grows, the book will grow with you, providing exercises and information that will teach you first to understand the rules of agile development, break them, and ultimately abandon rules altogether as you master the art of agile development. "Jim Shore and Shane Warden expertly explain the practices and benefits of Extreme Programming. They offer advice from their real-world experiences in leading teams. They answer questions about the practices and show contraindications - ways that a practice may be mis-applied. They offer alternatives you can try if there are impediments to applying a practice, such as the lack of an on-site customer. --Ken Pugh, Author of Jolt Award Winner, Prefactoring "I will leave a copy of this book with every team I visit." --Brian Marick, Exampler Consulting
Sklep: Libristo.pl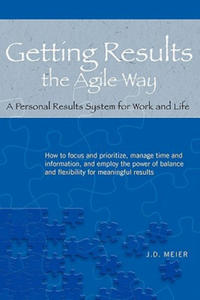 77,48 zł
Książki / Literatura obcojęzyczna
Meier introduces a systematic way to achieve both short- and long-term results in all aspects of life from work to fun. Agile Results is a time-tested system that the author has honed through his years at Microsoft, learning from some of the best minds, leading virtual teams, and mentoring people around the world.
Sklep: Libristo.pl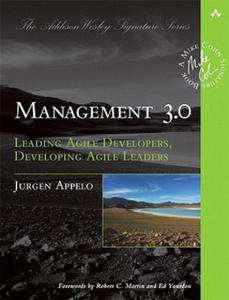 177,71 zł
Książki / Literatura obcojęzyczna
In many organizations, management is the biggest obstacle to successful Agile development. Unfortunately, reliable guidance on Agile management has been scarce indeed. Now, leading Agile manager Jurgen Appelo fills that gap, introducing a realistic approach to leading, managing, and growing your Agile team or organization. Writing for current managers and developers moving into management, Appelo shares insights that are grounded in modern complex systems theory, reflecting the intense complexity of modern software development. Appelo's Management 3.0 model recognizes that today's organizations are living, networked systems; and that management is primarily about people and relationships. Management 3.0 doesn't offer mere checklists or prescriptions to follow slavishly; rather, it deepens your understanding of how organizations and Agile teams work and gives you tools to solve your own problems. Drawing on his extensive experience as an Agile manager, the author identifies the most important practices of Agile management and helps you improve each of them. Coverage includes * Getting beyond "Management 1.0" control and "Management 2.0 " fads * Understanding how complexity affects your organization * Keeping your people active, creative, innovative, and motivated * Giving teams the care and authority they need to grow on their own * Defining boundaries so teams can succeed in alignment with business goals * Sowing the seeds for a culture of software craftsmanship * Crafting an organizational network that promotes success * Implementing continuous improvement that actually works Thoroughly pragmatic-and never trendy-Jurgen Appelo's Management 3.0 helps you bring greater agility to any software organization, team, or project.
Sklep: Libristo.pl 130,56 zł
Książki / Literatura obcojęzyczna
Agile is becoming ubiquitous, but many agile environments still aren't running smoothly. Successful agile implementation remains difficult, and organizations keep getting stuck on the same issues. That's where Real World Agility comes in. Leading agile expert and Scrum trainer Daniel Gullo has identified and addressed nearly 60 widespread challenges faced by individuals and teams trying to drive value from agile. Each solution is presented with maximum clarity and brevity, while covering everything you need to act effectively. Throughout, you'll find vignettes that show exactly how agile problems manifest in the real world -- and how Gullo's actionable solutions help you overcome them. Gullo addresses agile methods ranging from Scrum to Kanban, guides you on scaling agile to larger projects, and offers indispensable insight on applying agile beyond software development. As you learn from others' successes and failures, Real World Agility offers you a practical path for success -- and a supremely useful resource you'll rely on constantly.
Sklep: Libristo.pl 229,97 zł
Książki / Literatura obcojęzyczna
Shipping imperfect software is like going into debt. When you incur debt, the illusion of doing things faster can lead to exponential growth in the cost of maintaining software. Software debt takes five major forms: technical, quality, configuration management, design, and platform experience. In today's rush to market, software debt is inevitable. And that's okay-if you're careful about the debt you incur, and if you quickly pay it back. In Managing Software Debt, leading Agile expert Chris Sterling shows how understanding software debt can help you move products to market faster, with a realistic plan for refactoring them based on experience. Writing for all Agile software professionals, Sterling explains why you're going into software debt whether you know it or not-and why the interest on that debt can bring projects to a standstill. Next, he thoroughly explains each form of software debt, showing how to plan for it intelligently and repay it successfully. You'll learn why accepting software debt is not the same as deliberate sloppiness, and you'll learn how to use the software debt concept to systematically improve architectural agility. Coverage includes * Managing tensions between speed and perfection and recognizing that you'll inevitably ship some "not quite right" code* Planning to minimize interest payments by paying debts quickly* Building architectures that respond to change and help enterprises run more smoothly* Incorporating emergent architecture concepts into daily activities, using Agile collaboration and refactoring techniques* Delivering code and other software internals that reduce the friction of future change* Using early, automated testing to move past the "break/fix" mentality* Scripting and streamlining both deployment and rollback* Implementing team configuration patterns and knowledge sharing approaches that make software debt easier to repay* Clearing away technical impediments in existing architectures* Using the YAGNI ("you ain't gonna need it") approach to strip away unnecessary complexity Using this book's techniques, senior software leadership can deliver more business value; managers can organize and support development teams more effectively; and teams and team members can improve their performance throughout the development lifecycle.
Sklep: Libristo.pl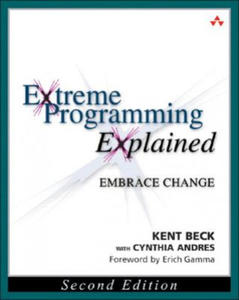 262,61 zł
Książki / Literatura obcojęzyczna
"In this second edition of Extreme Programming Explained, Kent Beck organizes and presents five years' worth of experiences, growth, and change revolving around XP. If you are seriously interested in understanding how you and your team can start down the path of improvement with XP, you must read this book." -Francesco Cirillo, Chief Executive Officer, XPLabs S.R.L. "The first edition of this book told us what XP was-it changed the way many of us think about software development. This second edition takes it farther and gives us a lot more of the 'why' of XP, the motivations and the principles behind the practices. This is great stuff. Armed with the 'what' and the 'why,' we can now all set out to confidently work on the 'how': how to run our projects better, and how to get agile techniques adopted in our organizations." -Dave Thomas, The Pragmatic Programmers LLC "This book is dynamite! It was revolutionary when it first appeared a few years ago, and this new edition is equally profound. For those who insist on cookbook checklists, there's an excellent chapter on 'primary practices,' but I urge you to begin by truly contemplating the meaning of the opening sentence in the first chapter of Kent Beck's book: 'XP is about social change.' You should do whatever it takes to ensure that every IT professional and every IT manager-all the way up to the CIO-has a copy of Extreme Programming Explained on his or her desk." -Ed Yourdon, author and consultant "XP is a powerful set of concepts for simplifying the process of software design, development, and testing. It is about minimalism and incrementalism, which are especially useful principles when tackling complex problems that require a balance of creativity and discipline." -Michael A. Cusumano, Professor, MIT Sloan School of Management, and author of The Business of Software"Extreme Programming Explained is the work of a talented and passionate craftsman. Kent Beck has brought together a compelling collection of ideas about programming and management that deserves your full attention. My only beef is that our profession has gotten to a point where such common-sense ideas are labeled 'extreme.'..." -Lou Mazzucchelli, Fellow, Cutter Business Technology Council"If your organization is ready for a change in the way it develops software, there's the slow incremental approach, fixing things one by one, or the fast track, jumping feet first into Extreme Programming. Do not be frightened by the name, it is not that extreme at all. It is mostly good old recipes and common sense, nicely integrated together, getting rid of all the fat that has accumulated over the years." -Philippe Kruchten, UBC, Vancouver, British Columbia"Sometimes revolutionaries get left behind as the movement they started takes on a life of its own. In this book, Kent Beck shows that he remains ahead of the curve, leading XP to its next level. Incorporating five years of feedback, this book takes a fresh look at what it takes to develop better software in less time and for less money. There are no silver bullets here, just a set of practical principles that, when used wisely, can lead to dramatic improvements in software development productivity." -Mary Poppendieck, author of Lean Software Development: An Agile Toolkit "Kent Beck has revised his classic book based on five more years of applying and teaching XP. He shows how the path to XP is both easy and hard: It can be started with fewer practices, and yet it challenges teams to go farther than ever." -William Wake, independent consultant "With new insights, wisdom from experience, and clearer explanations of the art of Extreme Programming, this edition of Beck's classic will help many realize the dream of outstanding software development." -Joshua Kerievsky, author of Refactoring to Patterns and Founder, Industrial Logic, Inc."XP has changed the way our industry thinks about software development. Its brilliant simplicity, focused execution, and insistence on fact-based planning over speculation have set a new standard for software delivery." -David Trowbridge, Architect, Microsoft Corporation Accountability. Transparency. Responsibility. These are not words that are often applied to software development. In this completely revised introduction to Extreme Programming (XP), Kent Beck describes how to improve your software development by integrating these highly desirable concepts into your daily development process. The first edition of Extreme Programming Explained is a classic. It won awards for its then-radical ideas for improving small-team development, such as having developers write automated tests for their own code and having the whole team plan weekly. Much has changed in five years. This completely rewritten second edition expands the scope of XP to teams of any size by suggesting a program of continuous improvement based on: * Five core values consistent with excellence in software development * Eleven principles for putting those values into action * Thirteen primary and eleven corollary practices to help you push development past its current business and technical limitations Whether you have a small team that is already closely aligned with your customers or a large team in a gigantic or multinational organization, you will find in these pages a wealth of ideas to challenge, inspire, and encourage you and your team members to substantially improve your software development. You will discover how to: * Involve the whole team-XP style * Increase technical collaboration through pair programming and continuous integration * Reduce defects through developer testing * Align business and technical decisions through weekly and quarterly planning * Improve teamwork by setting up an informative, shared workspace You will also find many other concrete ideas for improvement, all based on a philosophy that emphasizes simultaneously increasing the humanity and effectiveness of software development. Every team can improve. Every team can begin improving today. Improvement is possible-beyond what we can currently imagine. Extreme Programming Explained, Second Edition, offers ideas to fuel your improvement for years to come.
Sklep: Libristo.pl 188,10 zł
Książki / Literatura obcojęzyczna
Succeed with Scrum in Even the Largest, Most Complex Distributed Development Projects Forewords by Ken Schwaber, Scott Ambler, Roman Pichler, and Matthew Wang This is the first comprehensive, practical guide for Scrum practitioners working in large-scale distributed environments. Written by three of IBM's leading Scrum practitioners--in close collaboration with the IBM QSE Scrum Community of more than 1000 members worldwide--this book offers specific, actionable guidance for everyone who wants to succeed with Scrum in the enterprise. Readers will follow a journey through the lifecycle of a distributed Scrum project, from envisioning products and setting up teams to preparing for Sprint planning and running retrospectives. Each chapter presents a baseline drawn from "conventional" Scrum, then discusses additional issues faced by distributed teams, and presents specific best-practice solutions, alternatives, and tips the authors have identified through hard, empirical experience. Using real-world examples, the book demonstrates how to apply key Scrum practices, such as look-ahead planning in geographically distributed environments. Readers will also gain valuable new insights into the agile management of complex problem and technical domains. Coverage includes * Developing user stories and working with Product Owners as a distributed team * Recognizing and fixing the flaws Scrum may reveal in existing processes * Engaging in more efficient Release and Sprint planning * Conducting intense, brief daily Scrum meetings in distributed environments * Managing cultural and language differences * Resolving dependencies, performing frequent integration, and maintaining transparency in geographically distributed environments * Successfully running remote software reviews and demos * Brainstorming what worked and what didn't, to improve future Sprints This book will be an indispensable resource for every team leader, member, product owner, or manager working with Scrum or other agile methods in any distributed software development organization.
Sklep: Libristo.pl 288,33 zł
Książki / Literatura obcojęzyczna
"Most progressive organizations strive to increase their overall performance by inserting either advanced technologies or tight processes. What tends to be missed is the enlightened leader who can motivate and build an environment that leverages the technology and processes that have been introduced. Some processes and technologies allow excellent teams to excel, and some processes and technologies prevent the mediocre from failing. It is the enlightened leader who can tell which approach is required and then build an environment that maximizes a team's performance. This book incorporates that ability into the discussion and effectively includes it in the quantitative process of assessing the organization's productivity potential." -Gregory H. Mikkelsen, Integrated Defense Systems, Raytheon Superior software productivity requires a relentless focus on people, motivation, and communication. In Improving Software Development Productivity, world-renowned software engineering expert Dr. Randall W. Jensen introduces a proven, quantitative approach to achieving this focus. Jensen helps you measure your organization's capacity and productivity, and then use that information to build more accurate estimates and schedules and to improve multiple facets of developer and team performance. Focusing on management as the principal cost and schedule driver in software projects, he demonstrates a powerful tool based on his Jensen II (Seer) model: the model that underlies many leading software estimation tools. Through real case studies, you'll learn how to predict the productivity impact of any major management decision, and quantitatively support a transition to "extreme" or "agile" software development environments. For decades, Jensen has been the industry's go-to expert on improving software project productivity. This book distills his insights and also gives you the tools and knowledge to apply them. This book will help you * Formulate more accurate and useful estimates with leading tools such as Sage, REVIC, COCOMO II, and SEER-SEM * Predict the impact of changes in personnel, management style, development environments, product constraints, and technologies * Optimize decision making throughout a project's lifecycle, and avoid counterproductive changes * Recognize the centrality of communication and culture, and translate this awareness into quantitative improvements * Understand modern estimating models and parameters, so you can apply them more effectively * Maintain firmer control over costs and timeframes in agile or extreme project environments
Sklep: Libristo.pl 209,03 zł
Książki / Literatura obcojęzyczna
A Breakthrough Framework for Adaptive Project Management from Project Management Guru Robert K. Wysocki For an increasing number of critical projects, traditional project management models simply are not appropriate. In many cases, complete requirements and objectives cannot be specified up front, and significant changes cannot be avoided. What's needed is an entirely new framework for project management: one that combines agile methods with the profession's most enduring best practices. In this book, Robert K. Wysocki provides that framework-the Adaptive Project Framework (APF)-and shows how to apply it in any domain. Wysocki, one of the world's leading project management consultants, has spent decades helping large organizations succeed with complex projects. Drawing on everything he's learned, he explains why a fundamentally new framework is needed and introduces all five phases of that framework. He covers artifacts, processes, and deliverables, and shows how to utilize each phase most effectively in your environment. Through four detailed case studies, you'll discover how APF can help you adapt to unexpected events, encouraging creative responses based on open partnerships between clients and project teams. Coverage includes * Bringing greater flexibility and speed to any project, regardless of its goals or context* Moving forward successfully with projects that have vague requirements* Discovering what clients really want, not just what they say they want* Managing ongoing scope changes throughout a project* Customizing APF to your own environment* Integrating APF with existing agile software development methods* Using APF to overcome the obstacles to success* Preparing for the future of project management This book is written for every project participant-project and program managers, software and product developers, process designers, and business analysts-who needs to deliver results in a world that won't stand still.
Sklep: Libristo.pl
Sklepy zlokalizowane w miastach: Warszawa, Kraków, Łódź, Wrocław, Poznań, Gdańsk, Szczecin, Bydgoszcz, Lublin, Katowice
Szukaj w sklepach lub całym serwisie
2. Szukaj na wszystkich stronach serwisu
t1=0.04, t2=0, t3=0, t4=0, t=0.04