krainaksiazek learning more about autism dealing with autism in the family 20092953
- znaleziono 4 produkty w 1 sklepie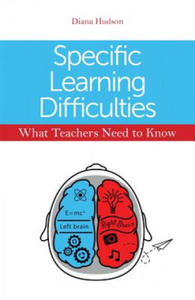 67,92 zł
Książki / Literatura obcojęzyczna
This book clearly explains what Specific Learning Difficulties (SpLD) are, and describes the symptoms of conditions most commonly encountered in the mainstream classroom: dyslexia, dyspraxia, dyscalculia, dysgraphia, Autism Spectrum Disorder, ADHD, and OCD. The author provides an overview of the strengths and weaknesses commonly associated with each of these conditions, as well as practical suggestions for modifying teaching materials and methods to make learning enjoyable, effective and accessible for students. Throughout the book, she emphasises the importance of the home-school relationship, and gives essential practical tips for communicating the student's needs to others within the school and dealing with the tricky issue of disclosure. This straight-talking and accessible guide is ideal for teachers, teaching assistants, and those in school management who want to know more about supporting students with Specific Learning Difficulties.
Sklep: Libristo.pl 64,46 zł
Książki / Literatura obcojęzyczna
Sheila Barton's memoir of autism is inspiring. Finding herself, at thirty years old, with a son with autism and severe learning disabilities, she set about learning how to live a different kind of life and be a different kind of mother. This is the story, told with passion, intelligence and humour, of their journey from darkness into light. It is written out of anguish and anger, but also out of hope and love. The book opens and closes with a real-life snapshot: the first from when Jonathan was nine, the second from when he was twenty-three. The first is told from the edge of despair. The second is upbeat - the day is one of happiness for Jonny and for his mother. Autism has been integrated into their world - they have survived it. The chapters in between tell the amazing story of their life together and how they dealt with diagnosis, birth, school, brothers and sisters, travel, therapies, obsessions, grief and sex. Sheila writes movingly of the heartbreak and the joy, the terror and the liberation. Her son is now in his late twenties and she and Jonny began their journey into this strange and difficult world when understanding of autism was very poor. Today, autism is diagnosed more often and attracts more media attention than ever before. This is the story of the triumph of hope and love over pain and sadness. It is a compelling manifesto for greater understanding of those who are born 'different'. Its ending is one of empowerment and joy. 'This is a book we all should read. A remarkable human story, a remarkable piece of writing.' - Jon Snow, journalist and broadcaster 'I loved this book. Vivid and lively writing draws a picture of the ups and downs of family life with a child with autism. The overwhelming love she feels for her children and her spirited responses to setbacks are a joy.' - Clare Coombe-Tennant, trustee of TreeHouse
Sklep: Libristo.pl 76,00 zł
Książki / Literatura obcojęzyczna
As many as one in five children may at some time need extra help with their education, but does this mean they have special educational needs? Using expert advice and the latest information, this book brings together the facts on special educational needs; explaining the different types of additional needs, and giving advice for parents and teachers on how to cope with children in daily life. Speech: speech and language therapy Global Development Delay: what is developmental delay, getting your child assessed, gross motor skills, fine motor skills, communication and language delay Autism Spectrum Disorder, autism, Asperger's syndrome Hearing and sight: signs of hearing problems,signs of sight problems, optometrist, orthoptist, ophthalmologist, eye health, squint and lazy eye, low vision, partial sight Physical disabilities: access at school Hereditary and genetic conditions: Dunchenne Muscular Dystrophy, Down's syndrome, Fragile X, advice, counselling, Specific Learning Difficulties (SpLDs): dyspraxia, dyslexia, dyscalculia, assessmemt Family life and behaviour difficulties at home Sleep deprivation, early morning waking Education, early years action, early years action plus, portage service, special educational needs code of practice, statutory assessment, statement of special educational needs, individual education plans, special schools Housing and finance, benefits, funds. Find out which professionals can help, how to get through the 'system' and gain support, how to handle behavioural difficulties at home and school, and how to get the best education for your child's needs. Whether you are worried about your child's development or work with children and want to know more about the subject, this book will guide you through helping a child with special educational needs. Authors: Antonia Chitty and Victoria Dawson
Sklep: Libristo.pl 123,64 zł
Książki / Literatura obcojęzyczna
This is a positive description of how it feels to be autistic and how friends, family and the professionals that work with autistic prople can be more sensitive to their needs. The author, herself autistic, perceives the creativity, imagination and keenly-felt sensory world of the autistic person, as gifts. She argues that "normalizing" autistic people - pushing them into behaving in a way that is alien to their true natures - is not just ineffective, but wrong. She challenges the reader to accept their differences and celebrate their uniqueness. This work is intended for anyone who is interested in learning more about autism, including familes and friends of autistic people, and doctors, therapists and other professionals who work with them. It should also prove a source of inspiration to autistic people themselves.
Sklep: Libristo.pl
Sklepy zlokalizowane w miastach: Warszawa, Kraków, Łódź, Wrocław, Poznań, Gdańsk, Szczecin, Bydgoszcz, Lublin, Katowice
Szukaj w sklepach lub całym serwisie
2. Szukaj na wszystkich stronach serwisu
t1=0.041, t2=0, t3=0, t4=0, t=0.041