krainaksiazek learning policy making and market reforms 20112138
- znaleziono 13 produktów w 5 sklepach 219,99 zł
Książki Obcojęzyczne>Angielskie>Society & social sciences>Education>Organization & management of education>Curriculum planning & develo...
0x022e703900000000
Sklep: Gigant.pl 439,99 zł
Książki Obcojęzyczne>Angielskie>Society & social sciences>Education>Organization & management of education>Curriculum planning & develo...
0x022e704700000000
Sklep: Gigant.pl 112,64 zł
Książki / Literatura obcojęzyczna
Over the past three decades, market reforms have transformed public services such as education, health, and care of the elderly. Whereas previous studies present markets as having similar and largely non-political effects, this book shows that political parties structure markets in diverse ways to achieve distinct political aims. Left-wing attempts to sustain the legitimacy of the welfare state are compared with right-wing wishes to limit the state and empower the private sector. Examining a broad range of countries, time periods, and policy areas, Jane R. Gingrich helps readers make sense of the complexity of market reforms in the industrialized world. The use of innovative multi-case studies and in-depth interviews with senior European policymakers enriches the debate and brings clarity to this multifaceted topic. Scholars and students working on the policymaking process in this central area will be interested in this new conceptualization of market reform.
Sklep: Libristo.pl 224,90 zł
Biznes
'This book gives important new insight in current European policy making by transcending the borderlines between social science and practical policy making. Starting with the Lisbon process of 2000 it sketches the most recent European attempts to integrate social considerations with competitiveness. Maria Rodrigues has given us a strongly needed guide (including website addresses) to the many recent policy documents covering labour market, education, social policy, innovation and industrial policy coming from Brussels and from Ministerial meetings.'- Bengt-
Sklep: Albertus.pl 32,00 zł
MARKETING
The eighth volume of Economic and Environmental Studies titled ?Current Issues of Sustainable Development ? priorities and trands? includes papers from scholars from a many European countries ? Russia, Englnad, Lithuania, Poland, Germany, The Netherlands, France, Greece and Italy. Articles deal with theoretical issues of sustainable development, regional case studies of policy making for sustainable development, stakeholder involvement and education, sustainable development of rural areas and issues of business involvement in sustainable development. This volume may be of interest of scientists and students interested in the field of sustainable development. Furthermore, the articles may be a source of information for many policy makers. Ósmy numer czasopisma z serii ?Economic and Environmental Studies? zatytułowany ?Aktualne kwestie zrównoważonego rozwoju ? priorytety i trendy? zawiera artykuły naukowców z wielu krajów Europy ? Rosji, Anglii, Litwy, Polski, Niemiec, Holandii, Francji, Grecji oraz Włoch. Praca ta traktuje o teoretycznych kwestiach zrównoważonego rozwoju, studiach przypadku dotyczących kształtowania polityki zrównoważonego rozwoju, zaangażowaniu ?interesariuszy? w edukację, zrównoważonym rozwoju terenów wiejskich oraz zaangażowaniu biznesu w zrównoważony rozwój. Najnowszy numer adresowany jest do naukowców oraz studentów zainteresowanych kwestią zrównoważonego rozwoju. Publikację te mogą być również źródłem informacji dla osób zajmujących się polityką. Spis treści: Introduction Theoretical Issues of Sustainable Development Joost PLATJE, Who is Interested in What Kind of Sustainable Development? Time-Horizons and Stakeholder Interests Ludwik TOMIAŁOJĆ, Sustainable Development and Nature Conservation - The Necessity for Compromise Instead of Confrontation Bogusław FIEDOR and Romuald JOŃCZY, General Problems in the Interpretation and Implementation of the Concept of Sustainable Development Herman W. HOEN, "Transitology". The Revival of Geografic-Economic Research on the Transition in Cental and Eastern Europe Małgorzata BURGHARD-DZIUBIŃSKA, Sustainable Development as a Political Category Policy Making for Sustainable Development - regional case studies Janne JUURIKAS and Walter LEAL FILHO, Promoting Sustainable Development by Means of River Basin Management in the Baltic: the Watersketch Project Judith MARQUAND and Sergey KOSTAREV, Sustainable Development in Omsk - Lessons for Central Europe Verena Leila HOLZER, Sustainability and the Electricity Sector - Objectives, Instruments and Effectiveness of German Energy Policy Monika PARADOWSKA, Sustainable Transport and External Costs of Transport Fabrizio OLEARI, National Health Service Reform and Regional Devolution in Italy: are They Consistent with the Public Finance Strategy? A Critical Analysis of the Present Situation in the Friuli Venezia Giulia Region Holger KREFT, Municipal Sustainability Management: Minimising the Impact of Structural Development on Land Resources Stefan BUZAR and Maja GRABKOWSKA, The Social Reproduction of Flexibility in the Housing Environment: Stories from Inner-City Gdansk Inna AKSENOVA and Olga SERGIENKO, A Study of Consumers Attitudes Towards Environmentally Safe Food: a Case Study from St. Petersburg Policy Making for Sustainable Development - stakeholder involvement and education Remigijus CIEGIS, Dalia GINEITIENE, Stasys GIRDZIJAUSKAS and Elena TALOCKAITE, Capacity Building for Stakeholder Involvement in Sustainable Development Anna HAŁADYJ, Considering Legal Issues of Stakeholder Involvement in the Decision-Making Process - Lessons Learned and Challenges Ahead Karol KOCISZEWSKI, Environmental Protection in Agriculture Within the EU Strategy for Sustainable Development - Implications for Poland Andrzej GRACZYK and Zbigniew JAKUBCZYK, Investments in Environmental Projects as an Element of a Policy for Sustainable Development in the Region of Opole in 1993-2004 - from a Structural Point of View Evangelos I. MANOLAS, A Critical Introduction to Deep Ecology in Higher Education: an Application of Kolb's Model of Experiential Learning Sustainable Development of rural areas Jarosław CHORMAŃSKI and Kinga ZAKRZEWSKA, Application of GIS Techniques and Flood Modeling as a Tool for Supporting Sustainable Agriculture Maria ALEXEEVA and Olga SERGIENKO, Development of Organic Farming - the Russian Experience Wiktor SZYDŁO, Rural Development in Poland - Preliminary Results of European Budget Support and Determinants of Progress Barbara DESPINEY-ZOCHOWSKA, The Restructuring Process of Polish Agriculture in the Light of CAP Reforms Henryk MANTEUFFEL SZOEGE, Sustainable Development in Rural Poland from the Perspective of Environmental Economics Laura PŁATKOWSKA-PROKOPCZYK, Constraints on the Sustainable Development of Rural Areas in the Light of Integration with the European Union Urszula WĄSIKIEWICZ-RUSNAK, The Philosophy of Sustainable Development in the Strategy of a Local Business Company Agnieszka SKOWROŃSKA, Logistics as a Tool for Sustainable Development Anna BARWIŃSKA-MAŁAJOWICZ, Achievements and Future Perspectives of European Employment and Social Policy in the Context of the European Union's Sustainable Growth and Employment Strategy
Sklep: ksiegarnia.edu.pl 107,01 zł
Książki / Literatura obcojęzyczna
This volume documents and explains the remarkable resilience of emerging market nations in East Asia and Latin America when faced with the global financial crisis in 2008 - 2009. Their quick bounceback from the crisis marked a radical departure from the past, such as when the 1982 debt shocks produced a decade-long recession in Latin America or when the Asian financial crisis dramatically slowed those economies in the late 1990s. Why? This volume suggests that these countries' resistance to the initial financial contagion is a tribute to financial-sector reforms undertaken over the past two decades. The rebound itself was a trade-led phenomenon, favoring the countries that had gone the farthest with macroeconomic restructuring and trade reform. Old labels used to describe "neoliberal versus developmentalist" strategies do not accurately capture the foundations of this recovery. These authors argue that policy learning and institutional reforms adopted in response to previous crises prompted policymakers to combine state and market approaches in effectively coping with the global financial crisis. The nations studied include Korea, China, India, Mexico, Argentina, and Brazil, accompanied by Latin American and Asian regional analyses that bring other emerging markets such as Chile and Peru into the picture. The substantial differences among the nations make their shared success even more remarkable and worthy of investigation. And although 2012 saw slowed growth in some emerging market nations, the authors argue this selective slowing suggests the need for deeper structural reforms in some countries, China and India in particular.
Sklep: Libristo.pl 112,64 zł
Książki / Literatura obcojęzyczna
The second revised edition of this acclaimed book brings the story of the EU's constitutional journey up to date. The EU's constitution, composed of a myriad of legal texts, case law and practice, is a moving target subject to continuous change, and the past two years have seen no slacking in the pace of that change. With a wider geographical ambit than ever, the EU faces unprecedented political, economic and cultural challenges, all of which impact upon the evolution of its constitution. Moreover, the crisis in the Eurozone has given rise to the need for a whole new chapter focussing on the institutional reforms embarked upon in the quest to restore financial order. The book succeeds, where others have struggled, in making sense of the EU's complex constitutional order, focussing on its essential features but taking into account the profound changes that have taken place over the past 20 years. The EU has become much more than an internal economic market and has recently become active in areas such as immigration and third-country nationals, security and defence policy, and penal law and procedure, while the crisis in the Eurozone has triggered an increasing focus on economic and fiscal policy. Eschewing too much detail the authors underline the essential values, principles and objectives of the integration regime as well as its basic normative structure and hierarchy. In this context, the decentralised nature of the EU is highlighted as an integral part of its constitutional make-up. Recurring themes include European citizenship, fundamental rights and the rule of law. The book also confronts head-on the problems and challenges facing the Union and the gap which is often perceived between lofty ideals and harsh realities. The book will be useful to students of EU law and European integration but will also appeal to a broader audience of researchers and practitioners, including political scientists.
Sklep: Libristo.pl 109,71 zł
Książki / Literatura obcojęzyczna
Throughout the past three decades East Asia has seen more peace and stability than at any time since the Opium Wars of 1839-1841. During this period China has rapidly emerged as a major regional power, averaging over nine percent economic growth per year since the introduction of its market reforms in 1978. Foreign businesses have flocked to invest in China, and Chinese exports have begun to flood the world. China is modernizing its military, has joined numerous regional and international institutions, and plays an increasingly visible role in international politics. In response to this growth, other states in East Asia have moved to strengthen their military, economic, and diplomatic relations with China. But why have these countries accommodated rather than balanced China's rise? David C. Kang believes certain preferences and beliefs are responsible for maintaining stability in East Asia. Kang's research shows how East Asian states have grown closer to China, with little evidence that the region is rupturing. Rising powers present opportunities as well as threats, and the economic benefits and military threat China poses for its regional neighbors are both potentially huge; however, East Asian states see substantially more advantage than danger in China's rise, making the region more stable, not less. Furthermore, although East Asian states do not unequivocally welcome China in all areas, they are willing to defer judgment regarding what China wants and what its role in East Asia will become. They believe that a strong China stabilizes East Asia, while a weak China tempts other states to try to control the region. Many scholars downplay the role of ideas and suggest that a rising China will be a destabilizing force in the region, but Kang's provocative argument reveals the flaws in contemporary views of China and the international relations of East Asia and offers a new understanding of the importance of sound U.S. policy in the region.
Sklep: Libristo.pl 83,77 zł
Książki / Literatura obcojęzyczna
Russia has embarked on a slow but steady path of foreign policy alignment with the West. President Vladimir Putin! ~ s market-oriented economic policies and structural reforms have added momentum. But in the long run, the decisive factor in Russia! ~ s relationship with the West will be the nature of the political order it builds on the ruins of communism. There is a broad consensus among Western observers that Russia! ~ s effort to build Western-style democratic institutions in the eleven years since the Soviet collapse has stalled somewhere between democracy as understood in the West and the highly authoritarian order Russia inherited from the USSR. Some would say that Russia is doomed by its history and political culture to a lengthy period of semi-authoritarianism. In Russia! ~ s Road to Deeper Democracy, Tom Bjorkman presents evidence that this assessment is too pessimistic and underestimates the forces for political change that lie beneath the surface of what seems to be an era of political somnolence. Bjorkman argues that it is not the weight of history or the antidemocratic attitudes of the Russian population that restrain Russia from making progress toward stronger democratic institutions but specific leadership policies and elements of Russia! ~ s political elite who have a self-interest in maintaining the status quo. Putin and other senior leaders! ~ support for proposals for democratic change now under discussion in Russia can create the kind of competitive political marketplace that the country needs to avoid political stagnation and begin to build the strong and prosperous state that all Russians want. America exerts a large influence on Russia! ~ s debate about its political future: by demonstrating that Russia! ~ s progress toward a stronger democratic order matters to the United States and by treating Russia as a part of the West, the United States can buttress internal forces pushing for a deeper Russian democracy.
Sklep: Libristo.pl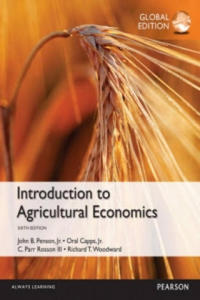 286,57 zł
Książki / Literatura obcojęzyczna
For courses in Introduction to Agricultural or Applied Economics Introduction to Agricultural Economics, Sixth Edition, provides students with a systematic introduction to the basic economic concepts and issues impacting the U.S. food and fiber industry and offers strong coverage of macroeconomic theory and international trade. The Teaching and Learning Package includes an Instructor's Manual and PowerPoint slides. Teaching and Learning Experience: Strong coverage of macroeconomics, the role of government, and international agricultural trade: The coverage of macroeconomics and agricultural programs and policies allows students to further understand the domestic market economy. Building block approach: Discusses individual consumer and producer decision-making, market equilibrium and economic welfare conditions, government intervention in agriculture, macroeconomic policy, and international trade. Extensive chapter review: Each chapter contains an extensive list of questions designed to test student comprehension of the material covered.
Sklep: Libristo.pl 153,50 zł
Biznes
Charles HillĹźs Global Business Today, 4e (GBT) has become an established text in the International Business market for its excellent but concise coverage of the key global issues including the cultural context for global business, cross-border trade and investment, the global monetary system and competition in the global environment. GBTĹźs concise chapters give a general introduction to international business - emphasizing the environmental factors, with less coverage of operations. Charles Hill is renowned for his attention to research trends and that is evident in Global Business Today, 4e through a variety of real world examples and cases from small, medium, and large companies throughout the worldChapter 4 - Ethics in International Business added to address todayĹźs current issues facing businesses with regard to social responsibility, ethical decision-making, and the sources of unethical behavior.|Completely Updated- Many new opening and closing cases, examples, and up to date tables, graphs, and exhibits based on 2004 data. |"Another Cultural Perspective" boxes build on the popular existing "Another Perspective" boxes and discuss cultural differences as they relate to business interactions.|"Sustainability in Practice" at the end of each part highlight companies who succeed while making positive contributions to their communities and the environment. These have replaced the "Can You Do This?" segments, which have been moved to the web.|GlobalEdge/CIBER internet exercises allow students to solve realistic international business problems related to each chapter. By using the text and the GlobalEdge website http://globaledge.msu.edu, the exercises expose students to the types of tools and data sources international managers use to make informed decisions.|Chapter 12 - Importing, Exporting and Counter Trade: gives students more practical understanding of this important topic.|Expanded "Another Perspective" and "Another Cultural Perspective" boxes to total 4-5 per chapter: These boxes are designed to give students an idea of how the surrounding material applies to and affects them or simply more information on a nearby topic. They are sometimes narrative, but can also contain a few probing questions or even a trip to the Internet.|New research has been added. A few of the topics include: The new trade theory and strategic trade policy, The work of Nobel Prize winning economist Amartya Sen on economic development, Samuel HuntingtonĹźs influential thesis on the "clash of civilizations," the new growth theory of economic development championed by Paul Romer and Gene Grossman, recent empirical work by Jeffery SachĹźs and others on the relationship between international trade and economic growth, Michael Porter's theory of the competitive advantage of nations, and Robert Reich's work on national competitive advantage. |Focus on Managerial Implications: the text continues to discuss the implications of various topics for the actual practice of international business, which serves the needs of the student who may be a practicing manager some day.|Expanded Global Business Plan CD-ROM: Includes Interactive Learning Modules, Flash video cases, and the Global Business Plan Project.|Commitment to presenting strong, underlying international business theories in an interesting and accessible way to students. |Country Focus and Management Focus boxes give students a better understanding of the additional considerations that are necessary in the international business sector.
Sklep: Albertus.pl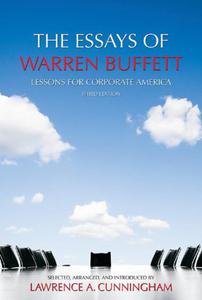 158,00 zł
Literatura anglojęzyczna
Podana cena książki jest orientacyjna, zależy od kilku czynników. Po zakupie obsługa sklepu skontaktuje się, jeśli konieczna będzie dopłata. Buffett, the Bard of Omaha, is a genuine American folk hero, if folk heroes are allowed to build fortunes worth upward of $15 billion. He's great at homespun metaphor, but behind those catchy phrases is a reservoir of financial acumen that's generally considered the best of his generation. For example, in an essay on CEO stock options, he writes, "Negotiating with one's self seldom produces a barroom brawl." This is his way of saying that an executive who can give himself compensation totally disproportionate to his performance surely will. There are uncountable gems of financial wisdom to be harvested from these essays, taken from the annual reports he writes for Berkshire Hathaway, his holding company. Just to pick one more, here's a now-famous line about those he competes with when making stock-market investments: "What could be more advantageous in an intellectual contest--whether it be chess, bridge, or stock selection--than to have opponents who have been taught that thinking is a waste of energy?" While Buffett has a policy of seldom commenting on stocks he owns--he feels public pronouncements will only lead to the public's expectation of more public pronouncements, and he likes to keep his cards close to his vest--he loves to discuss the principles behind his investments. These come primarily from Ben Graham, under whom Buffett studied at Columbia University and for whom he worked in the 1950s. First among them is the idea that price is what you pay and value is what you get--and if you're a smart investor, the first will always be less than the second. In that sense, the value of the lessons learned from Buffett's Essays could be far greater than the book's price. --Lou Schuler -- This text refers to an out of print or unavailable edition of this title. "Cunningham has done a super job. This is the book on Buffett." Book Description The definitive work concerning Warren Buffett and intelligent investment philosophy, this is a collection of Buffett's letters to the shareholders of Berkshire Hathaway written over the past few decades that together furnish an enormously valuable informal education. The letters distill in plain words all the basic principles of sound business practices. They are arranged and introduced by a leading apostle of the "value" school and noted author, Lawrence Cunningham. Here in one place are the priceless pearls of business and investment wisdom, woven into a delightful narrative on the major topics concerning both managers and investors. These timeless lessons are ever-more important in the current environment. From the Publisher The book has garnered widespread critical acclaim from broad cross sections of readers; has been translated into numerous languages; and has been designated as a top investment/business book by numerous reviewers ranging from CNN to JP Morgan to the Motley Fool (number 2 investment book of all time!). This new and revised edition includes up-to-date passages and a few other improvements over the widely-acclaimed first edition. From the Author "I originally prepared this collection as the centerpiece of a symposium featuring Warren Buffett's letters. Warren, Charlie Munger, Bob Denham, and hundreds of others participated in dissecting all the ideas. This arrangement, organized by subject matter, contains a more valuable set of lessons than can be found at just about any school, library, business, or other place of learning. Anyone even remotely interested in business or finance or corporate life should read and study this collection and have a copy available for handy reference." About the Author Cunningham is a prolific author, whose books include acclaimed titles such as "How to Think Like Benjamin Graham and Invest Like Warren Buffett" and "Outsmarting the Smart Money" as well as the popular textbook Introductory Accounting and Finance for Lawyers (which is not for lawyers only). Cunningham is a renowned lecturer, holding a tenured professorship (in law and business) at Boston College, with additional teaching at schools including Columbia University, George Washington University, Yeshiva University and Oxford University. He is working on a book about corporate governance and the war on terrorism, with lessons for investors, managers, and all citizens alike. Buffett is the Chairman and Chief Executive Officer of Berkshire Hathaway Inc., a former student of Benjamin Graham and one of the most admired and successful investors and managers in Corporate America.
Sklep: Maklerska.pl 1028,49 zł
Książki / Literatura obcojęzyczna
Now in its 15th edition, this proven, market-leading book remains a favorite among readers of all backgrounds for its clear, concise treatment of international trade and finance theory. Using a wealth of contemporary examples and practical applications, International Economics vividly demonstrates the relevance of theory to real-world economic issues and policy questions. Discussions are presented both verbally and graphically, making the book highly accessible even if you have little economics background. As you will soon discover, "If it's clear, concise, and contemporary, it has to be Carbaugh!"
Sklep: Libristo.pl
Sklepy zlokalizowane w miastach: Warszawa, Kraków, Łódź, Wrocław, Poznań, Gdańsk, Szczecin, Bydgoszcz, Lublin, Katowice
Szukaj w sklepach lub całym serwisie
2. Szukaj na wszystkich stronach serwisu
t1=0.099, t2=0, t3=0, t4=0.024, t=0.1