krainaksiazek lectures on the theory of water waves 20112127
- znaleziono 3 produkty w 2 sklepach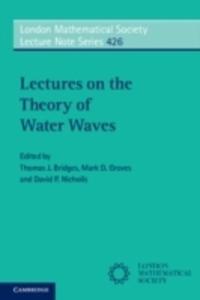 379,99 zł
Książki Obcojęzyczne>Angielskie>Mathematics & science>Physics>Classical mechanics>Fluid mechanicsKsiążki Obcojęzyczne>Angielskie>...
A Range Of Experts Contribute Introductory-level Lectures On Active Topics In The Theory Of Water Waves.
Sklep: Gigant.pl 863,14 zł
Książki / Literatura obcojęzyczna
In the spring of 1971, Reinier Tirnrnan visited the University of Delaware during which time he gave a series of lectures on water waves from which these notes grew. Those of us privi leged to be present during that time will never forget the experience. Rein Tirnrnan is not easily forgotten. His seemingly inexhaustible energy completely overwhelmed us. Who could forget the numbing effect of a succession of long wine filled evenings of lively conversation on literature, politics, education, you name it, followed early the next day by the appearance of the apparently totally refreshed red haired giant eager to discuss our mathematical problems with keen insight en remarkable understanding, ready to lecture on fluid mechanics or optimal control theory or a host of other subjects and ready to work into the evening until the cycle repeated. He thought faster, he knew more, he drank more and he slept less than any of us mortals and he literally wore us out. What a rare privilege indeed to have participated in this intellectual orgy. Tirnrnan's lively interest in almost every thing coupled with his buoyant enthusiasm and infectious op timism epitomized his approach to life. No delicate nibbling at the fringes, he wanted every morsel of every course. In these times of narrow specialization truly renaissance figures are, if not extinct, at least a highly endangered species. But Tirnrnan was one of that rare breed.
Sklep: Libristo.pl 794,55 zł
Książki / Literatura obcojęzyczna
The Wiley Classics Library consists of selected books that have become recognized classics in their respective fields. With these new unabridged and inexpensive editions, Wiley hopes to extend the life of these important works by making them available to future generations of mathematicians and scientists. Currently available in the Series: T. W. Anderson Statistical Analysis of Time Series T. S. Arthanari & Yadolah Dodge Mathematical Programming in Statistics Emil Artin Geometric Algebra Norman T. J. Bailey The Elements of Stochastic Processes with Applications to the Natural Sciences George E. P. Box & George C. Tiao Bayesian Inference in Statistical Analysis R. W. Carter Simple Groups of Lie Type William G. Cochran & Gertrude M. Cox Experimental Designs, Second Edition Richard Courant Differential and Integral Calculus, Volume I Richard Courant Differential and Integral Calculus, Volume II Richard Courant & D. Hilbert Methods of Mathematical Physics, Volume I Richard Courant & D. Hilbert Methods of Mathematical Physics, Volume II D. R. Cox Planning of Experiments Harold M. S. Coxeter Introduction to Modern Geometry, Second Edition Charles W. Curtis & Irving Reiner Representation Theory of Finite Groups and Associative Algebras Charles W. Curtis & Irving Reiner Methods of Representation Theory with Applications to Finite Groups and Orders, Volume I Charles W. Curtis & Irving Reiner Methods of Representation Theory with Applications to Finite Groups and Orders, Volume II Bruno de Finetti Theory of Probability, Volume 1 Bruno de Finetti Theory of Probability, Volume 2 W. Edwards Deming Sample Design in Business Research Amos de Shalit & Herman Feshbach Theoretical Nuclear Physics, Volume 1 --Nuclear Structure J. L. Doob Stochastic Processes Nelson Dunford & Jacob T. Schwartz Linear Operators, Part One, General Theory Nelson Dunford & Jacob T. Schwartz Linear Operators, Part Two, Spectral Theory--Self Adjoint Operators in Hilbert Space Nelson Dunford & Jacob T. Schwartz Linear Operators, Part Three, Spectral Operators Herman Fsehbach Theoretical Nuclear Physics: Nuclear Reactions Bernard Friedman Lectures on Applications-Oriented Mathematics Gerald d. Hahn & Samuel S. Shapiro Statistical Models in Engineering Morris H. Hansen, William N. Hurwitz & William G. Madow Sample Survey Methods and Theory, Volume I--Methods and Applications Morris H. Hansen, William N. Hurwitz & William G. Madow Sample Survey Methods and Theory, Volume II--Theory Peter Henrici Applied and Computational Complex Analysis, Volume 1--Power Series--lntegration--Conformal Mapping--Location of Zeros Peter Henrici Applied and Computational Complex Analysis, Volume 2--Special Functions--Integral Transforms--Asymptotics--Continued Fractions Peter Henrici Applied and Computational Complex Analysis, Volume 3--Discrete Fourier Analysis--Cauchy Integrals--Construction of Conformal Maps--Univalent Functions Peter Hilton & Yel-Chiang Wu A Course in Modern Algebra Harry Hochetadt Integral Equations Erwin O. Kreyezig Introductory Functional Analysis with Applications William H. Louisell Quantum Statistical Properties of Radiation All Hasan Nayfeh Introduction to Perturbation Techniques Emanuel Parzen Modern Probability Theory and Its Applications P.M. Prenter Splines and Variational Methods Walter Rudin Fourier Analysis on Groups C. L. Siegel Topics in Complex Function Theory, Volume I--Elliptic Functions and Uniformization Theory C. L. Siegel Topics in Complex Function Theory, Volume II--Automorphic and Abelian integrals C. L Siegel Topics in Complex Function Theory, Volume III--Abelian Functions & Modular Functions of Several Variables J. J. Stoker Differential Geometry J. J. Stoker Water Waves: The Mathematical Theory with Applications J. J. Stoker Nonlinear Vibrations in Mechanical and Electrical Systems
Sklep: Libristo.pl
Sklepy zlokalizowane w miastach: Warszawa, Kraków, Łódź, Wrocław, Poznań, Gdańsk, Szczecin, Bydgoszcz, Lublin, Katowice
Szukaj w sklepach lub całym serwisie
2. Szukaj na wszystkich stronach serwisu
t1=0.065, t2=0, t3=0, t4=0, t=0.066