krainaksiazek legitimacy in international policy 20124711
- znaleziono 11 produktów w 3 sklepach 48,53 zł
Książki / Literatura obcojęzyczna
This broad-ranging report addresses differing national, regional, and cultural views on today's most pressing security issues. The authors discuss questions of national vs. human security policy, military intervention, unilateralism, legality, legitimacy, and efficiency in evaluating potential responses to such global threats as terrorism, weapons of mass destruction, and massive human rights violations.
Sklep: Libristo.pl 89,40 zł
Książki / Literatura obcojęzyczna
Examination Thesis from the year 2012 in the subject Business economics - Economic Policy, grade: 1,0, Copenhagen Business School (Department of Business and Politics), course: International Political Economy, language: English, abstract: The global financial crisis of 2008 has inevitably caused intense debates on the conceptualfoundations and the practice of global business regulation. There have been widespread calls formore efficient regulation and supervision of the international financial system, and explicitly, of thebanking sector. The Basel Committee on Banking Supervision (BCBS), an international standardsetting body constituted by national supervisory authorities, has particularly fallen into disrepute.For the German economist Martin Hellwig, the BCBS seemed to be more an accelerant [to thecrisis] rather than an extinguisher , which failed marvelously . One might or might not agree withhim, but it remains to state that the question of legitimacy of cross-border business regulation andits efficiency has been increasingly questioned in the aftermath of the financial crisis: Whogoverns the globe? In whose benefit? What of democratic sovereignty? Evidently, the future of the BCBS seems to be at stake. Only if its guidelines, based on voluntaryrecommendations, are perceived as legitimate, the BCBS can continue to exercise its regulatoryauthority. As Eric Helleiner predicts, financial crisis represent a turning point within the governanceof international financial markets: Regulation may be accompanied by a growing fragmentation ofinternational financial governance over the medium term. Aart Scholte also summarizes that thescale, effectiveness, and legitimacy of global governance lag far behind the world s needs . In thiscontext this paper will examine i) the sources of authority of the BSCS on the basis of the currentBasel Accord, also known as Basel III , and ii) address the question whether financial regulationcan actually be exercised on a global scale or primarily underlies the solely implementation bynational governments. The rest of the paper proceeds as follows. Section two begins with a generalintroduction to the BCBS, its scope of functions and the committee s embeddedness in the globalbusiness regulatory environment. This is followed by the exposition of the main theoreticalframework based on the sources of authority by Avant et al. Section five turns to the analysis ofBasel III in accordance with the methodological norms of the previously presented theory. Finally,section five provides a conclusion and answers the initially put question of legitimacy of crossborderbusiness regulation.[...]
Sklep: Libristo.pl 110,89 zł
Książki / Literatura obcojęzyczna
To what extent do international organizations, global policy networks, and transnational policy entrepreneurs influence domestic policy makers? Have we entered a new phase of globalization that, unbeknownst to most citizens, shapes policies that used to be the sole domain of domestic politics? "Privatizing Pensions" reveals how international institutions - such as the World Bank, USAID, and other transnational policy actors - have played a seminal role in the development, diffusion, and implementation of new pension reforms that are transforming the postwar social contract in more than thirty countries worldwide, including the United States.Mitchell Orenstein shows how transnational actors have driven change in a policy area once thought to be beyond reform in many countries, and how they have done so by deploying their unique resources and legitimacy to promote new ideas, recruit disciples worldwide, and provide a broad range of technical assistance to government reformers over the long term. He demonstrates that while domestic decision makers may retain veto power over these reforms - which replace traditional social security with individual pension savings accounts - transnational policy makers play the role of "proposal actors," shaping the information, preferences, and resources of their domestic clients. "Privatizing Pensions" argues that even the most quintessentially domestic areas of policy have been thoroughly globalized, and that these international influences must be better understood.
Sklep: Libristo.pl 93,10 zł
Inne 1
This new study shows how the American-led 'war on terror' has brought about the most significant shift in the contours of the international system since the end of the Cold War. A new 'imperial moment' is now discernible in US foreign policy in the wake of the neo-conservative rise to power in the USA, marked by the development of a fresh strategic doctrine based on the legitimacy of preventative military strikes on hostile forces across any part of the globe. Key features of this new volume include: an alternative, critical take on contemporary US foreign policy; a timely, accessible overview of critical thinking on US foreign policy, imperialism and war on terror; the full spectrum of critical view sin a single volume; and many of these essays are now 'contemporary classics'. The essays collected in this volume analyse the historical, socio-economic and political dimensions of the current international conjuncture, and assess the degree to which the war on terror has transformed the nature and projection of US global power. Drawing on a range of critical social theories, this collection seeks to ground historically the analysis of global developments since the inception of the new Bush Presidency and weigh up the political consequences of this imperial turn. This book will be of great interest for all students of US foreign policy, contemporary international affairs, international relations and politics.
Sklep: Albertus.pl 120,83 zł
Książki / Literatura obcojęzyczna
As international financial markets have become more complex, so has the regulatory system which oversees them. The Basel Committee is just one of a plethora of international bodies and groupings which now set standards for financial activity around the world, in the interests of protecting savers and investors and maintaining financial stability. These groupings, and their decisions, have a major impact on markets in developed and developing countries, and on competition between financial firms. Yet their workings are shrouded in mystery, and their legitimacy is uncertain. Here, for the first time, two men who have worked within the system describe its origins and development in clear and accessible terms. Howard Davies was the first Chairman of the UK's Financial Services Authority, the single regulator for the whole of Britain's financial sector. David Green was Head of International Policy at the FSA, after spending thirty years in the Bank of England, and has been closely associated with the development of the current European regulatory arrangements. Now with a revised and updated introduction, which catalogues the changes made since the credit crisis erupted, this guide to the international system will be invaluable for regulators, financial market practitioners and for students of the global financial system, wherever they are located. The book shows how the system has been challenged by new financial instruments and by new types of institutions such as hedge funds and private equity. Furthermore, the growth in importance of major developing countries, who were excluded for far too long from the key decision-making for a has led to a major overhaul. The guide is essential reading for all those interested in the development of financial markets and the way they are regulated. The revised version is only available in paperback.
Sklep: Libristo.pl 394,24 zł
Książki / Literatura obcojęzyczna
Seventeen million people have died in civil wars and rebel violence has disrupted the lives of millions more. In a fascinating contribution to the active literature on civil wars, this book finds that some contemporary rebel groups actually comply with international law amid the brutality of civil conflicts around the world. Rather than celebrating the existence of compliant rebels, the author traces the cause of this phenomenon and argues that compliant rebels emerge when rebel groups seek legitimacy in the eyes of domestic and international audiences that care about humanitarian consequences and human rights. By examining rebel groups' different behaviors such as civilian killing, child soldiering, and allowing access to detention centers, Compliant Rebels offers key messages and policy lessons about engaging rebel groups with an eye toward reducing civilian suffering in war zones.
Sklep: Libristo.pl 483,31 zł
Książki / Literatura obcojęzyczna
Polarization between political religionists and militant secularists on both sides of the Atlantic is on the rise. Critically engaging with traditional secularism and religious accommodationism, this collection introduces a constitutional secularism that robustly meets contemporary challenges. It identifies which connections between religion and the state are compatible with the liberal, republican, and democratic principles of constitutional democracy and assesses the success of their implementation in the birthplace of political secularism: the United States and Western Europe. Approaching this issue from philosophical, legal, historical, political, and sociological perspectives, the contributors wage a thorough defense of their project's theoretical and institutional legitimacy. Their work brings fresh insight to debates over the balance of human rights and religious freedom, the proper definition of a nonestablishment norm, and the relationship between sovereignty and legal pluralism. They discuss the genealogy of and tensions involving international legal rights to religious freedom, religious symbols in public spaces, religious arguments in public debates, the jurisdiction of religious authorities in personal law, and the dilemmas of religious accommodation in national constitutions and public policy when it violates international human rights agreements or liberal-democratic principles. If we profoundly rethink the concepts of religion and secularism, these thinkers argue, a principled adjudication of competing claims becomes possible.
Sklep: Libristo.pl 233,51 zł
Książki / Literatura obcojęzyczna
High Quality Content by WIKIPEDIA articles! Rogue state is a term applied by some international theorists to states considered threatening to the world's peace. This means meeting certain criteria, such as being ruled by authoritarian regimes that severely restrict human rights, sponsor terrorism, and seek to proliferate weapons of mass destruction. The term is used most by the United States, though it has been applied by other countries. In virtually all international foreign policy circles,+F250 rogue states are considered to be those nations utterly ruled by individuals (rather than subject to a popular electoral process) and whose legitimacy, intentions, and notions of the process of legitimate succession (if any) is highly suspect. Furthermore, rogue states (as opposed to nominal non-newsworthy dictatorships which pose no external threat) typically become consequential due to their engagement in the threat - or conduct of - war, particularly against neighbor states, without regard to international law.
Sklep: Libristo.pl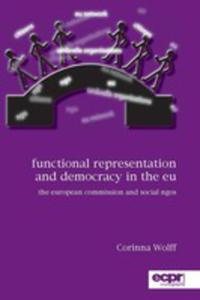 199,99 zł
Książki Obcojęzyczne>Angielskie>Society & social sciences>Politics & government>International relations>International institutions>E...
By Applying The Latest Developments In Representation Theories To Civil Society Participation, The Book Presents A Consistent Framework To Assess The Democratic Legitimacy Of Complex Governance Settings. The Application Of This Framework To EU Social Policy Brings To Light The Specific Pitfalls That Participation Faces In The European Union.
Sklep: Gigant.pl 241,82 zł
Książki / Literatura obcojęzyczna
The UN Global Compact complements other corporate citizenship initiatives by promoting dialogue on the relationship between business and society. At the same time it is the only truly global corporate citizenship initiative. It is not an auditable standard; indeed, it is not a standard or a code in the way that these are normally viewed. It is a set of principles through which business and the United Nations can work in partnership for global social development. For some businesses it is a simplified codification of their existing policies and management practices, but for many engagement represents a challenge and an opportunity to raise their game by aligning profitability with the common good. As the only genuinely global corporate citizenship initiative, the Global Compact draws its moral authority from the UN Secretary-General and its moral and political legitimacy from the UN as the only global political body. It can be viewed as a series of nested networks involving the Secretary-General's Office, the ILO, UNEP, UNHCHR, UNDP and UNIDO, business, NGOs and labour. It can variously be described as an international learning network, as a social network of people and organisations engaged in a global conversation, as a global public policy network, and as a multi-stakeholder dialogue. It is all of these things, but more than anything its greatest success has been in providing a convening platform for a growing global conversation about social development among a variety of actors. However the Global Compact is viewed, it is time to reflect on the first tentative steps of an initiative born in the aftermath of the Cold War, in the "triumph of global economic liberalism" and mass demonstrations against "globalisation". In its first few years, the world has experienced 9/11 and the Iraq War, not forgetting the forty or so civil wars that are ongoing at this time. Whatever is written about the UN Global Compact or its success will be tentative. But there can be some serious reflection on its aims and origins; some telling of stories of engagement; and discussion on how this initiative has quickly become an important reference point in the dialogue on global and corporate governance.
Sklep: Libristo.pl 60,09 zł
Offside! Institute of International Visual Arts (INIVA)
Książki / Literatura obcojęzyczna
'The role of the European judiciary in the process of European integration cannot be overestimated. The achievements of European integration after the second world war are usually analyzed from the perspective of political decisions that were made, initially, by the Founding Fathers and, subsequently, by the political leaders of the European countries. However, in the public debate we very often forget how much we owe to the two supreme jurisdictions of Europe, that is the Court of Justice of the European Union and the European Court of Human Rights. The continuing extension of the competences of the European Union, especially in the field of economic and monetary policy, calls for a new assessment of the nature of the decision-making process at the European level.'From the foreword by Prof. Maciej Szpunar, Advocate General at the Court of Justice of the European Union'The European judiciary - i.e. the Court of Justice of the European Union (CJEU), the European Court of Human Rights (ECtHR) and national courts interpreting and applying European law sensu largo - have shaped [the process of European integration] actively, alongside the Founding Fathers, European nations, European states and their citizens. The involvement of the judiciary raises its own wide range of questions concerning the very nature of democracy. Much ink has already been spilled over issues such as democratic legitimacy, subsidiarity and accountability, the rule of law or judicial activism.[...] seventeen scholars from across Europe [...] share their views on the European judiciary as a challenge for democracy. The various contributions to the present volume are split into two parts. The first provides ten chapters on the judicial systems of the European Union (EU), discussing, inter alia, recognition of democratic principles in the case law of the CJEU, contribution thereof to the democratisation of the Union and reception of EU law in the Member States. The second part discusses the judicial means to protect human rights in Europe, consisting of three chapters devoted to the promise of advisory opinions of the ECtHR as well as to democratic standards for voting and for fair trial.'From the preface by the Editors'[...] the editors, authors and the publisher of this volume decided to take a closer look at the relation between democracy and activities of something that might be called "European judicial systems". And what is intriguing - these systems are perceived here as a challenge for democracy.[...] This book does not exhaust all problems and issues for European judicial systems confronted with the very notion of democracy; there are simply too many of them. But it comes with a fresh look on - perhaps - the most pertinent ones, like the issue of the legal creativity of judges in both Luxembourg and Strasbourg. It was worth waiting for this volume.'Prof. Dr. Paul De Hert, Free University Brussels and Tilburg University
Sklep: Libristo.pl
Sklepy zlokalizowane w miastach: Warszawa, Kraków, Łódź, Wrocław, Poznań, Gdańsk, Szczecin, Bydgoszcz, Lublin, Katowice
Szukaj w sklepach lub całym serwisie
2. Szukaj na wszystkich stronach serwisu
t1=0.063, t2=0, t3=0, t4=0.022, t=0.063