krainaksiazek lem a new method for nonlinear mechanics 20169916
- znaleziono 3 produkty w 2 sklepach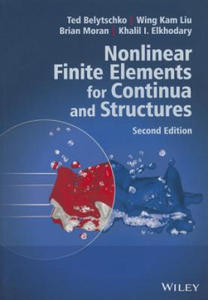 468,19 zł
Książki / Literatura obcojęzyczna
This updated and expanded edition of the bestselling textbook provides a comprehensive introduction to the methods and theory of nonlinear finite element analysis. New material provides a concise introduction to some of the cutting-edge methods that have evolved in recent years in the field of nonlinear finite element modeling, and includes the eXtended finite element method (XFEM), multiresolution continuum theory for multiscale microstructures, and dislocation-density-based crystalline plasticity. N onlinear Finite Elements for Continua and Structures, Second Edition focuses on the formulation and solution of discrete equations for various classes of problems that are of principal interest in applications to solid and structural mechanics. Topics covered include the discretization by finite elements of continua in one dimension and in multi-dimensions; the formulation of constitutive equations for nonlinear materials and large deformations; procedures for the solution of the discrete equations, including considerations of both numerical and multiscale physical instabilities; and the treatment of structural and contact-impact problems. Key features: Presents a detailed and rigorous treatment of nonlinear solid mechanics and how it can be implemented in finite element analysis Covers many of the material laws used in today's software and research Introduces advanced topics in nonlinear finite element modelling of continua Introduction of multiresolution continuum theory and XFEM Accompanied by a website hosting a solution manual and MATLAB(R) and FORTRAN code Nonlinear Finite Elements for Continua and Structures, Second Edition is a must have textbook for graduate students in mechanical engineering, civil engineering, applied mathematics, engineering mechanics, and materials science, and is also an excellent source of information for researchers and practitioners in industry.
Sklep: Libristo.pl 565,60 zł
Dla dzieci
In recent years fractional calculus has played an important role in various fields such as mechanics, electricity, chemistry, biology, economics, modeling, identification, control theory and signal processing. The scope of this book is to present the state of the art in the study of fractional systems and the application of fractional differentiation. Furthermore, the manufacture of nanowires is important for the design of nanosensors and the development of high-yield thin films is vital in procuring clean solar energy. This wide range of applications is of interest to engineers, physicists and mathematicians.Table of contentsPreface;New trends in nanotechnology: Novel Molecular Diodes Developed by Chemial Conjugation of Carbon Nanotubes with Peptide Nucleic Acid, by Krishna V. Singh, Miroslav Penchev, Xiaoye Jing, Alfredo A. Martinez-Morales, Cengiz S. Ozkan and Mihri Ozkan;Hybrid Single Walled Carbon Nanotube FETs for High Fidelity DNA Detection, by Xu Wang, Mihri Ozkan, Gurer Budak, Ziya B. Guvenc and Cengiz S. Ozkan;Towards integrated nanoelectronic and photonic devices, by Alexander Quandt, Maurizio Ferrari and Giancarlo C. Righini;New noninvasive methods for
Sklep: Albertus.pl 1622,72 zł
Książki / Literatura obcojęzyczna
Motivated by practical problems in engineering and physics, drawing on a wide range of applied mathematical disciplines, this book is the first to provide, within a unified framework, a self-contained comprehensive mathematical theory of duality for general non-convex, non-smooth systems, with emphasis on methods and applications in engineering mechanics. Topics covered include the classical (minimax) mono-duality of convex static equilibria, the beautiful bi-duality in dynamical systems, the interesting tri-duality in non-convex problems and the complicated multi-duality in general canonical systems. A potentially powerful sequential canonical dual transformation method for solving fully nonlinear problems is developed heuristically and illustrated by use of many interesting examples as well as extensive applications in a wide variety of nonlinear systems, including differential equations, variational problems and inequalities, constrained global optimization, multi-well phase transitions, non-smooth post-bifurcation, large deformation mechanics, structural limit analysis, differential geometry and non-convex dynamical systems. With exceptionally coherent and lucid exposition, the work fills a big gap between the mathematical and engineering sciences. It shows how to use formal language and duality methods to model natural phenomena, to construct intrinsic frameworks in different fields and to provide ideas, concepts and powerful methods for solving non-convex, non-smooth problems arising naturally in engineering and science. Much of the book contains material that is new, both in its manner of presentation and in its research development. A self-contained appendix provides some necessary background from elementary functional analysis. Audience: The book will be a valuable resource for students and researchers in applied mathematics, physics, mechanics and engineering. The whole volume or selected chapters can also be recommended as a text for both senior undergraduate and graduate courses in applied mathematics, mechanics, general engineering science and other areas in which the notions of optimization and variational methods are employed.
Sklep: Libristo.pl
Sklepy zlokalizowane w miastach: Warszawa, Kraków, Łódź, Wrocław, Poznań, Gdańsk, Szczecin, Bydgoszcz, Lublin, Katowice
Szukaj w sklepach lub całym serwisie
2. Szukaj na wszystkich stronach serwisu
t1=0.083, t2=0, t3=0, t4=0.013, t=0.083