krainaksiazek letters from vietnam 20117329
- znaleziono 12 produktów w 2 sklepach 870,80 zł
Inne 1
The swirl of events that surrounded America's involvement in Vietnam is brought to life in this integrated collection of primary sources that traces every important stage in the conflict between East and West. Students can follow events from the bloody French-Indochina War to the American entry into Vietnam, from Johnson's escalation of American forces to Nixon's decision to bomb Cambodia, from America's final withdrawal to the modern revival of American-Vietnamese relations. The Vietnam Era also tells the story of America's coming of age in the 'war at home' as well as the war overseas. The collection charts the entire development of the antiwar movement, from mass demonstrations to the campaigns of Robert Kennedy and Eugene McCarthy. It also provides insights into the formative role of the media in covering the war and the eventual return of Vietnam veterans to a war-torn America. Documents include selected portions of the Pentagon Papers, important declassified documents, letters between editors from the archives of The New York Times, and reminiscences from soldiers in the field.
Sklep: Albertus.pl 122,46 zł
Książki / Literatura obcojęzyczna
It is 1966, the war is escalating, and a young Air Force Academy graduate's assignment is to patrol unfriendly territory with six-man hunter-killer teams. As a Forward Air Controller, flying single engine spotter planes, Flanagan is the link between fighter-bomber pilots and ground forces. This autobiographical account recreates the period when Flanagan, assigned to Project Delta, was plunged into major operations in key combat areas. Spectacular airstrikes, team rescues, lost men, thwarted attempts to save comrades--all are recounted here with raw honesty. A factual combat history from one man's perspective, this is also a thoughtful look at the warrior values of bravery, honesty, and integrity. Flanagan examines the influences that help build these values--educational institutions, the military training system (including the service academies), and religion--and reflects on the high cost of abandoning them. In Vietnam Above the Treetops, Flanagan traces his life from adolescence through the training period, combat missions of all kinds, and re-entry into the everyday world. His war tales take us to key regions: from the Demilitarized Zone, south through the Central highlands, and into War Zone C near Cambodia. Flanagan tells the absolute truth of his experience in Vietnam-- call signs, bomb loads, and target coordinates are all historically accurate. He offers observations on the Vietnamese and Korean forces he worked with, comparing Eastern and Western cultures, and he vents his frustrations with the U.S. command structure. Determined to reconstruct the past, Flanagan re-read old letters from Vietnam, examined maps, deciphered pocket diaries, interviewed former comrades, and let his own long-buried memories surface. Flanagan did not find this book easy to write, but he wanted to pay tribute to his fellow warriors, especially those still missing in action; he wanted to exorcise his war nightmares and further understand his experience. Even more important, he needed to communicate the values he and his comrades lived by, in distant jungles where they faced some of the toughest circumstances known to human beings.
Sklep: Libristo.pl 58,50 zł
Książki / Literatura obcojęzyczna
My Vietnam is Dave Morgans story. A typical 20 year old, he was forced into extraordinary circumstances in Vietnam. Far from his carefree youth, the Vietnam War would expose Dave to an atmosphere of ever-present danger and sheer terror that would impact him forever. His return to a divided Australia would isolate him further. During his service Dave wrote home to his mother from Vietnam tracking the days and the events. In 1992, after his mother passed away, he found all of his letters with his own recollections and diary entries, and the short stories of seven other veterans, to capture the unbelievable danger and horror that these young men experienced in Vietnam. He also describes how Vietnam established life-long feelings of intense loyalty, trust and mateship between the men that served there. Daves story focuses on his time as a soldier and his return psychologically exhausted to a divided nation.
Sklep: Libristo.pl 87,99 zł
Książki / Literatura obcojęzyczna
His name is engraved on the Vietnam Wall in Washington DC, but his remains lie in an English country churchyard. What led this young man, the only English officer to die in the service of the US Army in Vietnam, to forsake his career as a musician in Britain and take up arms against the Communist threat in south-east Asia? His full, frank, funny and sometimes shocking letters home hold the key. Lt. Anthony Harbord's sister Gay has painstakingly researched his life since he left England in 1965 to seek his American Dream. She literally retraces his steps from the fun-filled Florida paradise where he worked on the big-game fishing boats to the jungles of Vietnam where he distinguished himself as a brave and respected leader of men. She is searching for the brother she loved so much, thought she knew and who she lost so early on. It is a search for her Brother In Arms.
Sklep: Libristo.pl 52,57 zł
Książki / Literatura obcojęzyczna
John Fitzgerald Kennedy led the United States for barely a thousand days, and yet he is regarded as one of the great Presidents of all time for his brave decisions on civil rights and international relations, and not merely as a consequence of his tragic fate. Kennedy steered his nation away from the brink of nuclear war, initiated the first nuclear test ban treaty and launched his nation on its mission to the moon and beyond. JFK inspired a nation, particularly the massive generation of baby boomers, injecting hope and revitalising faith in the American dream at a time when it was badly needed. Martin Sandler's The Letters of John F. Kennedy is the only book that focuses on letters both from and to Kennedy. Drawn from more than two million letters on file at the Kennedy Presidential Library and Museum, The Letters of John F. Kennedy presents readers with a portrait of both Kennedy the politician and Kennedy the man, as well as the turbulent times he lived in. The beginnings of American involvement in Vietnam, a touch-and-go Cold War relationship with the Soviet bloc and many other international controversies are intertwined with Kennedy's own hushed-up health problems, his renowned controversial personal life and his charismatic engagement with the world of presidential politics. Letters to and from Martin Luther King, Jr., Eleanor Roosevelt, Nikita Khruschev, Bertrand Russell, David Bengurian and many others are included, as well as missives from ordinary citizens and schoolchildren. Each letter is accompanied by lively and informative contextualization and facsimiles of many of the letters will appear in the text, along with photographs and exclusive material from the Kennedy Library and Museum.
Sklep: Libristo.pl 159,00 zł
Książki / Literatura obcojęzyczna
In September 1952, John Lukacs, then a young and unknown historian, wrote George Kennan (1904-2005), the U.S. ambassador to the Soviet Union, asking one of the nation's best-known diplomats what he thought of Lukacs's own views on Kennan's widely debated idea of containing rather than militarily confronting the Soviet Union. A month later, to Lukacs's surprise, he received a personal reply from Kennan. So began an exchange of letters that would continue for more than fifty years. Lukacs would go on to become one of America's most distinguished and prolific diplomatic historians, while Kennan, who would retire from public life to begin a new career as Pulitzer Prize-winning author, would become revered as the man whose strategy of containment led to a peaceful end to the Cold War. Their letters, collected here for the first time, capture the writing and thinking of two of the country's most important voices on America's role and place in world affairs. From the division of Europe into East and West after World War II to its unification as the Soviet Union disintegrated, and from the war in Vietnam to the threat of nuclear annihilation and the fate of democracy in America and the world, this book provides an insider's tour of the issues and pivotal events that defined the Cold War. The correspondence also charts the growth and development of an intellectual and personal friendship that was intense, devoted, and honest. As Kennan later wrote Lukacs in letter, "perceptive, understanding, and constructive criticism is ...as I see it, in itself a form of creative philosophical thought." It is a belief to which both men subscribed and that they both practiced. Presented with an introduction by Lukacs, the letters in Through the History of the Cold War reveal new dimensions to Kennan's thinking about America and its future, and illuminate the political-and spiritual-philosophies that the two authors shared as they wrote about a world transformed by war and by the clash of ideologies that defined the twentieth century.
Sklep: Libristo.pl 141,37 zł
Książki / Literatura obcojęzyczna
E. Tayloe Wise served in Vietnam from May 1969 through April 1970. During those 11 months, he wrote an estimated 750-800 letters home. This memoir is based on those letters, which recounted the details of his experiences and also served as an outlet where he could express the terror, tedium and even boredom of his daily life while in Vietnam.
Sklep: Libristo.pl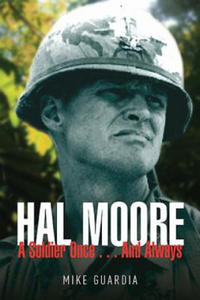 154,83 zł
Książki / Literatura obcojęzyczna
Hal Moore, one of the most admired American combat leaders of the last 50 years, has until now been best known to the public for being portrayed by Mel Gibson in the movie "We Were Soldiers." In this first-ever, fully illustrated biography, we finally learn the full story of one of America's true military heroes.A 1945 graduate of West Point, Moore's first combats occurred during the Korean War, where he fought in the battles of Old Baldy, T-Bone, and Pork Chop Hill. At the beginning of the Vietnam War, Moore commanded the 1st Battalion of the 7th Cavalry in the first full-fledged battle between U.S. and North Vietnamese regulars. Drastically outnumbered and nearly overrun, Moore led from the front, and though losing 79 soldiers, accounted for 1,200 of the enemy before the Communists withdrew. This Battle of Ia Drang pioneered the use of "air mobile infantry"-delivering troops into battle via helicopter-which became the staple of U.S. operations for the remainder of the war. He later wrote of his experiences in the best-selling book, We Were Soldiers Once...and Young.Following his tour in Vietnam, he assumed command of the 7th Infantry Division, forward-stationed in South Korea, and in 1971, he took command of the Army Training Center at Fort Ord, California. In this capacity, he oversaw the US Army's transition from a conscript-based to an all-volunteer force. He retired as a Lieutenant General in 1977.At this writing, Hal Moore is 90 years old and living quietly in Auburn, Alabama. He graciously allowed the author interviews and granted full access to his files and collection of letters, documents, and never-before-published photographs. Mike Guardia, currently an officer in the U.S. 1st Armored Division is also author of two highly acclaimed biographies, American Guerrilla, about the life of the true founder of Special Forces, Russell Volckmann, and Shadow Commander, about the career of Donald Blackburm.
Sklep: Libristo.pl 79,82 zł
Airmail BLOODAXE BOOKS
Książki / Literatura obcojęzyczna
One day in spring 1964, the young American poet Robert Bly left his rural farmhouse and drove 150 miles to the University of Minnesota library in Minneapolis to obtain the latest book by the young Swedish poet Tomas Transtromer. When Bly returned home that evening with a copy of Transtromer's The Half-Finished Heaven, he found a letter waiting for him from its author. With this remarkable coincidence as its beginning, what followed was a vibrant correspondence between two poets who would become essential contributors to global literature. Airmail collects more than 290 letters, written from 1964 until 1990, when Transtromer suffered a stroke that has left him partially paralysed and diminished his capacity to write. Across their correspondence, the two poets are profoundly engaged with each other and with the larger world: the Vietnam War, European and American elections, and the struggles of affording a life as a writer. Airmail also offers remarkable insights into the processes of translating literature from one language into another. As Bly began to render Transtromer's poetry into English and Transtromer began to translate Bly's poetry into Swedish, their collaboration soon turned into a friendship that has lasted fifty years. Insightful, brilliant, and often funny, Airmail provides a rare portrait of two artists who have become integral to each other's particular genius. Based on the original Swedish edition published in 2001, this publication marks the first time letters by Transtromer and Bly have been made available in Britain. Robert Bly's translations of Tomas Transtromer appear in The Half-Finished Heaven: The Best Poems of Tomas Transtromer, published by Graywolf Press. Transtromer's complete poetry is available in English in Robin Fulton's translation, New Collected Poems, published by Bloodaxe Books (and by New Directions in the US under the title The Great Enigma: New Collected Poems).
Sklep: Libristo.pl 127,91 zł
Książki / Literatura obcojęzyczna
When Daniel Patrick Moynihan died in 2003 the Economist described him as "a philosopher-politician-diplomat who two centuries earlier would not have been out of place among the Founding Fathers." Though Moynihan never wrote an autobiography, he was a gifted author and voluminous correspondent, and in this selection from his letters Steven Weisman has compiled a vivid portrait of Moynihan's life, in the senator's own words. Before his four terms as Senator from New York, Moynihan served in key positions under Presidents Kennedy, Johnson, Nixon, and Ford. His letters offer an extraordinary window into particular moments in history, from his feelings of loss at JFK's assassination, to his passionate pleas to Nixon not to make Vietnam a Nixon war, to his frustrations over healthcare and welfare reform during the Clinton era. This book showcases the unbridled range of Moynihan's intellect and interests, his appreciation for his constituents, his renowned wit, and his warmth even for those with whom he profoundly disagreed. Its publication is a significant literary event.
Sklep: Libristo.pl 87,51 zł
Książki / Literatura obcojęzyczna
In this final volume of Christopher Isherwood's diaries, capstone of a million-word masterwork, he greets advancing age with poignant humour and an unquenchable appetite for the new. Isherwood journeyed and changed with his century, until, by the 1980s, he was celebrated as the finest prose writer in English and the Grand Old Man of Gay Liberation. The mainstays of his mature contentment, his Hindu guru, Swami Prabhavananda and his long term companion, Don Bachardy, draw from him an unexpected high tide of joy and love. Gifted friends both anonymous and infamous take a turn through Isherwood's densely populated human comedy, sketched with ruthlessness and benevolence against the background of the Vietnam War and the Nixon, Carter and Reagan White Houses. Bachardy's burgeoning career pulled Isherwood into the 1970s art scene where we meet Rauschenberg, Ruscha, and Warhol (serving fetid meat for lunch) as well as Hockney (adored) and Kitaj. From Hollywood and the worlds of music and letters enter John Huston, Merchant and Ivory, John Travolta, John Voight, Elton John, David Bowie, Joan Didion and Armistead Maupin. These are the most concrete and the most mysterious of his diaries, candidly revealing the fear of death that crowded in past Isherwood's fame, and showing how his life-long immersion in the day-to-day lifted him, paradoxically, toward transcendence.
Sklep: Libristo.pl 63,95 zł
Książki / Literatura obcojęzyczna
This story of raging comedy and despair centers on the tempestuous marriage of an heiress and a Vietnam veteran. From their "carpenter gothic" rented house, Paul sets himself up as a media consultant for Reverend Ude, an evangelist mounting a grand crusade that conveniently suits a mining combine bidding to take over an ore strike on the site of Ude's African mission. At the still center of the breakneck action--revealed in Gaddis's inimitable virtuoso dialoge--is Paul's wife, Liz, and over it all looms the shadowy figure of McCandless, a geologist from whom Paul and Liz rent their house. As Paul mishandles the situation, his wife takes the geologist to her bed and a fire and aborted assassination occur; Ude issues a call to arms as harrowing as any Jeremiad--and Armageddon comes rapidly closer. Displaying Gaddis's inimitable virtuoso dialogue, and his startling treatments of violence and sexuality, Carpenter's Gothic "shows again that Gaddis is among the first rank of contemporary American writers" (Malcolm Bradbury, "The Washington Post Book World" ). "An unholy landmark of a novel--an extra turret added on to the ample, ingenious, audacious Gothic mansion Gaddis has been building in American letters" --Cynthia Ozick, "The New York Times Book Review" "Everything in this compelling and brilliant vision of America--the packaged sleaze, the incipient violence, the fundamentalist furor, the constricted sexuality--is charged with the force of a volcanic eruption. "Carpenter's Gothic" will reenergize and give shape to contemporary literature." --Walter Abish
Sklep: Libristo.pl
Sklepy zlokalizowane w miastach: Warszawa, Kraków, Łódź, Wrocław, Poznań, Gdańsk, Szczecin, Bydgoszcz, Lublin, Katowice
Szukaj w sklepach lub całym serwisie
2. Szukaj na wszystkich stronach serwisu
t1=0.081, t2=0, t3=0, t4=0.023, t=0.081