krainaksiazek letters the new york times did not print 20091029
- znaleziono 9 produktów w 2 sklepach 45,80 zł
Nauki humanistyczne
Alain de Botton, best-selling author of How Proust can Change Your Life, has set six of the finest minds in the history of philosophy to work on the problems of everyday life. Here then are Socrates, Epicurus, Seneca, Montaigne, Schopenhauer and Nietzsche on some of the things that bother us all; lack of money, the pain of love, inadequacy, anxiety, the fear of failure and the pressure to conform.
Sklep: Albertus.pl 114,96 zł
Książki / Literatura obcojęzyczna
The Several Lives of Chester Himes by Edward Margolies and Michel Fabre The writings of Chester Himes are colored by a fascinating blend of hatred and tenderness, of hard-boiled realism and generous idealism. His life was complex, his relationships complicated. How did this gifted son of a respectable southern black family become a juvenile delinquent? How did he acquire self-esteem and a new sense of identity by writing short stories while in the Ohio state penitentiary? Drawn from his letters, notebooks, memoirs, and fiction, this straightforward account of Himes's varied, episodic life attempts to trace the origins of his significant literary gift. It details the socioeconomic, familial, and cultural background that fed his ambivalent views on race in America. His Deep South childhood, his adolescence in the Midwest, his young manhood in prison, his years as a menial laborer, his struggles as an author in California and New York City, and finally his glory days as an expatriate and celebrity in France and Spain are plumbed deeply for their effects upon his creative urges and his works. In his native country Himes is recalled more as the author of successful detective novels such as "Cotton Comes to Harlem" than as a practitioner of the art of fiction. In France and Spain, his adopted countries, he is regarded as a literary master. This critical biography detailing his multiple profiles reveals how autobiography is the genesis of his books. In "If He Hollers Let Him Go" and in the fratricidal shootout of his black detectives Grave Digger and Coffin Ed in "Plan B" Himes was an unsparing witness to our changing times. His painful experiences in America indelibly marked his fiction, which is filled with reflections on his difficult relationships, especially with women: his fair-complexioned mother, his African American first wife Jean, his many white lovers, and finally his English wife Lesley. His career was so beset by controversy that he left America to live on the Left Bank in a colony of expatriates and as a colleague of Richard Wright. Eventually he settled in Spain and died there in 1984. This critical biography is the bittersweet story of a troubled man who found salvation in writing. Edward Margolies is Professor Emeritus, English and American Studies, College of Staten Island, City University of New York. Michel Fabre (deceased) was Professor Emeritus, American Studies, Université de la Sorbonne.
Sklep: Libristo.pl 63,02 zł
Książki / Literatura obcojęzyczna
A staggeringly popular work of fiction, Dan Brown's "The Da Vinci Code" has stood atop "The New York Times" Bestseller List for well over a year, with millions of copies in print. But, this fast-paced mystery is unusual in that the author states up front that the historical information in the book is all factually accurate. But, is this claim true? As historian Bart D. Ehrman shows in this informative and witty book, "The Da Vinci Code" is filled with numerous historical mistakes. Did the ancient church engage in a cover-up to make the man Jesus into a divine figure? Did Emperor Constantine select for the New Testament - from some 80 contending Gospels - the only four Gospels that stressed that Jesus was divine? Was Jesus Christ married to Mary Magdalene? Did the Church suppress Gospels that told the secret of their marriage? Bart Ehrman thoroughly debunks all of these claims. But, the book is not merely a laundry list of Brown's misreading of history. Throughout, Ehrman offers a wealth of fascinating background information - all historically accurate - on early Christianity. He describes, for instance, the discovery of the Dead Sea Scrolls (which are not Christian in content, contrary to The Da Vinci Code); outlines in simple terms how scholars of early Christianity determine which sources are most reliable; and explores the many other Gospels that have been found in the last half century. Ehrman separates fact from fiction, the historical realities from the flights of literary fancy. Readers of "The Da Vinci Code" who would like to know the truth about the beginnings of Christianity and the life of Jesus will find this book riveting.
Sklep: Libristo.pl 44,80 zł
Powieści i opowiadania
Is Moses Herzog
Sklep: Albertus.pl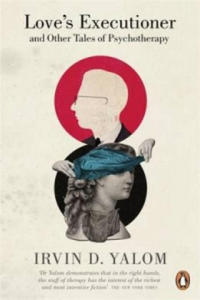 49,50 zł
Książki / Literatura obcojęzyczna
Love's Executioner offers us the humane and extraordinary insight of renowned psychiatrist Irvin D. Yalom into the lives of ten of his patients - and through them into the minds of us all. Why was Saul tormented by three unopened letters from Stockholm? What made Thelma spend her whole life raking over a long-past love affair? How did Carlos' macho fantasies help him deal with terminal cancer? In this engrossing book, Irvin Yalom gives detailed and deeply affecting accounts of his work with these and seven other patients. Deep down, all of them were suffering from the basic human anxieties - isolation, fear of death or freedom, a sense of the meaninglessness of life - that none of us can escape completely. And yet, as the case histories make touchingly clear, it is only by facing such anxieties head on that we can hope to come to terms with them and develop. Throughout, Dr Jalom remains refreshingly frank about his own errors and prejudices; his book provides a rare glimpse into the consulting room of a master therapist. Reviews: "Dr Yalom demonstrates once again that in the right hands, the stuff of therapy has the interest of the richest and most inventive fiction". (Eva Hoffman, New York Times). "These remarkably moving and instructive tales of the psychiatric encounter bring the reader into novel territories of the mind - and the landscape is truly unforgettable". (Maggie Scarf). "Love's Executioner is one of those rare books that suggests both the mystery and the poetry of the psychotherapeutic process. The best therapists are at least partly poets. With this riveting and beautifully written book, Irvin Yalom has joined their ranks". (Erica Jong). "Inspired ...He writes with the narrative wit of O. Henry and the earthy humor of Isaac Bashevis Singer". (San Francisco Chronicle). "Dr Yalom offers a valuable insight into the delicate process of therapy". (Sunday Telegraph). "Irvin Yalom writes like an angel about the devils that besiege us". (Rollo May). "These stories are wonderful. They make us realize that within every human being lie the pain and the beauty that make life worthwhile". (Bernie S. Siegel). "Dr Yalom is unusually honest, both with his patients and about himself". (Anthony Storr). "Yalom is a gifted storyteller, and from the sound of these tales, a no-less-gifted psychotherapist". (Los Angeles Times). "This is an impressive transformation of clinical experience into literature. Dr Yalom's case histories are more gripping than 98 percent of the fiction published today, and he has gone to amazing lengths of honesty to depict himself as a realistic flesh-and-blood character: funny, flawed, perverse, and, above all, understanding". (Phillip Lopate). "I loved Love's Executioner. Dr Yalom has learned something that fiction writers learned years ago - that people's mistakes are a lot more interesting than their triumphs". (Joanne Greenberg). About the author: Irvin D. Yalom is Professor Emeritus of Psychiatry at the Stanford University School of Medicine. As well as an award-winning psychiatrist and psychotherapist, he is an extremely prolific author. His many other works include The Gift of Therapy, Staring at the Sun, When Nietzsche Wept, The Theory and Practice of Group Psychiatry, The Schopenhauer Cure, Lying on the Couch, Momma and the Meaning of Life, Existential Psychotherapy, I'm Calling the Police, Inpatient Group Psychotherapy, Every Day Gets a Little Closer and The Spinoza Problem.
Sklep: Libristo.pl 62,69 zł
Książki / Literatura obcojęzyczna
Gone are the days when streetcars prowled the streets of towns throughout America. Once upon a time men traveled deep underground to mine the fuel that helped make America great. Once too a crack passenger train named after a famed actress who in days of old traveled aboard her stage engagements points east and west from New York City and all of the magic it had to offer. Downtowns bustled, malls were still unknown. TV was either a figment of the future, or just in its black and white infancy. World War II had just ended triumphantly and favorite uncles and cousins, who survived the hosilities, were finally home. It really was the best of times. The worst were still to come when the Soviet Union joined the U.S. as a nuclear power. Anniliation was a push of the button away. But life went on and we did our best to live life normally as we could. From those days of the 40s, 50s and early 60s came this collection of tales tells mostly about my greatest hero and the world's greatest Democrat, my Dad, which have evolved into a portrait of his time and mine, a journey into smalltown America once upon a time. "Trolleys Don't Stop Here Anymore" started life mostly as column ideas during Gar Kearney's 40 years of newspapering, though none ever saw print. Too personal, he deemed and filed them in his computer for later generations of kin to cherish, discard, or improve. Over the years the originals, mostly about his Father, Moosty, were enhanced by the addition of more tales all about life and times in the 40s, 50s and 60s, the good and the bad, an era still cherished in the memories of those whose times they were. Gar Kearney, whose legal name is Edgar John Kearney, still lives today in Dunmore, PA, the town of his birth, only leaving briefly for the service and college, after surviving Sisters School and, a few years later, escaping at least one attempt by a wrong-thinking Jesuit headmaster to convince him to seek a vocation in the Society of Jesus.
Sklep: Libristo.pl 39,90 zł
Książki / Literatura obcojęzyczna
This widely acclaimed novel about a female soldier who returns from Iraq haunted by a tragic mistake is "beautifully written...suspenseful and smart and tender in unexpected moments" ("Miami Herald") and was named one of the 5 Best in Modern War Fiction by "The Sunday Telegraph." Before she enlisted, classically-trained singer Lauren Clay had been accepted to a prestigious music conservatory, but her family's financial demands--worsened by her parents' divorce and her father's declining mental health--pushed her in another direction. Joining the army allowed Lauren to provide for her family--especially her younger brother Danny, whose quirky, heartfelt letters to her overseas are signed, "be safe, I love you." When she arrives home unexpectedly, it's clear to her friends and family that something is profoundly wrong with Lauren. But her father is so happy to have her home that he ignores her odd behavior, as well as the repeated phone calls from an army psychologist. Things seem better when Lauren offers to take Danny on a trip to visit their mother upstate, but instead, she guides them into the glacial woods of Canada on a quest to visit the Jeanne d'Arc Basin, the site of an oil field that has become her strange obsession. What happens there will change Sergeant Lauren Clay's family forever, as she must finally face what she saw, and did, in Iraq. "Be Safe I Love You" is "a rare, illuminating glimpse into the distinctive experience and psyche of a female vet" ("Boston Globe"); "a riveting suspense story and a frank portrayal of war's psychic damage" ("Ms. Magazine"); and "a painful exploration of the devastation wrought by combat even when the person returns from war without a scratch...this book is a reminder that art and love are all that can keep us from despair" ("The New York Times Book Review").
Sklep: Libristo.pl 21,33 zł
Książki / Literatura obcojęzyczna
THE RED BADGE OF COURAGE is a war novel by American author Stephen Crane (1871-1900). Taking place during the American Civil War, the story is about a young private of the Union Army, Henry Fleming, who flees from the field of battle. Overcome with shame, he longs for a wound, a "red badge of courage," to counteract his cowardice. When his regiment once again faces the enemy, Henry acts as standard-bearer. Although Crane was born after the war, and had not at the time experienced battle first-hand, the novel is known for its realism. He began writing what would become his second novel in 1893, using various contemporary and written accounts (such as those published previously by Century Magazine) as inspiration. It is believed that he based the fictional battle on that of Chancellorsville; he may also have interviewed veterans of the 124th New York Volunteer Infantry Regiment, commonly known as the Orange Blossoms. Initially shortened and serialized in newspapers in December 1894, the novel was published in full in October 1895. A longer version of the work, based on Crane's original manuscript, was published in 1982. The novel is known for its distinctive style, which includes realistic battle sequences as well as the repeated use of color imagery, and ironic tone. Separating itself from a traditional war narrative, Crane's story reflects the inner experience of its protagonist (a soldier fleeing from combat) rather than the external world around him. Also notable for its use of what Crane called a "psychological portrayal of fear",[ the novel's allegorical and symbolic qualities are often debated by critics. Several of the themes that the story explores are maturation, heroism, cowardice, and the indifference of nature. The Red Badge of Courage garnered widespread acclaim, what H. G. Wells called "an orgy of praise", shortly after its publication, making Crane an instant celebrity at the age of twenty-four. The novel and its author did have their initial detractors, however, including author and veteran Ambrose Bierce. Adapted several times for the screen, the novel became a bestseller. It has never been out of print and is now thought to be Crane's most important work and a major American text.
Sklep: Libristo.pl 90,05 zł
Multiply Walker Large Print
Książki / Literatura obcojęzyczna
Jesus gave his followers a command: "Follow me." And a promise: "And I will equip you to find others to follow me." We were made to make disciples.Designed for use in discipleship relationships and other focused settings, "Multiply "will equip you to carry out Jesus's ministry. Each of the twenty-four sessions in the book corresponds with an online video at www.multiplymovement.com, where "New York Times "bestselling author David Platt joins Francis in guiding you through each part of "Multiply." One plus one plus one. Every copy of "Multiply "is designed to do what Jesus did: make disciples who make disciples who make disciples.... Until the world knows the truth of Jesus Christ.
Sklep: Libristo.pl
Sklepy zlokalizowane w miastach: Warszawa, Kraków, Łódź, Wrocław, Poznań, Gdańsk, Szczecin, Bydgoszcz, Lublin, Katowice
Szukaj w sklepach lub całym serwisie
2. Szukaj na wszystkich stronach serwisu
t1=0.047, t2=0, t3=0, t4=0, t=0.047