krainaksiazek letters the new york times did not print 20091029
- znaleziono 6 produktów w 2 sklepach 219,25 zł
Książki / Literatura obcojęzyczna
All the Art That's Fit to Print reveals the true story of the world's first Op-Ed page, a public platform that--in 1970--prefigured the Internet blogosphere. Not only did the New York Times's nonstaff bylines shatter tradition, but the pictures were revolutionary. Unlike anything ever seen in a newspaper, Op-Ed art became a globally influential idiom that reached beyond narrative for metaphor and changed illustration's very purpose and potential. Jerelle Kraus, whose thirteen-year tenure as Op-Ed art director far exceeds that of any other art director or editor, unveils a riveting account of working at the Times. Her insider anecdotes include the reasons why artist Saul Steinberg hated the Times, why editor Howell Raines stopped the presses to kill a feature by Doonesbury's Garry Trudeau, and why reporter Syd Schanburg--whose story was told in the movie The Killing Fields--stated that he would travel anywhere to see Kissinger hanged, as well as Kraus's tale of surviving two and a half hours alone with the dethroned peerless outlaw, Richard Nixon. All the Art features a satiric portrayal of John McCain, a classic cartoon of Barack Obama by Jules Feiffer, and a drawing of Hillary Clinton and Obama by Barry Blitt. But when Frank Rich wrote a column discussing Hillary Clinton exclusively, the Times refused to allow Blitt to portray her. Nearly any notion is palatable in prose, yet editors perceive pictures as a far greater threat. Confucius underestimated the number of words an image is worth; the thousand-fold power of a picture is also its curse. Op-Ed's subject is the world, and its illustrations are created by the world's finest graphic artists. The 142 artists whose work appears in this book hail from thirty nations and five continents, and their 324 pictures-gleaned from a total of 30,000-reflect artists' common drive to communicate their creative visions and to stir our vibrant cultural-political pot.
Sklep: Libristo.pl 45,80 zł
Nauki humanistyczne
Alain de Botton, best-selling author of How Proust can Change Your Life, has set six of the finest minds in the history of philosophy to work on the problems of everyday life. Here then are Socrates, Epicurus, Seneca, Montaigne, Schopenhauer and Nietzsche on some of the things that bother us all; lack of money, the pain of love, inadequacy, anxiety, the fear of failure and the pressure to conform.
Sklep: Albertus.pl 44,80 zł
Powieści i opowiadania
Is Moses Herzog
Sklep: Albertus.pl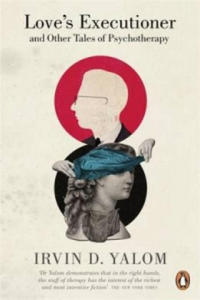 49,13 zł
Książki / Literatura obcojęzyczna
Love's Executioner offers us the humane and extraordinary insight of renowned psychiatrist Irvin D. Yalom into the lives of ten of his patients - and through them into the minds of us all. Why was Saul tormented by three unopened letters from Stockholm? What made Thelma spend her whole life raking over a long-past love affair? How did Carlos' macho fantasies help him deal with terminal cancer? In this engrossing book, Irvin Yalom gives detailed and deeply affecting accounts of his work with these and seven other patients. Deep down, all of them were suffering from the basic human anxieties - isolation, fear of death or freedom, a sense of the meaninglessness of life - that none of us can escape completely. And yet, as the case histories make touchingly clear, it is only by facing such anxieties head on that we can hope to come to terms with them and develop. Throughout, Dr Jalom remains refreshingly frank about his own errors and prejudices; his book provides a rare glimpse into the consulting room of a master therapist. Reviews: "Dr Yalom demonstrates once again that in the right hands, the stuff of therapy has the interest of the richest and most inventive fiction". (Eva Hoffman, New York Times). "These remarkably moving and instructive tales of the psychiatric encounter bring the reader into novel territories of the mind - and the landscape is truly unforgettable". (Maggie Scarf). "Love's Executioner is one of those rare books that suggests both the mystery and the poetry of the psychotherapeutic process. The best therapists are at least partly poets. With this riveting and beautifully written book, Irvin Yalom has joined their ranks". (Erica Jong). "Inspired ...He writes with the narrative wit of O. Henry and the earthy humor of Isaac Bashevis Singer". (San Francisco Chronicle). "Dr Yalom offers a valuable insight into the delicate process of therapy". (Sunday Telegraph). "Irvin Yalom writes like an angel about the devils that besiege us". (Rollo May). "These stories are wonderful. They make us realize that within every human being lie the pain and the beauty that make life worthwhile". (Bernie S. Siegel). "Dr Yalom is unusually honest, both with his patients and about himself". (Anthony Storr). "Yalom is a gifted storyteller, and from the sound of these tales, a no-less-gifted psychotherapist". (Los Angeles Times). "This is an impressive transformation of clinical experience into literature. Dr Yalom's case histories are more gripping than 98 percent of the fiction published today, and he has gone to amazing lengths of honesty to depict himself as a realistic flesh-and-blood character: funny, flawed, perverse, and, above all, understanding". (Phillip Lopate). "I loved Love's Executioner. Dr Yalom has learned something that fiction writers learned years ago - that people's mistakes are a lot more interesting than their triumphs". (Joanne Greenberg). About the author: Irvin D. Yalom is Professor Emeritus of Psychiatry at the Stanford University School of Medicine. As well as an award-winning psychiatrist and psychotherapist, he is an extremely prolific author. His many other works include The Gift of Therapy, Staring at the Sun, When Nietzsche Wept, The Theory and Practice of Group Psychiatry, The Schopenhauer Cure, Lying on the Couch, Momma and the Meaning of Life, Existential Psychotherapy, I'm Calling the Police, Inpatient Group Psychotherapy, Every Day Gets a Little Closer and The Spinoza Problem.
Sklep: Libristo.pl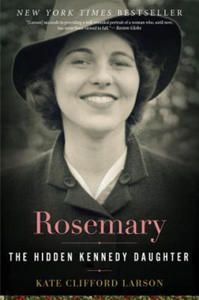 58,85 zł
Książki / Literatura obcojęzyczna
A New York Times bestseller "[Larson] succeeds in providing a well-rounded portrait of a woman who, until now, has never been viewed in full." -Boston Globe "Heartbreaking." - Wall Street Journal They were the most prominent American family of the twentieth century. The daughter they secreted away made all the difference. Joe and Rose Kennedy's strikingly beautiful daughter Rosemary attended exclusive schools, was presented as a debutante to the Queen of England, and traveled the world with her high-spirited sisters. And yet, Rosemary was intellectually disabled - a secret fiercely guarded by her powerful and glamorous family. Major new sources - Rose Kennedy's diaries and correspondence, school and doctors' letters, and exclusive family interviews - bring Rosemary alive as a girl adored but left far behind by her competitive siblings. Kate Larson reveals both the sensitive care Rose and Joe gave to Rosemary and then - as the family's standing reached an apex - the often desperate and duplicitous arrangements the Kennedys made to keep her away from home as she became increasingly intractable in her early twenties. Finally, Larson illuminates Joe's decision to have Rosemary lobotomized at age twenty-three, and the family's complicity in keeping the secret. Rosemary delivers a profoundly moving coda: JFK visited Rosemary for the first time while campaigning in the Midwest; she had been living isolated in a Wisconsin institution for nearly twenty years. Only then did the siblings understand what had happened to Rosemary and bring her home for loving family visits. It was a reckoning that inspired them to direct attention to the plight of the disabled, transforming the lives of millions.
Sklep: Libristo.pl 45,66 zł
Książki / Literatura obcojęzyczna
This widely acclaimed novel about a female soldier who returns from Iraq haunted by a tragic mistake is "beautifully written...suspenseful and smart and tender in unexpected moments" ("Miami Herald") and was named one of the 5 Best in Modern War Fiction by "The Sunday Telegraph." Before she enlisted, classically-trained singer Lauren Clay had been accepted to a prestigious music conservatory, but her family's financial demands--worsened by her parents' divorce and her father's declining mental health--pushed her in another direction. Joining the army allowed Lauren to provide for her family--especially her younger brother Danny, whose quirky, heartfelt letters to her overseas are signed, "be safe, I love you." When she arrives home unexpectedly, it's clear to her friends and family that something is profoundly wrong with Lauren. But her father is so happy to have her home that he ignores her odd behavior, as well as the repeated phone calls from an army psychologist. Things seem better when Lauren offers to take Danny on a trip to visit their mother upstate, but instead, she guides them into the glacial woods of Canada on a quest to visit the Jeanne d'Arc Basin, the site of an oil field that has become her strange obsession. What happens there will change Sergeant Lauren Clay's family forever, as she must finally face what she saw, and did, in Iraq. "Be Safe I Love You" is "a rare, illuminating glimpse into the distinctive experience and psyche of a female vet" ("Boston Globe"); "a riveting suspense story and a frank portrayal of war's psychic damage" ("Ms. Magazine"); and "a painful exploration of the devastation wrought by combat even when the person returns from war without a scratch...this book is a reminder that art and love are all that can keep us from despair" ("The New York Times Book Review").
Sklep: Libristo.pl
Sklepy zlokalizowane w miastach: Warszawa, Kraków, Łódź, Wrocław, Poznań, Gdańsk, Szczecin, Bydgoszcz, Lublin, Katowice
Szukaj w sklepach lub całym serwisie
2. Szukaj na wszystkich stronach serwisu
t1=0.039, t2=0, t3=0, t4=0.022, t=0.04