krainaksiazek level three leadership 20100385
- znaleziono 14 produktów w 2 sklepach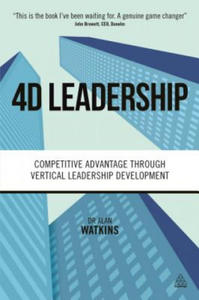 138,90 zł
Książki / Literatura obcojęzyczna
Today's leaders need to change radically to meet the challenge of complex organizations in business landscapes that are in flux. This requires not merely new skills and competencies, but a step-change in development in three fundamental dimensions: how you do things, who you are, and how you relate to other people. When you move up to the next level of ability and sophistication in each of these three dimensions, you will have unlocked the fourth dimension (verticality) and you will achieve a significant competitive advantage through 4D Leadership. Neuroscientist and leadership coach Dr Alan Watkins draws on groundbreaking research into adult development to present a framework that will transform your ability to excel as a leader. 4D Leadership isn't just a software patch for leadership skills: this is an upgrade to the next level of the human operating system, the next level of leadership development. If you feel overwhelmed by the competing priorities of your job, this book will help. If you feel stressed by trying to maintain a competitive advantage through innovation, this book will open new dimensions of competitiveness. If you need to develop a more responsive and rewarding strategy, this book will help you reach the next level in your thinking. If you want to develop your capacity to drive change and to take people with you, this book will show you how. If you want to be a truly rounded and 4-dimensional leader, this book is for you.
Sklep: Libristo.pl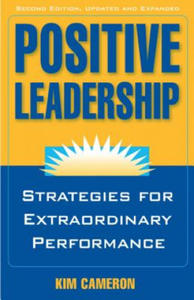 78,81 zł
Książki / Literatura obcojęzyczna
The first edition introduced the newly emerging field called Positive Organizational Scholarship. Rather than focusing on organizational dysfunction, Positive Organizational Scholarship looks at organizations that are functioning at an unusually high level. Learning from such successful groups about what they did right forms the backbone of the strategy, because strategies that capitalize on the positive tend to produce life-giving, flourishing outcomes in organizations.§The four strategies discussed in the first edition included the cultivation of positive climate, positive relationships, positive communication, and positive meaning. Each strategy is explained and illustrated. In this revised edition, the author will add the following materials:§§Chapter 1: Outlining three outcomes associated with positive leadership and one more example.§Chapter 2: Adding some empirical findings linking attributes of climate with physiological benefits.§Chapter 3: A brief discussion of temporary encounters with positive or negative outcomes.§Chapter 4: Additional research on the results of the positive-to-negative-communication-ratio.§Chapter 5: Elaboration on the issue of meaningfulness in work.§Chapter 6: More ideas for implementation
Sklep: Libristo.pl 1353,36 zł
Management CENGAGE Learning Custom Publishing
Książki / Literatura obcojęzyczna
The goal of MANAGEMENT: AN INTEGRATED APPROACH, 2nd Edition, is to prepare students for leadership positions in 21st century companies by addressing the many facets involved in answering one key question: How are leaders successfully managing competitive companies in the 21st century? Today's constantly changing business environment presents challenges and opportunities that are more dynamic and complex than ever before, requiring a clear understanding of the interactive nature of strategy, organizational design, and leadership. MANAGEMENT: AN INTEGRATED APPROACH, written by prominent Harvard management educators Ranjay Gulati, Anthony Mayo, and Nitin Nohria, is the only introductory management text on the market to address this challenge by taking an integrated and holistic approach to management, as opposed to a functional approach, making it more relevant to how today's organizations run. By demonstrating the interconnectivity among the three key pillars of management, students see how decisions impact strategic choices, organizational alignment, and leadership approaches, ultimately leading to the overall performance of the company. MindTap for Gulati/Mayo/Nohria's MANAGEMENT: AN INTEGRATED APPROACH, has been completely revised and updated to incorporate a suite of new digital resources designed to facilitate and measure student success. This unique approach will develop a sustainable and successful leadership style, better preparing students for higher level courses and making them more marketable upon graduation.
Sklep: Libristo.pl 191,34 zł
Książki / Literatura obcojęzyczna
Author's Preface to the English Edition 2010 In this book I am presenting a new kind of management for a new kind of world. It is my concept of right and good management for functioning organizations in functioning societies of exceeding complexity. The need for such a concept arises because conventional management - by which, basically, I mean the US-type management theory and practice now applied worldwide - has come to its very limits as it is unable to deal with the consequences of its own success. The result of its tremendous achievements is a world of inextricably interrelated dynamic systems which are incomprehensibly complex. This has largely been ignored by the dominating US management approach because it was never designed for such conditions. It now fails exactly for this reason, thereby causing the present crisis. I have actually been predicting this for years in many of my publications, including the German version of this book which was first published in 2005. The fact that success almost inevitably breeds its own failure is often overlooked, although it is well known in many fields and in particular in those that accept complexity explicitly as their research subject such as biology or ecology. Albert Einstein already remarked that one cannot solve problems with the same methods which produced them. Failure to manage complexity as the major cause of the worldcrisis What, at present, a majority - at least in the West - considers to be a mere financial crisis can probably be much better understood if it is looked at from an altogether different perspective: the failure to understand and manage complexity. Business and society seem to be undergoing one of the most fundamental transformations in history. Only on the surface, and only if perceived in conventional categories, do present changes appear to be financial and economic in nature. What is happening might better be understood as an Old World dying because a New World is being born. There will hardly be any bridges back to the old state of affairs. Perhaps the most practical premise to navigate by is that whatever can change will change. If so, we are witnessing no less than the almost complete collapse of the formerly so efficient US management approach, which was developed mainly in the context of business administration and taught in business schools as the ultimate wisdom with regard to the running of corporations in a world where its premises applied to an ever lesser degree. Its realities have already been changing for quite some time but this went largely unnoticed because most people tend to see only the old familiar patterns in the new realities. We are experiencing in particular the failure of the US-type of corporate governance and the kind of top management which is dominated almost exclusively by financial variables only. We see the collapse of the shareholder value approach, which due to its short term profit orientation is largely ignoring the customer and is hostile to future-oriented investing and innovating, thereby systematically misdirecting the allocation of societal resources. The failure of the US-approach is, among other aspects, the consequence of mistaking financial investment for real investment, thereby undermining the former strengths of the US-economy, of confusing mountains of bad debts with sustainable wealth, and of failing to distinguish between healthy and pathological growth. Ironically, what collapsed first was the financial system which appeared to be the most highly developed and sophisticated system ever designed. It was believed to be free of systemic risk by most experts and run by the world's most excellent executives educated in what were thought to be the best universities and business schools worldwide. However, complex systems have properties and laws of their own. Their driving forces - if systematically ignored - make them inevitably go out of control. Such systems are incomputable and unpredictable in principle and incomprehensible to the conventionally educated mind. They are non-linear, self-dynamic and continuously self-changing and self-restructuring in unforeseeable ways. They are largely self-organizing and self-regulating. Nevertheless, they can be - up to a degree - controlled and regulated albeit only by a fundamentally different kind of thinking, a new approach for managing complexity and by applying the right methods and tools which are the subject of this book and its companion volumes. Reliable Functioning by Wholistic Management Systems Economic and financial measures on the macro level alone will hardly cure the crisis. What it takes on the level of societal institutions is a new way of functioning which is described in my six volume series Management: Mastering Complexity in which I present my Malik Wholistic General Management Systems. This first volume contains an overview of the system as a whole whereas the other five volumes will describe the constitutive parts of the system. The second volume "Corporate Policy and Governance: How Organizations Self-Organize", was published in 2008 in German and will be available in English soon. The third volume on strategy is still due in 2010. The remaining three volumes will be dedicated to the new structure for functioning complex organizations, their appropriate culture and the kind of executives who have to be able to understand and master complexity. Together these six volumes will contain the essence of the most comprehensive General Management System worldwide. To the best of my knowledge my Wholistic General Management Systems are globally the only ones explicitly designed to ensure reliable functioning under conditions of exceedingly high and dynamic complexity. For this reason and because my Management Systems are universally applicable conventional business administration plays a limited role in my book. For practical reasons, however, I am going to illustrate the application of my systems mainly in the context of the business enterprise. Familiar concepts and terms are left unchanged wherever possible in order to avoid confusion for the practitioner whereas their meaning and most contents are new and different. The important new knowledge for mastering complex systems does not come from economics or business administration but from what I call the Complexity Sciences, i.e. Systemics, Bionics and Cybernetics, which can also be called the Sciences of Functioning. For the term "Functioning" I often use the synonym "Right and Good Management" as opposed to wrong and bad management. By this I want to point to the need to understand management as a true profession with its own standards of craftsmanship as indicated in the subtitle of this book. If the institutions of today's and more so of tomorrow's societies are supposed to function, management needs to liberate itself from fashions and fads and has to become a profession of the same status as for example the profession of the surgeon, the aircraft pilot or the lawyer all of which have as a matter of course their standards of professionalism. The foundation for a profession of effective management for functioning institutions is to be found in my earlier book Managing Performing Living. My General Management Systems - with the support of the experts of my own organization - have been developed, tested and implemented in numerous cases over more than 30 years in all sorts of institutions in business and non-business areas mostly in Europe and particularly in the German speaking world including their worldwide subsidiaries. What works in the complexities of these areas will almost certainly work worldwide. Having discussed the structure, functioning principles and effects of my systems with tens of thousands of executives of all levels I have strong arguments that there is only one kind of management that works effectively, namely Right and Good Management as I present it in my books, and that it is - contrary to mainstream thinking - universally valid and culturally invariant. Fashionable arbitrariness which so often characterizes management should not be given any place in what is one of the most important social functions. In most respects my Wholistic Management Systems for Functioning are the opposite of what is taught in most business schools. That they will have to change fundamentally as a consequence of the global crisis is hesitatingly becoming apparent to some - among them also a few leading ivy league schools. But it might be a long and hard way for them to recover from the fallacies of their own teachings and partly from the application of wrong management to themselves. At the same time, however, if they manage to change radically and fast it is one of the greatest opportunities for them to show effective leadership in the service of a functioning society in times of great change. Fredmund Malik St. Gallen, January 2010 Introduction "The very first step toward success in any occupation is to become interested in it." Sir William Osler (1849 - 1919), physician Our increasingly complex world cannot function without management, and it can hardly function without precise management. This is true for all kinds of societal institutions, be it commercial enterprises or other organizations. The purpose of this book is to help their managers and employees fulfill their demanding occupational tasks in a professional manner. In the midst of a jumble of doctrines, ideologies, and true innovations, this book will provide the overview required to distinguish right from wrong and useful from useless. These distinctions are indispensable for meeting both individual and shared responsibilities at each stage of a professional career. They are also crucial for successful and productive interaction. This book is a compact compendium for right and good management - for general management - in that it provides the necessary overview of what it entails. In the following volumes of this series, each of the elements of right and good management will be described in greater detail, including both theoretical content and recommended implementation approaches. Interested readers will be able to familiarize themselves with the tools and practices of the craft, along with numerous practical examples. As such, the present book is a prelude to a practical, comprehensive guide to what the management craft and managerial professionalism must entail. Sound general management is not about doing something new, modern, or fashionable. What matters is that it is right, that it works, and that it helps practitioners fulfill their tasks to the best of their abilities. The subject of this book - and of the rest of my publications - is not the "management thinking of today". Rather, all my books are practical guides to effectiveness. They point out my personal opinions on different matters, which are often not in sync with mainstream thinking. Management. The Essence of the Craft continues, enlarges upon, and complements my book Managing Performing Living. While the latter deals with the conduct and actions of the individual manager, the present book goes much further in that it deals with the institution as a whole - with system-oriented general management. The book contains a series of propositions which, compared to mainstream thinking, may be regarded as provocative, unusual, and frequently even wrong - at least initially. In this book, and the books to follow, I am putting my arguments forward for discussion. Central Propositions 1.Management is society's most important function. The functioning of society depends on management. Only management turns resources into results. 2.Management can largely be acquired by learning. It is a profession and a craft. It follows the same rules of professionalism that are known and have proven useful in other professions. Talents are useful but not essential. 3.The only kind of management a person needs to learn is right and good management. Right and good management is universal, invariant, and independent of culture. It is equally valid for all kinds of organizations and all countries. There is no need for international, multicultural, or global management. All effective institutions function in the same way. They employ the same functional principles. 4.Apparent differences are not related to management but to the nature of the different tasks to be fulfilled in different organizations. 5.Not everyone can manage just any organization. This is not due to management skills but to the difference in operational tasks. 6.All managers in all organizations and across all hierarchy levels need the same kind of management skills. Not all, however, need them in the same degree of comprehensiveness and detail. Disregarding this principle leads to a lack of orientation and direction, which, in turn, means the end of communication and function. 7.In my view, most of the management ideas prevailing over the past fifteen years or so are false, misleading, and harmful. This is true in particular for anything related to the doctrine of shareholder value and its consequences - such as value-increasing strategies and a way of thinking that focuses predominantly on financial aspects. The stakeholder approach is equally wrong. 8.The economic difficulties of our time, which I believe will inevitably deepen, are largely due to factors other than political errors. They are results of misguided management, of faulty and poor management. As a result, the question as to what right and good management is gains all the more importance. A Word on the Terms Used In management - as opposed to other, more advanced and mature disciplines of learning - there is no such thing as uniform or common parlance. Quite to the contrary: most authors attempt to impress readers by inventing their own terms and slogans. This is a roadblock to progress and to acquiring management skills. For this book, I essentially draw on the terms used in the St. Gallen Management Model, the first and so far only wholistic, system-driven management model, as well as on the linguistic usage of Peter F. Drucker, the doyen of management theory. As far as cybernetics and system sciences are concerned, I draw on the terms used by Stafford Beer, the originator of management cybernetics, and my own book Strategie des Managements komplexer Systeme ["Strategy for the Management of Complex Systems"]. 1.The terms "company", "organization", and "institution" are largely used in the same sense. Certain variances in meaning relate to the degree of generality, or the special limitation to a segment of society. The most general terms are "institution" and "organization". They refer to all organizations existing in a society, no matter what kind or legal form. The term "company", in essence, belongs to the business sector. Whenever no specific pointers are provided, it will be clear from the context what I mean when using each of these terms. The term most frequently used in this book is "company" and other terms related to it, such as "corporate policy". The statements made will generally be applicable to all kinds of institutions. Depending on the field of usage, the terms might need to be adapted somewhat, as in "educational policy" or "health policy". 2.The term "management" itself can be understood in several ways: Firstly, as a function that exists in any kind of organization and is indispensable for its functioning. This is the so-called functional dimension of management. It is neither linked to specific persons nor to organizational elements. This function is not perceptible to our senses. It is incorporated in certain actions taken by individuals and in this way its impact is perceived. Secondly, the term "management" can be understood to be the sum of the legal and/or organizational authorities in an institution. Examples include the executive board of a private company, the executive committee of a public company, a national government, or a university's board of directors. This is referred to as the institutional dimension, and it also includes expanded boards of managers, group management, management circles, or partners' conferences. As far as mandatory and/or higher-level authorities are concerned, the respective responsibilities, rights, obligations, and accountabilities are governed by laws, articles of incorporation, or statutes. Those of other organizational entities are determined by common sense and habits. Thirdly, management can be understood to include the persons that belong to the institutional authorities mentioned. This is the personal dimension of management. In particular the terms "top management" and "top manager" frequently carry that meaning. 3.I use the term "management" in the same meaning as its German equivalent "Führung". Both terms mean the same. In all my German-language publications, I use the two terms synonymously. By contrast, the terms "management" and "leadership" do not mean the same. 4.In the chapter on structure, the term "organization" carries two different meanings: the first, as mentioned above, is what we refer to when we speak of an institution being an organization; the second is what we mean when we speak of an institution having an organization. Which one of the two meanings applies should be clear from the particular context.
Sklep: Libristo.pl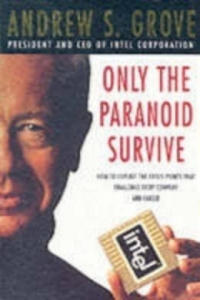 49,50 zł
Książki / Literatura obcojęzyczna
The President and CEO of Intel, the world's largest chip maker, reveals how to identify and exploit the key moments of change in any industry that generates either drastic failure or incredible success. Under Andrew Grove's leadership, Intel has become the world's largest computer chip maker, the 5th most admired company in America, and the 7th most profitable company among the Fortune 500. Few CEOs can claim this level of success. Grove attributes much of it to the philosophy and strategy he has learned the hard way as he steered Intel through a series of potential major disasters. There are moments in any business when massive change occurs, when all the rules of business shift fast, furiously and forever. Grove calls such moments strategic inflection points (SIPs), and he has lived through several. They can be set off by almost anything - by mega competition, an arcane change in regulations, or by a seemingly modest change in technology. They are not always easy to spot - but you can't hide from them. Intel's first SIP was when the Japanese started producing better-quality, lower-cost memory chips. It took Grove three years and huge losses to recognize that he had to rethink and reposition the company to become, once again, leader in its field. Grove extrapolates the lessons he has learned from this and other SIPs - for instance the drama of the Pentium flaw, and the SIP brought on by the Internet - to reveal a unique insight into the management of change. He recounts strategies from other companies and examines his own record of success and failure. "Only the Paranoid Survive" is a classic lesson in leadership skills that every manager in every industry will benefit from. Every manager must assume that something will change - very soon.
Sklep: Libristo.pl 159,42 zł
Książki / Literatura obcojęzyczna
When General Douglas MacArthur arrived in Australia in March 1942, having successfully left the Philippines to organize a new American army, he vowed, "I shall return!" More than two years later he did return, at the head of a large U.S. army to retake the Philippines from the Japanese. The place of his re-invasion was the central Philippine Island of Leyte. Much has been written about the naval Battle of Leyte Gulf that his return provoked, but almost nothing has been written about the three-month long battle to seize Leyte itself. Originally intending to delay the advancing Americans, the Japanese high command decided to make Leyte the "Decisive Battle" for the western Pacific and rushed crack Imperial Army units from Manchuria, Korea, and Japan itself to halt and then overwhelm the Americans on Leyte. As were most battles in the Pacific, it was a long, bloody, and brutal fight. As did the Japanese, the Americans were forced to rush in reinforcements to compensate for the rapid increase in Japanese forces on Leyte.This unique battle also saw a major Japanese counterattack not a banzai charge, but a carefully thought-out counteroffensive designed to push the Americans off the island and capture the elusive General MacArthur. Both American and Japanese battalions spent days surrounded by the enemy, often until relieved or overwhelmed. Under General Yamashita s guidance it also saw a rare deployment of Japanese paratroopers in conjunction with the ground assault offensive.Finally there were more naval and air battles, all designed to protect or cover landing operations of friendly forces. Leyte was a three-dimensional battle, fought with the best both sides had to offer, and did indeed decide the fate of the Philippines in World War II.REVIEWS a highly detailed account of the ground fighting on Leyte from October 1944 through the spring of 1945 a comprehensive eye level picture of the fierce combat and the outstanding heroism of the soldiers who fought there ARMY Magazine "Finally, a definitive account of the battle that wrested the island of Leyte in the Philippines from the Japanese in 1944 has emerged. Although much has been written about the U. S. Navy's role at Leyte, the savage, bloody fighting that took place on land has been overlooked. Fulfilling his pledge to return after he had been forced to leave the Philippines by PT-boat in early 1942, General Douglas MacArthur pushed the idea of a return to the Philippines with the Joint Chiefs and President Franklin Roosevelt. MacArthur's persistence paid off as soldiers from the Sixth Army, aided by Filipino Guerillas, fought the Japanese from late October 1944 until the beginning of 1945. More than 200,000 Americans not only fought a seasoned enemy but had to endure harsh tropical weather with its incessant monsoon rains and typhoons as well. Two prominent officers who deserve the lion's share of the accolades are General Walter Krueger, commanding the Sixth Army, and General Roberrt Eichelberger, leading the Eighth Army. Both had battlefield experience and did a marvelous job as their troops fought at places with names such as Breakneck Ridge, Shoestring Ridge and Ormoc Valley. In a highly unusual move, the Japanese used airborne infantry to parachute behind the American lines to disrupt the flow of supplies and conduct raids. Prefer has penned a meticulous book, complete with the order of battle for each side, a breakdown of U. S. casualties, detailed maps, and 16 photographs. It is a fitting story chronicling the bravery and sacrifices of the dogface GI, and the nearly 3,500 killed and another 10,000 wounded, who beat the very best that the enemy could throw at them and freed the inhabitants of Leyte from a brutal occupation.WWII Magazine nicely crafted series of stories that focus on acts of bravery and leadership as practiced by American infantrymen in face-to-face encounters with the Japanese. His stories put the reader in the front lines with American officers, NCOs, and enlisted men as they encounter and overcome strong Japanese defensive positions, deal with snipers and raiding parties, and resist Japanese counterattacks Journal of America s Military Past
Sklep: Libristo.pl 39,57 zł
Książki / Literatura obcojęzyczna
If you are a leader - or aspiring to be one - then tools like PowerPoint detract, not add, to how your performance will be received. In fact, leadership and the ability to speak and sell yourself and your ideas are inextricably intertwined. Successful leaders speak to help listeners know themselves as well as to influence and inspire them. Chris Witt has helped hundreds of executives take their game to another level. Because, when you are a leader, being a good speaker isn't enough. You have to be a great speaker. Your reputation and the success of your business depend on being able to speak to a variety of audiences confidently and persuasively. Through contemporary and historical examples, Chris provides practical advice on how his readers can take their game to another level by understanding ideas such as: *You are the message - it's your experience, vision and character that audiences want * As a leader, you have only three speeches: to identify, to influence and to inspire * Speak less to say more. Fewer, shorter speeches have greater impact * Dare to be different. Leaders don't play by the rules; they take risks
Sklep: Libristo.pl 169,03 zł
Książki / Literatura obcojęzyczna
Embrace strategies for improving your business and reaching your organization's goals " I wholeheartedly agree with Patrick Stroh: Good leaders understand strategy and good strategists need to be good leaders. Make this book a strategic tool for improving your business strategy." - Harvey Mackay, author of the #1 New York Times bestseller Swim With The Sharks Without Being Eaten Alive In today's fast-moving and competitive business environment, strong leadership, insightful strategy, and effective innovation are critical links to staying ahead of your competition. Getting your business house in order can often be complicated, but does it really have to be? How do you take MBA 101 lessons, great models, and exceptional concepts and put them into play in the real world ? Business Strategy: Plan, Execute, Win! strives to answers these questions in an educational and entertaining format. Working as a Fortune 20 practitioner with C-level executives, author Patrick Stroh has a keen understanding of the role played by current day strategists. With 5 chapters following the format of "All I Ever Needed to Learn About Business Strategy I Learned..." At the Movies, On the Farm, On Shark Tank, On Hell's Kitchen, and From the Bible, readers will gain valuable strategic insight regardless of industry, business maturity, or current business turbulence and how to apply these insights based on the factors impacting their own business. Each chapter ends with a One Chapter Conclusion, Two Gold Nuggets the reader is to write down and Three Additional Resources/Tools for more information, offering a practical roadmap to simplifying your success.
Sklep: Libristo.pl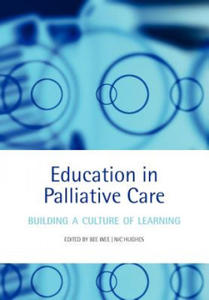 338,38 zł
Książki / Literatura obcojęzyczna
Despite the fact that most palliative care educators are involved in teaching, there is little literature devoted to education specifically within palliative care. This book bridges that gap, giving a wide-ranging, global view of palliative care education. It offers theoretical and practical insights, along with specific suggestions for developing knowledge and skills for teaching. It also contains extensive accounts of important contextual matters which influence the range and quality of palliative care education, including: interprofessional learning; continuing professional development; evaluation; and educational leadership. The development of palliative care as a clinical speciality is increasingly conducted at an international level, and a special feature of this book is the inclusion of chapters reviewing palliative care education in each continent. This enables practitioners and teachers to share knowledge across diverse healthcare systems and cultures. There is also an acknowledgement of the multi-professional team involved in palliative care, as education and training are looked at from the perspectives of doctors, nurses, and allied health professionals. The book is split into three distinct parts: Part 1 - sets the scene for existing palliative care education, both in the UK and internationally. Part 2 - focuses on the theory underpinning each aspect of teaching, learning and assessment, and then examines the practicalities of delivering these in the clinical setting. Part 3 - explores ways of building and nurturing a culture of learning in palliative care, whether as an individual or as an organization.
Sklep: Libristo.pl 29,80 zł
Książki / Literatura obcojęzyczna
Digital disruption continues to cause great confusion for companies of all sizes. For every Kodak-like implosion there's an Uber-like winner-takes-all success. The pace, direction, and impact of digital change has become more sudden, severe, and harder to predict. Think of the car industry and the advent of the self-driving vehicle. Or how the digital cigarette has transformed an industry that may no longer call itself tobacco. These types of disruptions change the game for industries from healthcare to sports equipment. There's no cookie-cutter strategy to get companies through the multi-dimensional nature of the digital beast. Even the sharpest leaders can become disoriented as change builds on change, leaving almost nothing certain. To stand still is to fail. Enterprises and leaders must re-master themselves to succeed. Leaders must identify the key macro forces, then lead their organizations at three distinct levels: industry, enterprise, and self. By doing this they cannot only survive but clean up. Digital to the Core makes the case that all leaders, and particularly CEOs at the helm, must understand the impact the digital revolution will continue to play in their industries, companies, and leadership style and practices. Drawing on interviews from 40 top C-level executives in some of the world's most powerful companies and government organizations, including GE, Ford, Tory Burch, Babolat, McDonalds, and the US Department of Energy, this book delivers cutting-edge insights from those on the front lines. The authors incorporate Gartner's annual research from top CIOs and CEOs and also apply the deep knowledge and qualitative insights they have acquired as practitioners, management researchers, and advisors over decades in the business. Above all else, Raskino and Waller want companies and their top leaders to understand the full impact of digital technology and integrate it at the core of their businesses.
Sklep: Libristo.pl 241,82 zł
Książki / Literatura obcojęzyczna
Part of the Selected Works of Jawaharlal Nehru series, this volume includes lectures, writings, letters, speeches, and other literary works of Nehru, covering three months of his Prime Ministership, from 1 January to 31 March 1958. It reveals his wide range of interests in both national and international affairs. The first chapter mainly deals with Nehru's approach on areas like the role of the youth, rural development, and social change. The second discusses issues of national progress more particularly his views on economy (industry and labour, food, and agriculture); education and culture; language issues; science and technology; and social issues. An important test for Nehru's leadership came in the form of the infamous LIC scandal called 'The Mundhra Affair' leading to the resignation of the finance minister. The third chapter reflects Nehru's concern on the inquiry into the incident and the role of the attorney general. Issues of governance-general administration, services and appointments, citizenship, refugees and rehabilitation both at the central and state level inform the fifth chapter. The next two chapters deal with issues of defence and parliamentary and constitutional matters respectively. Chapter seven concerns with the Indian National Congress, particularly the Guwahati Session and the organizational matters. The states of Kashmir and Sikkim form the basis of chapters eight and nine respectively. Peace and disarmament were topmost of Nehru's agenda during this period and the large section is devoted to external affairs and foreign relations. Towards the end, the volume discusses issues like Nehru's interaction with the press; his letters to the chief ministers, and some miscellaneous information.
Sklep: Libristo.pl 40,80 zł
Biznes
His previous book revealed the shocking truth about globalization. Now, Joseph Stiglitz blows the whistle on the devastation wrought by the free market mantra in the nineties
Sklep: Albertus.pl 176,03 zł
Książki / Literatura obcojęzyczna
Built To Last, the defining management study of the nineties, showed how great companies triumph over time and how long-term sustained performance can be engineered into the DNA of an enterprise from the very beginning. But what about companies that are not born with great DNA? How can good companies, mediocre companies, even bad companies achieve enduring greatness? Are there those that convert long-term mediocrity or worse into long-term superiority? If so, what are the distinguishing characteristics that cause a company to go from good to great? Over five years, Jim Collins and his research team have analyzed the histories of 28 companies, discovering why some companies make the leap and others don't. The findings include: Level 5 Leadership: A surprising style, required for greatness. The Hedgehog Concept: Finding your three circles, to transcend the curse of competence. A Culture of Discipline: The alchemy of great results. Technology Accelerators: How good-to-great companies think differently about technology. The Flywheel and the Doom Loop: Why those who do frequent restructuring fail to make the leap.
Sklep: Libristo.pl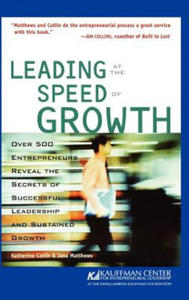 169,19 zł
Książki / Literatura obcojęzyczna
Learn how to take your company to the next level of growth through the stories of over 500 successful entrepreneurs. Developed by the Kauffman Center for Entrepreneurial Leadership, this flagship book introduces a new series on managing growth. The authors expertly guide you through the three stages of entrepreneurial growth: initial growth, rapid growth, and continuous growth. Personal stories told by successful entrepreneurs reveal the hows and whys of evolving as a leader at each stage, identifying red flags, vital signs, and secrets of sustained growth. Become a dynamic leader by using this book as your roadmap to entrepreneurial success.
Sklep: Libristo.pl
Sklepy zlokalizowane w miastach: Warszawa, Kraków, Łódź, Wrocław, Poznań, Gdańsk, Szczecin, Bydgoszcz, Lublin, Katowice
Szukaj w sklepach lub całym serwisie
2. Szukaj na wszystkich stronach serwisu
t1=0.085, t2=0, t3=0, t4=0, t=0.085