krainaksiazek life in a wetland 20043314
- znaleziono 13 produktów w 2 sklepach 301,44 zł
Książki / Literatura obcojęzyczna
Ansupa, the largest freshwater lake of Odisha lies in the Banki subdivision of Cuttack district. It is the so called sister lake of Chilika once was looking like a heavenly picture gallery with small fishing boat on the blue waters and hills on the banks, birds of different colours and above all lotus and lilies. The lake is bounded by Saranda hills on its western side, Bishnupur hills on its north east side and surrounded by villages like Subarnapur, Kadalibadi, etc. The lake is connected with river Mahanadi on its south-east side by channel known as Kabuli Nallah. The water depth is 5-10ft. Owing to peculiar geographic location as well as microclimatic conditions several type of life forms are met with. Out of which the aquatic species deserves special mention being one of the most valuable and productive ecosystems of the world. This lake has its own reputation among the wetlands of the state.The scenic beauty accomplished with colourful flowers and birds have attracted the nature lovers in the recent past.Out of the 149 species,75 species are dicotyledons and 74 are monocotyledons. With the interference of human, species became rare and some are on the verge of extinction.
Sklep: Libristo.pl 45,12 zł
Książki / Literatura obcojęzyczna
The wetland is a murky, moist, and mysterious world. Atop its glittering surface and beneath its shadowy depths, birds, bass, minks, and muskrats struggle to survive and flourish. Madeleine Dunphy's lyrical prose shows the relationships between the wetland's plants and animals, giving young readers a clear picture of how each living creature depends on the others for survival. Illustrator Wayne McLoughlin adds stunning visuals, with luminous, detailed paintings that convey the fragile beauty and complexity of this critically important ecological community.
Sklep: Libristo.pl 332,48 zł
Książki / Literatura obcojęzyczna
The present study emphasizes impacts of habitat modification of urban wetland on plant species composition in rapidly developed Pune suburban area. Earlier Pune urban wetlands were rich ecosystems providing a habitat for a wide variety of aquatic life. Recently it has been influenced by many factors like habitat loss, overgrazing, high human population pressure and new trend in urban development around the lake. 173 aquatic macrophytes were reported from selected wetlands i.e. Pashan Lake (121) followed by Bhosari Lake (93), Akurdi Lake (86) and Katraj Lake (67). When compared with previous literature it shows net 100% loss of wetland area in case of Bhosari Lake. The phytosociological parameters shows relationships between plant communities and species composition. There was a positive correlation between water quality and composition of macrophyte species and direct correlation between anthropogenic activities and number and composition of macrophytes. The existing and potential effects of wetland activities on adjacent and other ecosystems were considered while preparing the management plan for the eco-restoration of Pashan Lake.
Sklep: Libristo.pl 67,36 zł
Książki / Literatura obcojęzyczna
In Africa "only food runs...and there's nothing you can outrun!" In the tradition of Bill Bryson, a new writer brings us the lively adventures and wit of an African safari guide. Despite that fact that "I had none of the qualities you would expect of a rugged bush man...I'm markedly uncoordinated, can't repair vehicles or understand how they work, I don't like guns, and sweat profusely when nervous or excited..which is exactly how watching animals makes me feel", Peter Allison works as a top safari guide in the Okavango Delta. In this oasis of wetland in the middle of the Kalahari desert, rich with wildlife, he caters to the whims of his wealthy clients, he often has to overcome the impulse to run as far away from them as he can, as these tourists are sometimes more dangerous than a pride of lions! Full of outrageous-but-true tales of the people and animals he has encountered - the half-naked missing member of the British royal family; the squirrel that overdosed on malaria pills; the monkeys with an underwear fetish; and last, but by no means least, "Spielberg" the video-obsessed Japanese tourist - Allison's hilarious stories reveal his good-natured scorn for himself, as well as others. Allison's humour is exceeded only by his love and respect for the animals, and his goal is to limit any negative exposure by planning trips that are minimally invasive - unfortunately it doesn't always work out that way, as he and his clients discover to their cost when they find themselves up to their necks in a hippo-infested watering hole! Full of essential wisdom like "Don't run,whatever you do" and "never stand behind a frightened zebra" (they are prone to explosive flatulence when scared!), this is a wonderful and vivid portrait of what the life of a safari guide is really like.
Sklep: Libristo.pl 474,24 zł
Książki / Literatura obcojęzyczna
The current volume is an addition to "Advances in Fish and Wildlife Ecology and Biology". As in the previous volumes, this volume 5 contains two sections-the first dealing with fish and limnology and the second with wildlife. The first section includes some recent additions to our knowledge in reproductive biology, histopathological changes in inter-renal and chromafin cells exposed to sublethal concentrations of carbaryl and cartap in fish, some studies on neuroendocrinology regulation of egg maturation, culture of giant fresh water prawn, art of freshwater prawn culture in saline water, anomalies in freshwater major Indian carps, population growth and demography of Moinodaphnia in relation to algal food density, bloom events of cyanobacteria associated with fish kills, freshwater diversity of Tunga and Bhadra rivers and a review of Bhoj wetland. The section on wildlife includes five chapters on different aspects of advances made in our knowledge of bird life, another chapter deals with study of responses of thyroid, parathyroid and adrenal cortex to sublethal administration of heroin in Rattus; there is also a chapter on biodiversity resources of Bhitarkanika mangrove system. A chapter dealing with oocyte interactions during folliculogenesis in mammals has also been added. There are two chapters on studies in insects. One deals with the alterations in enzyme activities in Cockroach induced by sublethal concentrations of chemicals; the other deals with the damage caused to medicinal plants by insect pests in the Jammu Shivaliks. A chapter on new systematics in parasitological taxonomy has also been included.
Sklep: Libristo.pl 113,44 zł
Książki / Literatura obcojęzyczna
The northern California coast, from Monterey County to the Oregon border, is home to some of the richest avian habitats on the North America continent. Field Guide to Birds of the Northern California Coast provides a comprehensive ecological overview of this extensive and diverse region, and detailed discussions of the most common waterbirds, raptors and landbirds found there. Accessibly written and user-friendly, this guide contains nearly 250 species accounts, including seasonal rhythms and behavioral characteristics of each species, and is illustrated with 120 color photographs. Also featured are site guides to the most productive and accessible birding locales, with each coastal county represented. Rich Stallcup (1944-2012) was a preeminent California field ornithologist, naturalist, and conservationist. He was founder of the Point Reyes Bird Observatory, former president of Western Field Ornithologists, and author of many articles and books on bird identification, biogeography, and conservation. Jules Evens is a wildlife biologist with four decades of experience observing Northern California's coastal bird life. He founded Avocet Research Associates, a biological consulting firm specializing in wetland ecology with a focus on rare, threatened, and endangered species. Previous books include The Natural History of the Point Reyes Peninsula (UC Press, 2008) and An Introduction to California Birdlife (UC Press, 2005).
Sklep: Libristo.pl 31,84 zł
Książki / Literatura obcojęzyczna
The girls are off to spend a day at the local wetland centre. Things begin to get interesting when Rachel finds strange prints in the mud. What made the prints? It looks as if dinosaurs are still alive. The girls are on the track of something strange. Kelly is not impressed when they find the answer. Making Tracks is part of the Siti's Sisters Series, in a set of six light-hearted fiction books designed to have particular appeal to girls. Siti and her friends are four girls who experience all sorts of life issues in this engrossing series. They are ideal for touching the hearts of young girls and always a great read. Each fast moving story is around 1200 - 1500 words in length, with tightly controlled vocabulary and contemporary black and white illustrations throughout to help readers engage and follow the narrative. Published by Ransom Publishing, the books are designed to appeal to reluctant readers ages 9 to 10 with a reading age of 7. There are a further 18 books in the series which build up reading skills and stamina. In the other sets in the series Siti and her sisters gradually grow up and the storylines develop into those suitable for young teenage girls.
Sklep: Libristo.pl 674,08 zł
Książki / Literatura obcojęzyczna
The updated edition of the classic, fundamental book on weed science Weed Science provides a detailed examination of the principles of integrated weed management with important details on how chemical herbicides work and should be used. This revised Fourth Edition addresses recent developments affecting weed science. These include the increased use of conservation-tillage systems, environmental concerns about the runoff of agrochemicals, soil conservation, crop biotechnology, resistance of weeds and crops to herbicides, weed control in nonagricultural settings and concerns regarding invasive plants, wetland restoration, and the need for a vastly improved understanding of weed ecology. Current management practices are covered along with guidance for selecting herbicides and using them effectively. To serve as a more efficient reference, herbicides are cross-listed by chemical and brand name and grouped by mechanism of action and physiological effect rather than chemical structure. In addition, an introduction to organic chemistry has been added to familiarize readers with organic herbicides. Also included are guidelines on weed-control practices for specific crops or situations, such as small grains, row crops, horticultural crops, lawns and turf, range land, brush, and aquatic plant life. Generously supplemented with 300 drawings, photographs, and tables, Weed Science is an essential book for students taking an introductory course in weed science, as well as a reference for agricultural advisors, county agents, extension specialists, and professionals throughout the agrochemical industry.
Sklep: Libristo.pl 469,60 zł
Książki / Literatura obcojęzyczna
Freshwater is a most precious natural resource. To the developed world, refreshing, untainted water is presumed from the taps of millions of householders. The many rivers, streams, ponds and lakes are for the pleasure and enjoyment of the leisure hours of urban dweller and rural inhabitant alike-boating, fishing, sailing and swimming come readily to mind. To the agriculturalist and industrialist it is often the cornerstone of their enterprises. To the environmentalist and naturalist it is the basis of the wetland and open water communities which provide the habitats for a wealth of flora and fauna. In the developing world the emphasis is very different. A spring, well, river or swamp is the basis of day-to-day survival for family, livestock and crops. Subsistence fishing is often the major source of protein. Freshwater may be the unwitting purveyor of disease but with good management this can be regulated and monitored. But Man by nature, is a selfish species who tends to have scant regard for the quality of life of future generations. The much publicised destruction of forests is a notorious example. Not so well-known is the pressure on one of the world's most fragile ecosystems, the wetlands.
Sklep: Libristo.pl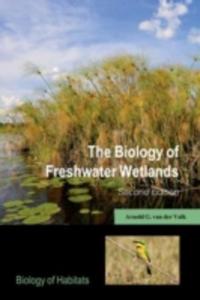 259,99 zł
Książki Obcojęzyczne>Angielskie>Mathematics & science>Biology, life sciences>Hydrobiology>Freshwater biologyKsiążki Obcojęzyczne>Ang...
A Concise, Easy To Read Introduction For Anyone Working In The Field Of Wetland Ecology. Besides Updating And Expanding The Material In All Chapters Of The First Edition, The Second Edition Includes New Chapters On Global Climate Change, Invasive Species, And Restoration And Creation.
Sklep: Gigant.pl 231,84 zł
Książki / Literatura obcojęzyczna
Biodiversity has traditionally emphasized on the distribution and variation of all species on earth. Biodiversity is both essential for our existence and intrinsically valuable in its own right. When species are moved to new locations that offers conditions for life similar to their native habitats, they may exploit vacant ecological niches and grow quickly, especially if they have no natural predators in their new settings. We also want to promote a sense of urgency for the need to protect wetland diversity.
Sklep: Libristo.pl 379,99 zł
Książki Obcojęzyczne>Angielskie>Mathematics & science>Biology, life sciences>Zoology & animal sciences>Zoology: Vertebrates>Birds (o...
A Definitive Study Of The Teal, A Colourful Waterbird With An Important Role In Wetland Ecology Research.
Sklep: Gigant.pl 123,84 zł
Książki / Literatura obcojęzyczna
Sandy beaches and dense Amazon jungle, the Amazon river and its people, cities and towns in the Amazon, hydroelectric potential of Brazil's many rivers, diversity of life in a rainforest and its destruction, the Pantanal--the world's largest wetland, the incredible "planned" city of Brazilia
Sklep: Libristo.pl
Sklepy zlokalizowane w miastach: Warszawa, Kraków, Łódź, Wrocław, Poznań, Gdańsk, Szczecin, Bydgoszcz, Lublin, Katowice
Szukaj w sklepach lub całym serwisie
2. Szukaj na wszystkich stronach serwisu
t1=0.054, t2=0, t3=0, t4=0, t=0.054