krainaksiazek life s little ironies 20039478
- znaleziono 11 produktów w 3 sklepach 150,56 zł
Książki / Literatura obcojęzyczna
bTitle:/b Life's little ironies. A set of tales. With some colloquial sketches, entitled A few crusted characters.br/br/bPublisher:/b British Library, Historical Print Editionsbr/br/The British Library is the national library of the United Kingdom. It is one of the world's largest research libraries holding over 150 million items in all known languages and formats: books, journals, newspapers, sound recordings, patents, maps, stamps, prints and much more. Its collections include around 14 million books, along with substantial additional collections of manuscripts and historical items dating back as far as 300 BC.br/br/The FICTION & PROSE LITERATURE collection includes books from the British Library digitised by Microsoft. The collection provides readers with a perspective of the world from some of the 18th and 19th century's most talented writers. Written for a range of audiences, these works are a treasure for any curious reader looking to see the world through the eyes of ages past. Beyond the main body of works the collection also includes song-books, comedy, and works of satire. br/br/++++br/The below data was compiled from various identification fields in the bibliographic record of this title. This data is provided as an additional tool in helping to insure edition identification:br/++++br/br/b /b British Librarybr/b /b Hardy, Thomas; br/b /b 1894.br/b /b pp. 301. 20 cm.br/b /b 012630.e.57.br/
Sklep: Libristo.pl 42,72 zł
Książki / Literatura obcojęzyczna
Excerpt: ... small toes. She was sitting up here one day, listlessly surveying the pasture without, when her attention was arrested by a solitary figure walking along the path. It was one of the renowned German Hussars, and he moved onward with his eyes on the ground, and with the manner of one who wished to escape company. His head would probably have been bent like his eyes but for his stiff neck-gear. On nearer view she perceived that his face was marked with deep sadness. Without observing her, he advanced by the footpath till it brought him almost immediately under the wall. Phyllis was much surprised to see a fine, tall soldier in such a mood as this. Her theory of the military, and of the York Hussars in particular (derived entirely from hearsay, for she had never talked to a soldier in her life), was that their hearts were as gay as their accoutrements. At this moment the Hussar lifted his eyes and noticed her on her perch, the white muslin neckerchief which covered her shoulders and neck where left bare by her low gown, and her white raiment in general, showing conspicuously in the bright sunlight of this summer day. He blushed a little at the suddenness of the encounter, and without halting a moment from his pace passed on. All that day the foreigner's face haunted Phyllis; its aspect was so striking, so handsome, and his eyes were so blue, and sad, and abstracted. It was perhaps only natural that on some following day at the same hour she should look over that wall again, and wait till he had passed a second time. On this occasion he was reading a letter, and at the sight of her his manner was that of one who had half expected or hoped to discover her. He almost stopped, smiled, and made a courteous salute. The end of the meeting was that they exchanged a few words. She asked him what he was reading, and he readily informed her that he was re-perusing letters from his mother in Germany; he did not get them often, he said, and was forced to...
Sklep: Libristo.pl 73,28 zł
Książki / Literatura obcojęzyczna
Thomas Hardy was part of the English naturalist movement. He wrote short stories, novels, and poetry. Life's Little Ironies
Sklep: Libristo.pl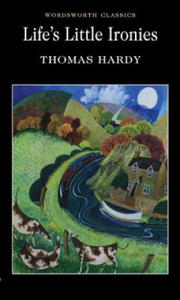 10,08 zł
Książki / Literatura obcojęzyczna
The proverbial phrase 'life's little ironies' was coined by Hardy for his third volume of short stories. These tales and sketches possess all the power of his novels: the wealth of description, the realistic portrayal of the quaint lore of Wessex, the 'Chaucerian' humour and characterisation, the shrewd and critical psychology, the poignant estimate of human nature and the brooding sense of wonder at the essential mystery of life. The tales which make up Life's Little Ironies tenderly re-create a rapidly vanishing rural world and scrutinise the repressions of fin-de-siecle bourgeois life. They share the many concerns of Hardy's last great novels, such as the failure of modern marriage and the insidious effects of social ambition on the family and community life. Ranging widely in length and complexity, they are unified by Hardy's quintessential irony, which embraces both the farcical and the tragic aspects of human existence.
Sklep: Libristo.pl 123,04 zł
Książki / Literatura obcojęzyczna
Sklep: Libristo.pl 123,04 zł
Książki / Literatura obcojęzyczna
Sklep: Libristo.pl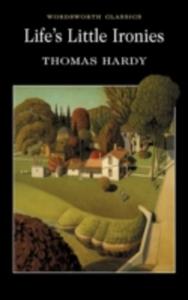 16,99 zł
Książki Obcojęzyczne>Nieprzypisane
Contains Tales That Tenderly Re-create A Vanishing Rural World And Scrutinise The Repressions Of Fin-de-siecle Bourgeois Life. This Book Contains Tales And Sketches That Possess The Wealth Of Description, The Portrayal Of The Quaint Lore Of Wessex, The 'C
Sklep: Gigant.pl 99,85 zł 58,56 zł
Książki / Literatura obcojęzyczna
Trondheim's comics blog's next collection of his popular musings on the every day ironies of life, his little anxieties, funny observations while on travel, his way of finding some cloud over the brightest sunshine, his obsessive hypochondria and other oh-so-easy-to-relate-to nerdy preoccupations. As he says himself, it's whole lotta not much. And people are lovin' it.
Sklep: Libristo.pl 283,36 zł
Vojo Stanic Philip Wilson Publishers Ltd
Książki / Literatura obcojęzyczna
"Painting is the simplest and most accessible of art forms. Painting can touch anyone, even the most naive. And even the works of the greatest masters show an essential naivety and that may be the very thing which makes the painting good. When I say naivety, I mean the spiritual freshness that some people manage to preserve throughout the whole of their lives." - Vojislav Stani. For over half a century the Montenegrin painter Vojislav Stani has been living and working in the small town of Herceg Novi, observing the lives of its inhabitants from the window of his attic studio with a sharp eye and an impish intelligence. Here, so Stani claims, is a microcosm of life. One can see universal emotions and traits - love, lust, joy, fear, wonder, jealousy - played out in the parks and cafes of this bustling little port town on the Adriatic.But if many of Stani's insights come from keen observation of his neighbours, it is his idiosyncratic outlook and his eye for absurdities and gentle ironies which make his work so compelling. And if he draws on the work of such artists as Bosch, Magritte and de Chirico, it is always with a lightness of touch which leaves one in no doubt that Stani is a major artistic talent in his own right. This book, including insightful essays which trace his artistic development and explore his uniquely vital imagination, promises to bring his work to the international audience it deserves.
Sklep: Libristo.pl
Sklepy zlokalizowane w miastach: Warszawa, Kraków, Łódź, Wrocław, Poznań, Gdańsk, Szczecin, Bydgoszcz, Lublin, Katowice
Szukaj w sklepach lub całym serwisie
2. Szukaj na wszystkich stronach serwisu
t1=0.036, t2=0, t3=0, t4=0, t=0.036