krainaksiazek like pizza and beer 20043180
- znaleziono 3 produkty w 1 sklepie 93,13 zł
Książki / Literatura obcojęzyczna
Source: Wikipedia. Pages: 64. Chapters: Pane carasau, Melba toast, Hot dog bun, Quick bread, Taboon bread, Zwieback, Piki, Bhakri, Texas toast, Hawaiian pizza, Staling, Baati, Markook, Saffron bun, Bing, Bammy, Mola salsa, Dough, Trencher, Tomato pie, Banbury cake, Bath bun, Pizza bagel, Easter bread, Brown bread, Bread bowl, Cozonac, Mekitsa, Hopia, Lardy cake, Farl, Cottage loaf, Sausage bread, Khubz, Tequeńo, Biga, Water biscuit, Afghan bread, Pissaladičre, Kompyang, Penny bun, Daktyla, Pannekoek, Talo, Salt rising bread, Laufabrauđ, Fougasse, Cougnou, Makki di roti, Bhatoora, Lye roll, Dripping cake, Veda bread, Pizza al taglio, Whole wheat bread, Kulich, Grant loaf, Pan de muerto, Mollete, Pain de campagne, Mlinci, Sheermal, Portuguese sweet bread, Beer bread, Kalach, Matnakash, Tunnbröd, Currant bun, Cocktail bun, Marraqueta, Dampfnudel, Potato scone, Luchi, Sangak, Stromboli, Yufka, Pandebono, Bath Oliver, Curry bread, Kulcha, Sticky bun, Bappir, Rumali Roti, Desem, Fried bread, Viennoiserie, Borodinsky bread, Pogaca, Colomba Pasquale, Chelsea bun, Lame, Kubdari, Tandoor bread, Chocolate sandwich, Buccellato, Pullman loaf, Parker House roll, Sgabeo, Soldiers, Olive loaf, Khrushchev dough, Round of bread, Sel roti, Canadian White, Vatrushka, Peg bread, Laobing, Pain de mie, Malawach, Podplomyk, Cocol, Russian Mennonite zwieback, Garlic knots, Gata, Bazlama, Mandoca, Plain loaf, Crustless bread, Peanut butter bun, Spoonbread, Phitti, Flatbrřd, London bun, Himbasha, Paris buns, Barbari bread, Tone Bread, Taftan, Pane di Altamura, Zwiebelkuchen, Mexican pizza, Proja, Cheoreg, Zopf, Roti tissue, Cheesymite scroll, Griddle scone, Garlic fingers, Bremer Klaben, Pan loaf, Sloosh, Pumpkin bread, Sop, Broa, Coco bread, Pain brié, Kaak, Horsebread, Almojábana, Obi Non, Hefekranz, Sausage bun, Kitcha, Sabayad, Lazarakia, Onion roll, Maltese bread, Pizza strips, Houska, Shawnee cake, Ficelle, Iced bun, Biskotso, Skolebrřd, Colston bun, Slow Bread, Scuffler, Djevrek, Talau, Fatoot, Boule, Coppia Ferrarese, Hallulla, Guernsey Gâche, Raisin bread, Güirila, Bolani, Puftaloon, Balep korkun, Rupjmaize, Tortilla de rescoldo, Barley bread, Pita chips, Shoti, Bread warmer, Potbrood, Craquelin, Tapalapa bread, Funkaso, Pan de yuca, Penia, Filone, Ngome, Rewena bread, Wagafi bread, Touton, Pan de coco, Brace's, PaSki baSkotin. Excerpt: A hot dog bun is a type of soft bun shaped specifically to contain a hot dog. The purpose of this bun was to make it so people could enjoy this delicious treat without burning their hands. There are two basic types: top-loading, which is popular in New England and called New England Style Rolls or Lobster Buns in some areas, and side-loading, preferred in the rest of the United States also called American Style Buns. The advantages to a top loader are that it holds the hot dog securely and fits nicely into little three-sided paper boxes. Top loaders are generally baked side by side and torn apart as needed, leaving a flat side surface for grilling. Side loaders are much more doughy because they are baked as a pack and not individually produced and cut like top loading buns are. These are more likely to successfully sop up all the juices from chili or sauerkraut without falling apart. It is often referenced in popular culture that store-bought hot dogs and hot dog buns are sold in different quantities, supposedly as a ploy for customers to buy more of each. The history of the hot dog bun is well disputed. Some people belie...
Sklep: Libristo.pl 131,52 zł
Książki / Literatura obcojęzyczna
Indulge yourself with tasty and satisfying foods like pasta dishes, stir-fries, curries, risottos, noodle dishes, and sushi, all washed down with a glass of wine or beer. Stay active but don't bother with a formal exercise regimen, and set aside time every day to relax and unwind. You may find it hard to believe, but eating and living this way can help you stay lean and healthy, substantially reduce your risk of heart disease and cancer, and increase your chances of living longer. People from Mediterranean and Asian cultures have been living like this-and reaping the rewards-for more than 5,000 years. Now, in this unique cookbook and guide, Ric Watson and his wife, Trudy Thelander, demonstrate just how easy it is to realize the benefits of the MediterrAsian way-benefits that numerous scientific studies have documented over the last half century. They explain the common features of Mediterranean and Asian lifestyles-abundant amounts of plant foods and fish, small amounts of red meat, moderate alcohol consumption, physical activity, and time set aside to relax-and show you step by step how to make them part of your life. When you eat the MediterrAsian way, there's no skimping on taste-or satisfaction. You'll feast on more than 150 delicious recipes, including favorites like Pasta Primavera, Thai Chicken Stir-Fry, and Ham, Mushroom, and Tomato Pizza. You'll savor the intriguing flavors of Vietnamese Shrimp and Vegetable Rice Paper Rolls, Moroccan Stew with Couscous, and Teriyaki Chicken Noodles. And if you're in the mood for a burger or hot dog, Watson and Thelander offer several deliciously healthy versions. The book walks you through MediterrAsian food basics, shows you how to substitute daily activities for time at the gym, and explains how to take time out to enjoy life and relax. To help you plan your meals, it provides an easy-to-follow five-step MediterrAsian Balanced Meal System. There's even a fourteen-day MediterrAsian plan as well as example lifestyle scenarios to help you get into the swing of things. Complete with 50 tempting color food photographs, The MediterrAsian Way is all you need to enjoy the benefits of MediterrAsian living-starting today!
Sklep: Libristo.pl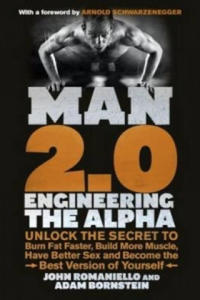 69,01 zł
Książki / Literatura obcojęzyczna
What would you say if you knew there was ONE solution to every man's most vexing problems? - Bigger muscles? Easy. - Less fat? Check. - More intelligence? No problem. - Eating pizza, burgers, drinking beer and being strong, fit and lean? Of course. - A wild sex life? Yes, there's drugs-free fix for that too. The solution is in this book. Written by health pioneers and advisors to key influencers, including Tim Ferriss and Gary Vaynerchuk, Man 2.0 presents a unique 4-week diet and fitness plan to make you look and feel like the man you want to be. Clear and simple, the authors' game-changing plan is the culmination of 10 years of work and research into the science of natural hormone optimisation. It involves a combination of intermittent fasting, carbs and calorie cycling, macronutrient manipulation, a targeted fitness regime (no more endless exercising) and a weekly overeating day. Within the first week you will feel better in terms of brain functioning, energy and sex drive; within two you will start to notice fat loss; and by the end of four weeks you can expect to have lost an average of 8-11lbs (3-5kg) of fat and gained about 1-3lbs ( -1 kg) of muscle. Man 2.0 is not just about getting quick results: it presents a whole new way of life. It offers a cutting-edge look at the future of health and the key to how every man can become the person he (and the people he loves) wants to be.
Sklep: Libristo.pl
Sklepy zlokalizowane w miastach: Warszawa, Kraków, Łódź, Wrocław, Poznań, Gdańsk, Szczecin, Bydgoszcz, Lublin, Katowice
Szukaj w sklepach lub całym serwisie
2. Szukaj na wszystkich stronach serwisu
t1=0.017, t2=0, t3=0, t4=0, t=0.017