krainaksiazek limits of hitler s power 20106605
- znaleziono 3 produkty w 1 sklepie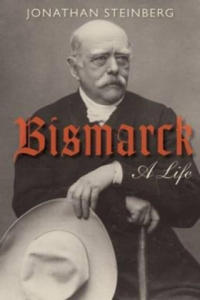 98,25 zł
Bismarck Oxford University Press
Książki / Literatura obcojęzyczna
This is the life story of one of the most interesting human beings who ever lived. A political genius who remade Europe and united Germany between 1862 and 1890 by the sheer power of his great personality. It takes the reader into close proximity with a human being of almost superhuman abilities. We see him through the eyes of his secretaries, his old friends, his neighbours, his enemies and the press. Otto von Bismarck 'made' Germany but never 'ruled' it. For twenty eight years he acted as a prime minister without a party. He made speeches, brilliant in content but hesitant in delivery, and rarely addressed a public meeting. He planned three wars and after a certain stage in his career always wore military uniform to which he had no claim. The 'Iron Chancellor', the image of Prussian militarism, suffered from hypochondria and hysteria. Contemporaries called him a 'dictator' and several observers credited him with 'demonic' powers'. They were not wrong. The sheer power of his remarkable 'sovereign sel' awed even his enemies. William I observed that it was hard to be emperor under a man like Bismarck. He towered physically and intellectually over his contemporaries. His spoken and written prose sparkled with wit, insight, grand visions and petty malice. He united Germany and transformed Europe like Napoleon before and Hitler after him but with neither their control of the state nor command of great armies. He was and remained a royal servant. This new biography explores the greatness and limits of a huge and ultimately destructive self. It uses the diaries and letters of his contemporaries to explore the most remarkable figure of the nineteenth century, a man who never said a dull thing or wrote a slack sentence. A political genius who combined creative and destructive traits, generosity and pettiness, tolerance and ferocious enmity, courtesy and rudeness - in short, not only the most important nineteenth-century statesman but by far the most entertaining.
Sklep: Libristo.pl 193,04 zł
Książki / Literatura obcojęzyczna
Auschwitz the largest and most notorious of Hitler s concentration camps was founded in 1940, but the Nazis had been detaining Jews in camps ever since they came to power in 1933. Before Auschwitz "unearths the little-known origins of the concentration camp system in the years before World War II and reveals the instrumental role of these extralegal detention sites in the development of Nazi policies toward Jews and in plans to create a racially pure Third Reich. Investigating more than a dozen camps, from the infamous Dachau, Buchenwald, and Sachsenhausen to less familiar sites, Kim Wunschmann uncovers a process of terror meant to identify and isolate German Jews in the period from 1933 to 1939. The concentration camp system was essential to a regime then testing the limits of its power and seeking to capture the hearts and minds of the German public. Propagandized by the Nazis as enemies of the state, Jews were often targeted for arbitrary arrest and then routinely subjected to the harshest treatment and most punishing labor assignments in the camps. Some of them were murdered. Over time, shocking accounts of camp life filtered into the German population, sending a message that Jews were different from true Germans: they were portrayed as dangerous to associate with and fair game for acts of intimidation and violence. Drawing on a wide range of previously unexplored archives, Before Auschwitz" explains how the concentration camps evolved into a universally recognized symbol of Nazi terror and Jewish persecution during the Holocaust."
Sklep: Libristo.pl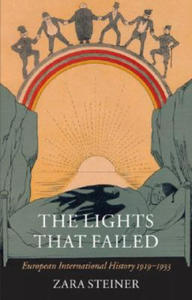 175,07 zł
Książki / Literatura obcojęzyczna
The peace treaties represented an almost impossible attempt to solve the problems caused by a murderous world war. In The Lights that Failed: European International History 1919-1933, part of the Oxford History of Modern Europe series, Steiner challenges the common assumption that the Treaty of Versailles led to the opening of a second European war. In a radically original way, this book characterizes the 1920s not as a frustrated prelude to a second global conflict but as a fascinating decade in its own right, when politicians and diplomats strove to re-assemble a viable European order. Steiner examines the efforts that failed but also those which gave hope for future promise, many of which are usually underestimated, if not ignored. She shows that an equilibrium was achieved, attained between a partial American withdrawal from Europe and the self-imposed constraints which the Soviet system imposed on exporting revolution. The stabilization painfully achieved in Europe reached it fragile limits after 1925, even prior to the financial crises that engulfed the continent.The hinge years between the great crash of 1929 and Hitler's achievement of power in 1933 devastatingly altered the balance between nationalism and internationalism. This wide-ranging study helps us grasp the decisive stages in this process. In a second volume, The Triumph of the Night Steiner will examine the immediate lead up to the Second World War and its early years.
Sklep: Libristo.pl
Sklepy zlokalizowane w miastach: Warszawa, Kraków, Łódź, Wrocław, Poznań, Gdańsk, Szczecin, Bydgoszcz, Lublin, Katowice
Szukaj w sklepach lub całym serwisie
2. Szukaj na wszystkich stronach serwisu
t1=0.018, t2=0, t3=0, t4=0, t=0.018