krainaksiazek linking global trade and human rights 20131404
- znaleziono 14 produktów w 1 sklepie 257,45 zł
Książki / Literatura obcojęzyczna
Debates about global justice have traditionally fallen into two camps. Statists believe that principles of justice can only be held among those who share a state. Those who fall outside this realm are merely owed charity. Cosmopolitans, on the other hand, believe that justice applies equally among all human beings. "On Global Justice" shifts the terms of this debate and shows how both views are unsatisfactory. Stressing humanity's collective ownership of the earth, Mathias Risse offers a new theory of global distributive justice - what he calls pluralist internationalism - where in different contexts, different principles of justice apply. Arguing that statists and cosmopolitans seek overarching answers to problems that vary too widely for one single justice relationship, Risse explores who should have how much of what we all need and care about, ranging from income and rights to spaces and resources of the earth. He acknowledges that especially demanding redistributive principles apply among those who share a country, but those who share a country also have obligations of justice to those who do not because of a universal humanity, common political and economic orders, and a linked global trading system. Risse's inquiries about ownership of the earth give insights into immigration, obligations to future generations, and obligations arising from climate change. He considers issues such as fairness in trade, responsibilities of the WTO, intellectual property rights, labor rights, whether there ought to be states at all, and global inequality, and he develops a new foundational theory of human rights.
Sklep: Libristo.pl 137,93 zł
Książki / Literatura obcojęzyczna
Please note that the content of this book primarily consists of articles available from Wikipedia or other free sources online. Global Exchange is an advocacy group and non-governmental organization, based in San Francisco, California, United States. The group's mission is to promote human rights and social, economic, and environmental justice around the world. In 1988, Medea Benjamin, Kevin Danaher, Kirsten Moller, and Kathie Klarreich founded Global Exchange. The formation of the organization was rooted in the increasing interdependence of national economies and the subsequent need to build political alliances across national boundaries to protect the economic, social and political rights. Since inception, Global Exchange has reached thousands of members and supporters, through educating the U.S. public about root causes of injustice and the impacts of U.S. government policies and corporate practices. The group builds people-to-people ties, engages grassroots education for action and linking social and environmental movements through public education, speaking tours, experiential travel called Reality Tours and activism.
Sklep: Libristo.pl 207,62 zł
Computer law Books LLC, Reference Series
Książki / Literatura obcojęzyczna
Source: Wikipedia. Pages: 237. Chapters: Principality of Sealand, Lawrence Lessig, Creative Commons, Scientology versus the Internet, GNU Lesser General Public License, Clean room design, Illegal prime, Communications Decency Act, ElcomSoft, Regulation of Investigatory Powers Act 2000, Gramm-Leach-Bliley Act, Data haven, Children's Online Privacy Protection Act, Network neutrality, Anti-Counterfeiting Trade Agreement, Legal aspects of file sharing, GNU General Public License, Open source, Microsoft litigation, SCO-Linux controversies, Legal aspects of computing, Online Copyright Infringement Liability Limitation Act, Digital Millennium Copyright Act, CAN-SPAM Act of 2003, Cyber Rights, Payment Card Industry Data Security Standard, Digital Economy Act 2010, Legality of piggybacking, Cyberethics, Copyright aspects of hyperlinking and framing, Section 230 of the Communications Decency Act, Deleting Online Predators Act of 2006, Motion Picture Association of America, Electronic Frontier Foundation, Export of cryptography in the United States, Federal Information Security Management Act of 2002, Groklaw, European Union Microsoft competition case, Net.wars, Parry Aftab, Legal issues with BitTorrent, Data Protection Act 1998, Internet taxes, Electronic Privacy Information Center, National Portrait Gallery and Wikimedia Foundation copyright dispute, Black Duck Software, National Information Infrastructure Protection Act, Eolas, Taxation of Digital Goods, Digital evidence, Combating Online Infringement and Counterfeits Act, Creative Commons licenses, Anticybersquatting Consumer Protection Act, Beyond the First Amendment, Digital signatures and law, Children's Internet Protection Act, Computer Misuse Act 1990, Internet and Technology Law Desk Reference, Information privacy law, Internet as a source of prior art, Data discrimination, Password cracking, Pamela Jones, Open Rights Group, Crypto-anarchism, Stored Communications Act, Uniform Electronic Transactions Act, Magic Lantern, Search neutrality, Berkman Center for Internet & Society, Convention on Cybercrime, E-mail spam legislation by country, CeCILL, Affero General Public License, Deep linking, Clickwrap, Electronic Communications Privacy Act, Digital inheritance, Free Knowledge Institute, Child Online Protection Act, Title 21 CFR Part 11, European Union Public Licence, James Boyle, Suzanne Shell, Reverse domain hijacking, Computer Fraud and Abuse Act, Caselex, Criminal code section 342, HavenCo, Michael Geist, Child Protection Registry Acts, Open Music Model, Brian Fitzgerald, Digital Rights Ireland, Typosquatting, Protected computer, Global Text, Center for Democracy and Technology, Source code escrow, Comprehensive Techs. Int'l, Inc. v. Software Artisans, Inc., GPL linking exception, Barbara Nitke, List of software license violations, NET Act, Smart contract, Shrink wrap contract, Dmitry Sklyarov, Browse wrap, Uniform Computer Information Transactions Act, List of free software lawsuits, Additional Protocol to the Convention on Cybercrime, Information Technology Act, Michael W. Carroll, Creative Commons jurisdiction ports, Cyber defamation law, IT-Political Association of Denmark, Spam Act 2003, Global Network Initiative, Limitations on exclusive rights: Computer programs, Ronaldo Lemos, Law of the Horse, E-Government Act of 2002, Ian Kerr, Code Project Open License, Permissive free software licence, Open Source Observatory and Repository, Peter Junger, Protecode, Printer steganography, Co...
Sklep: Libristo.pl 211,69 zł
Książki / Literatura obcojęzyczna
Capitalist globalization has been instrumental in globalizing civil and political rights all over the world as a condition of 'free' markets and trade, but capitalist globalizers have no answer to the rapidly accelerating demands for universal economics and social rights, expressed in the enormous growth of local, national, multinational and global NGOs and anti-globalization movements. In this book, based on his highly successful "Sociology of the Global System", Leslie Sklair focuses on alternatives to global capitalism, arguing strongly that there are other alternative futures that retain and encourage the positive aspects of globalization whilst identifying what is wrong with capitalism. The negative aspects of capitalist globalization are explored in a new critique which argues that there are two main crises of capitalist globalization: the class polarization crisis and the crisis of ecological unsustainability. The book also presents a new analysis of a long-term alternative to global capitalism: the globalization of human rights.
Sklep: Libristo.pl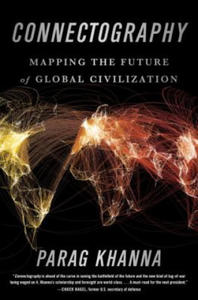 139,23 zł
Książki / Literatura obcojęzyczna
From the visionary bestselling author of The Second World and How to Run the World comes a bracing and authoritative guide to a future shaped less by national borders than by global supply chains, a world in which the most connected powers-and people-will win.§§Connectivity is the most revolutionary force of the twenty-first century. Mankind is reengineering the planet, investing up to ten trillion dollars per year in transportation, energy, and communications infrastructure linking the world's burgeoning mega-cities together. This has profound consequences for geopolitics, economics, demographics, the environment, and social identity. Connectivity, not geography, is our destiny.§§In Connectography, visionary strategist Parag Khanna travels from Ukraine to Iran, Mongolia to North Korea, Pakistan to Nigeria, and across the Arctic Circle and the South China Sea to explain the rapid and unprecedented changes affecting every part of the planet. He shows how militaries are deployed to protect supply chains as much as borders, and how nations are less at war over territory than engaged in tugs-of-war over pipelines, railways, shipping lanes, and Internet cables. The new arms race is to connect to the most markets-a race China is now winning, having launched a wave of infrastructure investments to unite Eurasia around its new Silk Roads. The United States can only regain ground by fusing with its neighbors into a super-continental North American Union of shared resources and prosperity.§§Connectography offers a unique and hopeful vision for the future. Khanna argues that new energy discoveries and technologies have eliminated the need for resource wars; ambitious transport corridors and power grids are unscrambling Africa's fraught colonial borders; even the Arab world is evolving a more peaceful map as it builds resource and trade routes across its war-torn landscape. At the same time, thriving hubs such as Singapore and Dubai are injecting dynamism into young and heavily populated regions, cyber-communities empower commerce across vast distances, and the world's ballooning financial assets are being wisely invested into building an inclusive global society. Beneath the chaos of a world that appears to be falling apart is a new foundation of connectivity pulling it together.§§Advance praise for Connectography §§"Ahead of the curve in seeing the battlefield of the future, and the new kind of tug-of-war being waged on it. Parag Khanna's scholarship and foresight are world-class. A must-read for the next president." -Chuck Hagel, former U.S. secretary of defense§§"This bold reframing is an exciting addition to our ongoing debate about geopolitics and the future of globalization." -Dominic Barton, global managing partner, McKinsey & Company§§"Gives the reader an amazing new perspective on human society, bypassing the timeworn categories and frameworks we usually use. A must-read for anyone who wants to understand the future of humanity." -Sandy Pentland, professor, MIT Media Lab§§"Reading Connectography is a real adventure. The expert knowledge of Khanna has produced a comprehensive and fascinating book anchored in geography but extending to every field that connects people around the globe." -Mark Mobius, executive chairman, Templeton Emerging Markets Group§§"Khanna's latest book provides an invaluable guide to the volatile, confusing worlds of early twenty-first-century geopolitics." -Neil Brenner, director, Urban Theory Lab, Harvard University Graduate School of Design
Sklep: Libristo.pl 250,61 zł
Książki / Literatura obcojęzyczna
This book is designed as a working tool for the study and practice of European Competition Law. It is an enlarged and updated fourth edition of the highly practical guide to the leading cases of European Competition Law. This fourth edition focuses primarily on Article 101 TFEU, Article 102 TFEU and the European Merger Regulation. In addition it explores the public and private enforcement of Competition Law, the intersection between Intellectual Property Rights and Competition Law and the application of Competition Law to State action. Each chapter begins with an introduction which outlines the relevant laws, regulations and guidelines for each of the topics, setting the analytical foundations for the case entries. Within this framework, cases are reviewed in summary form, accompanied by analysis and commentary. "This book should be in the library of every competition law practitioner and academic. The summary of cases is first class. But what makes it really stand out is the quality of the commentary and the selection of the material which includes not only the most important European judgements and decision but also some of the leading cases from the US and European Member States." Ali Nikpay, Gibson, Dunn & Crutcher "The study of EU Competition law requires the analysis and understanding of a number of increasingly complex and lengthy European Commission and European Court decisions. Through the provision of case summaries, excerpts from the important passages and concise commentary linking these decisions to other key case law and Commission documents, this unique and impressive book provides the student and practitioner of EU competition law with an extremely clear and useful introduction to these leading decisions." Dr Kathryn McMahon, Associate Professor, School of Law, University of Warwick "The Guide is an invaluable tool for both students and practitioners. It provides a compact overview on the fundamental cases and highlights the essential problems in a clear and sharp analysis." Dr Christoph Voelk, Antitrust Practice Group, McDermott, Will & Emery LLP, Brussels "This edition will be especially valuable to competition law specialists abroad who are interested in the jurisprudence and policy of the European Union and its member states. Familiarity with the European regime is essential for proficiency in competition law today, and this volume provides an excellent foundation." William E Kovacic, Global Competition Professor of Law and Policy, George Washington University Law School, Former Chairman, US Federal Trade Commission "A perfect reference for students of competition law, giving them a kick start when searching for EU case law on a specific subject." Magnus Strand, University of Uppsala, Sweden
Sklep: Libristo.pl 112,36 zł
Książki / Literatura obcojęzyczna
For years now, promoters of development and growth have attempted to paint themselves "green," claiming that development is sustainable. In a new book, Creating a Sustainable World: Past Experiences/Future Struggles, co-editor Trent Schroyer, Professor of Sociology-Philosophy at Ramapo College, argues that such efforts are a form of "greenwash," that gloss over the real environmental consequences of growth and mask the divergence between development and sustainability. Schroyer and his co-editor Thomas Golodik have pulled together some of the most influential theorists and practitioners of sustainability from around the world - Vandana Shiva, Wolfgang Sachs, Robert Engler, Peter Montague, Joan Dye Gussow and Michael Shuman, among others. These seminal essays offer critiques of the publicly accepted notion of sustainability that has evolved, devoid of democratic input and driven by market forces. Schroyer, in his own chapters and in his introductions to each section of Creating a Sustainable World, exposes the market-driven agenda underlying the dominant "sustainable development" paradigm and shows us what would be required to advance society without having the Earth irreparably harmed. The authors offer contrasting concepts of sustainability derived from civil society and grassroots communities These are models untouched by the global free trade system and come to us through the voices of people directly affected by "sustainable development" projects. In showing how voices of civil society have been pushed outside of the official decision-making, the collection demonstrates why world sustainability rests upon the capacity for establishing democratic procedures, and ultimately favoring some human and community rights over trade rights. Douglas Lummis, former Rajni Kothari Chair in Democracy at the Centre for the Study of Developing Societies in New Delhi, believes of Creating a Sustainable World that "finally we have a book that gets it right: what needs to be sustained is that which development is destroying: our world." For anyone seeking to make a positive mark on the world, this will be both an inspiring read and an invaluable handbook.
Sklep: Libristo.pl 64,97 zł
One World YALE UNIVERSITY PRESS
Książki / Literatura obcojęzyczna
Known for his original and courageous thinking on matters ranging from the treatment of animals to genetic screening, Peter Singer now turns his attention to the ethical issues surrounding globalisation. In this provocative book, he challenges us to think beyond the boundaries of nation-states and consider what a global ethic could mean in today's world. Singer raises novel questions about such an ethic and, more important, he provides illuminating and practical answers. The book encompasses four main global issues: climate change, the role of the World Trade Organization, human rights and humanitarian intervention, and foreign aid. Singer addresses each vital issue from an ethical perspective and offers alternatives to the state-centric approach that characterises international theory and relations today.
Sklep: Libristo.pl 1010,42 zł
Książki / Literatura obcojęzyczna
This book is an extensive, original and systematic treatment of many important philosophical and ethical aspects of food (consumption and production). May we eat just anything? Can we do everything with animals, even genetic modification? If not, how can we regulate those processes so that they lead to optimum animal welfare while at the same time producing optimum taste? The production of food also causes environmental pollution does the fight against hunger have priority over the care of the environment? The care of the environment, animal welfare, and the quality of food should be in a certain harmony, but that is far from granted and hardly easy to achieve. These factors are often in conflict with each other, and a balance will thus need to be searched for. §Other factors to take into consideration are the issue of global famine, the care for a farming class that is able to keep its head above water in a decent way, and a fair trade system that does not throw up unnecessary barriers for newcomers or small market participants and that promotes good nutrition. Famine continues to be a widespread phenomenon that violates human rights, causing nearly a billion people to suffer from hunger or malnutrition. At the same time, deliberate hunger, abundance, and obesity are prevalent in the Western world. Both issues refer to the social and cultural aspects of food. Scientific and technological developments like genetic modification and functional food also play an increasingly important role; almost every bite that we take is determined by scientific developments. An extra difficulty is that scientific information is often contradictory, or that it relies on statistical probabilities that are difficult to translate into everyday certitudes. §All of these factors deserve attention, but it is the mix that is most important. In the land of food, either or does not exist, only both and . The adequate measure of both and serves as the starting point for this philosophical reflection.§Before Dinner is a must-read for all people interested in contemporary ethical issues of food, such as university students and researchers of food, agricultural and life sciences, as well as policymakers in these fields, such as members of professional organisations focusing on food and agriculture (f.e., EURSAFE (European Society for Agriculture and Food Ethics), the Agriculture, Food and Human Values Society (USA), and European Federation of Biotechnology).
Sklep: Libristo.pl 2116,10 zł
Książki / Literatura obcojęzyczna
Until recently, issues of intellectual property were relegated to the experts-attorneys, legal scholars, rightsholders, and technology developers who wrangled over interpretations and enforcement of copyright, patent, and trademark protections. But in today's knowledge-based economy, intellectual property protection has taken on fundamentally new proportions, as a subject of urgency for businesses (whose survival depends on protection of their intangible assets) and as a subject of cultural importance that grabs front-page headlines (as the controversy over Napster and high-profile revelations of plagiarism, for example, have illustrated). This landmark set of essays brings new clarity to the issues, as societies around the world grapple with the intricacies and complexities of intellectual property, and its impact on business, law, policy, and culture. Featuring insights from leading scholars and practitioners, Intellectual Property and Information Wealth provides rigorous analysis, historical context, and emerging practical applications from the public, private, and non-profit sectors. Volume 1 focuses on protections to novels, films, sound recordings, computer programs, and other creative products, and covers such issues as authorship, duration of copyright, fair use of copyrighted materials, and the implications of the Internet and peer-to-peer file sharing. Volume 2 explains the fundamental protections to inventors of devices, mechanical processes, chemical compounds, and other inventions, and examines such issues as the scope and limits of patent protection, research exemptions and infringement, IP in the software and biotech industries, and trade secrets. Volume 3 looks at the protections to distinctive symbols and signs, including brand names and unique product designs, and features chapters on consumer protection, trademark and the first amendment, brand licensing, publicity and cultural images, and domain names. Volume 4 takes the discussion to the global level, addressing a wide range of issues, including not only enforcement of IP protections across borders, but also their implications for international trade and investment, economic development, human rights, and public health.
Sklep: Libristo.pl 906,86 zł
Książki / Literatura obcojęzyczna
The Law of MERCOSUR presents both an overview and in-depth analysis of one of the world's most important and increasingly influential economic organisations. The book comprises both a series of first-hand analyses of MERCOSUR by experts from countries in the MERCOSUR bloc, and also discussions from other parts of the world looking at MERCOSUR as global actor of ever-increasing importance. The book is divided into three main parts: the first analyses the key institutional legal aspects of MERCOSUR, looking at its history, the general theory of economic integration, and basic aspects relating to the functioning of MERCOSUR; the second examines specialised topics, including the regulation of the environment, human rights and the energy market in MERCOSUR; and in the third part the editors offer a translation of core MERCOSUR instruments, with the objective of furthering understanding of the economic bloc. Original in its conception, the book aims to fill a major gap in the English-language literature by offering a comprehensive and in-depth analysis of the Law of MERCOSUR, and it is hoped that it will become essential reading for those practitioners and academics who are interested not only in MERCOSUR, but in economic integration generally, in international trade, and in the regional aspects of the phenomenon of globalisation.
Sklep: Libristo.pl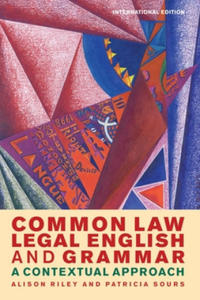 147,21 zł
Książki / Literatura obcojęzyczna
Lord Denning, an influential but controversial English judge, stated that 'Words are the lawyer's tools of trade'. This course book reflects that conviction as it focuses on words, the language of the law - legal terms, expressions, and grammar - introduced systematically with relevant aspects of the law, and examined in context through analytical reading activities based on original legal texts selected for their interest and importance in different branches of the common law system. This book explores constitutional law, criminal law, tort, and contract; yet includes international legal contexts, with a particular focus on human rights and European law. The presentation of legal concepts and terminology in context in each chapter is graded so that the course progresses, building on the vocabulary and law encountered in earlier chapters. Each chapter, organized thematically, includes a series of activities - tasks - to complete, yet the book does not presuppose previous knowledge of legal English or of the common law: full answer keys and reflective commentary on both legal and linguistic aspects are given and sections marked 'Advanced' offer especially challenging materials. Consolidation sections are designed to test students' global comprehension of the legal texts analysed, including precise usage of legal vocabulary in context, with solutions. Common Law Legal English and Grammar is addressed to the non-native speaker of English, and in particular, intermediate to advanced students who are studying law, or academics with a professional interest in Anglo-American law. Practising lawyers will also find that the book offers valuable analysis of the language of legal documents. Please note, this book is not available for purchase in Italy.
Sklep: Libristo.pl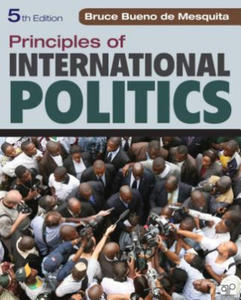 467,84 zł
Książki / Literatura obcojęzyczna
Renowned scholar Bruce Bueno de Mesquita, who set the standard for the scientific approach to international relations and transformed the field, has returned with a reformulated fifth edition based on extensive reviewer feedback and guided by an emphasis on questions about the causes and consequences of war, peace, and world order. More than ever before, the strategic perspective in international relations is examined with complete clarity, precision, and accessibility.aWhat hasnEt changed is Bueno de MesquitaEs commitment to covering the fundamentals of IR. The foundational topics and examination are all there: the major theories of war, the domestic sources of international politics, an exploration of the democratic peace, the problems of terrorism, the role of foreign aid, democratization, international political economy, globalization, international organizations, international law, and the global environment. The first part of the book, oFoundationsooffers highly accessible coverage of key concepts, introducing students to different ways to think about the national interest and showing them how to use game theory and the strategic perspective/selectorate theory to better understand what happens in all aspects of international affairs. This section uses debate over North KoreaEs nuclear weapons development as an ongoing example to build concepts and build confidence in the studentEs how of basic modeling ideas. Also covered is a basic, intuitive introduction to game theory and other evidence and logic based tools for analyzing international relations. Part II, oWar,o next provides a more thorough evaluation of how domestic political incentives and the domestic institutions of governance shape choices about conflict initiation, escalation, and termination. It also surveys major theories of war and conflict, working through hypotheses derived from constructivism, neo-realism, liberalism and selectorate theory and evaluating them against the evidence to see what actually works and what doesnEt.Chapters in Part III, oPeace,o build on the logic of collective action to help students see why it is so difficult to get national governments to do owhat is righto even when they can agree on what is right, with chapters covering the effectiveness of international organizations and international law, as well as a thorough evaluation of environmental issues, human rights enforcement and the domestic and the international political economy of trade. aPart IV, oWorld Ordero emphasizes efforts to promote the spread of democracy and economic prosperity. It also addresses how to understand and deal with terrorism. Whether examining terrorism, the spread of democracy or the alleviation of poverty, chapters in this section carefully examine which strategies work, which do not, and why. The Arab Spring provides a useful ongoing example of the strengths and weaknesses of foreign aid policy and military intervention policies. No other introductory text delivers such an easily-understood contemporary explanation of international politics, while truly enabling students to learn how to mobilize the key concepts and models themselvesA'thus develop a new method for thinking about world affairs. More than ever before, Principles provides a comprehensive evaluation of all aspects of international affairs, systematically compares the accuracy of competing approaches to international relations, and walks students through the simple, intuitive models and games that capture the essence of the strategic, selectorate viewpoint.
Sklep: Libristo.pl 332,36 zł
Książki / Literatura obcojęzyczna
Thoroughly updated to cover world affairs through 2012, the brief version of International Relations presents the same approach and coverage but in a streamlined and flexible format. From war and trade to human rights and the environment, this text is praised for being the most current introduction to international relations theory as well as security, economic, and global issues. Applying a broad range of theoretical perspectives to help students analyze what is happening in the world today, International Relations, Brief Edition is perfect for courses where multiple texts are assigned. Teaching and Learning Experience *Personalize Learning: MyPoliSciLab delivers proven results in helping students succeed, provides engaging experiences that personalize learning, and comes from a trusted partner with educational expertise and a deep commitment to helping students and instructors achieve their goals. *Explore Concepts and Current Events: Drawing on recent political events from Europe's sovereign debt crisis to the U.S. withdrawal from Iraq, this text provides a balanced survey of security, economic, and transnational issues and covers a diverse range of theoretical perspectives. *Improve Critical Thinking: "Policy Perspectives" boxes helps students apply international relations theory to current world problems. *Engage Students: A four-color design and numerous figures, maps, and photos offer a current and lively reading experience. *Emphasize Learning Outcomes: In MyPoliSciLab, study plans based on book-specific learning objectives give students follow-up reading, video, and multimedia activities for further practice. *Instructor Support: An instructor's manual, test bank, and PowerPoint presentation provide more teaching resources. In MyPoliSciLab, ClassPrep collects class presentation resources in one convenient online destination.
Sklep: Libristo.pl
Sklepy zlokalizowane w miastach: Warszawa, Kraków, Łódź, Wrocław, Poznań, Gdańsk, Szczecin, Bydgoszcz, Lublin, Katowice
Szukaj w sklepach lub całym serwisie
2. Szukaj na wszystkich stronach serwisu
t1=0.057, t2=0, t3=0, t4=0, t=0.057