krainaksiazek literary devices all writers should know 20042663
- znaleziono 5 produktów w 2 sklepach 49,62 zł
Książki / Literatura obcojęzyczna
Literature suffers from appearing both deceptively easy and dauntingly difficult. We all like to think we can read a novel and understand what 'genre', 'style' and 'narrative' mean, but do we really understand them fully and how they can enrich our reading experience? How should we approach the works of great writers such as William Shakespeare, T.S. Eliot, Charles Dickens and Jane Austen? And what can we hope to learn from apparently difficult ideas such as 'hermeneutics', 'affective fallacy' and 'bricolage'? 50 Literature Ideas you Really Need to Know is the essential guide to all the important forms, concepts, themes and movements in literature. It provides a clear, opinionated and thorough overview of theories about the nature of language and meaning, and outlines the thinking behind key literary concepts such as postmodernism, semiology, postcolonialism and structuralism. Best-selling author and critic John Sutherland offers a fresh and challenging overview of literary ideas and theories, from the apparently familiar to the decidedly unfamiliar. Packed with insights and examples from both classic and popular works, it is a book that will delight anyone who has ever been mystified by literary jargon and wants to gain a deeper, more thorough enjoyment of reading and writing.
Sklep: Libristo.pl 54,10 zł
Powieści i opowiadania
Orlando Figes
Sklep: Albertus.pl 74,30 zł
Powieści i opowiadania
When the Booker Prize Committee decided to institute a special Booker Russian Novel Prize, there were no other literary prizes in the post-perestroika Russia, the official Soviet prizes for literature having been abolished shortly after the collapse of communism, when most state-subsidized publishing also closed down. This left Russian authors with little choice but to flee abroad in search of employment and publishers, while most of those who stayed declared that the end of Russian literature had arrived, and set about dividing up the property of the Writer's Union among themselves. Authors, who earlier had not been published for political reasons, now were not published for economic reasons. But Russian literature did not die. It went through a period of crisis--together with the rest of the country--and gradually began to recover, bringing forth of profusion of styles and a new freshness of vision. Into the atmosphere of confusion reigning in literary circles, and the overall public indifference to literary developments, the Booker Prize came like Santa Claus, offering not only a substantial money prize (which after all can only be awarded to one writer each year) but an exciting literary race which generated much needed publicity for everyone involved. In spite of mutterings from the nationalistically minded that Russian writers should be ashamed of themselves for accepting money from abroad, the excitement generated by the Booker Prize spread like wildfire, with heated debate breaking out in the press and among critics and readers alike. Passions ran high, and public interest in literature was markedly boosted. Perhaps, however, the greatest achievement of the Booker Prize to date is the fact that it has inspired a number of Russia's new rich to institute national prizes themselves. Let us hope that this process of revealing new talent and giving publicity to short-listed authors will ultimately lead to change in the publishing business in Russia. Russian publishers currently focus on translated literature, which the Russian public was starved of under the Communists and which, naturally, excites much interest today. They are not at present in any great hurry to publish new Russian authors. The time will come, however, when Russia's readers will want to know what has been happening in their own culture all this time, and at that moment they will be particularly appreciative of all the present efforts to preserve Russian culture which, in the past, has given the world so many outstanding writers.
Sklep: Albertus.pl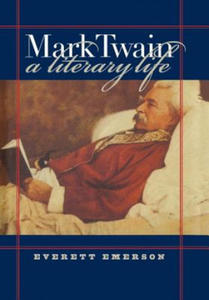 151,50 zł
Mark Twain University of Pennsylvania Press
Książki / Literatura obcojęzyczna
Selected by Choice magazine as an Outstanding Academic Title for 2000 "Mark Twain endures. Readers sense his humanity, enjoy his humor, and appreciate his insights into human nature, even into such painful experiences as embarrassment and humiliation. No matter how remarkable the life of Samuel Clemens was, what matters most is the relationship of Mark Twain the writer and his writings. That is the subject of this book."-from the Preface In Mark Twain, A Literary Life, Everett Emerson revisits one of America's greatest and most popular writers to explore the relationship between the life of the writer and his writings. The assumption throughout is that to see Mark Twain's writings in focus, one must give proper attention to their biographical context. Mark Twain's literary career is fascinating in its strangeness. How could this genius have had so little sense of what he should next do? As a young man, Samuel Clemens's first vocation, that of journeyman printer, took him far from home to the sights of New York, Philadelphia, and Washington, while his next vocation would give him the identity by which we most frequently know him. His choice of "Mark Twain" as a pen name cemented his bond with the river, as did such books as Life on the Mississippi and Huckleberry Finn. Then following an unsuccessful try at silver mining, Clemens worked as a newspaperman, humorist, lecturer, but also cultivated an interest in playwriting, politics, and philosophizing. In reporting the author's life, Emerson has endeavored to permit Mark Twain to tell his own story as much as possible, through the use of letters and autobiographical writings, some unpublished. These fascinating glimpses into the life of the writer will be of interest to all who have an abiding affection for Samuel Clemens and his extraordinary legacy.
Sklep: Libristo.pl 64,46 zł
Książki / Literatura obcojęzyczna
The contents have been intriguingly divided into eight narrative threads that influenced and informed O'Connor's oeuvre. "War" includes the famous 'Guests of the Nation', set during the Irish War of Independence; "Childhood" draws on autobiographical writings to present a revealing picture of the author as a boy, the only child of an alcoholic father and doting mother; "Writers" bears witness to his literary debt to Yeats and Joyce. The stories in "Lonely Voices" movingly demonstrate O'Connor's theory that in this genre can be achieved 'something we do not often find in the novel - an intense awareness of human loneliness'; yet they are counter parted by his wonderfully polyphonic tales of family, friendship and rivalry in "Better Quarrelling". In "Ireland" come poems, stories and articles inspired by the native land he loved but never sentimentalized, while from "Abroad" the writer in exile discourses upon universally relevant themes of emigration, hardship, absence and return. Finally, "Last Things" contains O'Connor's thoughts on religion, the church, the soul and its destiny, but remains above all a celebration of humanity 'who for me represented all I should ever know of God'.
Sklep: Libristo.pl
Sklepy zlokalizowane w miastach: Warszawa, Kraków, Łódź, Wrocław, Poznań, Gdańsk, Szczecin, Bydgoszcz, Lublin, Katowice
Szukaj w sklepach lub całym serwisie
2. Szukaj na wszystkich stronach serwisu
t1=0.032, t2=0, t3=0, t4=0, t=0.033