krainaksiazek literature and history women reversing the age 20043281
- znaleziono 14 produktów w 3 sklepach 60,00 zł
Antykwariat literacki / Książki angielskojęzyczne
Contents: Preface Valentine Cunningham This is the Place: Literary Knowing and Not Knowing Dominika Ruszkiewicz The Meeting of the English and Scottish Cultures in The Kingis Quair by James I of Scotland Teresa Bałuk-Ulewiczowa Poland and Polonius in Shakespeare
Sklep: Hatteria.pl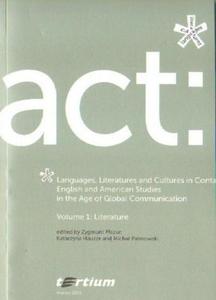 40,00 zł
Antykwariat literacki / Języki obce
Contents: Preface Valentine Cunningham This is the Place: Literary Knowing and Not Knowing Dominika Ruszkiewicz The Meeting of the English and Scottish Cultures in The Kingis Quair by James I of Scotland Teresa Bałuk-Ulewiczowa Poland and Polonius in Shakespeare
Sklep: Hatteria.pl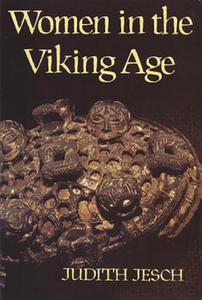 117,45 zł
Książki / Literatura obcojęzyczna
"Well-illustrated, closely argued and fascinating." - "Guardian". This is the first book-length study in English to investigate what women did in the Viking age, both at home in Scandinavia and in the Viking colonies from Greenland to Russia. Evidence for their lives is fragmentary, but Judith Jesch assembles the clues provided by archaeology, runic inscriptions, place names and personal names, foreign historical records and Old Norse literature and mythology. These sources illuminate different aspects of women's lives in the Viking age, on the farms and in the trading centres of Scandinavia, abroad on Viking expeditions, and as settlers in places, such as Iceland and the British Isles. "Women in the Viking Age" explores an unfamiliar aspect of medieval history and offers a new perspective on Viking society, very different from the traditional picture of a violent and male-dominated world. Judith Jesch is Reader in Viking Studies at the University of Nottingham.
Sklep: Libristo.pl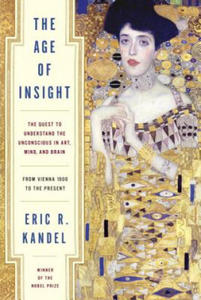 223,13 zł
Książki / Literatura obcojęzyczna
A brilliant book by Nobel Prize winner Eric R. Kandel, The Age of Insight takes us to Vienna 1900, where leaders in science, medicine, and art began a revolution that changed forever how we think about the human mind - our conscious and unconscious thoughts and emotions - and how mind and brain relate to art.§§At the turn of the century, Vienna was the cultural capital of Europe. Artists and scientists met in glittering salons, where they freely exchanged ideas that led to revolutionary breakthroughs in psychology, brain science, literature, and art. Kandel takes us into the world of Vienna to trace, in rich and rewarding detail, the ideas and advances made then, and their enduring influence today.§§The Vienna School of Medicine led the way with its realization that truth lies hidden beneath the surface. That principle infused Viennese culture and strongly influenced the other pioneers of Vienna 1900. Sigmund Freud shocked the world with his insights into how our everyday unconscious aggressive and erotic desires are repressed and disguised in symbols, dreams, and behavior. Arthur Schnitzler revealed women's unconscious sexuality in his novels through his innovative use of the interior monologue. Gustav Klimt, Oscar Kokoschka, and Egon Schiele created startlingly evocative and honest portraits that expressed unconscious lust, desire, anxiety, and the fear of death.§§Kandel tells the story of how these pioneers - Freud, Schnitzler, Klimt, Kokoschka, and Schiele - inspired by the Vienna School of Medicine, in turn influenced the founders of the Vienna School of Art History to ask pivotal questions such as What does the viewer bring to a work of art? How does the beholder respond to it? These questions prompted new and ongoing discoveries in psychology and brain biology, leading to revelations about how we see and perceive, how we think and feel, and how we respond to and create works of art. Kandel, one of the leading scientific thinkers of our time, places these five innovators in the context of today's cutting-edge science and gives us a new understanding of the modernist art of Klimt, Kokoschka, and Schiele, as well as the school of thought of Freud and Schnitzler. Reinvigorating the intellectual enquiry that began in Vienna 1900, The Age of Insight is a wonderfully written, superbly researched, and beautifully illustrated book that also provides a foundation for future work in neuroscience and the humanities. It is an extraordinary book from an international leader in neuroscience and intellectual history.
Sklep: Libristo.pl 146,81 zł
Książki / Literatura obcojęzyczna
The History of Ottoman Poetry, first published in six volumes between 1900 and 1909, was the principal product of E.J.W. Gibb's devotion to Ottoman Turkish literature. By the time of his early death in 1901 only the first volume had appeared in print. The remainder was almost complete and was seen through the press by Gibb's friend and literary executor, the Persian scholar E. G. Browne. The History was designed to provide the first extended account in English of Ottoman literature. The first four volumes cover four developmental phases, largely under the influence of Persian literature, from around 1300 to the middle of the nineteenth century. The fifth volume introduces the 'New School' of Ottoman poetry produced in Gibb's own era and inspired by French models. The sixth volume contains in Ottoman printed script the texts of all works quoted in English translation in the previous volumes. No comparable study has appeared in English since Gibb's magnum opus. His History of Ottoman Poetry has become a classic work which is still widely referred to and valuable for students, scholars and anyone with a general interest in Middle Eastern literature and culture. Volume II (originally published 1902) covers the period 1450 to 1520, the early 'classical age'. For Gibb, the reign of Mehmed II (1451-81) was 'the true starting point of Ottoman poetry', when more verse was written in the increasingly Persianized literary idiom of the Ottoman court, in contrast to the relatively provincial Turkish style of most poets of the first period. Among the leading poets of this era are Cem Sultan (d. 1495), the brother of Bayezid II (1481-1512) held captive for many years in France and Italy; the judge and courtier Ahmed Pasha (d.c. 1496) and Necati, the son of a slave (d. 1509). Also discussed is the work of Mihri Hatun of Amasya (d. after 1512), one of the few known Ottoman women poets. Gibb provides extended summaries of the stories of Yusuf and Zuleika, and Leyla and Mecnun, both composed by Hamdi (d. 1509), as early Ottoman examples of traditional romances in the mesnevi style of rhymed couplets. Volume II contains two prefaces. The first is an obituary of Gibb by E. G. Browne, followed by a list of the Persian and Turkish manuscripts in Gibb's library at the time of his death. The second is Gibb's intended preface, countering criticisms of the first volume with a robust defence of his decision to use an archaic form of English in his translations.
Sklep: Libristo.pl 203,55 zł
Książki / Literatura obcojęzyczna
"The Seyder Tkhines", translated from its original Yiddish by noted tkhines scholar, Devra Kay, and centerpiece of this groundbreaking work, was a standard Yiddish prayer book for women. It first appeared in Amsterdam in 1648, and continued to be published for the next three generations, usually inside the Hebrew synagogue prayer book. A product of an age when mysticism pervaded mainstream Judaism, "The Seyder Tkhines" provided women with newly composed, alternative daily prayers that were more specific to their needs. Included in this volume is a unique Yiddish manuscript dating from the 17th century - a collection of prayers written specifically for a rich, pregnant woman, which Kay discovered among the rare books of the Bodleian Library in Oxford, England. Now, for the first time, these prayers have been skillfully translated and brought to public view. In addition to her translations, Kay presents her own extensive commentary, providing a deeper understanding of the historic, religious, and cultural background of this period in Jewish history. This unparalleled book will have special appeal to those interested in the social, literary, and religious history of women, as well as the history of the Yiddish language and literature. The interest in these forgotten prayers and their significance to the lives of women has now been revived, and these tkhines are ready to be rediscovered by a modern readership.
Sklep: Libristo.pl 167,72 zł
Książki / Literatura obcojęzyczna
"Heterosexual Africa? The History of an Idea from the Age of Exploration to the Age of AIDS" builds from Marc Epprecht's previous book, Hungochani (which focuses explicitly on same-sex desire in southern Africa) to explore the historical processes by which a singular, heterosexual identity for Africa was constructed - by anthropologists, ethnopsychologists, colonial officials, African elites, and most recently, health care workers seeking to address the HIV/AIDS pandemic. This is an eloquently written, accessible book, based on a rich and diverse range of sources, that will find enthusiastic audiences in classrooms and in the general public.Epprecht argues that Africans, just like people all over the world, have always had a range of sexualities and sexual identities. Over the course of the last two centuries, however, African societies south of the Sahara have come to be viewed as singularly heterosexual. Epprecht carefully traces the many routes by which this singularity, this heteronormativity, became a dominant culture. A fascinating story that will surely generate lively debate Epprecht makes his project speak to a range of literatures - queer theory, the new imperial history, African social history, queer and women's studies, and biomedical literature on the HIV/AIDS pandemic. He does this with a light enough hand that his story is not bogged down by endless references to particular debates."Heterosexual Africa?" aims to understand an enduring stereotype about Africa and Africans. It asks how Africa came to be defined as a "homosexual-free zone" during the colonial era, and how this idea not only survived the transition to independence but flourished under conditions of globalization and early panicky responses to HIV/AIDS.
Sklep: Libristo.pl 259,99 zł
Książki Obcojęzyczne>Angielskie>Literature & literary studies>Literature: history & criticism>Literary studies: general>From c 1900 -&g...
With An Eye To The Way These Roles Are Influenced By And Connected To Domestic Space, The Author Examines The Desire For Intimacy And Connection That Motivates Franck's Characters. She Argues That Franck Creates These Identities As Mutable And Changeable, In Effect Opening Up Women's Roles For Resignification In An Age Of Renewed Feminist Inquiry.
Sklep: Gigant.pl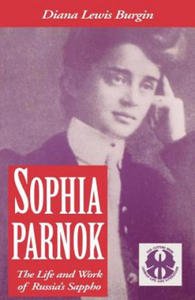 142,50 zł
Książki / Literatura obcojęzyczna
"The weather in Moscow is good, there's no cholera, there's also no lesbian love...Brrr! Remembering those persons of whom you write me makes me nauseous as if I'd eaten a rotten sardine. Moscow doesn't have them - and that's marvellous." (Anton Chekhov, writing to his publisher in 1895). Chekhov's barbed comment suggests the climate in which Sophia Parnok was writing, and is an added testament to the strength and confidence with which she pursued both her personal and artistic life. Author of five volumes of poetry, and lover of Marina Tsvetaeva, Sophia Parnok was the only openly lesbian voice in Russian poetry during the Silver Age of Russian letters. Despite her unique contribution to modern Russian lyricism however, Parnok's life and work have essentially been forgotten. Parnok was not a political activist, and she had no engagement with the feminism vogueish in young Russian intellectual circles. From a young age, however, she deplored all forms of male posturing and condescension and felt alienated from what she called patriarchal virtues. Parnok's approach to her sexuality was equally forthright. Accepting lesbianism as her natural disposition, Parnok acknowledged her relationships with women, both sexual and non-sexual, to be the centre of her creative existence. Diana Burgin's extensively researched life of Parnok is deliberately woven around the poet's own account, visible in her writings. The book is divided into seven chapters, which reflect seven natural divisions in Parnok's life. This lends Burgin's work a particular poetic resonance, owing to its structural affinity with one of Parnok's last and greatest poetic achievements, the cycle of love lyrics Ursa Major. Dedicated to her last lover, Parnok refers to this cycle as a seven-star of verses, after the seven stars that make up the constellation. Parnok's poems, translated here for the first time in English, added to a wealth of biographical material, make this book a fascinating and lyrical account of an important Russian poet. Burgin's work is essential reading for students of Russian literature, lesbian history and women's studies.
Sklep: Libristo.pl 246,68 zł
Książki / Literatura obcojęzyczna
In addition to its unshakeable position on academic History curricula, Anglo-Saxon England remains popular with the general public. However, despite numerous specialist volumes on the political and economic history of the period, there are no books currently on the market which offer an overview of Anglo-Saxon daily life. This book fills that gap, covering a great range of common life experiences of individuals in England, AD c. 450-c.1066, including domestic and family life, work and leisure, education, clothing and housing, food, religion, magic and superstition, health and sickness, warfare, crime and punishment, ethnic and national identity, the creation of kingship, slavery, urban life, and political life for men, women and children. Archaeological evidence gives a dramatic picture of social organization in Anglo-Saxon towns, and sources such as wills provide insight into the way families were structured and organized. Evidence in the law codes and literature shows how Anglo-Saxons experienced childhood, youth, marriage, adulthood, parenthood and old age; how they were educated and engaged in trades, and what they did in their leisure time. Archaeological and documentary evidence, including pictorial representations in sculpture and manuscripts, give a vivid picture of Anglo-Saxon food and dress, and also of the military and governmental forces of Anglo-Saxon England. Religion was an important part of daily life, and so was crime, justice, punishment and slavery. Indeed, the struggle to survive meant that health and sickness were crucial everyday concerns. All these aspects of daily life are examined in Sally Crawford's book, creating a rich picture of ordinary, but complex, life in Anglo-Saxon England.
Sklep: Libristo.pl 127,07 zł
Książki / Literatura obcojęzyczna
Acknowledged by many feminists as the single most important theoretical work of this century, Simone de Beauvoir's The Second Sex (1949) nevertheless occupies an anomalous place in the feminist 'canon'. Yet it has had an undeniable impact, not only on the development of critiques of sexual politics but on twentieth-century western thinking about the concept of 'woman' in general. This collection of six new essays by scholars from the disciplines of French, English literature, history, cultural criticism, feminist theory and philosophy makes a valuable contribution to the task of re-reading and reassessing this enormously influential text for a new generation of feminist readers, and also for cultural theorists, for whom the question of 'the feminine' is at the centre of key debates in philosophy and postmodernity. The contributors provide a significantly new rethinking of the place of The Second Sex in cultural history and of women and representation, the role of 'fictions' and the problem of ethical agency in the work of the leading intellectual woman of this age.
Sklep: Libristo.pl 86,26 zł
Książki / Literatura obcojęzyczna
"In the summer of 1939, Munich, 'The Home of the Monks', was a lovely city." Feared SS General Sepp Dietrich drives through the almost bucolic tree lined streets. His SS driver stops the black Mercedes at the door of noted banker and art collector, Solomon Roth, who has traded his superb collection of Impressionist paintings to Reichsmarshall Herman Goering in exchange for the safe passage of his wife and children out of Nazi Germany. One painting remains, a magnificent self-portrait by Vincent Van Gogh. In the spring of 1945 Munich is a very different city, much of it transformed into a wasteland by Allied bombing. American army sergeant Henry, 'Hank', Dryden enters the former Roth home searching for weapons and takes the portrait. For half a century, the painting lies undiscovered in Dryden's closet in Del Mar, California until feeling his mortality, Hank, enlists the help of his grandson John, a public interest lawyer in Southgate, to determine if it is genuine and if so to sell it. John unwittingly enters the fascinating world of fine art auctions where the richest and most powerful men and women on earth play for stakes that dwarf any in Monte Carlo, Macao, or Las Vegas and millions depend on the wave of a hand or a finger to the nose. Based on true accounts and experiences accumulated during more than 40 years attending, bidding, and selling at auctions in the United States and Europe, Park Avenue is enriched by speci?c factual detail as well as a classic examination of the workings of the human heart as the Drydens are affected by the ageless lure of undreamt of wealth. Michael R. Zomber was born in Washington D.C. and educated at Oberlin College, Villanova University, the University of Illinois, and UCLA. He received his M.A. in English Literature from UCLA. The son of two Holocaust survivors who escaped Nazi Germany in 1939, he knew nothing of his Jewish heritage until the age of ten. Following this revelation he became aware of world history and developed a keen interest in the arms and armor of Europe, the Middle East, and Japan. His grandfather, Robert Eisner, collected paintings by the Impressionist masters and these images by Renoir, Degas, and Gaugain ?red his youthful artistic sensibility. In 1961 Parke Bernet Galleries sold Rembrandt's Aristotle Contemplating the Bust of Homer to the Metropolitan Museum for a world record price and from then on Michael Zomber followed the sale results of works of art at auction as closely as he followed major league baseball statistics.
Sklep: Libristo.pl 698,74 zł
Książki / Literatura obcojęzyczna
Eleanor of Aquitaine (1124-1204) still fascinates and intrigues historians today, who continue to try to penetrate the mystery surrounding her extraordinary life. Twice queen - of France as the wife of Louis VII, then of England as the wife of Henry II - and mother of three kings, she came into contact with famous churchmen such as Suger, Bernard de Clairvaux, and Thomas Becket; travelled across Europe; lived to be eighty; reigned for sixty-seven years; and produced getting on for a dozen offspring at a time when many women died in childbirth. In old age Eleanor retired to the Abbey of Fontevraud, where she died and was buried beside Henry II and their son Richard I, the Lionheart. In this book, Jean Flori attempts the difficult task of writing the full story of this "unruly and rebellious" queen who was determined, in spite of the huge moral, social, and political and religious pressures bearing down upon her, to take charge of her own life in all its aspects. The book is in two parts. The first part is an account of what is reliably known about Eleanor's life and her role in history, in the main based on contemporary sources and drawing on the work of previous historians. The second part deals with questions about Eleanor and her legend currently under debate by scholars. This part draws on hypotheses and controversies, and has recourse to ancient sources and a wide range of recent studies, addressing in particular her role in the second crusade, courtly love, power and patronage, and the Plantagenet Court and arthurian literature.
Sklep: Libristo.pl 290,98 zł
Książki / Literatura obcojęzyczna
In the late nineteenth and early twentieth centuries, working-class Americans had eating habits that were distinctly shaped by jobs, families, neighborhoods, and the tools, utilities, and size of their kitchens--along with their cultural heritage. How the Other Half Ate is a deep exploration by historian and lecturer Katherine Turner that delivers an unprecedented and thoroughly researched study of the changing food landscape in American working-class families from industrialization through the 1950s. Relevant to readers across a range of disciplines--history, economics, sociology, urban studies, women's studies, and food studies--this work fills an important gap in historical literature by illustrating how families experienced food and cooking during the so-called age of abundance. Turner delivers an engaging portrait that shows how America's working class, in a multitude of ways, has shaped the foods we eat today.
Sklep: Libristo.pl
Sklepy zlokalizowane w miastach: Warszawa, Kraków, Łódź, Wrocław, Poznań, Gdańsk, Szczecin, Bydgoszcz, Lublin, Katowice
Szukaj w sklepach lub całym serwisie
2. Szukaj na wszystkich stronach serwisu
t1=0.066, t2=0, t3=0, t4=0.014, t=0.066