krainaksiazek little women w audio cd 20099491
- znaleziono 8 produktów w 5 sklepach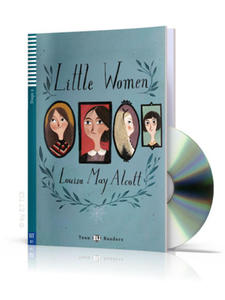 25,90 zł
Little Women + CD audio ELI PUBLISHING (ELI European Language Institute)
Język angielski>Lektury i lekturki>Teen Eli Readers A1-B1
Little Women + CD audio - lektura do nauki języka angielskiego dla nastolatków z nagraniem audio. Seria Teen ELI Readers : Teen ELI Readers to trzypoziomowa seria książek proponująca oryginalne i ciekawe historie do czytania przeznaczone dla dzieci i młodzieży uczących się języka angielskiego na następujących poziomach: -Stage 1 Elementary (600 headwords) A1 Movers -Stage 2 Pre-Intermediate (800 headwords) A2 Flyers/KET -Stage 3 Intermediate (1000 headwords) B1 PET Książeczka Little Women + CD audio : Poziom zaawansowania 3 : B1 PET Treść: Cztery siostry, Jo, Meg, Amy and Beth, bardzo się od siebie różnią, jednak bardzo się nawzajem kochają. Ich ojciec walczy w amerykańskiej wojnie domowej, wszystkie zatem muszą zatem ciężko pracować, by pomóc swej matce. Znajdują jednak czas także i na zabawę. Zakres gramatyczny: TENSES: Present Simple: states, habits Past Perfect Simple: future with going to and will Past Continuous: future plans VERB FORMS AND PATTERNS: question tags Verbs plus infinitive Verbs plus gerund Phrasal verbs Conditional sentences: types 1 and 2 Reported spech Question words Active / Passive MODAL VERBS AFFIRMATIVE, NEGATIVE AND INTERROGATIVE FORMS: Could Should Might Ought to Have to Need / needn't Used to CLASUES: Time clauses introduced by when, while, before, after, as soon as Struktura : Prezentowana historia podzielona jest na rozdziały oraz poprzedzona ilustrowaną prezentacją bohaterów opowieści i dwustronicową sekcją Before You Read Activities zawierającą ćwiczenia wprowadzające czytelnika w tekst książki pod kątem słownictwa i gramatyki. W lepszym rozumieniu tekstu pomagają glosariusze z tłumaczeniami wybranych słówek umieszczone w dolnej części każdej strony. Po każdym rozdziale następuje dwustronicowa sekcja After-Reading Activities podsumowująca rozdział pod kątem treści prezentowanej historii, a także gramatyki, słownictwa i poznanych form językowych, a ponadto wspomagająca rozwój umiejętności czytania ze zrozumieniem i skutecznego zapamiętywania. W końcowej części książki znajduje się czterostronicowa sekcja Focus on prezentująca ciekawe informacje związane z cywilizacją i kulturą anglojęzyczną. Książkę zamyka jednostronicowa sekcja Test yourself sprawdzająca ogólny poziom zrozumienia i zapamiętania przeczytanej historii, oraz poznanych form językowych, a także sekcja Syllabus zawierająca zwięzły opis zamierzeń dydaktycznych realizowanych w książce. Bogata szata graficzna (w tym ilustracje wykonane przez uznanych ilustratorów książek o światowej sławie) stanowi doskonały komentarz wizualny do przedstawionej historii i sprzyja lepszemu zrozumieniu słownictwa i wyrażeń znajdujących się w tekście. Książka stanowi doskonałe narzędzie konsolidujące kompetencje i sprawności językowe dzieci i młodzieży obejmujące umiejętność czytania, rozumienia ze słuchu, pisania i mówienia. Książki z kolekcji Teen ELI Readers charakteryzują się dbałością o najwyższą jakość edytorską oraz starannym i eleganckim wykonaniem. Seria Teen ELI Readers opracowana została w oparciu o kryteria Europejskiego Systemu Opisu Kształcenia Językowego (Common European Framework of Reference for Languages ). Autor: Louisa May Alcott Ilustracje: Julia Sardia Ilość stron: 80 Format: 15x21cm ISBN: 9788853620224
Sklep: Ettoi.pl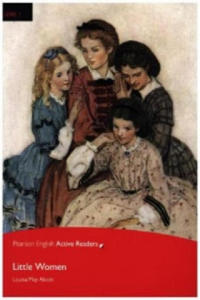 51,93 zł
Książki / Literatura obcojęzyczna
Sklep: Libristo.pl 65,07 zł
Książki / Literatura obcojęzyczna
When Christmas comes for the four March girls, there is no money for expensive presents and they give away their Christmas breakfast to a poor family. But there are no happier girls in America than Meg, Jo, Beth, and Amy. They miss their father, of course, who is away at the Civil War, but they try hard to be good so that he will be proud of his
Sklep: Libristo.pl 52,89 zł
Książki / Literatura obcojęzyczna
Jo, Meg, Amy and Beth are the four March sisters, all very different, but always there for each other. With their father away in the American Civil War, they all have to work hard to help their mother. But there's time for fun and games too with their friend, Laurie. Plays, a personal post-office, secret societies and even a bit of romance all help to fill their days while they grow up, hoping always for their father's return.
Sklep: Libristo.pl 25,99 zł
Audiobooki -> Literatura obcojęzyczna
The story of the four March sisters and their loves, problems and adventures is sometimes sad, often funny but always charming. Louisa May Alcott wrote Little Women in 1868. It is also a film starring Winona Ryder and Susan Sarandon. Level 2 Pozycja ta jest serią do nauki języka angielskiego z książką w zestawie. W książce znajdą Państwo ten sam tekst co na płycie. W niniejszej pozycji zamieszczono skróconą wersję książki w oryginale. Lektorzy: Słuchowisko
Sklep: DHAA.pl 26,51 zł
Książki & Multimedia > Książki
Opis - Kołonotatnik w energetycznych kolorach.
Sklep: InBook.pl 26,17 zł
Książki & Multimedia > Książki
Opis - Książka przedstawia wyczerpujący zbiór 1001 przepisów na modne klasyczne i współczesne koktajle, wraz z ich ciekawymi wariantami. Znajdziesz tu koktajle na każdą okazję, a dzięki naszym radom bez trudu przygotujesz wyszukanego drinka na imprezę lub prosty, zdrowy napój, który ugasi pragnienie całej rodziny w upalny dzień. W kolekcji opatrzonej wspaniałymi zdjęciami prezentujemy niemal wszystkie rodzaje koktajli: od klasycznych drinków i nowoczesnych martini, poprzez chłodne, orzeźwiające collinsy i julepy, aż po podawane do kolacji wyborne frappe i kawowe likiery z puszystą pianką. W zimowe wieczory warto też skusić się na szklaneczkę ponczu lub przepysznego grzańca. Bardziej wymagającym możesz przygotować najmodniejsze pousse-cafe i krótkie drinki o oszałamiających barwach, dzieciom zasmakuje natomiast jeden z wielu napojów bezalkoholowych, przyrządzanych na bazie owoców. Pięknie wydanie "1001 koktajli" zawiera przydatne wskazówki dotyczące przyrządzania różnych napojów, a także odsłania niezwykłe sztuczki zawodowych barmanów. Dzięki nim odkryjesz nowe, nieskończone możliwości łączenia smaków i być może stworzysz własny, niepowtarzalny koktajl, którym zachwycisz znajomych i domowników. Nazwa - 1001 koktajli. Autor - Praca zbiorowa Oprawa - Miękka Wydawca - Olesiejuk Kod ISBN - 9788377708682 Kod EAN - 9788377708682 Rok wydania - 2011 Format - 21,5x27 Ilość stron - 384 Podatek VAT - 5% Premiera - 2012-01-11
Sklep: InBook.pl 97,49 zł
Muzyka>Rock
1. Sixty Minute Man 2. Sweet Marijuana Brown 3. When I Get Drunk 4. Shake, Rattle And Roll 5. Work With Me Annie 6. Annie Had A Baby 7. The Wallflower (Dance With Me Henry) 8. Drinkin' Wine Spo-dee-o-dee 9. You Go To My Head 10. My Ding-a-ling 11. Lead Me Daddy Straight To The Bar 12. I Want A Man 13. That Cat Is High 14. Reefer Man 15. Who Threw The Whiskey In The Well 16. I Know Who Threw The Whiskey In The Well 17. Bar Fly Blues 18. Gas Man Blues 19. Who Put The Benzedrine In Mrs. Murphy's Ovaltine? 20. I Got Loaded 101. Stinkin' Drunk 102. Here Comes The Man With The Jive 103. I'm Gonna Tell You In Front, So You Won't Feel Hurt Behind 104. One Scotch, One Bourbon, One Beer 105. One Night Of Sin 106. She Shook Her Gin 107. Such A Night 108. Poon-tang 109. Clink, Clink, Another Drink 110. My Butcher Man 111. Sexy Ways 112. Daddy Rollin' Stone 113. My Baby Keeps Rollin' 114. Juice Head Baby 115. Let's Turn 'Em On Tonight 116. Poor Grinder Blues 117. So Good To My Baby 118. Don't Mash My Digger So Deep 119. My Baby Takes All Of Me 120. Stoned 201. I Wanna Make Love To You 202. What's That I Smell 203. When I'm In My Tea 204. Ain't Nothin' Shakin' 205. Bicycle Tilly 206. Your Daddy's Doggin' Around 207. She's Got Jordan River In Her Hips 208. I Know How To Do It 209. Wailin' Daddy 210. Mother Fuyer 211. Squeeze Me 212. Real Gone Lover 213. Mister Low Love 214. Hootie's Ignorant Oil 215. How About Rocking With Me 216. Lollipop Mama 217. Steady Grinding Blues 218. She Lost Her Re-bop 219. Kissin' Boogie 220. Reefer Head Woman 301. Dresser With The Drawers 302. Buy Me Some Juice 303. Rockin' All Day 304. Long John Blues 305. Keep On Churnin' 306. Sweet Petunia 307. I Ain't Mad At You 308. Wine-o 309. He's The Best In The Business 310. Work Daddy, Work 311. The Walkin' Blues 312. I Like It Like That 313. I Want A Bow-legged Woman 314. Struttin' My Stuff 315. I Love To Ride 316. Snuff Dippin' Mama 317. I Love My Baby 318. Rock With It Baby 319. Vaccinate Me, Baby 320. Too Much Boogie 401. I Like My Baby's Pudding 402. Can't Do Sixty No More 403. Serve Another Round 404. All Shook Out 405. Little Red Dress 406. Good Rockin' Man 407. Lemon Squeezing Daddy 408. Red, Red Wine 409. Mercy, Mr. Percy 410. One Hour Mama 411. All She Wants To Do Is Rock 412. Do You Want It 413. I Got Love For Sale 414. Big Ten Inch Record 415. New Way Of Lovin' 416. Hard Lead Pencil 417. Big Fat Mama 418. Drinking Blues 419. Hidin' In The Sticks 420. I Got Loaded 501. Let Me Play With Your Poodle 502. Rock Me, Daddy 503. Goofy Dust Blues 504. Working With My Baby 505. Chocolate Pork Chop Man 506. Laundromat Blues 507. Ride, Jockey, Ride 508. Bed Springs Blues 509. My Country Man 510. Rock And Rye 511. Slow Down, Baby 512. Don't Come Over 513. Chee Koo Baby 514. Let Me Bang Your Box 515. I Got Your Boogie 516. Whiskey Blues 517. Lovin' Machine 518. One More Greasing 519. She Sets My Soul On Fire 520. Whiskey, Gin And Wine 601. I'm A Doctor For Women 602. Auto Mechanic Blues 603. Sneaky Pete 604. So Many Ways 605. Fat Meat 606. Big Long Slidin' Thing 607. Mercenary Papa 608. I Got What My Daddy Likes 609. Ridin' In The Moonlight 610. I Should O' Been Thinkin' Instead Of Drinkin' 611. My Baby Likes To Shuffle 612. Boar Hog Blues 613. Daddy, Daddy 614. Mighty, Mighty Man 615. Don't Fuck Around With Love 616. We're Gonna Rock 617. Jelly Roll Baker 618. My Gal's A Jockey 619. Port Wine Blues 620. Rocket '69 701. My Good Pott 702. Green Gin 703. Daddy On My Mind 704. I Knew He Would 705. Hey Miss Bertha 706. No Wine, No Women 707. Move Your Hand Baby 708. Annie's Aunt Fannie 709. Mister Fine 710. Stinkin' From Drinkin' 711. The Deacon Moves In 712. I Can't Stop It 713. Joy Juice 714. Ooh Rocking Daddy 715. You're So Fine 716. Don't Come Too Soon 717. Long Lean Daddy 718. Butcher Pete 719. We're Gonna Ball This Mornin' 720. Sloppy Drunk 801. Juice Head Man Of Mine 802. Who Drank My Beer While I Was In The Rear 803. Drill, Daddy, Drill 804. Something's Wrong With My Little Machine 805. Drunk, Broke And Hungry 806. Sloppy Drunk Again 807. I Need It Bad 808. Hangover Blues 809. Coffee Daddy Blues 810. Drinkin' By Myself 811. Jive I Like 812. Drinking Tequila 813. Ride, Daddy, Ride 814. Scotchin' With The Soda 815. Work With Me Annie 816. Beer Bottle Mama 817. A Six Pack To Go 818. I'm Gonna Let Him Ride 819. Shut Up And Drink Your Beer 820. Beer Drinkin' Baby 901. Thirsty Mama Blues 902. Pool Playing Blues 903. Waiting And Drinking 904. Weddin' Day Blues 905. Bloodshot Eyes 906. Too Many Drivers 907. No More Alcohol 908. Lush Head Woman 909. The G Man Got The T Man 910. Too Much Jelly Roll 911. Whiskey Do Your Stuff 912. Let's Get Drunk Again 913. Gonna Play With Your Woman 914. Fishin' Pole 915. Bad Bad Whiskey 916. I'm A Hi-ballin' Daddy 917. Liquor Drinkin' Woman 918. Whiskey Is The Devil 919. Killin' Jive 920. I'm A Boogie Man
Sklep: Gigant.pl
Sklepy zlokalizowane w miastach: Warszawa, Kraków, Łódź, Wrocław, Poznań, Gdańsk, Szczecin, Bydgoszcz, Lublin, Katowice
Szukaj w sklepach lub całym serwisie
2. Szukaj na wszystkich stronach serwisu
t1=0.08, t2=0, t3=0, t4=0.01, t=0.08