krainaksiazek love and it s inevitable loss 20091474
- znaleziono 7 produktów w 3 sklepach 72,49 zł
Muzyka>Pop
1. Loss Of Light 2. Song For Birds 3. Calling 4. Towards You, In The Water 5. Pangea Blues 6. The Hanging Of The Inevitable 7. A Graceful, Arching Action 8. Love Of Light 9. Freedom
Sklep: Gigant.pl 45,80 zł
Nauki humanistyczne
Alain de Botton, best-selling author of How Proust can Change Your Life, has set six of the finest minds in the history of philosophy to work on the problems of everyday life. Here then are Socrates, Epicurus, Seneca, Montaigne, Schopenhauer and Nietzsche on some of the things that bother us all; lack of money, the pain of love, inadequacy, anxiety, the fear of failure and the pressure to conform.
Sklep: Albertus.pl 35,20 zł
Książki / Literatura obcojęzyczna
Whether your partner left or it's you who decided to end the relationship, breaking-up is painful, difficult and sometimes overwhelming. Friends and family urge you to forget the past and reach for the future. However, it is never that simple. Before you can move on, you need to understand what went wrong, mourn the loss and, most importantly, to heal. In this compassionate book, marital therapist, Andrew G Marshall takes you from hearing the bad news or making the decision to leave, through the fall-out from the split, the first steps of recovery and finally onto making a new life. He covers: - Knowing when to stop trying and accept the inevitable. - Why the break-up hurts so much. - Emotional first-aid to make it through the worst times. - The difference between looking back and learning, and becoming trapped in the past. - What helps and what hinders recovery. - Making sense of your break-up. - Helping your children cope. - Learning how to fly high again. With over 25 years' experience as a marital therapist, Marshall draws on hundreds of case studies, and provides sensible, compassionate and practical advice. (Some of the exercises in this book have appeared in I Love You But I'm Not In Love With You by Andrew G. Marshall, published by Bloomsbury)
Sklep: Libristo.pl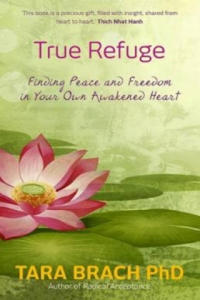 55,52 zł
Książki / Literatura obcojęzyczna
How do you cope when facing life-threatening illness, family conflict, faltering relationships, old trauma, obsessive thinking, overwhelming emotion or inevitable loss? If you're like most people, chances are you react with fear and confusion, falling back on timeworn strategies: anger, self-judgement and addictive behaviours. Though these old, conditioned attempts to control our life may offer fleeting relief, ultimately they leave us feeling isolated and mired in pain. There is another way. Beneath the turbulence of our thoughts and emotions exists a profound stillness, a silent awareness capable of limitless love. Tara Brach, author of the award-winning Radical Acceptance, calls this awareness our true refuge, because it is available to every one of us, at any moment, no exceptions. In this book, Brach offers a practical guide to finding our inner sanctuary of peace and wisdom in the midst of difficulty. Based on a fresh interpretation of the three classic Buddhist gateways to freedom - truth, love and awareness - True Refuge shows us the way not just to heal our suffering, but also to cultivate our capacity for genuine happiness. Through spiritual teachings, guided meditations and inspirational stories of people who discovered loving presence during times of great struggle, Brach invites us to connect more deeply with our own inner life, one another and the world around us. True Refuge is essential reading for anyone encountering hardship or crisis, anyone dedicated to a path of spiritual awakening. The book reminds us of our own innate intelligence and goodness, making possible an enduring trust in ourselves and our lives. We realize that what we seek is within us, and regardless of circumstances, 'There is always a way to take refuge in a healing and liberating presence.'
Sklep: Libristo.pl 37,12 zł
Książki / Literatura obcojęzyczna
Woven through the pages of Tapestry are poems of love and courage, promises of hope and a bright tomorrow, of sorrow, loss and the inevitable triumph of the human spirit. Ten poets, ten styles, one voice filled with love and encouragement. They came together to share their hearts and minds, their innermost feelings, and to free their muses. Settle back and enjoy. Chuckle, laugh outright and cry. All of the human emotional experience is here in this lovely book. An excellent gift, the heirloom tabletop hard cover edition will be passed from generation to generation.
Sklep: Libristo.pl 47,68 zł
Książki / Literatura obcojęzyczna
The bestselling author of the Shatter Me series takes readers beyond the limits of their imagination in this captivating new middle grade adventure where color is currency, adventure is inevitable, and friendship is found in the most unexpected places. §§There are only three things that matter to twelve-year-old Alice Alexis Queensmeadow: Mother, who wouldn't miss her; magic and color, which seem to elude her; and Father, who always loved her. The day Father disappears from Ferenwood he takes nothing but a ruler with him. But it's been almost three years since then, and Alice is determined to find him. She loves her father even more than she loves adventure, and she's about to embark on one to find the other.§§But bringing Father home is no small matter. In order to find him she'll have to travel through the mythical, dangerous land of Furthermore, where down can be up, paper is alive, and left can be both right and very, very wrong. Her only companion is a boy named Oliver whose own magical ability is based in lies and deceit-and with a liar by her side in land where nothing is as it seems, it will take all of Alice's wits (and every limb she's got) to find Father and return home to Ferenwood in one piece. On her quest to find Father Alice must first find herself-and hold fast to the magic of love in the face of loss.
Sklep: Libristo.pl 144,16 zł
Książki / Literatura obcojęzyczna
Margaret Atwood's classic novel, The Handmaid's Tale, is about the future. Now, in Oryx and Crake, the future has changed. It's much worse and bleaker. And we're well on the road to it now. The narrator is Snowman (a man once known as Jimmy), self-named though not self-created. As the story begins, he's sleeping in a tree, wearing a dirty old bedsheet, mourning the loss of his beautiful and beloved Oryx and his best friend Crake, and slowly starving to death. Earlier, Snowman's life was one of comparative privilege. Crake and Jimmy live with all the other smart, rich people in the Compounds - gated company towns owned by biotech corporations. (Ordinary folks are kept outside the gates in the chaotic 'pleeblands'.) Meanwhile, beautiful Oryx, raised as a child prostitute in Southeast Asia, finds her way to the West and meets Crake and Jimmy, setting up an inevitable love triangle. How did everything fall apart so quickly? Was he himself in any way responsible? Why is he now left alone with his bizarre memories - except for the more-than-perfect, green-eyed Children of Crake, who think of him as a kind of monster? He explores the answers to these questions in the double journey he takes - into his own past, and back to Crake's high-tech bubble dome, where the Paradice Project unfolded and the world came to grief. With breathtaking command of her shocking material and with her customary sharp wit and dark humour, Atwood projects us into a less-than-brave new world, an outlandish yet wholly believable space populated by a cast of characters who will continue to inhabit your dreams long after the last chapter
Sklep: Libristo.pl
Sklepy zlokalizowane w miastach: Warszawa, Kraków, Łódź, Wrocław, Poznań, Gdańsk, Szczecin, Bydgoszcz, Lublin, Katowice
Szukaj w sklepach lub całym serwisie
2. Szukaj na wszystkich stronach serwisu
t1=0.028, t2=0, t3=0, t4=0, t=0.029