krainaksiazek love beyond boundaries 20098315
- znaleziono 12 produktów w 2 sklepach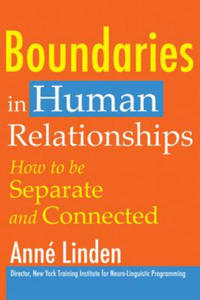 142,60 zł
Książki / Literatura obcojęzyczna
Boundaries are what keep us separate from other people. But they also connect us to them. Being able to manage the boundaries in our relationships enables us to stay fulfilled, happy and productive, and move beyond our psychological and emotional blocks. ??AABoundaries in Human Relationships??AA delves deeply into the meaning of boundaries, how to manage them and provides the practical skills and tools necessary to use them to our advantage.You will learn to understand exactly what boundaries are, recognise when you need them and how to create and maintain them using three simple skills: a clearly defined structure of boundaries; specific practical steps for creating and managing boundaries - with examples and exercises; and an in depth exploration of the significant areas of relationships and self-esteem through the lens of boundaries. The most important distinction anyone can ever make in their life is between who they are as an individual and their connection with others; Can you truly love another and be the whole, complete and unique person you are? How do you know the difference between your fear and your partners'? Or between your past anger and your here-and-now anger? The answer is boundaries - and this is a practical guide to unlocking these mysteries.
Sklep: Libristo.pl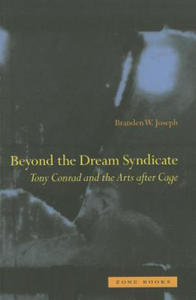 98,09 zł
Książki / Literatura obcojęzyczna
Tony Conrad has significantly influenced cultural developments from minimalism to underground film, "concept art," postmodern appropriation, and the most sophisticated rock and roll. Creator of the "structural" film, The Flicker, collaborator on Jack Smith's Flaming Creatures and Normal Love, follower of Henry Flynt's radical anti-art, member of the Theatre of Eternal Music and the first incarnation of The Velvet Underground, and early associate of Mike Kelley, Tony Oursler, and Cindy Sherman, Conrad has eluded canonic histories. Yet Beyond the Dream Syndicate does not claim Conrad as a major but under-recognized figure. Neither monograph nor social history, the book takes Conrad's collaborative interactions as a guiding thread by which to investigate the contiguous networks and discursive interconnections in 1960s art. Such an approach simultaneously illuminates and estranges current understandings of the period, redrawing the map across medium and stylistic boundaries to reveal a constitutive hybridization at the base of the decade's artistic development. This exploration of Conrad and his milieu goes beyond the presentation of a relatively overlooked oeuvre to chart multiple, contestatory regimes of power simultaneously in play during the pivotal moment of the 1960s. From the sovereign authority invoked by Young's music, to the "paranoiac" politics of Flynt, to the immanent control modeled by Conrad's films, each avant-garde project examined reveals an investment within a particular structure of power and resistance, providing a glimpse into the diversity of the artistic and political stakes that continue to define our time.Branden W. Joseph is Professor of Modern and Contemporary Art in the Department of Art History and Archaeology at Columbia University and an editor of the journal Grey Room (MIT Press). He is the author of Random Order: Robert Rauschenberg and the Neo-Avant-Garde (MIT Press, 2003.)
Sklep: Libristo.pl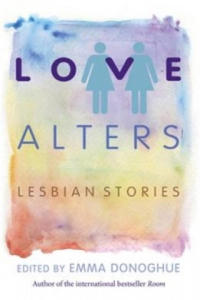 44,68 zł
Książki / Literatura obcojęzyczna
With this anthology, honoured on first publication as a Lambda Literary Award finalist, Emma Donoghue offers an eloquent and timely definition of the modern lesbian short story. Breaking out beyond North American writer, she assembles an impressively broad array of twenty-nine writers from South Africa to Trinidad, from Australia to Ireland, and from Jamaica to New Zealand. The greater international range is evident not just in subject matter, but in style, too: the writers have little in common other than that they have written on lesbian themes. The intention was not to compile a 'Best of' collection; the focus is very much on new stories rather than those already much-anthologised. Well-known authors are represented, but not by their best-known work, and widely anthologised authors make way for less familiar names. Chronologically, the focus is on the modern side of the watershed marked by the June 1969 Stonewall Riots in New York and the ensuing Gay Liberation and Women's Liberation movements. Importantly though, these are stories that read like stories. The first section, 'Child's Play' deals with the taboo topic of the sexuality of young girls; 'Present Tense' is concerned with contemporary adult life; while 'Family Values' reclaims that term from right-wing fundamentalists by embracing very different angles on family life. 'Past Times' reflects the burgeoning cultural confidence evident in the growing genre of lesbian historical fiction, while the final, very eclectic 'Possibilities' points to new tendencies in lesbian fiction at the millennium, exploring beyond the boundaries of naturalism. The anthology includes stories by Dorothy Allison, Madelyn Arnold, Rebecca Brown, Anne Cameron, Christine Crow, Jane DeLynn, Elise D'Haene, Emma Donoghue, Mary Dorcey, Marion Douglas, Patricia Duncker, Dale Gunthorp, Susan Hampton, Jane Harris, Annamarie Jagose, Aileen La Tourette, Tanith Lee, Jenifer Levin, Anna Livia, Elizabeth A. Lynn, Ingrid Macdonald, Sara Maitland, Shani Mootoo, Sigrid Nielsen, Jane Rule, Ali Smith, Michelene Wandor, and Marnie Woodrow and Shay Youngblood.
Sklep: Libristo.pl 141,61 zł
Książki / Literatura obcojęzyczna
This book tells the stories of notable historical figures who, by resisting patriarchal laws condemning adultery, gay and lesbian sex, and sex across the boundaries of religion and race, brought about lasting social and political change. Constitutional scholar David A. J. Richards investigates the lives of leading transgressive artists, social critics, and activists including George Eliot, Benjamin Britten, Christopher Isherwood, Bayard Rustin, James Baldwin, Eleanor Roosevelt, and Margaret Mead. Richards shows how ethical empowerment, motivated by love, allowed these figures to resist the injustices of anti-Semitism, racism, sexism, and homophobia, leading to the constitutional condemnation of these political evils in the United States, Britain, and beyond. Love and law thus grow together, and this book shows how and why. Drawing from developmental psychology (including studies of trauma), political theory, the history of social movements, literature, biography, and law, this book will be a thought-provoking tool for anyone interested in civil rights.
Sklep: Libristo.pl 173,76 zł
Książki / Literatura obcojęzyczna
Covering one of the most unforgettable moments in modern history--and including images of Janis Joplin, The Grateful Dead, Bob Dylan, Jimi Hendrix, Timothy Leary, Allen Ginsburg, and more--"The Haight "is an indispensable gallery of legendary photographer Jim Marshall's Sixties-era San Francisco photography. The counter-culture movement of the 1960s is one of the most endlessly examined moments of the twentieth century. Widely regarded as the cradle of revolution, San Francisco's Haight-Ashbury grew from a small neighborhood to a worldwide phenomenon--a concept that extends far beyond the boundaries of the intersection itself. Jim Marshall visually chronicled this area as perhaps no one else did. Renowned for his portraits of some of the greatest musicians of the era, Marshall covered Haight-Ashbury with the same unique eye that allowed him to amass a staggering archive of music photography and Grammy recognition for his work. In this one-of-a-kind book, the full extent of Marshall's Haight-Ashbury photography is stunningly displayed. Written by bestselling music journalist Joel Selvin, the story behind each of these incomparable images is disclosed through a revealing narrative, lending the images a fascinating context and prospective. Bold and beautifully crafted, "The Haight" offers fresh insight into the Summer of Love, Haight-Ashbury, and beyond.
Sklep: Libristo.pl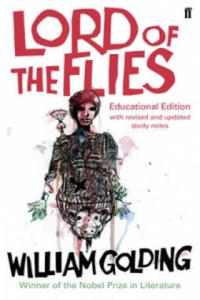 44,18 zł
Książki / Literatura obcojęzyczna
"Lord of the Flies" is a novel that has captivated schoolchildren ever since it was first published in 1954. A teacher himself, Golding clearly understood what excites and interests children. It is not only a gripping story, with strong, sympathetic characters, but it also raises timeless and profound questions. Part of its lasting appeal, particularly in schools, surely arises from the way it tackles universal issues. The novel is a catalyst for thought-provoking discussion and analysis, not only concerning the capabilities of humans for good and evil and the fragility of moral inhibition, but beyond. The boys' struggle to find a way of existing in a community with no fixed boundaries invites readers to evaluate the concepts involved in social and political constructs and moral frameworks. Ideas of community, leadership, and the rule of law are called into question as the reader has to consider who has a right to power, why, and what the consequences of the acquisition of power may be. All of these concerns are current today and can be easily related to the novel through effective teaching and learning. This new educational edition encourages original and independent thought from students, as well as guiding them through the text. The introductory material includes a biographical section on William Golding as well as providing information about the novel's historical context, which will be ideal for students completing GCSE and A-Level courses. At the end of the text there are chapter summaries, comprehension questions, discussion points and activities plus a glossary of less familiar words or phrases. This new edition includes William Golding's essay on "Lord of the Flies", "Fable". All of these are intended to inspire and generate creative teaching, learning and love of the novel.
Sklep: Libristo.pl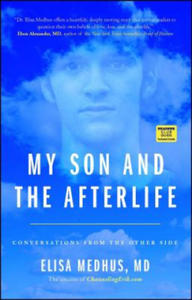 49,13 zł
Książki / Literatura obcojęzyczna
Until her son Erik committed suicide at the age of twenty, Dr. Elisa Medhus never believed in life after death. But all of that changed when Erik began communicating with her from the other side. As an accomplished physician, Dr. Medhus had placed her faith in science. But the tragedy surrounding her son's death forced her to seek answers, to ask those universal questions we have all asked ourselves: Is there life after death? Do the dead communicate with the living? In My Son and the Afterlife, answers are finally revealed. Through a series of conversations, Erik reveals a compendium of new knowledge on the nature of death and afterlife, the abilities and activities of the soul, and the powerful experience that love knows no boundaries-not even death.
Sklep: Libristo.pl 85,72 zł
Książki / Literatura obcojęzyczna
The universe is a glitterball I hold in the palm of my hand. Once the golden boy of the English literary scene, now a clinically depressed writer of pulp crime fiction, Ash Winters has given up on love, hope, happiness, and - most of all - himself. He lives his life between the cycles of his illness, haunted by the ghosts of other people's expectations. Then a chance encounter at a stag party throws him into the arms of Essex boy Darian Taylor, an aspiring model who lives in a world of hair gel, fake tans, and fashion shows. By his own admission, Darian isn't the crispest lettuce in the fridge, but he cooks a mean cottage pie and makes Ash laugh, reminding him of what it's like to step beyond the boundaries of anxiety. But Ash has been living in his own shadow for so long that he can't see past the glitter to the light. Can a man who doesn't trust himself ever trust in happiness? And how can a man who doesn't believe in happiness ever fight for his own?
Sklep: Libristo.pl 211,26 zł
Książki obcojęzyczne / angielskie
A Companion to Medieval English Literature and Culture, c.1350-c.1500 challenges readers to think beyond a narrowly defined canon and conventional disciplinary boundaries.* A ground-breaking collection of newly-commissioned essays on medieval literature and culture* Reflects the erosion of the traditional, rigid boundary between medieval and early modern literature* Stresses the importance of constructing contexts for reading literature* Explores the extent to which medieval literature is in dialogue with other cultural products, including the literature of other countries, manuscripts and religion* Includes close readings of frequently-studied texts, including texts by Chaucer, Langland, the Gawain poet, and Hoccleve* Confronts some of the controversies that exercise students of medieval literature, such as those connected with literary theory, love, and chivalry and war
Sklep: Literacka.pl 94,30 zł
Książki / Literatura obcojęzyczna
Beginning with the simplest possible form, this gorgeous book showcases the multiple possibilities folding techniques offer nowadays. It illustrates how folded materials such as paper, plastic and textiles can be applied to very different areas of creation such as fashion, jewellery, interior design or architecture. This insightful and beautifully illustrated volume reveals how folding presents many intriguing challenges for designers, not to mention end results that will wow those who love innovative design. The Art of Folding goes far beyond the boundaries of origami and folded paper, shedding light on a whole range of possibilities and materials.Charles Trebbi is an urban architect, designer, and artist specialized in the infinite possibilities of folding, cutting and assembling all sorts of materials.
Sklep: Libristo.pl 81,93 zł
Książki / Literatura obcojęzyczna
This revolutionary 12-week course brings a new level of self-awareness that helps individuals realize their personal goals from the inside out. Using a combination of disciplines from aesthetic solutions to common sense, each lesson builds from the last so that individuals learn to apply and layer the skills they acquire each week to achieve a new understanding of their needs and to push beyond their personal boundaries. With written and experiential exercises that help establish an alignment of inner fulfillment with outer achievements, the results lead to an authentic self, resulting in greater self-awareness, compassion, and love.
Sklep: Libristo.pl 72,70 zł
Książki / Literatura obcojęzyczna
The essential guide for singles and couples who want to explore polyamory in ways that are ethically and emotionally sustainable.§§For anyone who has ever dreamed of love, sex, and companionship beyond the limits of traditional monogamy, this groundbreaking guide navigates the infinite possibilities that open relationships can offer. Experienced ethical sluts Dossie Easton and Janet W. Hardy dispel myths and cover all the skills necessary to maintain a successful and responsible polyamorous lifestyle--from self-reflection and honest communication to practicing safe sex and raising a family. Individuals and their partners will learn how to discuss and honor boundaries, resolve conflicts, and to define relationships on their own terms.§§"I couldn't stop reading it, and I for one identify as an ethical slut. This is a book for anyone interested in creating more pleasure in their lives . . . a complete guide to improving any style of relating, from going steady to having an extended family of sexual friends." --Betty Dodson, PhD, author of Sex for One
Sklep: Libristo.pl
Sklepy zlokalizowane w miastach: Warszawa, Kraków, Łódź, Wrocław, Poznań, Gdańsk, Szczecin, Bydgoszcz, Lublin, Katowice
Szukaj w sklepach lub całym serwisie
2. Szukaj na wszystkich stronach serwisu
t1=0.045, t2=0, t3=0, t4=0.015, t=0.046