krainaksiazek love came calling 20054484
- znaleziono 6 produktów w 2 sklepach 57,98 zł
Książki / Literatura obcojęzyczna
We love animals but insult humans by calling them everything from weasels or pigs to sheep, mice, chickens, sharks, snakes, and bird-brains. Animal epithets, words, and phrases are so widespread we often take them for granted or remain ignorant of the fascinating stories and facts behind them. Spanning the entire animal kingdom, Holy Cow! explains: Why hot dogs are named after canines. Why people talk turkey or go cold turkey. Why curiosity killed the cat, although dogs are more curious about us. Why letting the cat out of the bag originally referred to a duped shopper. What a horse of another color is, what horsefeathers politely alludes to, why a mule is a lady's slipper, and what horseradish has to do with horses. Why the combination of humans and cows probably led to capitalism--its name from Latin for head, as in heads of cows. Why holy cow and sacred cow have almost opposite meanings. Whether people actually chewed the fat or ate crow (and why it's a crowbar). How a hog became a motorcycle and a chick a young woman. What happens to freeze the balls off a brass monkey. What buck has to do with being naked. Why the birds and the bees. Why a piggy bank and why one feeds the kitty. What lame ducks have to do with U.S. presidents. How red herring came about via activists opposed to fox hunting. Where snake oil, popular in the 1800s and rich in Omega-3 fatty acids, came from. That the proverbial fly in the ointment goes back to the Bible's Ecclesiastes (10:1). How Swiss watchmakers created teensy-weensy coaches for fleas to pull in flea circuses. And much--much!--more. Don't be a lame duck and get this book!
Sklep: Libristo.pl 35,12 zł
Książki / Literatura obcojęzyczna
Separated from her real mother at birth, Anya grew up in terror of her drunken bullying uncle. Beaten, humiliated and sexually abused by him from the age of six, she thought her life couldn't get worse. But one day it did. "I was used to Daddy screaming 'whore's child' at me, over and over again. But I couldn't get used to what he made me do." Anya was too terrified to tell anybody about what her uncle did to her. But then he got careless and started abusing her in front of the other children. When her brothers started calling her a 'whore', Anya cracked and all her terrible secrets came pouring out. Anya had always coped because there was one woman who loved her deeply, her 'Mummy'. But this time love was not enough. One morning 'Mummy' just left. Determined to make a new life, Anya buried her feelings and tried to move on. But when she ended up homeless, living in her car, she knew she had to face her past if she was ever going to find happiness and security again. Top 10 Sunday Times Bestseller, Abandoned is Anya's inspirational story of her fight to find love, acceptance and a place to belong.
Sklep: Libristo.pl 45,06 zł
Książki / Literatura obcojęzyczna
If God ever wanted to smite a sinner, he couldn't do better than Michael Stirling. Michael Stirling, Sinner. He could see it on a calling card. He'd have had it printed up, even - his was just that sort of black sense of humour - if he weren't convinced it would kill his mother on the spot. Rake he might be, but there was no need to torture the woman who'd borne him.' In every life there is a turning point. A moment so tremendous, so sharp and breathtaking, that one knows one's life will never be the same. For Michael Stirling, London's most infamous bachelor, that moment came the first time he laid eyes on Francesca Bridgerton. After a lifetime of chasing women, of smiling slyly as they chased him, of allowing himself to be caught but never permitting his heart to become engaged, he took one look at Francesca Bridgerton and fell so fast and hard into love it was a wonder he managed to remain standing. Unfortunately for Michael, however, Francesca's surname was to remain Bridgerton for only a mere thirty-six hours longer - the occasion of their meeting was, lamentably, a supper celebrating her imminent wedding to his cousin
Sklep: Libristo.pl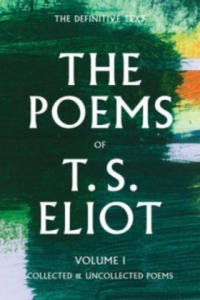 200,43 zł
Książki / Literatura obcojęzyczna
The Poems of T. S. Eliot is the authoritative edition of one of our greatest poets, scrupulously edited by Christopher Ricks and Jim McCue. It provides, for the first time, a fully scrutinized text of Eliot's poems, carefully restoring accidental omissions and removing textual errors that have crept in over the full century in which Eliot has been so frequently printed and reprinted. The edition also presents many poems from Eliot's youth which were published only decades later, as well as others that saw only private circulation in his lifetime, of which dozens are collected for the first time. To accompany Eliot's poems, Christopher Ricks and Jim McCue have provided a commentary that illuminates the creative activity that came to constitute each poem, calling upon drafts, correspondence and other original materials to provide a vivid account of the poet's working processes, his reading, his influences and his revisions. The first volume respects Eliot's decisions by opening with his Collected Poems 1909-1962 in the form in which he issued it, shortly before his death fifty years ago. There follow in this first volume the uncollected poems from his youth that he had chosen to publish, along with such other poems as could be considered suitable for publication. The second volume opens with the two books of poems of other kinds that he issued, Old Possum's Book of Practical Cats and his translation of Perse's Anabase, moving then to verses privately circulated as informal or improper or clubmanlike. Each of these sections is accompanied by its respective commentary, and then, pertaining to the entire edition, there is a comprehensive textual history recording variants both manuscript and published. The Poems of T. S. Eliot is a work of enlightening scholarship that will delight and inform all those who read Eliot for pleasure, as well as all those who read with pleasure and for study. Here are a new accuracy and an unparalleled insight into the marvels and landmarks from The Love Song of J. Alfred Prufrock and The Waste Land through to Four Quartets.
Sklep: Libristo.pl 100,05 zł
Książki / Literatura obcojęzyczna
Religion, materialism, and false beliefs have led to living and thinking wrongly. It is through this that man has brought war and suffering into the world. He also unknowingly self-creates depressive symptoms, to which medical intervention is not the answer. Depression partly stems from feeling pressured into conforming to that which is not in accord with man's spiritual nature. Attuning to the Spirit is deliverance from the effects of materialism and conventional thinking. None other than spirituality can illuminate the path to inner peace or harmonise the mind. All visible emptiness throughout the cosmos and between celestial bodies is neither unfilled nor deprived of life. Physical senses or systematic observations may suggest otherwise, but these form the basis of the illusions that obscure truth. The whole of creation spawned from a singular consciousness of a divine nature, to which when attuned, exposes all that which now seems unreal. True spiritual consciousness awakens the mind to greater realisations, greater self-awareness, and an inner knowing that life is eternal. By realising why the human experience of life is but one aspect of a perpetual existence, one can truly embrace the inevitable transition from this world to the next. Fear not the coming of death, for beyond it awaits the reuniting of souls and the love they once shared. Calling upon his profound spiritual awareness that came about in consequence to suffering from depression since childhood, the author reveals the relationship between materialism and psychological complications. In addition, through a powerfully written discourse innovative in its approach, unprecedented in views, and based on true spiritual principles, the author aspires to impress upon the mind a mental picture of a greater realisation of life and death.
Sklep: Libristo.pl 82,49 zł
Muzyka>Pop
1. Duran Duran - The Wild Boys 2. Spandau Ballet - Gold 3. Blondie - Call Me 4. Carlisle, Belinda - I Get Weak 5. T'pau - Heart & Soul 6. Heaven 17 - Play To Win 7. Ultravox - Dancing With Tears In My Eyes 8. China Cirsis - King In A Catholic Style (Wake Up) 9. Talk Talk - Today 10. Wilde, Kim - Kids In America 11. Idol, Billy - Mony Mony 12. Power Station, The - Get It On (Bang A Gong) 13. Fun Boy Three - Our Lips Are Sealed 14. Kajagoogoo - Too Shy 15. Yazoo - Don't Go 16. Oakey, Philip / Moroder, Giorgio - Together In Ele 17. It's Immaterial - Driving Away From Home (Jim's Tu 101. Culture Club - Do You Really Want To Hurt Me 102. Ub40 - If It Happens Again 103. Soul II Soul / Wheeler, Caron - Keep On Movin' 104. Inner City - Good Life 105. Fun Boy Three / Bananarama - It Ain't What You Do 106. Stewart, Jermaine - We Don't Have To Take Our Clot 107. Hot Chocolate - You Sexy Thing 108. Ashford & Simpson - Solid 109. Mel & Kim - Flm 110. Martha & Muffins, The - Echo Beach 111. Lennon, Julian - Too Late For Goodbyes 112. Living In A Box - Living In A Box 113. Dexy's Midnight Runners - Geno 114. Priest, Maxi - Some Guys Have All The Luck 115. Scritti Politti - Wood Beez (Pray Like Aretha Fran 116. George, Boy - Everything I Own 117. Katrina & Waves, The - Walking On Sunshine 201. Human League, The - (Keep Feeling) Fascination 202. Simple Minds - Promised You A Miracle 203. Orchestral Manoeuvres In The Dark - (Forever) Live 204. Ultravox - We Came To Dance 205. Cutting Crew - (I Just) Died In Your Arms 206. Classix Nouveaux - Is It A Dream 207. Climie Fisher - Love Changes (Everything) 208. Colourfield, The - Thinking Of You 209. Vapors, The - Turning Japanese 210. Go West - We Close Our Eyes 211. Johnny Hates Jazz - I Don't Want To Be A Hero 212. Feargal Sharkey - You Little Thief 213. Duffy, Stephen - Kiss Me (1983) 214. Breathe - Hands To Heaven 215. Wilson, Danny - Mary's Prayer 216. It Bites - Calling All The Heroes
Sklep: Gigant.pl
Sklepy zlokalizowane w miastach: Warszawa, Kraków, Łódź, Wrocław, Poznań, Gdańsk, Szczecin, Bydgoszcz, Lublin, Katowice
Szukaj w sklepach lub całym serwisie
2. Szukaj na wszystkich stronach serwisu
t1=0.033, t2=0, t3=0, t4=0, t=0.033