krainaksiazek love knows no boundaries 20118578
- znaleziono 8 produktów w 2 sklepach 66,22 zł
Książki
Sklep: KrainaKsiazek.pl 150,99 zł
Książki
Sklep: KrainaKsiazek.pl 71,71 zł
Książki / Literatura obcojęzyczna
Nicholas Sayers, needing money for college, takes a job as assistant to infamous photographer Damian Wolfe. It's just taking pictures, right? Wrong. While Nick has never questioned what kind of man he is or what he truly wants in life, working for Damian during a BDSM photo shoot opens his eyes to all sorts of sexual possibilities, and many of them include the handsome Mr. Wolfe. Damian has serious doubts about getting involved with a younger man who knows nothing about the BDSM lifestyle, but Nick's adventurous and humorous approach to new experiences is far too alluring to resist. Although he knows it might be a mistake, Damian takes Nick into his life. Flirting on the edges of control, submission, and pain excites Nick more than he would have ever dreamed possible. With Damian, Nick learns about his own deeply hidden desires and finds out that relinquishing control doesn't make him weak-having someone else in control of his sexual pleasure simply heightens it. And the reverse is true for Damian: Control turns him on. So they set out to explore these sensual boundaries together, neither expecting to find love along the way.
Sklep: Libristo.pl 74,25 zł
Książki / Literatura obcojęzyczna
Peter Rollins knows one magic trick - now, make sure you watch closely. It has three parts: the Pledge, the Turn, and the Prestige. In The Divine Magician, each part comes into play as he describes the way God works in our world today and how this connection helps us understand the truly radical message of Christianity. Rollins argues that the Christian event, reenacted in the Eucharist, is indeed a type of magic trick, one that is echoed in the great vanishing acts performed by magicians throughout the ages. In this trick, a divine object is presented to us (the Pledge), disappears (the Turn), and then returns (the Prestige). But just as the returned object in a classic vanishing act is not really the same object - but another that looks the same - so this book argues that the return of God is not simply the return of what was initially presented, but rather something that was always there and yet unseen. In an effort to unearth the power of Christianity, Rollins uses this framework to explain the mystery of faith that has been lost on the church. In the same vein as Rob Bell's bestseller Love Wins, this book pushes the boundaries of theology, presenting a stirring vision at the forefront of re-imagined modern Christianity.
Sklep: Libristo.pl 133,90 zł
Książki / Literatura obcojęzyczna
Lawrence of Arabia meets Sebastian Junger's War in this unique, incendiary, and dramatic true story of heroism and heartbreak in Afghanistan written by a Pulitzer Prize-nominated war correspondentSome have called him "Lawrence of Afghanistan." To the Pashtun tribesmen he is "Commander Jim," leader of the "bearded ones." He is Army Special Forces Major Jim Gant, one of the most charismatic and controversial U.S. commanders of modern memory, a man who changed the face of America's war in Afghanistan when his critical white paper, "One Tribe at a Time," went viral at the Pentagon, the White House, and on Capitol Hill in 2009.A decorated Green Beret who had spent years training indigenous fighters, Jim argued for embedding autonomous units with tribes across Afghanistan: these American soldiers would live among Afghans for extended periods, not only to train and equip tribal militias, but to fight--and even die--alongside them in battle. He argued that we could earn the trust of the Afghans and transform them into a reliable ally with whom we could defeat the Taliban and Al Qaeda networks. The military's top brass, including General David Petraeus, then commander of U.S. Central Command and overseeing the war in Afghanistan, and Admiral Eric Olson, head of Special Operations Command, approved the plan and gave Jim the go-ahead to embark on the mission.As correspondent Ann Scott Tyson got to know Jim Gant the man as well as the warrior, she saw that there was a larger story to tell--about a people desperate to defend their homes, and about this intense fighter and deeply honorable man who pushed boundaries, despite his own personal demons, and risked life and career to achieve what some thought was impossible. Ann soon came to share Jim's vision that Americans and Pashtuns could fight side-by-side and create real change across the region, so she accompanied him to Afghanistan, risking her life to embed with the tribes and chronicle their experience. This remarkable story--of Jim's close relationships with village elder Noor Afzhal and his family, the fierce fighting they took straight to the enemy in the treacherous mountains of Konar Province, and Ann and Jim's deepening love for each other--is told with a keen sense of drama and immediacy.A war story like no other, an unprecedented account of a warrior who took up the cause of villagers as if it were his own, and of a woman on the front lines of a distant war, American Spartan is an unforgettable tale--and one of the most remarkable and emotionally resonant narratives of war ever published.
Sklep: Libristo.pl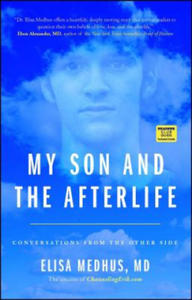 52,51 zł
Książki / Literatura obcojęzyczna
Until her son Erik committed suicide at the age of twenty, Dr. Elisa Medhus never believed in life after death. But all of that changed when Erik began communicating with her from the other side. As an accomplished physician, Dr. Medhus had placed her faith in science. But the tragedy surrounding her son's death forced her to seek answers, to ask those universal questions we have all asked ourselves: Is there life after death? Do the dead communicate with the living? In My Son and the Afterlife, answers are finally revealed. Through a series of conversations, Erik reveals a compendium of new knowledge on the nature of death and afterlife, the abilities and activities of the soul, and the powerful experience that love knows no boundaries-not even death.
Sklep: Libristo.pl 41,09 zł
Książki / Literatura obcojęzyczna
"Lovers Rock" is the story of two teenagers; best friends who share a love that knows no boundaries. These teenagers struggle to keep a deep secret, as they endure the final months of high school with desire burning in their loins. These are true friends who have each other's backs.... and fronts. Purchase this book to discover the steamy benefits of this friendship.
Sklep: Libristo.pl 95,67 zł
Książki / Literatura obcojęzyczna
Leela - alluring, taciturn, haunted - is moving back to Delhi from New York. She knows her return will unsettle precariously balanced lives. Twenty-two years ago her sister was seduced by Vyasa, a young university lecturer. Now an eminent Sanskrit scholar, Vyasa is preparing for the unlikely marriage of his son, Ash, to the child of a Hindu nationalist. Compounding Leela's disruptive presence, Ash's hedonistic twin sister Bharati arrives from London, reluctantly leaving her cosmopolitan university life to see Ash married. Ash, meanwhile, has fallen in love with his brother-in-law to be. Gleefully presiding over the drama is Ganesh - divine, elephant-headed scribe of India's great epic, the "Mahabharata". The family patriarchs may think they have arranged the wedding for their own selfish ends, but according to Ganesh it is he who is directing events - in a bid to save Leela, his beloved heroine, from his devious enemy Vyasa. Turning to fiction after an award-winning travel book, Alice Albinia has written a brilliantly playful and genre-defying first novel. Ambitious and entertaining, Leela's Book weaves a tale of contemporary Delhi that crosses religious and social boundaries, reaching back into the origins of the Mahabharata itself.
Sklep: Libristo.pl
Sklepy zlokalizowane w miastach: Warszawa, Kraków, Łódź, Wrocław, Poznań, Gdańsk, Szczecin, Bydgoszcz, Lublin, Katowice
Szukaj w sklepach lub całym serwisie
2. Szukaj na wszystkich stronach serwisu
t1=0.029, t2=0, t3=0, t4=0, t=0.029