krainaksiazek love the psychology of attraction 20052086
- znaleziono 9 produktów w 2 sklepach 74,99 zł
Książki Obcojęzyczne>Angielskie>Health & personal development>Family & health>Family & relationships>Dating, relationships, living toge...
Sick Of A Flat Love Life? Crack The Code Of Compatibility With Love: The Psychology Of Attraction A Practical Guide To Successful Dating And A Happy Relationship. Which Ingredients Promise The Happiest Romantic Chemistry? How Can Understanding Your Own Psyche Help You Succeed In Love? This Book Answers All These Questions.
Sklep: Gigant.pl 79,80 zł
Książki / Literatura obcojęzyczna
Sick of a flat love life? Crack the code of compatibility with Love: The Psychology of Attraction a practical guide to successful dating and a happy relationship. Which ingredients promise the happiest romantic chemistry? How can understanding your own psyche help you succeed in love? This book answers all these questions.
Sklep: Libristo.pl 459,99 zł
Książki Obcojęzyczne>Angielskie>Society & social sciences>Psychology>Social, group or collective psychology
What Decides Who Someone May Fall In Love With? Where Do Aggressive, Violent, And Criminal Behaviors Come From? Why Are Some People More Charitable Than Others? What Causes Conflict Between Groups? This Title Covers Topics Ranging From Interpersonal Attraction To Social Structure, Allowing You To Explore Essential Questions In The Field.
Sklep: Gigant.pl 66,99 zł
Książki Obcojęzyczne>Angielskie>Society & social sciences>Psychology>Physiological & neuro-psychology, biopsychologyKsiążki Obcojęzyczne&g...
Pia Mellody, Author Of Facing Codependence And Breaking Free, Turns Her Attention To The Toxic Experience Of A Co-addicted Relationship. She Explores The Dynamics, The Symptoms And The Stages (from Attraction To Obsession), And Outlines A Practical Re
Sklep: Gigant.pl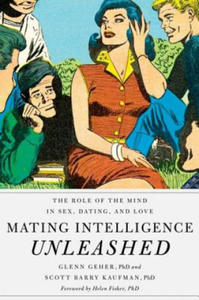 143,42 zł
Książki / Literatura obcojęzyczna
There's intelligence involved in mating? Until recently, evolutionary psychologists have considered human mating behavior to be universal and similar to other animals, painting a picture of human mating as visceral, animalistic, and instinctual. But that's not the whole story. In courtship and display, sexual competition and rivalry, we are guided by Mating Intelligence, or the range of psychological abilities designed for sexual reproduction. Mating Intelligence is at work in our efforts to form, maintain, coordinate, and terminate relationships. It guides us in flirtation, foreplay, copulation, mind-reading, mate search, mate choice, and many other behaviors that may have reproductive payoffs. In Mating Intelligence Unleashed, psychologists Glenn Geher and Scott Barry Kaufman take a fascinating tour of the intersection of mating and intelligence by drawing on cutting-edge research on evolutionary psychology, intelligence, creativity, personality, social psychology, developmental psychology, neuroscience, epigenetics, and more. Along the way, they shed new light on age-old questions, such as: Can humor compensate for less-than-matinee looks? Why do artists have more sexual partners? What role does personality play in the mating domain? What traits influence attraction? How do people choose mates? How do men and women deceive each other? How important are kindness, compassion, and understanding? What about emotional intelligence? Do nice guys really finish last? This book will change the way you think about sex, dating, love, and the human mind.
Sklep: Libristo.pl 47,60 zł
Książki / Literatura obcojęzyczna
In "Princess Diana, Modern Day Moon-Goddess: A Psychoanalytical and Mythological Look at Diana Spencer's Life, Marriage, and Death," esteemed psychoanalyst Jane G. Goldberg, Ph.D. and award-winning historian and author Lochlainn Seabrook have joined forces to create an altogether unique and intriguing nonfiction work on one of the most beloved figures of all time. Goldberg, a Louisiana native and now a New York therapist, sees Diana's growth - from self-deprecating ingénue, to royal mother, to powerful and independent woman - as an inevitable process in the Princess' climb toward self-actualization, one cut short by numerous tragic missteps. Seabrook, a religion and mythology scholar, seventh-generation Kentuckian, and a cousin of Diana, views her life and death as fated, made more understandable by comparing her with her ancient namesake, the Old European Moon-Goddess Diana, with whom the Princess of Wales shared many uncanny similarities. Combining psychoanalytic and mythological perspectives, the authors weave an engaging interpretation of Lady Spencer's life, one that includes an examination of her marriage to Prince Charles, their breakup, her short bout with freedom, and her eerie death after a crash in a gloomy Parisian tunnel, synchronistically named "Bridge of the Moon-Goddess." All is cast in the light of ancient myths surrounding the Pagan lunar-deity Diana, known in ancient Greece as Artemis. As Princess Diana's psycho-mythic drama unfolds, we are treated to a veritable introduction to both depth psychology and comparative mythology, languages that Goldberg and Seabrook use to ably describe the shy aristocrat's rise to fame and fortune and her fall into tragedy and darkness. The Foreword is by noted psychoanalyst Dr. Phyllis W. Meadow. A respectful book in the mold of the venerable Sigmund Freud and Robert Graves, it includes a comprehensive bibliography, detailed index, and numerous quotes by the universally admired "People's Princess." With its fresh and provocative insights, "Princess Diana, Modern Day Moon-Goddess" is a must-read for anyone interested in Lady Di, psychology, or mythology. Goldberg is a practicing psychoanalyst and recognized as a leading authority in the fields of psychological oncology and holistic health. She is the author of seven books, including the acclaimed "The Dark Side of Love: The Positive Role of Negative Feelings." Seabrook, a descendant of the Spencers, is the recipient of the prestigious Jefferson Davis Historical Gold Medal and the author of forty popular books for all ages, including the spiritual blockbuster "Jesus and the Law of Attraction: The Bible-Based Guide to Creating Perfect Health, Wealth, and Happiness Following Christ's Simple Formula."
Sklep: Libristo.pl 139,99 zł
Książki Obcojęzyczne>Angielskie>Society & social sciences>PsychologyKsiążki Obcojęzyczne>Angielskie>Medicine>Other branches of medic...
This Is A Friendly Guide Through The Complicated - And Often Contradictory - Rules Of Love: The Advice That Is Given About Attraction And Sex, Monogamy And Conflict, Gender And Commitment.
Sklep: Gigant.pl 66,99 zł
Książki Obcojęzyczne>Angielskie>Health & personal development>Family & health>Family & relationships>Dating, relationships, living toge...
Why Do Some Women Date, Or Even Marry, Narcissistic Men-over And Over? In This Provocative Book, A Clinical Psychologist And Expert In Narcissism Offers 7 Secrets To Help Women Finally Break Free From Their Attraction To Narcissistic Men.
Sklep: Gigant.pl 84,99 zł
Książki Obcojęzyczne>Angielskie>Society & social sciences>Psychology
Great Myths Of Intimate Relationships Provides A Captivating, Pithy Introduction To The Subject That Challenges And Demystifies The Many Fabrications And Stereotypes Surrounding Relationships, Attraction, Sex, Love, Internet Dating, And Heartbreak.
Sklep: Gigant.pl
Sklepy zlokalizowane w miastach: Warszawa, Kraków, Łódź, Wrocław, Poznań, Gdańsk, Szczecin, Bydgoszcz, Lublin, Katowice
Szukaj w sklepach lub całym serwisie
2. Szukaj na wszystkich stronach serwisu
t1=0.06, t2=0, t3=0, t4=0.026, t=0.06