krainaksiazek management of patients with traumatic injuries an issue of 20108469
- znaleziono 13 produktów w 2 sklepach 439,99 zł
Książki Obcojęzyczne>Angielskie>Medicine>Nursing & ancillary services>Nursing>Nursing specialties>Intensive care nursing
Sklep: Gigant.pl 746,42 zł
Książki / Literatura obcojęzyczna
The management of polytraumatized children, with minor or major injuries, requires an attentive, sometimes rush interventions and diagnostic studies. Both the radiologist and the clinician must have the theoretical and practical know-how necessary to identify the main aspects and signs of all different imaging techniques: from X-ray, to ultrasonography, computed tomography and magnetic resonance.§This book is intended to provide a detailed and comprehensive overview of diagnostic imaging in the assessment of progress and complications of trauma and polytrauma in children, as well as diagnostic imaging in the battered child. A series of cases underling the prognostic value of imaging, and the medico-legal aspects of dealing with child abuse complete the volume. Therefore, this book offers a valuable tool for radiologists and other physicians interested in or directly involved in pediatric trauma.
Sklep: Libristo.pl 537,09 zł
Książki / Literatura obcojęzyczna
This second edition updates and expands on the original best-seller, Contemporary Management of Spinal Cord Injuries, with completely new chapters on applied biomechanics, pediatric spinal cord injury, patient selection and timing of the surgery, NASCIS 3 and other spinal cord injury drug trials. In addition, the text reviews the management of spinal cord injured patients with sports injuries from epidemiology to return to play, and the nutritional assessment and management of spina cord-injured patients. Contemporary Management of Spinal Cord Injuries -- 2nd Edition provides significant value to the neurosurgeons, orthopaedic surgeons, physiatrists, urologists, rehab specialist and others caring for the victims of spinal cord injury. By reading Contemporary Management of Spinal Cord Injuries -- 2nd Edition, the reader will be able to: -Identify the most common spine fractures -Understand and evaluate today's state-of-the-art concepts regarding the management of spinal cord injury -Understand the appropriate surgical technique -Develop a multidisciplinary approach to the management of the spinal cord injured-patient
Sklep: Libristo.pl 418,02 zł
Książki / Literatura obcojęzyczna
Dizziness comes in many forms in each age group - some specific to an age group (e.g. benign paroxysmal vertigo of childhood) while others span the age spectrum (e.g., migraine-associated vertigo). This content organizes evaluation and management of the dizzy patient by age to bring a fresh perspective to seeing these often difficult patients. The pediatric section begins with a review of vestibular embryology and physiology and moves toward a comprehensive discussion of methods - both bedside and in the vestibular lab - to evaluate the child with dizziness, or 'clumsiness,' concluding with an exploration of the differential diagnosis of dizziness and relevant findings. Dizziness in the adolescent points to migraine headache as a common cause, enumerates treatment strategies for migraine-associated vertigo, and offers guidelines for when to image the adolescent with dizziness. Adult dizziness is more a compilation of the relevant diagnoses, but the section starts with dizziness that can affect young adults - especially members of our Armed Forces fighting overseas - traumatic brain injury/blast injury. This content also has relevance for patients in motor vehicle accidents and head injury patients. Medicolegal aspects of evaluation and management of dizzy patients are succinctly covered in "Evaluation of Dizziness in the Litigating Patient." The final chapter in this section, "Other Causes of Dizziness," provides a very thorough overview of unusual causes of dizziness in the adult population. Dizziness associated with advancing age is quite common and often multifactorial, as is highlighted in the chapter "Dizziness in the Elderly." A comprehensive review of the posterior cerebral circulation, transient ischemic attacks, and posterior circulation stroke is presented in the chapter, "Vertebrobasilar Insufficiency." No coverage of dizziness in the elderly is complete without an exposition of polypharmacy and medication effects. Other common diagnoses of dizziness in the elderly are thoughtfully reviewed along with a survey of new and old techniques to rehabilitate the older patient with dizziness or disequilibrium. Patients presenting with dizziness can harbor serious, if not life-threatening, conditions such as stroke, brain abscess, or severe chronic ear disease. At the end of several articles, the reader will find a relevant table - What Not To Miss - a list of clinically significant signs and symptoms not to ignore, or conditions (differential diagnosis) that may masquerade as that discussed in the chapter but critically important that the practitioner should not overlook in the evaluation of the patient. Many articles in this edition start with a clinical scenario so the reader can recognize common presenting symptoms, demographic features, and factors in the medical history that will aid in making the diagnosis.
Sklep: Libristo.pl 1591,37 zł
Książki / Literatura obcojęzyczna
Ballistic Trauma 3rd Edition provides a concise guide to the clinical and operational issues surrounding the management of the ballistic casualty. The book crystallizes the knowledge and experience accrued by those dealing with ballistic trauma on a regular basis and extends this to those who have to manage these patients on an occasional basis only. §This book is aimed at all medical and paramedical personnel involved in the care of patients with ballistic injury. It will be especially relevant for consultants and senior trainees in surgery, anesthesia and emergency medicine who are likely to be involved in the management of these unique injuries. It will be an essential reference for pre-hospital care providers and nurses working in the emergency room and intensive care. Military surgeons and medical and nursing staff on deployment in regions of conflict will find the book a valuable resource.
Sklep: Libristo.pl 283,03 zł
Książki / Literatura obcojęzyczna
This issue of Clinics in Geriatric Medicine, guest edited by Dr. Soo Borson, is devoted to Geriatric Psychiatry. Articles in this issue include: Diagnosis; Providing high quality care for dementia patients and family caregivers; Common psychiatric problems in cognitively impaired patients - causes and management; Partnering with family caregivers; Palliation and end of life care; Geriatric depression; Treatment for depression and evaluating response; Post-traumatic stress in older adults; Sleep disorders; Substance Abuse; Suicide; and Mental Health Services for Older Adults.
Sklep: Libristo.pl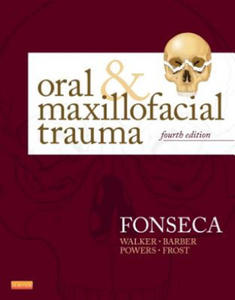 1298,95 zł
Książki / Literatura obcojęzyczna
Describing the diagnosis and management of maxillofacial and associated traumatic injuries step by step, Oral and Maxillofacial Trauma, 4th Edition takes you beyond the surgical management of head and neck trauma to cover the general management of traumatic injuries, systemic evaluation of the trauma patient, and special considerations associated with maxillofacial trauma patient care. New to this edition are over 700 full-color illustrations showing details of traumatic injuries and their treatment. Edited by head and neck trauma expert Dr. Raymond J. Fonseca, along with over 80 highly respected contributors, this comprehensive reference provides all of the information you need to offer the best care possible to maxillofacial trauma patients.§
Sklep: Libristo.pl 972,78 zł
Książki / Literatura obcojęzyczna
In Neurotrauma and Critical Care of the Brain, leading clinicians present widely accepted guidelines and evidence-based practices for the management of patients with traumatic brain injury. Divided into five main sections, the book guides the clinician through the science, management, critical care, outcomes, and important socioeconomic issues relevant to patient care. Special Features: * Offers the valuable team approach and recommendations of renowned surgeons, clinicians, rehabilitation specialists, and researchers * Includes guidelines for injuries ranging from mild to moderate, severe, and penetrating, and for treating brain injury in children * Covers the related intensive care issues of neurologic, pulmonary, cardiovascular, and infection management and nutrition and fluid control * Reviews fundamental science concepts, including pathophysiology, monitoring and imaging, biomarkers and classification systems for brain injury * Provides hundreds of concise summary tables and illustrations to help digest complex information * Discusses ethics and important end-of-life issues With an integrated management approach to injury and rehabilitation that goes well beyond initial surgery, Neurotrauma and Critical Care of the Brain will enable neurosurgeons, neurologists, physicians in trauma, critical care, and rehabilitation medicine, and residents in these specialties to optimize patient care and outcomes. It is also useful as a guide for board exam preparation. The companion volume to this book is Neurotrauma and Critical Care of the Spine.
Sklep: Libristo.pl 375,52 zł
Książki / Literatura obcojęzyczna
Trauma surgery has increasingly become a specialized field inspired by different principles and philosophy. A good trauma surgeon is a surgeon who knows how to perform abdominal vascular, thoracic, urologic, gynecologic, and orthopaedic procedures and is able to repair multiple traumatic injuries in the best sequence possible. In this second volume the focus is exclusively on thoracic and abdominal trauma, with coverage of injuries to all regions. The surgical techniques employed in managing such trauma are carefully described with the aid of high-quality illustrations. Exploratory surgery (via either laparotomy or laparoscopy), damage control surgery, and definitive surgery are all fully covered, and attention is drawn to important technical tips and tricks.§The volume will be a handy pocket guide for trainee surgeons who are beginning to deal with severe multiple trauma patients, as well as for all general or specialty surgeons and professionals (including scrub nurses and theatre staff) who are involved in trauma care and wish to keep abreast of developments in this complex field.§Also available: Trauma Surgery Vol. 1: Trauma Management, Critical Care, Orthopaedic Trauma and Neuro-Trauma
Sklep: Libristo.pl 475,17 zł
Książki / Literatura obcojęzyczna
Often, books on neurogenic language disorders view individuals with these disorders as a homogeneous group - ethnically, culturally, and linguistically. Adult Neurogenic Language Disorders: Assessment and Treatment - A Comprehensive Ethnobiological Approach, Second Edition examines how the country's ever-changing demographics require sensitivity and competency in clinicians treating individuals from diverse backgrounds, and also how those demographics relate to health disparities. As in the previous edition, this second edition addresses the three key disorders that affect adults: language/cognitive disorders associated with dementia, language/cognitive disorders associated with traumatic brain injury, and aphasia and right-hemisphere disorders. This new edition includes updated and expanded information on the following topics: Types, prevalence, and assessment of neurogenic language disorders Educating and counseling patients and their families New technologies and new therapies available for treatment Clinician resources with literature and Internet sources Another new feature to this edition is the companion website, which provides PowerPoint lectures with illustrations for each chapter, a total of 100 multiple-choice questions, and associated instructor answer keys. Several pedagogical features are also included in this text: Study questions at the end of each chapter Illustrations of site(s) of lesions, abnormal cell inclusions, and other neuropathologies in types of dementia, neuropathologies of head trauma, and stroke Reference tables that compare the dementias, aphasias, and traumatic brain injuries and characteristics of associated language/cognitive disorders Updated glossary of terms and updated references This much-needed text illustrates the impact of cultural and ethnic diversity in neurogenic language disorders on medical speech-language pathology caseloads.
Sklep: Libristo.pl 873,29 zł
Książki / Literatura obcojęzyczna
The second edition of Pediatric Dentistry: A Clinical Approach offers a fully revised and updated review of pediatric dentistry. This important text covers the full spectrum of the subject, basing itself in the clinical practice of the dental treatment of children and adolescents and providing a special emphasis on evidence-based oral health care for young people. Pediatric Dentistry provides comprehensive coverage of all aspects of treatment for children, ranging from health promotion and prevention to strategies for systematic and comprehensive oral care.§Pediatric Dentistry: A Clinical Approach follows a logical approach, covering major dental and oral diseases and their diagnosis and management in children and adolescents, including caries, periodontal and endodontic conditions, and TMJ disorders. The book also discusses a number of dental and oral conditions that relate more directly to childhood, such as dental erosion, traumatic injuries to the teeth, pain control, and treatment of physically and mentally disabled children. Topics such as dental, physical, intellectual and emotional development are also thoroughly reviewed.§Pediatric Dentistry will provide students of dentistry, as well as pediatric dentists and dentists involved in the treatment of young patients, with a uniquely clear, comprehensive, and clinical approach to the dental treatment of children and adolescents.
Sklep: Libristo.pl 793,38 zł
Książki / Literatura obcojęzyczna
This book provides readers with detailed guidance on the evaluation, diagnosis, and treatment of injuries and disorders of the elbow, including dislocation, complex instability, articular fractures, epicondylitis and epitrochleitis, distal biceps and triceps tendon injuries, peripheral nerve pathology, snapping triceps syndrome, elbow stiffness, and upper limb compartment syndrome. The choice between conservative and surgical treatment in different settings is clearly explained, and detailed advice offered on selection of surgical technique. A separate section provides a deeper understanding of the most common sports-related elbow pathologies, and their management, based on careful correlation with the movements performed by athletes in particular sports. Extensive consideration is also given to rehabilitation and physiotherapy protocols. This book will be of value for all orthopedic surgeons and other specialists who care for patients with elbow injuries, which can represent a challenge even to the more experienced.
Sklep: Libristo.pl 887,30 zł
Książki / Literatura obcojęzyczna
Urological Emergencies: A Practical Approach, Second Edition provides a concise, evidence based review of common urgent and emergent urological conditions in children and adults. Descriptions of the appropriate diagnostic and therapeutic considerations on topics of traumatic, infectious, obstructive, hemorrhagic, iatrogenic, vascular and congenital urological emergencies in adults and children are provided. §The text is organized by pathophysiology rather than organ system, allowing the reader to develop approaches to the care of patients with acute urological conditions based on mechanism of disease. Relevant pathophysiological background and epidemiology are reviewed, necessary diagnostic testing recommended, and detailed medical, surgical and endourological management approaches have been provided. All chapters incorporate published guidelines and best practice recommendations from appropriate organizations including the American Urological Association, the Centers for Disease Control and Prevention, World Health Organization and various International Consultations on Urological Diseases. New or significantly revised chapters in each of the subsections address innovations in trauma care and prevention, new strategies in management of kidney stones, the science of safety, antibiotic resistance and infection, and special care needs of children with acute urological problems.§Urological Emergencies: A Practical Approach, Second Edition is of great value to practicing urologists, urology residents, emergency medicine trainees and practitioners, and primary care providers including MD s, PA s, and NP s without immediate access to urological consultation.
Sklep: Libristo.pl
Sklepy zlokalizowane w miastach: Warszawa, Kraków, Łódź, Wrocław, Poznań, Gdańsk, Szczecin, Bydgoszcz, Lublin, Katowice
Szukaj w sklepach lub całym serwisie
2. Szukaj na wszystkich stronach serwisu
t1=0.063, t2=0, t3=0, t4=0, t=0.063