krainaksiazek management of patients with traumatic injuries an issue of 20108469
- znaleziono 11 produktów w 2 sklepach 459,99 zł
Książki Obcojęzyczne>Angielskie>Medicine>Nursing & ancillary services>Nursing>Nursing specialties>Intensive care nursing
0x001a965d00000000
Sklep: Gigant.pl 339,41 zł
Książki / Literatura obcojęzyczna
Special considerations arise as critical care nurses care for victims of trauma and violence. This issue highlights the recent advances in the care of these patients, including victims of street crime and domestic violence.  As a result of the wars in Afganistan and Iraq, changes in the echelons of care have been brought to U.S. trauma centers in order to better triage, manage, and provide post-surgical care to trauma patients. Articles in this issue address the advances in this field.
Sklep: Libristo.pl 600,63 zł
Książki / Literatura obcojęzyczna
Head injuries are commonplace. Though most patients survive, the consequences, both physical and social, can be devastating. The methods of initial assessment and management can have a crucial effect on determining the outcome of the injury, and long-term effects. Only a a minority of head-injured patients, however, are cared for by Neurosurgeons. The majority are seen by non-specialists, often junior doctors and nurses, and treated in district hospitals where specialist neurosurgical assistance is unavailable. As a guide for doctors and nurses working in the A & E department, or the Orthopaedic or General Surgical Ward, the emphasis of this book is on the early management of the head- injured patient. New to the second edition are chapters on managing the 'disturbed' head injured patient, a chapter of special value to nurses (who often have to deal with this difficult task). A new chapter on anaesthesia and head injuries has also been added, with other chapters significantly revised to reflect the crucial role played by anaesthetists in head injury management. Providing practical advice on the early treatment of minor head injuries, and the management of major head injuries, the book provides advice that will be essential in ensuring effective treatment of these patients.
Sklep: Libristo.pl 703,11 zł
Książki / Literatura obcojęzyczna
As soldiers and combat veterans have returned from the wars in Iraq and Afghanistan traumatic brain injury (TBI) has been identified as the "signature injury" of those wars. TBI is also in the news on a daily basis due to sports injuries. This new edition of Textbook of Traumatic Brain Injury has been thoroughly revised and updated from the 2005 first edition to reflect the exponential expansion of research and clinical data amassed in the intervening years. Each chapter was written and reviewed by the foremost authorities in neuropsychiatry, neurology, rehabilitation medicine, and the other specialties who assess, diagnose, and treat these patients. The revisions and additions to this comprehensive volume were made to ensure that the scope and coverage is both up-to-date and down-to-earth. Key features include: - New chapters on epidemiology, neuropathology, and genetics of TBI- A new chapter on TBI in the military emphasizing the unique feature of blast injury- A new chapter on posttraumatic stress disorder (PTSD), which emphasizes the common co-occurrence of TBI and PTSD in both combat and other settings- Enhanced coverage of psychopharmacology and psychotherapy for the psychiatric symptoms associated with TBI- Information on the social ramifications of TBI so that clinicians will better understand and help their patients cope with the complex legal, financial, and insurance-based struggles their patients who have sustained TBI encounter- Chapters are complete, readable, and relevant in themselves, allowing readers to consult chapters of immediate concern to them- Each chapter concludes with essential points and key references to focus attention and consolidate learning- A Foreword written by Bob Woodruff (the ABC World News correspondent who sustained a TBI while covering the war in Iraq) and his wife, Lee Woodruff, who underscore that although this volume is intended to be read primarily by professionals, patients and families may also find the information in the textbook to be of keen interest and practical application The book has been closely edited to achieve a level of writing that is consistent and engaging and that addresses the needs of all medical professionals -- including the full range of mental health professionals -- who care for people who suffer from TBI. Evidence-based, academically rigorous, and conceptually sound, this new edition of Textbook of Traumatic Brain Injury represents a huge step forward for the diagnosis and treatment of TBI.
Sklep: Libristo.pl 276,13 zł
Książki / Literatura obcojęzyczna
Chronic liver diseases progressively destruct liver tissue, leading to fibrosis and cirrhosis. Liver diseases can be caused by viral, autoimmune, or toxic (drugs/alcohol). Most conditions can be managed pharmacologically for indefinite periods of time. The articles in this issue will review best practices for managing and treating patients who present with these chronic problems, like hepatitis, nonalcoholic fatty liver, end stage liver disease, and drug-induced injuries.
Sklep: Libristo.pl 442,32 zł
Książki / Literatura obcojęzyczna
This second edition updates and expands on the original best-seller, Contemporary Management of Spinal Cord Injuries, with completely new chapters on applied biomechanics, pediatric spinal cord injury, patient selection and timing of the surgery, NASCIS 3 and other spinal cord injury drug trials. In addition, the text reviews the management of spinal cord injured patients with sports injuries from epidemiology to return to play, and the nutritional assessment and management of spina cord-injured patients. Contemporary Management of Spinal Cord Injuries -- 2nd Edition provides significant value to the neurosurgeons, orthopaedic surgeons, physiatrists, urologists, rehab specialist and others caring for the victims of spinal cord injury. By reading Contemporary Management of Spinal Cord Injuries -- 2nd Edition, the reader will be able to: -Identify the most common spine fractures -Understand and evaluate today's state-of-the-art concepts regarding the management of spinal cord injury -Understand the appropriate surgical technique -Develop a multidisciplinary approach to the management of the spinal cord injured-patient
Sklep: Libristo.pl 640,88 zł
Książki / Literatura obcojęzyczna
Trauma patients present a unique challenge to anesthesiologists, since they require resource-intensive care, often complicated by pre-existing medical conditions. This fully revised new edition focuses on a broad spectrum of traumatic injuries and the procedures anesthesiologists perform to care for trauma patients perioperatively, surgically, and post-operatively. Special emphasis is given to assessment and treatment of co-existing disease, including surgical management of trauma patients with head, spine, orthopedic, cardiac, and burn injuries. Topics such as training for trauma (including use of simulation) and hypothermia in trauma are also covered. Six brand new chapters address pre-hospital and ED trauma management, imaging in trauma, surgical issues in head trauma and in abdominal trauma, anesthesia for oral and maxillofacial trauma, and prevention of injuries. The text is enhanced with numerous tables and 300 illustrations showcasing techniques of airway management, shock resuscitation, echocardiography and use of ultrasound for the performance of regional anesthesia in trauma.
Sklep: Libristo.pl 318,37 zł
Diabetic Foot Care Wiley-Blackwell (an imprint of John Wiley & Sons...
Książki / Literatura obcojęzyczna
Diabetic Foot Care: Case Studies in Clinical Management uses a 100# illustrated patient case study format to demonstrate the multidisciplinary care and clinical management of patients with feet and lower limb problems as a result of diabetes. Every case has colour illustrations highlighting both the initial presentation of the foot, right through to treatment and long term follow-up care. Of particular focus are the management problems, barriers to effective care, preventable mistakes, unnecessary delays in presentations, challenging situations, conflicts, dilemmas and solutions that podiatrists and diabetic specialists face. Sections in the book include: Neuropathic and neuroischaemic foot, neuropathic ulcers, ischaemic ulcers, infections, gangrene, traumatic injuries, Charcot's osteoarthropathy, dermatological problems associated with diabetes, painful neuropathy, diabetic foot emergencies, angiology and foot surgery/amputation. With key points and summaries at the beginning and end of each section, this book is clear and easy to navigate, making it an ideal tool for diabetes specialists, diabetes nurses and podiatrists.
Sklep: Libristo.pl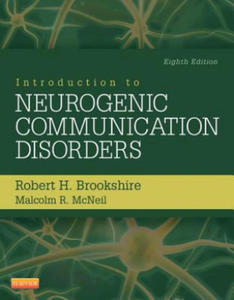 334,11 zł
Książki / Literatura obcojęzyczna
Get the tools you need to evaluate, diagnose, and treat patients with neurogenic communication disorders! Introduction to Neurogenic Communication Disorders, 8th Edition provides a solid foundation in the neurology of communication, as well as the causes, symptoms, diagnosis, assessment, and management of commonly encountered neurogenic communication disorders in adults. A concise, evidence-based approach shows how to measure and treat abnormalities such as aphasia, dysarthria, right-hemisphere syndrome, and traumatic brain injury syndrome. This edition is updated with new coverage of laboratory tests, blast-related injuries to the head, and medications for dementia. Created by neurogenic communication disorders educator Robert H. Brookshire and continued by Malcolm R. McNeil, this bestselling text will enhance your skills in the rehabilitation of clients with neurogenic communication disorders.
Sklep: Libristo.pl 249,46 zł
Książki / Literatura obcojęzyczna
Prehospital Care of Neurologic Emergencies is a reliable and definitive resource for emergency medical services personnel at multiple levels; physicians, paramedics, nurses and others who encounter these critically ill patients. This focused and succinct book addresses the management of a wide range of neurologic emergencies, including traumatic brain injuries, spinal cord injuries, strokes, and seizures. In these emergencies time is critical, and the simply presented, straightforward format of the patient care and management recommendations help readers to treat patients rapidly and confidently. Each chapter follows a standard format that includes an overview of each neurologic emergency, important background, key challenges, and areas requiring future investigation. This book is unlikely to be placed on your bookshelf; instead, you will keep it nearby for times when you face life-threatening neurologic emergencies. When seconds count, this book has the answers.
Sklep: Libristo.pl 1036,45 zł
Książki / Literatura obcojęzyczna
The new edition of this full-color atlas presents nearly 900 images from one of the largest and busiest trauma centers in North America. The images bring the reader to the bedside of patients with the full spectrum of common and uncommon traumatic injuries including motor vehicle accidents, falls, lacerations, burns, impalements, stabbings and gunshot wounds. The clinical, operative and autopsy photographs; x-ray, ultrasound, magnetic resonance imaging and angiography radiographs; and original illustrations depicting injury patterns will help guide clinicians in recognizing, prioritizing and managing trauma patients. Organized by major body regions into separate chapters on the head, face, neck, chest, abdomen, musculoskeletal system, spine and soft tissue, this thorough text discusses management guidelines, emergency workup protocols and common pitfalls. The Color Atlas of Emergency Trauma is an essential resource for those involved in trauma care.
Sklep: Libristo.pl
Sklepy zlokalizowane w miastach: Warszawa, Kraków, Łódź, Wrocław, Poznań, Gdańsk, Szczecin, Bydgoszcz, Lublin, Katowice
Szukaj w sklepach lub całym serwisie
2. Szukaj na wszystkich stronach serwisu
t1=0.086, t2=0, t3=0, t4=0.02, t=0.086