krainaksiazek managing and leading people through organizational change the theory and practice of sustaining change through people 20129867
- znaleziono 8 produktów w 2 sklepach 229,99 zł
Książki Obcojęzyczne>Angielskie>Economics, finance, business & management>Business & management>Management & management techniques>Mana...
0x002417bf00000000
Sklep: Gigant.pl 293,11 zł
Książki / Literatura obcojęzyczna
mastering the human side of change Leaders are constantly challenged with the daunting task of managing ongoing change and transition. Not only do they need to cope with the structural side (creating a vision, reorganizing, and restructuring), but they are also on the front lines of the people part of change (grieving, letting go, building hope, and learning). The Leading Through Transitions workshop and accompanying Participant Workbook provide you with the important information and tools needed to develop the key leadership skills that are so critical while facing unrelenting change. As a participant in this dynamic one-day workshop, you will be introduced to the Authentic Leadership Paradox Wheel, and you will begin exploring the dynamic tension between six pairs of seemingly paradoxical leadership attributes: * Being tough while simultaneously expressing appropriate empathy * Catalyzing change while understanding transition * Expressing a sense of urgency while retaining the capacity for realistic patience * Being self-reliant yet trusting others * Radiating both optimism and realism * Capitalizing on strengths while fostering the capacity to go against the grain Once you strike a balance with these behaviors, you can achieve authenticity and trust. The maintenance of trust is the core ingredient required to lead others through difficult times. The Leading Through Transitions workshop is based on sound research, solid frameworks, and practical resources. It is designed to help you assess your individual and organizational patterns of leadership behavior. During the workshop, you will be given the tools to evaluate what's working, what's not working, and what's missing. This grounded, real world learning experience will give you the confidence to meet the demands of both managing the business and leading your people.
Sklep: Libristo.pl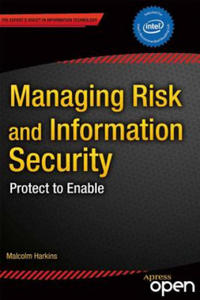 193,45 zł
Książki / Literatura obcojęzyczna
Managing Risk and Information Security: Protect to Enable , an ApressOpen title, describes the changing risk environment and why a fresh approach to information security is needed. Because almost every aspect of an enterprise is now dependent on technology, the focus of IT security must shift from locking down assets to enabling the business while managing and surviving risk. This compact book discusses business risk from a broader perspective, including privacy and regulatory considerations. It describes the increasing number of threats and vulnerabilities, but also offers strategies for developing solutions. These include discussions of how enterprises can take advantage of new and emerging technologies such as social media and the huge proliferation of Internet-enabled devices while minimizing risk.§§With ApressOpen, content is freely available through multiple online distribution channels and electronic formats with the goal of disseminating professionally edited and technically reviewed content to the worldwide community.§§Here are some of the responses from reviewers of this exceptional work:§§" Managing Risk and Information Security is a perceptive, balanced, and often thought-provoking exploration of evolving information risk and security challenges within a business context. Harkins clearly connects the needed, but often-overlooked linkage and dialog between the business and technical worlds and offers actionable strategies. The book contains eye-opening security insights that are easily understood, even by the curious layman."§§Fred Wettling, Bechtel Fellow, IS&T Ethics & Compliance Officer, Bechtel§§"As disruptive technology innovations and escalating cyber threats continue to create enormous information security challenges, Managing Risk and Information Security: Protect to Enable provides a much-needed perspective. This book compels information security professionals to think differently about concepts of risk management in order to be more effective. The specific and practical guidance offers a fast-track formula for developing information security strategies which are lock-step with business priorities."§§Laura Robinson, Principal, Robinson Insight§§Chair, Security for Business Innovation Council (SBIC)§§Program Director, Executive Security Action Forum (ESAF)§§"The mandate of the information security function is being completely rewritten. Unfortunately most heads of security haven't picked up on the change, impeding their companies' agility and ability to innovate. This book makes the case for why security needs to change, and shows how to get started. It will be regarded as marking the turning point in information security for years to come."§§Dr. Jeremy Bergsman, Practice Manager, CEB§§"The world we are responsible to protect is changing dramatically and at an accelerating pace. Technology is pervasive in virtually every aspect of our lives. Clouds, virtualization and mobile are redefining computing and they are just the beginning of what is to come. Your security perimeter is defined by wherever your information and people happen to be. We are attacked by professional adversaries who are better funded than we will ever be. We in the information security profession must change as dramatically as the environment we protect. We need new skills and new strategies to do our jobs effectively. We literally need to change the way we think.§§Written by one of the best in the business, Managing Risk and Information Security challenges traditional security theory with clear examples of the need for change. It also provides expert advice on how to dramatically increase the success of your security strategy and methods from dealing with the misperception of risk to how to become a Z-shaped CISO. §§Managing Risk and Information Security is the ultimate treatise on how to deliver effective security to the world we live in for the next 10 years. It is absolute must reading for anyone in our profes
Sklep: Libristo.pl 183,85 zł
Książki / Literatura obcojęzyczna
"This is the book for people who never get past page two of a management book-it is as close as the genre comes to being a compulsive page turner. Its main thesis is built on at least three big ideas that are individually persuasive and cumulatively compelling. They naturally fit into an alignment tool that is applied to the range of day-to-day and exceptional challenges all enterprises face, including the Holy Grail of transformational change." -Donald Macrae, general counsel and chief knowledge officer, Department for Environment, Food and Rural Affairs, England "Having been in the business of cultural transformation and alignment for many years, I've carefully looked for a thoughtful strategy and an intentional approach to bringing about healthy and thriving cultures. Can Two Rights Make a Wrong? is simply the best-it is the most thoughtful and practical work I've seen in this growing and critical area. This is a must buy!" -Dr. Ron Jenson, Future Achievement International, international author, speaker, and consulting and executive coach "Can Two Rights Make a Wrong? is a superb account of how to manage the 'soft side' of mergers and acquisitions, but it has great value for managing many other new business practices as well, such as Open Innovation. It provides a powerful, practical method to identify conflicts, develop alignment, and achieve effective coordination between two parties that would be tremendously helpful in a variety of collaborative contexts, such as alliances, research partnerships, or joint ventures. Moulton Reger and her colleagues at IBM should be congratulated for a thoughtful, insightful book." -Henry Chesbrough, professor at University of California Berkeley's Haas School of Business, author of Open Innovation "Numbers are neat and clean. Human beings are often messy and complex. If everyone in your organization knew what to do and when, how, where, and-most importantly-why to do it, how would your organizational culture be defined? The authors of Can Two Rights Make a Wrong? have introduced new ways to proactively address culture and, most importantly, tie it to bottom-line benefits." -James H. Amos, Jr., chairman emeritus, MBE/The UPS Store "This book is a must read for leaders hoping to change their organization's culture as well as those attempting to merge firms with uniquely different cultures. Moulton Reger's insights are grounded in theory and real-world experience. In this unique book, culture change is a complex concept broken down into bite-sized pieces and presented in a way that any leadership team can embrace at its own pace." -Merrill J. Oster, author of Vision Driven Leadership, founder Oster Communications, Inc. "Here at last is a business book that takes culture seriously and isn't intimidated by it. The method described can be used with practically any type of business problem in any industry, and the book does an excellent job of drawing on research and theory while keeping the focus practical. The three elements of Outcome Narratives, Right vs. Right, and Business Practices are significant ideas in their own right-each is a unique insight. All three ideas have been around in various guises for several years, but have not been as well crystallized or as focused on complex business problems as they are in this book. The authors' achievement is extraordinary and goes a long way toward making the juicy idea of culture something to be built on and worked with." -Peter Vaill, professor, Antioch University "The Achilles heel for any major organizational change is that organization's culture. In every change, consultants talk about culture, but few provide specific sequential steps designed to actually do anything about it. This book provides such steps, and provides them in ways that makes sense. 'Makes sense' is the key because the steps provided can be easily adapted to virtually any organization, large or small." -George Falldine, Air Force civil servant, Air Force Materiel Command "Sara Moulton Reger is one of the premier organizational design consultants in the country, and this book reflects her in-depth knowledge of and experience with the subject matter. This book is essential reading for those striving to achieve greater results from ongoing change initiatives. Can Two Rights Make a Wrong? contains a broad range of concepts, examples, and specific steps culled from Moulton Reger's direct experience. Such a complete presentation of strategic and tactical advice makes Can Two Rights Make a Wrong? a mandatory addition to every manager's bookshelf." -Steven Bragg, CPA, author of twenty-eight business books, CFO of Premier Data Services "This is a serious book that gives intelligent guidance to anyone who leads an organization and takes creating and managing culture seriously. The section on Outcome Narratives is the best 'how to' on casting a unifying vision that I have seen. If you're a leader and take your role in creating and managing corporate culture seriously, then you should read this book." -Regi Campbell, principal, Seedsower Investments, author of About my Father's Business "I don't read most 'culture change' books-waste of time. This book is different. Can Two Rights Make a Wrong? combines both soft and hard approaches, with a continuous focus on how-to and results. Buy it. But, more importantly, read it." -Jack Grayson, founder and chairman, American Productivity and Quality Center (APQC) "We used Right vs. Right to help integrate an important acquisition-one that brought many differences we needed to carefully leverage to achieve IBM's business objectives. I found it to be a powerful technique for quickly reconciling strategic views of the business model and different operating preferences. Now, a few months later, we have the business results-and employee satisfaction-to prove Right vs. Right works." -Jim Corgel, general manager, Small and Medium Business Services, IBM "Leaders wouldn't think about doing a major project without a plan and a project manager, but how many consider the cultural implications? This book fills a key void because it clarifies the topic of culture so that it is easier to understand, and includes examples for applying the framework to many types of situations, including business-to-business alliances and crossgeography teams." -Cindy Berger, vice president, American Express "There is no question that the biggest hurdle to achieving a successful merger is culture. Market opportunities may be staggering and synergies may seem perfect, but, without a cultural match, odds are the merged company will struggle. Can Two Rights Make a Wrong? can help you avoid the problems. Even if you are not contemplating a merger, Moulton Reger's deep insight provides an excellent management primer and interesting historical perspective. A worthwhile read." -John R. Patrick, author of Net Attitude, president of Attitude LLC "This is an excellent book that provides a pragmatic approach to identifying and alleviating cultural issues created when two groups of people must work together. Effectively blending business cultures is a key requirement for successful outsourcing, and most companies lack the tools necessary to do this. Companies looking to reduce outsourcing risk should follow IBM's Tangible Culture approach." -Lance Travis, vice president, Outsourcing Strategies, AMR Research "This book will help leaders and cultural-change practitioners take a practical, well-architected approach to creating the culture they need to support their strategies. Thanks, IBM, for sharing what you have learned from your own transformation." -Valerie Norton, vice president, Talent Management and Organizational Effectiveness, Merck & Co., Inc. "Based on IBM's own experience with organizational transformation and mergers, this book belongs on the reading list of any executive contemplating major changes to their business." - Peter Richerson, professor, University of California Davis - "Finally, a book that goes beyond just declaring 'it's the culture change' and gets to a real recount of why and how to move on that need. This is a practical approach for senior leaders in large corporations and government to address the most pressing issues in modern business life!" -Kenneth I. Percell, executive director, Warner Robins Air Logistic Center "I like the way the authors move the idea of organization culture from intangible (values) to tangible and practical. They offer that culture can be viewed and changed by examining and discussing what people do. Using the techniques described in Can Two Rights Make a Wrong? will demystify culture clash." -Lynda Aiman-Smith, Ph.D., North Carolina State University "A must read for leaders charged with planning and executing major change initiatives involving a single organization or multiple organizations. The book is original, thoughtful, thorough, and pragmatic. The elements of Can Two Rights Make a Wrong? and their interrelationships that work to drive successful change are particularly beneficial. The authors demonstrate a hands-on grasp of this important subject and the related literature. The material is presented in a concise, easy-to-understand format, with lots of tables, charts, and illustrations to help guide the reader." -Stephen W. Brown, Edward M. Carson chair in services marketing, professor and executive director, Center for Services Leadership, W. P. Carey School of Business, Arizona State University "Many have observed that mergers and acquisitions will fail to achieve their goals without proper attention to human and cultural factors, but few have shown us the way to manage these factors in any meaningful way. This book takes up that challenge and delivers a real solution by identifying business practices as the crucial element of 'culture' that can make or break a merger or acquisition, and by providing a hands-on methodology for managing and aligning differences across cultures." -Marietta Baba, dean of the College of Social Science, professor of Anthropology, Michigan State University "Sara Moulton Reger's application of Business Practices, Right-vs. Right, and Outcome Narratives to business transformation spoke directly to my own business experience. I found the book's comprehensive approach very appealing. It brought together the story of a historic merger; a review of traditional approaches to culture transformation in business organizations; the powerful new techniques of Outcome Narratives, Right vs. Right, and Business Practices Alignment; and useful examples of the way to apply these techniques." -Dwight E. Collins, Ph.D., adjunct professor, Presidio School of Management, sustainable business and supply chain optimization consultant, president, Collins Family Foundation "We know unsuccessful mergers and acquisitions are often the result of underestimating the people and the cultural issues. Derived from experience, here is practical help in improving your chances of being one of the success stories." -David Hope, human resources director, Norwich Union Insurance "This is state-of the-art. This practical approach is extremely useful for anyone involved in integrating two large organizations, especially professional organizations. I found the book Can Two Rights Make a Wrong? fascinating-excellently describing the preparation and process that is required in integrating culturally different organizations." -Fred WI Lachotzki, professor of business policy, Nyenrode University, coauthor of Beyond Control: Managing Strategic Alignment through Corporate Dialogue Nowadays, nearly every business leader recognizes the crucial importance of culture. But, in many organizations, attempts to handle culture issues remain "squishy," unfocused, and unlikely to bring any value or results. Now, IBM's leading experts reveal the way to make culture tangible to everyone involved-and how to effectively deal with a variety of culture challenges. Can Two Rights Make a Wrong? leverages the lessons learned during IBM's $3.5 billion acquisition of PricewaterhouseCoopers Consulting: insight that IBM has crystallized into a powerful methodology for transforming business culture. The authors introduce "Business Practices," an actionable surrogate for "culture" that business people can identify with, gauge, and act upon. Then, one step at a time, you'll learn how to apply IBM's practical culture transformation techniques in your unique environment. You'll discover common patterns that lead to culture clashes so you can resolve or, better yet, prevent them. You'll learn to clarify your expectations so people really "get" it-and do it. You'll gain the way to measure culture change progress in terms everyone can understand and buy into. Whether you're involved with M&As, joint ventures, major transformation, internal restructuring, or any other initiative where culture is important, this book can help you take culture from a worrisome risk to a competitive advantage. *Business Practices: the unseen hand that propels action Uncover what makes your organization unique *Right vs. Right: What to do when good options conflict Understand and manage the source of culture clash *Outcome Narratives: Get to the right place, the right way Clarify your desired future, clear the obstacles, measure progress, and deliver results Successful culture change requires the same discipline you bring to the rest of your business. It demands a strong methodology that helps you clarify your goals and expectations, identify and overcome obstacles, measure progress...and get results. This book delivers that methodology. IBM's powerful, proprietary Tangible Culture approach will help you make culture visible and measurable- so you can replace "feel good" culture work with focused, actionable plans for change. Use IBM's techniques to surface, understand, and reconcile differences among groups that must work together, so you can launch alliances more successfully...drive more value from acquisitions...enhance cross-silo and global operations...choose the right strategies...and make real transformation happen. Whatever your goals, culture is central to your success. With this book, you can finally address culture-systemically, proactively, and effectively. Leverage IBM's Breakthrough Methodology for Driving Effective Culture Change * Drive real culture change, survive the effort, and reap genuine results * Overcome culture challenges and risks * Successfully execute on M&As, business alliances, transformation and internal restructuring * Use downloadable templates to customize IBM's techniques for your environment * Learn what IBM learned from its $3.5 billion acquisition of PricewaterhouseCoopers Consulting Foreword xxi Preface xxiii Acknowledgments xxv About the Author xxvii Contributing Authors xxix Section I: The Basics 1 Chapter 1: Introduction-An Overview of Tangible Culture 3 Chapter 2: We Can't Do This the Traditional Way-IBM's Acquisition of PricewaterhouseCoopers Consulting 17 Chapter 3: Traditional Approaches to Culture Transformation-How Others Have Dealt with the Challenge 33 Chapter 4: How to Get to the Right Place the Right Way-Outcome Narratives 49 Chapter 5: The Good Thing That Can Cause Big Trouble-Right vs. Right 67 Chapter 6: The Unseen Hand That Propels Organizational Action-Business Practices 85 Chapter 7: Putting It All Together-The Business Practices Alignment Method 103 Section II: The Application 119 Chapter 8: Mergers and Acquisitions- Managing the Common Sources of Culture Clash 121 Chapter 9: Alliances-Finding Ways to Leverage Your Collective Capabilities 143 Chapter 10: Major Restructuring-Gaining Sustained Value from Your Reorganization 163 Chapter 11: Major Transformation-Addressing Your Plan's Hidden Barrier 181 Chapter 12: Key Decisions and Everyday Business-Extending Tangible CultureInto the Operational Parts of Your Business 203 Section III: The Projects 225 Chapter 13: The Co-operators-Using Business Practices to Clarify Expectations 227 Chapter 14: Sales Pipeline-Using Right vs. Right to Differentiate Issues 241 Epilogue 251 Appendix: About the Contributors 255 Index 268
Sklep: Libristo.pl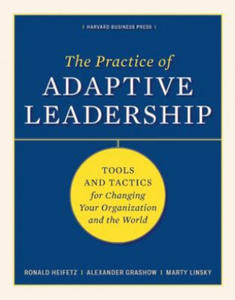 148,51 zł
Książki / Literatura obcojęzyczna
When change requires you to challenge people's familiar reality, it can be difficult, dangerous work. Whatever the context--whether in the private or the public sector--many will feel threatened as you push though major changes. But as a leader, you need to find a way to make it work. Ron Heifetz first defined this problem with his distinctive theory of adaptive leadership in Leadership Without Easy Answers. In a second book, Leadership on the Line, Heifetz and coauthor Marty Linsky highlighted the individual and organizational dangers of leading through deep change in business, politics, and community life. Now, Heifetz, Linsky, and coauthor Alexander Grashow are taking the next step: The Practice of Adaptive Leadership is a hands-on, practical guide containing stories, tools, diagrams, cases, and worksheets to help you develop your skills as an adaptive leader, able to take people outside their comfort zones and assess and address the toughest challenges. The authors have decades of experience helping people and organizations create cultures of adaptive leadership. In today's rapidly changing world, The Practice of Adaptive Leadership can be your handbook to meeting the demands of leadership in the midst of complexity.
Sklep: Libristo.pl 191,34 zł
Książki / Literatura obcojęzyczna
Author's Preface to the English Edition 2010 In this book I am presenting a new kind of management for a new kind of world. It is my concept of right and good management for functioning organizations in functioning societies of exceeding complexity. The need for such a concept arises because conventional management - by which, basically, I mean the US-type management theory and practice now applied worldwide - has come to its very limits as it is unable to deal with the consequences of its own success. The result of its tremendous achievements is a world of inextricably interrelated dynamic systems which are incomprehensibly complex. This has largely been ignored by the dominating US management approach because it was never designed for such conditions. It now fails exactly for this reason, thereby causing the present crisis. I have actually been predicting this for years in many of my publications, including the German version of this book which was first published in 2005. The fact that success almost inevitably breeds its own failure is often overlooked, although it is well known in many fields and in particular in those that accept complexity explicitly as their research subject such as biology or ecology. Albert Einstein already remarked that one cannot solve problems with the same methods which produced them. Failure to manage complexity as the major cause of the worldcrisis What, at present, a majority - at least in the West - considers to be a mere financial crisis can probably be much better understood if it is looked at from an altogether different perspective: the failure to understand and manage complexity. Business and society seem to be undergoing one of the most fundamental transformations in history. Only on the surface, and only if perceived in conventional categories, do present changes appear to be financial and economic in nature. What is happening might better be understood as an Old World dying because a New World is being born. There will hardly be any bridges back to the old state of affairs. Perhaps the most practical premise to navigate by is that whatever can change will change. If so, we are witnessing no less than the almost complete collapse of the formerly so efficient US management approach, which was developed mainly in the context of business administration and taught in business schools as the ultimate wisdom with regard to the running of corporations in a world where its premises applied to an ever lesser degree. Its realities have already been changing for quite some time but this went largely unnoticed because most people tend to see only the old familiar patterns in the new realities. We are experiencing in particular the failure of the US-type of corporate governance and the kind of top management which is dominated almost exclusively by financial variables only. We see the collapse of the shareholder value approach, which due to its short term profit orientation is largely ignoring the customer and is hostile to future-oriented investing and innovating, thereby systematically misdirecting the allocation of societal resources. The failure of the US-approach is, among other aspects, the consequence of mistaking financial investment for real investment, thereby undermining the former strengths of the US-economy, of confusing mountains of bad debts with sustainable wealth, and of failing to distinguish between healthy and pathological growth. Ironically, what collapsed first was the financial system which appeared to be the most highly developed and sophisticated system ever designed. It was believed to be free of systemic risk by most experts and run by the world's most excellent executives educated in what were thought to be the best universities and business schools worldwide. However, complex systems have properties and laws of their own. Their driving forces - if systematically ignored - make them inevitably go out of control. Such systems are incomputable and unpredictable in principle and incomprehensible to the conventionally educated mind. They are non-linear, self-dynamic and continuously self-changing and self-restructuring in unforeseeable ways. They are largely self-organizing and self-regulating. Nevertheless, they can be - up to a degree - controlled and regulated albeit only by a fundamentally different kind of thinking, a new approach for managing complexity and by applying the right methods and tools which are the subject of this book and its companion volumes. Reliable Functioning by Wholistic Management Systems Economic and financial measures on the macro level alone will hardly cure the crisis. What it takes on the level of societal institutions is a new way of functioning which is described in my six volume series Management: Mastering Complexity in which I present my Malik Wholistic General Management Systems. This first volume contains an overview of the system as a whole whereas the other five volumes will describe the constitutive parts of the system. The second volume "Corporate Policy and Governance: How Organizations Self-Organize", was published in 2008 in German and will be available in English soon. The third volume on strategy is still due in 2010. The remaining three volumes will be dedicated to the new structure for functioning complex organizations, their appropriate culture and the kind of executives who have to be able to understand and master complexity. Together these six volumes will contain the essence of the most comprehensive General Management System worldwide. To the best of my knowledge my Wholistic General Management Systems are globally the only ones explicitly designed to ensure reliable functioning under conditions of exceedingly high and dynamic complexity. For this reason and because my Management Systems are universally applicable conventional business administration plays a limited role in my book. For practical reasons, however, I am going to illustrate the application of my systems mainly in the context of the business enterprise. Familiar concepts and terms are left unchanged wherever possible in order to avoid confusion for the practitioner whereas their meaning and most contents are new and different. The important new knowledge for mastering complex systems does not come from economics or business administration but from what I call the Complexity Sciences, i.e. Systemics, Bionics and Cybernetics, which can also be called the Sciences of Functioning. For the term "Functioning" I often use the synonym "Right and Good Management" as opposed to wrong and bad management. By this I want to point to the need to understand management as a true profession with its own standards of craftsmanship as indicated in the subtitle of this book. If the institutions of today's and more so of tomorrow's societies are supposed to function, management needs to liberate itself from fashions and fads and has to become a profession of the same status as for example the profession of the surgeon, the aircraft pilot or the lawyer all of which have as a matter of course their standards of professionalism. The foundation for a profession of effective management for functioning institutions is to be found in my earlier book Managing Performing Living. My General Management Systems - with the support of the experts of my own organization - have been developed, tested and implemented in numerous cases over more than 30 years in all sorts of institutions in business and non-business areas mostly in Europe and particularly in the German speaking world including their worldwide subsidiaries. What works in the complexities of these areas will almost certainly work worldwide. Having discussed the structure, functioning principles and effects of my systems with tens of thousands of executives of all levels I have strong arguments that there is only one kind of management that works effectively, namely Right and Good Management as I present it in my books, and that it is - contrary to mainstream thinking - universally valid and culturally invariant. Fashionable arbitrariness which so often characterizes management should not be given any place in what is one of the most important social functions. In most respects my Wholistic Management Systems for Functioning are the opposite of what is taught in most business schools. That they will have to change fundamentally as a consequence of the global crisis is hesitatingly becoming apparent to some - among them also a few leading ivy league schools. But it might be a long and hard way for them to recover from the fallacies of their own teachings and partly from the application of wrong management to themselves. At the same time, however, if they manage to change radically and fast it is one of the greatest opportunities for them to show effective leadership in the service of a functioning society in times of great change. Fredmund Malik St. Gallen, January 2010 Introduction "The very first step toward success in any occupation is to become interested in it." Sir William Osler (1849 - 1919), physician Our increasingly complex world cannot function without management, and it can hardly function without precise management. This is true for all kinds of societal institutions, be it commercial enterprises or other organizations. The purpose of this book is to help their managers and employees fulfill their demanding occupational tasks in a professional manner. In the midst of a jumble of doctrines, ideologies, and true innovations, this book will provide the overview required to distinguish right from wrong and useful from useless. These distinctions are indispensable for meeting both individual and shared responsibilities at each stage of a professional career. They are also crucial for successful and productive interaction. This book is a compact compendium for right and good management - for general management - in that it provides the necessary overview of what it entails. In the following volumes of this series, each of the elements of right and good management will be described in greater detail, including both theoretical content and recommended implementation approaches. Interested readers will be able to familiarize themselves with the tools and practices of the craft, along with numerous practical examples. As such, the present book is a prelude to a practical, comprehensive guide to what the management craft and managerial professionalism must entail. Sound general management is not about doing something new, modern, or fashionable. What matters is that it is right, that it works, and that it helps practitioners fulfill their tasks to the best of their abilities. The subject of this book - and of the rest of my publications - is not the "management thinking of today". Rather, all my books are practical guides to effectiveness. They point out my personal opinions on different matters, which are often not in sync with mainstream thinking. Management. The Essence of the Craft continues, enlarges upon, and complements my book Managing Performing Living. While the latter deals with the conduct and actions of the individual manager, the present book goes much further in that it deals with the institution as a whole - with system-oriented general management. The book contains a series of propositions which, compared to mainstream thinking, may be regarded as provocative, unusual, and frequently even wrong - at least initially. In this book, and the books to follow, I am putting my arguments forward for discussion. Central Propositions 1.Management is society's most important function. The functioning of society depends on management. Only management turns resources into results. 2.Management can largely be acquired by learning. It is a profession and a craft. It follows the same rules of professionalism that are known and have proven useful in other professions. Talents are useful but not essential. 3.The only kind of management a person needs to learn is right and good management. Right and good management is universal, invariant, and independent of culture. It is equally valid for all kinds of organizations and all countries. There is no need for international, multicultural, or global management. All effective institutions function in the same way. They employ the same functional principles. 4.Apparent differences are not related to management but to the nature of the different tasks to be fulfilled in different organizations. 5.Not everyone can manage just any organization. This is not due to management skills but to the difference in operational tasks. 6.All managers in all organizations and across all hierarchy levels need the same kind of management skills. Not all, however, need them in the same degree of comprehensiveness and detail. Disregarding this principle leads to a lack of orientation and direction, which, in turn, means the end of communication and function. 7.In my view, most of the management ideas prevailing over the past fifteen years or so are false, misleading, and harmful. This is true in particular for anything related to the doctrine of shareholder value and its consequences - such as value-increasing strategies and a way of thinking that focuses predominantly on financial aspects. The stakeholder approach is equally wrong. 8.The economic difficulties of our time, which I believe will inevitably deepen, are largely due to factors other than political errors. They are results of misguided management, of faulty and poor management. As a result, the question as to what right and good management is gains all the more importance. A Word on the Terms Used In management - as opposed to other, more advanced and mature disciplines of learning - there is no such thing as uniform or common parlance. Quite to the contrary: most authors attempt to impress readers by inventing their own terms and slogans. This is a roadblock to progress and to acquiring management skills. For this book, I essentially draw on the terms used in the St. Gallen Management Model, the first and so far only wholistic, system-driven management model, as well as on the linguistic usage of Peter F. Drucker, the doyen of management theory. As far as cybernetics and system sciences are concerned, I draw on the terms used by Stafford Beer, the originator of management cybernetics, and my own book Strategie des Managements komplexer Systeme ["Strategy for the Management of Complex Systems"]. 1.The terms "company", "organization", and "institution" are largely used in the same sense. Certain variances in meaning relate to the degree of generality, or the special limitation to a segment of society. The most general terms are "institution" and "organization". They refer to all organizations existing in a society, no matter what kind or legal form. The term "company", in essence, belongs to the business sector. Whenever no specific pointers are provided, it will be clear from the context what I mean when using each of these terms. The term most frequently used in this book is "company" and other terms related to it, such as "corporate policy". The statements made will generally be applicable to all kinds of institutions. Depending on the field of usage, the terms might need to be adapted somewhat, as in "educational policy" or "health policy". 2.The term "management" itself can be understood in several ways: Firstly, as a function that exists in any kind of organization and is indispensable for its functioning. This is the so-called functional dimension of management. It is neither linked to specific persons nor to organizational elements. This function is not perceptible to our senses. It is incorporated in certain actions taken by individuals and in this way its impact is perceived. Secondly, the term "management" can be understood to be the sum of the legal and/or organizational authorities in an institution. Examples include the executive board of a private company, the executive committee of a public company, a national government, or a university's board of directors. This is referred to as the institutional dimension, and it also includes expanded boards of managers, group management, management circles, or partners' conferences. As far as mandatory and/or higher-level authorities are concerned, the respective responsibilities, rights, obligations, and accountabilities are governed by laws, articles of incorporation, or statutes. Those of other organizational entities are determined by common sense and habits. Thirdly, management can be understood to include the persons that belong to the institutional authorities mentioned. This is the personal dimension of management. In particular the terms "top management" and "top manager" frequently carry that meaning. 3.I use the term "management" in the same meaning as its German equivalent "Führung". Both terms mean the same. In all my German-language publications, I use the two terms synonymously. By contrast, the terms "management" and "leadership" do not mean the same. 4.In the chapter on structure, the term "organization" carries two different meanings: the first, as mentioned above, is what we refer to when we speak of an institution being an organization; the second is what we mean when we speak of an institution having an organization. Which one of the two meanings applies should be clear from the particular context.
Sklep: Libristo.pl 94,61 zł
Książki / Literatura obcojęzyczna
Effective Management in Long-term Care Organisations is a unique combination of up-to-date management theory and practice designed for students and new care managers in nursing homes, residential homes and the variety of care settings in the community. This accessible and interactive text covers relevant theory and practice. It is written by people with a wide experience as managers and educators in the social care sector. Focusing on key themes including Managing People, Managing the Workplace and Managing Change, the book includes: * the examination of roles; * the vital topics of decision making and leadership; * team building and how groups work. Other key topics explored include appraisal, quality and information management, skill mix, financial management, negotiation and conflict, recruitment and selection, workforce planning and strategic planning, all in relation to relevant legislation. Case studies are used for illuminating principles and exercises and activities will enable the reader to work through all the sections using a step-by-step process that ensures skills and principles of one subject are understood before moving onto the next.
Sklep: Libristo.pl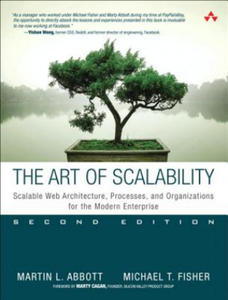 147,21 zł
Książki / Literatura obcojęzyczna
A Comprehensive, Proven Approach to IT Scalability from Two Veteran Software, Technology, and Business Executives In this second edition of The Art of Scalability, AKF Partners cofounders Martin L. Abbott and Michael T. Fisher cover everything product, technology and business leaders must know to build products that can scale smoothly to meet any business requirement. Drawing on their unparalleled experience managing some of the world's highest-transaction-volume Web sites, the authors provide detailed models and best-practice approaches available in no other book. Unlike previous books on scalability, The Art of Scalability doesn't limit its coverage to technology. Writing for both technical and nontechnical decision-makers, this book covers everything that impacts scalability, including architecture, processes, people, and organizations. This second edition has been edited to improve readability and includes new and updated content, a new chapter on Agile architecture, and new case studies. Throughout, the authors address a broad spectrum of real-world challenges, from performance testing to IT governance. Using their tools and guidance, organizations can systematically overcome obstacles to scalability and achieve unprecedented levels of technical and business performance. New and Updated Coverage includes
Sklep: Libristo.pl
Sklepy zlokalizowane w miastach: Warszawa, Kraków, Łódź, Wrocław, Poznań, Gdańsk, Szczecin, Bydgoszcz, Lublin, Katowice
Szukaj w sklepach lub całym serwisie
2. Szukaj na wszystkich stronach serwisu
t1=0.11, t2=0, t3=0, t4=0, t=0.11