krainaksiazek managing time on purpose 20096638
- znaleziono 9 produktów w 1 sklepie 437,10 zł
Książki / Literatura obcojęzyczna
Combining rigour and flexibility, MSP helps all organisations - public sector and private, large and small - achieve successful outcomes from their programme management time and time again. With change a pressing reality for all organisations, successful programme management has never been more vital to success. Organisations must respond as new processes or services are introduced, supplier relationships alter and structures adapt to market forces or legislation. At the same time, all organisations strive to achieve excellence by improving practices, offering better services, preparing more effectively for the future and encouraging innovation. But change always creates new challenges and risks. Inevitably there will be interdependencies to manage and conflicting priorities to resolve as the organisation adapts not just to a new situation internally but to the constantly shifting world outside.To enable organisations to manage their programmes successfully, they need a structured framework that does two things. It must acknowledge that every programme exists in its own context and demands unique interpretation. At the same time it must be universally applicable. MSP has been developed with these two priorities in mind. Its framework allows users to consistently manage a huge variety of programmes so that they deliver quality outcomes and lasting benefits. Fusing leadership with management best practice, MSP enables organisations to coordinate their key functions, develop a clear sense of unity and purpose and achieve the strategic cohesion necessary to drive through effective change
Sklep: Libristo.pl 257,92 zł
Książki / Literatura obcojęzyczna
Combining rigour and flexibility, MSP helps all organisations - public sector and private, large and small - achieve successful outcomes from their programme management time and time again. With change a pressing reality for all organisations, successful programme management has never been more vital to success. Organisations must respond as new processes or services are introduced, supplier relationships alter and structures adapt to market forces or legislation. At the same time, all organisations strive to achieve excellence by improving practices, offering better services, preparing more effectively for the future and encouraging innovation. But change always creates new challenges and risks. Inevitably there will be interdependencies to manage and conflicting priorities to resolve as the organisation adapts not just to a new situation internally but to the constantly shifting world outside.To enable organisations to manage their programmes successfully, they need a structured framework that does two things. It must acknowledge that every programme exists in its own context and demands unique interpretation. At the same time it must be universally applicable. MSP has been developed with these two priorities in mind. Its framework allows users to consistently manage a huge variety of programmes so that they deliver quality outcomes and lasting benefits. Fusing leadership with management best practice, MSP enables organisations to coordinate their key functions, develop a clear sense of unity and purpose and achieve the strategic cohesion necessary to drive through effective change
Sklep: Libristo.pl 190,49 zł
Książki / Literatura obcojęzyczna
Author's Preface to the English Edition 2010 In this book I am presenting a new kind of management for a new kind of world. It is my concept of right and good management for functioning organizations in functioning societies of exceeding complexity. The need for such a concept arises because conventional management - by which, basically, I mean the US-type management theory and practice now applied worldwide - has come to its very limits as it is unable to deal with the consequences of its own success. The result of its tremendous achievements is a world of inextricably interrelated dynamic systems which are incomprehensibly complex. This has largely been ignored by the dominating US management approach because it was never designed for such conditions. It now fails exactly for this reason, thereby causing the present crisis. I have actually been predicting this for years in many of my publications, including the German version of this book which was first published in 2005. The fact that success almost inevitably breeds its own failure is often overlooked, although it is well known in many fields and in particular in those that accept complexity explicitly as their research subject such as biology or ecology. Albert Einstein already remarked that one cannot solve problems with the same methods which produced them. Failure to manage complexity as the major cause of the worldcrisis What, at present, a majority - at least in the West - considers to be a mere financial crisis can probably be much better understood if it is looked at from an altogether different perspective: the failure to understand and manage complexity. Business and society seem to be undergoing one of the most fundamental transformations in history. Only on the surface, and only if perceived in conventional categories, do present changes appear to be financial and economic in nature. What is happening might better be understood as an Old World dying because a New World is being born. There will hardly be any bridges back to the old state of affairs. Perhaps the most practical premise to navigate by is that whatever can change will change. If so, we are witnessing no less than the almost complete collapse of the formerly so efficient US management approach, which was developed mainly in the context of business administration and taught in business schools as the ultimate wisdom with regard to the running of corporations in a world where its premises applied to an ever lesser degree. Its realities have already been changing for quite some time but this went largely unnoticed because most people tend to see only the old familiar patterns in the new realities. We are experiencing in particular the failure of the US-type of corporate governance and the kind of top management which is dominated almost exclusively by financial variables only. We see the collapse of the shareholder value approach, which due to its short term profit orientation is largely ignoring the customer and is hostile to future-oriented investing and innovating, thereby systematically misdirecting the allocation of societal resources. The failure of the US-approach is, among other aspects, the consequence of mistaking financial investment for real investment, thereby undermining the former strengths of the US-economy, of confusing mountains of bad debts with sustainable wealth, and of failing to distinguish between healthy and pathological growth. Ironically, what collapsed first was the financial system which appeared to be the most highly developed and sophisticated system ever designed. It was believed to be free of systemic risk by most experts and run by the world's most excellent executives educated in what were thought to be the best universities and business schools worldwide. However, complex systems have properties and laws of their own. Their driving forces - if systematically ignored - make them inevitably go out of control. Such systems are incomputable and unpredictable in principle and incomprehensible to the conventionally educated mind. They are non-linear, self-dynamic and continuously self-changing and self-restructuring in unforeseeable ways. They are largely self-organizing and self-regulating. Nevertheless, they can be - up to a degree - controlled and regulated albeit only by a fundamentally different kind of thinking, a new approach for managing complexity and by applying the right methods and tools which are the subject of this book and its companion volumes. Reliable Functioning by Wholistic Management Systems Economic and financial measures on the macro level alone will hardly cure the crisis. What it takes on the level of societal institutions is a new way of functioning which is described in my six volume series Management: Mastering Complexity in which I present my Malik Wholistic General Management Systems. This first volume contains an overview of the system as a whole whereas the other five volumes will describe the constitutive parts of the system. The second volume "Corporate Policy and Governance: How Organizations Self-Organize", was published in 2008 in German and will be available in English soon. The third volume on strategy is still due in 2010. The remaining three volumes will be dedicated to the new structure for functioning complex organizations, their appropriate culture and the kind of executives who have to be able to understand and master complexity. Together these six volumes will contain the essence of the most comprehensive General Management System worldwide. To the best of my knowledge my Wholistic General Management Systems are globally the only ones explicitly designed to ensure reliable functioning under conditions of exceedingly high and dynamic complexity. For this reason and because my Management Systems are universally applicable conventional business administration plays a limited role in my book. For practical reasons, however, I am going to illustrate the application of my systems mainly in the context of the business enterprise. Familiar concepts and terms are left unchanged wherever possible in order to avoid confusion for the practitioner whereas their meaning and most contents are new and different. The important new knowledge for mastering complex systems does not come from economics or business administration but from what I call the Complexity Sciences, i.e. Systemics, Bionics and Cybernetics, which can also be called the Sciences of Functioning. For the term "Functioning" I often use the synonym "Right and Good Management" as opposed to wrong and bad management. By this I want to point to the need to understand management as a true profession with its own standards of craftsmanship as indicated in the subtitle of this book. If the institutions of today's and more so of tomorrow's societies are supposed to function, management needs to liberate itself from fashions and fads and has to become a profession of the same status as for example the profession of the surgeon, the aircraft pilot or the lawyer all of which have as a matter of course their standards of professionalism. The foundation for a profession of effective management for functioning institutions is to be found in my earlier book Managing Performing Living. My General Management Systems - with the support of the experts of my own organization - have been developed, tested and implemented in numerous cases over more than 30 years in all sorts of institutions in business and non-business areas mostly in Europe and particularly in the German speaking world including their worldwide subsidiaries. What works in the complexities of these areas will almost certainly work worldwide. Having discussed the structure, functioning principles and effects of my systems with tens of thousands of executives of all levels I have strong arguments that there is only one kind of management that works effectively, namely Right and Good Management as I present it in my books, and that it is - contrary to mainstream thinking - universally valid and culturally invariant. Fashionable arbitrariness which so often characterizes management should not be given any place in what is one of the most important social functions. In most respects my Wholistic Management Systems for Functioning are the opposite of what is taught in most business schools. That they will have to change fundamentally as a consequence of the global crisis is hesitatingly becoming apparent to some - among them also a few leading ivy league schools. But it might be a long and hard way for them to recover from the fallacies of their own teachings and partly from the application of wrong management to themselves. At the same time, however, if they manage to change radically and fast it is one of the greatest opportunities for them to show effective leadership in the service of a functioning society in times of great change. Fredmund Malik St. Gallen, January 2010 Introduction "The very first step toward success in any occupation is to become interested in it." Sir William Osler (1849 - 1919), physician Our increasingly complex world cannot function without management, and it can hardly function without precise management. This is true for all kinds of societal institutions, be it commercial enterprises or other organizations. The purpose of this book is to help their managers and employees fulfill their demanding occupational tasks in a professional manner. In the midst of a jumble of doctrines, ideologies, and true innovations, this book will provide the overview required to distinguish right from wrong and useful from useless. These distinctions are indispensable for meeting both individual and shared responsibilities at each stage of a professional career. They are also crucial for successful and productive interaction. This book is a compact compendium for right and good management - for general management - in that it provides the necessary overview of what it entails. In the following volumes of this series, each of the elements of right and good management will be described in greater detail, including both theoretical content and recommended implementation approaches. Interested readers will be able to familiarize themselves with the tools and practices of the craft, along with numerous practical examples. As such, the present book is a prelude to a practical, comprehensive guide to what the management craft and managerial professionalism must entail. Sound general management is not about doing something new, modern, or fashionable. What matters is that it is right, that it works, and that it helps practitioners fulfill their tasks to the best of their abilities. The subject of this book - and of the rest of my publications - is not the "management thinking of today". Rather, all my books are practical guides to effectiveness. They point out my personal opinions on different matters, which are often not in sync with mainstream thinking. Management. The Essence of the Craft continues, enlarges upon, and complements my book Managing Performing Living. While the latter deals with the conduct and actions of the individual manager, the present book goes much further in that it deals with the institution as a whole - with system-oriented general management. The book contains a series of propositions which, compared to mainstream thinking, may be regarded as provocative, unusual, and frequently even wrong - at least initially. In this book, and the books to follow, I am putting my arguments forward for discussion. Central Propositions 1.Management is society's most important function. The functioning of society depends on management. Only management turns resources into results. 2.Management can largely be acquired by learning. It is a profession and a craft. It follows the same rules of professionalism that are known and have proven useful in other professions. Talents are useful but not essential. 3.The only kind of management a person needs to learn is right and good management. Right and good management is universal, invariant, and independent of culture. It is equally valid for all kinds of organizations and all countries. There is no need for international, multicultural, or global management. All effective institutions function in the same way. They employ the same functional principles. 4.Apparent differences are not related to management but to the nature of the different tasks to be fulfilled in different organizations. 5.Not everyone can manage just any organization. This is not due to management skills but to the difference in operational tasks. 6.All managers in all organizations and across all hierarchy levels need the same kind of management skills. Not all, however, need them in the same degree of comprehensiveness and detail. Disregarding this principle leads to a lack of orientation and direction, which, in turn, means the end of communication and function. 7.In my view, most of the management ideas prevailing over the past fifteen years or so are false, misleading, and harmful. This is true in particular for anything related to the doctrine of shareholder value and its consequences - such as value-increasing strategies and a way of thinking that focuses predominantly on financial aspects. The stakeholder approach is equally wrong. 8.The economic difficulties of our time, which I believe will inevitably deepen, are largely due to factors other than political errors. They are results of misguided management, of faulty and poor management. As a result, the question as to what right and good management is gains all the more importance. A Word on the Terms Used In management - as opposed to other, more advanced and mature disciplines of learning - there is no such thing as uniform or common parlance. Quite to the contrary: most authors attempt to impress readers by inventing their own terms and slogans. This is a roadblock to progress and to acquiring management skills. For this book, I essentially draw on the terms used in the St. Gallen Management Model, the first and so far only wholistic, system-driven management model, as well as on the linguistic usage of Peter F. Drucker, the doyen of management theory. As far as cybernetics and system sciences are concerned, I draw on the terms used by Stafford Beer, the originator of management cybernetics, and my own book Strategie des Managements komplexer Systeme ["Strategy for the Management of Complex Systems"]. 1.The terms "company", "organization", and "institution" are largely used in the same sense. Certain variances in meaning relate to the degree of generality, or the special limitation to a segment of society. The most general terms are "institution" and "organization". They refer to all organizations existing in a society, no matter what kind or legal form. The term "company", in essence, belongs to the business sector. Whenever no specific pointers are provided, it will be clear from the context what I mean when using each of these terms. The term most frequently used in this book is "company" and other terms related to it, such as "corporate policy". The statements made will generally be applicable to all kinds of institutions. Depending on the field of usage, the terms might need to be adapted somewhat, as in "educational policy" or "health policy". 2.The term "management" itself can be understood in several ways: Firstly, as a function that exists in any kind of organization and is indispensable for its functioning. This is the so-called functional dimension of management. It is neither linked to specific persons nor to organizational elements. This function is not perceptible to our senses. It is incorporated in certain actions taken by individuals and in this way its impact is perceived. Secondly, the term "management" can be understood to be the sum of the legal and/or organizational authorities in an institution. Examples include the executive board of a private company, the executive committee of a public company, a national government, or a university's board of directors. This is referred to as the institutional dimension, and it also includes expanded boards of managers, group management, management circles, or partners' conferences. As far as mandatory and/or higher-level authorities are concerned, the respective responsibilities, rights, obligations, and accountabilities are governed by laws, articles of incorporation, or statutes. Those of other organizational entities are determined by common sense and habits. Thirdly, management can be understood to include the persons that belong to the institutional authorities mentioned. This is the personal dimension of management. In particular the terms "top management" and "top manager" frequently carry that meaning. 3.I use the term "management" in the same meaning as its German equivalent "Führung". Both terms mean the same. In all my German-language publications, I use the two terms synonymously. By contrast, the terms "management" and "leadership" do not mean the same. 4.In the chapter on structure, the term "organization" carries two different meanings: the first, as mentioned above, is what we refer to when we speak of an institution being an organization; the second is what we mean when we speak of an institution having an organization. Which one of the two meanings applies should be clear from the particular context.
Sklep: Libristo.pl 217,66 zł
Książki / Literatura obcojęzyczna
"How to Cheat at Windows Systems Administrators using Command Line Scripts" teaches system administrators hundreds of powerful, time-saving tips for automating daily system administration tasks using Windows command line scripts. With every new version of Windows, Microsoft is trying to ease the administration jobs by adding more and more layers of graphical user interface (GUI) or configuration wizards (dialog boxes). While these 'wizards' are interactive and make the administrator's job easier, they are not always the most convenient and efficient way to accomplish the everyday administration tasks. These wizards are time consuming and, at times, may seem a bit confusing. The purpose of the book is to teach administrators how to use command-line scripts to complete everyday administration jobs, solve recurring network problems and at the same time improve their efficiency. Features include: provides system administrators with hundreds of tips, tricks, and scripts to complete administration tasks more quickly and efficiently; no direct competition for a core tool for Windows administrators; and, builds on success of other books in the series including "How to Cheat at Managing Windows Small Business Server 2003" and "How to Cheat at Managing Microsoft Operations Manager 2005".
Sklep: Libristo.pl 363,20 zł
Książki / Literatura obcojęzyczna
"SOA Design Patterns is an important contribution to the literature and practice of building and delivering quality software-intensive systems." - Grady Booch, IBM Fellow "With the continued explosion of services and the increased rate of adoption of SOA through the market, there is a critical need for comprehensive, actionable guidance that provides the fastest possible time to results. Microsoft is honored to contribute to the SOA Design Patterns book, and to continue working with the community to realize the value of Real World SOA." - Steven Martin, Senior Director, Developer Platform Product Management, Microsoft "SOA Design Patterns provides the proper guidance with the right level of abstraction to be adapted to each organization's needs, and Oracle is pleased to have contributed to the patterns contained in this book." - Dr. Mohamad Afshar, Director of Product Management, Oracle Fusion Middleware, Oracle "Red Hat is pleased to be involved in the SOA Design Patterns book and contribute important SOA design patterns to the community that we and our customers have used within our own SOA platforms. I am sure this will be a great resource for future SOA practitioners." - Pierre Fricke Director, Product Line Management, JBoss SOA Platform, Red Hat "A wealth of proven, reusable SOA design patterns, clearly explained and illustrated with examples. An invaluable resource for all those involved in the design of service-oriented solutions." - Phil Thomas, Consulting IT Specialist, IBM Software Group "This obligatory almanac of SOA design patterns will become the foundation on which many organizations will build their successful SOA solutions. It will allow organizations to build their own focused SOA design patterns catalog in an expedited fashion knowing that it contains the wealth and expertise of proven SOA best practices." - Stephen Bennett, Director, Technology Business Unit, Oracle Corporation "The technical differences between service orientation and object orientation are subtle enough to confuse even the most advanced developers. Thomas Erl's book provides a great service by clearly articulating SOA design patterns and differentiating them from similar OO design patterns." - Anne Thomas Manes, VP & Research Director, Burton Group "SOA Design Patterns does an excellent job of laying out and discussing the areas of SOA design that a competent SOA practitioner should understand and employ." - Robert Laird, SOA Architect, IBM "As always, Thomas delivers again. In a well-structured and easy-to-understand way, this book provides a wonderful collection of patterns each addressing a typical set of SOA design problems with well articulated solutions. The plain language and hundreds of diagrams included in the book help make the complicated subjects of SOA design comprehensible even to those who are new to the SOA design world. It's a must-have reference book for all SOA practitioners, especially for enterprise architects, solution architects, developers, managers, and business process experts." - Canyang Kevin Liu, Solution Architecture Manager, SAP "The concept of service oriented architecture has long promised visions of agile organizations being able to swap out interfaces and applications as business needs change. SOA also promises incredible developer and IT productivity, with the idea that key services would be candidates for cross-enterprise sharing or reuse. But many organizations' efforts to move to SOA have been mired-by organizational issues, by conflicting vendor messages, and by architectures that may amount to little more than Just a Bunch of Web Services. There's been a lot of confusion in the SOA marketplace about exactly what SOA is, what it's supposed to accomplish, and how an enterprise goes about in making it work. SOA Design Patterns is a definitive work that offers clarity on the purpose and functioning of service oriented architecture. SOA Design Patterns not only helps the IT practitioner lay the groundwork for a well-functioning SOA effort across the enterprise, but also connects the dots between SOA and the business requirements in a very concrete way. Plus, this book is completely technology agnostic-SOA Design Patterns rightly focuses on infrastructure and architecture, and it doesn't matter whether you're using components of one kind or another, or Java, or .NET, or Web services, or REST-style interfaces. While no two SOA implementations are alike, Thomas Erl and his team of contributors have effectively identified the similarities in composition services need to have at a sub-atomic level in order to interact with each other as we hope they will. The book identifies 85 SOA design patterns which have been developed and thoroughly vetted to ensure that a service-oriented architecture does achieve the flexibility and loose coupling promised. The book is also compelling in that it is a living document, if you will, inviting participation in an open process to identify and formulate new patterns to this growing body of knowledge." - Joe McKendrick, Independent Analyst, Author of ZDNet's SOA Blog "If you want to truly educate yourself on SOA, read this book." - Sona Srinivasan, Global Client Services & Operations, CISCO "An impressive decomposition of the process and architectural elements that support serviceoriented analysis, design, and delivery. Right-sized and terminologically consistent. Overall, the book represents a patient separation of concerns in respect of the process and architectural parts that underpin any serious SOA undertaking. Two things stand out. First, the pattern relationship diagrams provide rich views into the systemic relationships that structure a service-oriented architecture: these patterns are not discrete, isolated templates to be applied mechanically to the problem space; rather, they form a network of forces and constraints that guide the practitioner to consider the task at hand in the context of its inter-dependencies. Second, the pattern sequence diagrams and accompanying notes provide a useful framework for planning and executing the many activities that comprise an SOA engagement." - Ian Robinson, Principal Technology Consultant, ThoughtWorks "Successful implementation of SOA principles requires a shift in focus from software system means, or the way capabilities are developed, to the desired end results, or real-world effects required to satisfy organizational business processes. In SOA Design Patterns, Thomas Erl provides service architects with a broad palette of reusable service patterns that describe service capabilities that can cut across many SOA applications. Service architects taking advantage of these patterns will save a great deal of time describing and assembling services to deliver the real world effects they need to meet their organization's specific business objectives." - Chuck Georgo, Public Safety and National Security Architect "In IT, we have increasingly come to see the value of having catalogs of good solution patterns in programming and systems design. With this book, Thomas Erl brings a comprehensive set of patterns to bear on the world of SOA. These patterns enable easily communicated, reusable, and effective solutions, allowing us to more rapidly design and build out the large, complicated and interoperable enterprise SOAs into which our IT environments are evolving." - Al Gough, Business Systems Solutions CTO, CACI International Inc. "This book provides a comprehensive and pragmatic review of design issues in service-centric design, development, and evolution. The Web site related to this book [SOAPatterns.org] is a wonderful platform and gives the opportunity for the software community to maintain this catalogue..." - Veronica Gacitua Decar, Dublin City University "Erl's SOA Design Patterns is for the IT decision maker determined to make smart architecture design choices, smart investments, and long term enterprise impact. For those IT professionals committed to service-orientation as a value-added design and implementation option, Patterns offers a credible, repeatable approach to engineering an adaptable business enterprise. This is a must read for all IT architect professionals." - Larry Gloss, VP and General Manager, Information Manufacturing, LLC "These SOA patterns define, encompass, and comprise a complete repertoire of best practices for developing a world-class IT SOA portfolio for the enterprise and its organizational units through to service and schema analysis and design. After many years as an architect on many SOA projects, I strongly recommend this book be on the shelf of every analyst and technical member of any SOA effort, right next to the SOA standards and guidelines it outlines and elucidates the need for. Our SOA governance standards draw heavily from this work and others from this series." - Robert John Hathaway III, Enterprise Software Architect, SOA Object Systems "A wise man once told me that wisdom isn't all about knowledge and intelligence, it is just as much about asking questions. Asking questions is the true mark of wisdom and during the writing of the SOA Design Patterns book Thomas Erl has shown his real qualities. The community effort behind this book is huge meaning that Thomas has had access to the knowledge and experience of a large group of accomplished practitioners. The result speaks for itself. This book is packed with proven solutions to recurring problems, and the documented pros and cons of each solution have been verified by persons with true experience. This book could give SOA initiatives of any scale a real boost." - Herbjorn Wilhelmsen, Architect and Senior Consultant, Objectware "This book is an absolute milestone in SOA literature. For the first time we are provided with a practical guide on how the principle centric description of service orientation from a vendor-agnostic viewpoint is actually made to work in a language based on patterns. This book makes you talk SOA! There are very few who understand SOA like Thomas Erl does, he actually put's it all together!" - Brian Lokhorst, Solution Architect, Dutch Tax Office "Service oriented architecture is all about best practices we have learned since IT's existence. This book takes all those best practices and bundles them into a nice pattern catalogue. [It provides] a really excellent approach as patterns are not just documented but are provided with application scenarios through case studies [which] fills the gap between theory and practice." - Shakti Sharma, Senior Enterprise Architect, Sysco Corp "An excellent and important book on solving problems in SOA [with a] solid structure. Has the potential of being among the major influential books." - Peter Chang, Lawrence Technical University "SOA Design Patterns presents a vast amount of knowledge about how to successfully implement SOA within an organization. The information is clear, concise, and most importantly, legitimate." - Peter B. Woodhull, President and Principal Architect, Modus21 "SOA Design Patterns offers real insights into everyday problems that one will encounter when investing in services oriented architecture. [It] provides a number of problem descriptions and offers strategies for dealing with these problems. SOA design patterns highlights more than just the technical problems and solutions. Common organizational issues that can hinder progress towards achieving SOA migration are explained along with potential approaches for dealing with these real world challenges. Once again Thomas Erl provides in-depth coverage of SOA terminology and helps the reader better understand and appreciate the complexities of migrating to an SOA environment." - David Michalowicz, Air and Space Operations Center Modernization Team Lead, MITRE Corporation "This is a long overdue, serious, comprehensive, and well-presented catalog of SOA design patterns. This will be required reading and reference for all our SOA engineers and architects. The best of the series so far! [The book] works in two ways: as a primer in SOA design and architecture it can easily be read front-to-back to get an overview of most of the key design issues you will encounter, and as a reference catalog of design techniques that can be referred to again and again..." - Wendell Ocasio, Architecture Consultant, DoD Military Health Systems, Agilex Technologies "Thomas has once again provided the SOA practitioner with a phenomenal collection of knowledge. This is a reference that I will come back to time and time again as I move forward in SOA design efforts. What I liked most about this book is its vendor agnostic approach to SOA design patterns. This approach really presents the reader with an understanding of why or why not to implement a pattern, group patterns, or use compound patterns rather than giving them a marketing spiel on why one implementation of a pattern is better than another (for example, why one ESB is better than another). I think as SOA adoption continues to advance, the ability for architects to understand when and why to apply specific patterns will be a driving factor in the overall success and evolution of SOA. Additionally, I believe that this book provides the consumer with the understanding required to chose which vendor's SOA products are right for their specific needs." - Bryan Brew, SOA Consultant, Booz Allen Hamilton "A must have for every SOA practitioner." - Richard Van Schelven, Principal Engineer, Ericsson "This book is a long-expected successor to the books on object-oriented design patterns and integration patterns. It is a great reference book that clearly and thoroughly describes design patterns for SOA. A great read for architects who are facing the challenge of transforming their enterprise into a service-oriented enterprise." - Linda Terlouw, Solution Architect, Ordina "The maturation of Service-Orientation has given the industry time to absorb the best practices of service development. Thomas Erl has amassed this collective wisdom in SOA Design Patterns, an absolutely indispensible addition to any Service Oriented bookshelf." - Kevin P. Davis, Ph.D "The problem with most texts on SOA is one of specificity. Architects responsible for SOA implementation in most organizations have little time for abstract theories on the subject, but are hungry for concrete details that they can relate to the real problems they face in their environment. SOA Design Patterns is critical reading for anyone with service design responsibilities. Not only does the text provide the normal pattern templates, but each pattern is applied in detail against a background case study to provide exceptionally meaningful context to the information. The graphic visualizations of the problems and pattern solutions are excellent supplementary companions to the explanatory text. This book will greatly stretch the knowledge of the reader as much for raising and addressing issues that may have never occurred to the reader as it does in treating those problems that are in more common occurrence. The real beauty of this book is in its plain English prose. Unlike so many technical reference books, one does not find themselves re-reading sections multiple times trying to discern the intent of the author. This is also not a reference that will sit gathering dust on a shelf after one or two perusings. Practitioners will find themselves returning over and over to utilize the knowledge in their projects. This is as close as you'll come to having a service design expert sitting over your shoulder." - James Kinneavy, Principal Software Architect, University of California "As the industry converges on SOA patterns, Erl provides an outstanding reference guide to composition and integration-and yet another distinctive contribution to the SOA practice." - Steve Birkel, Chief IT Technical Architect, Intel Corp. "With SOA Design Patterns, Thomas Erl adds an indispensable SOA reference volume to the technologist's library. Replete with to-the-point examples, it will be a helpful aid to any IT organization." - Ed Dodds, Strategist, Systems Architect, Conmergence "Again, Thomas Erl has written an indispensable guide to SOA. Building on his prior successes, his patterns go into even more detail. Therefore, this book is not only helpful to the SOA beginner, but also provides new insight and ideas to professionals." - Philipp Offermann, Research Scientist, Technische Universitat Berlin, Germany "SOA Design Patterns is an extraordinary contribution to SOA best practices! Once again, Thomas has created an indispensable resource for any person or organization interested in or actively engaged in the practice of Service Oriented Architecture. Using case studies based on three very different business models, Thomas guides the reader through the process of selecting appropriate implementation patterns to ensure a flexible, well-performing, and secure SOA ecosystem." - Victor Brown, Managing Partner and Principal Consultant, Cypress Management Group Corporation In cooperation with experts and practitioners throughout the SOA community, best-selling author Thomas Erl brings together the de facto catalog of design patterns for SOA and service-orientation. More than three years in development and subjected to numerous industry reviews, the 85 patterns in this full-color book provide the most successful and proven design techniques to overcoming the most common and critical problems to achieving modern-day SOA. Through numerous examples, individually documented pattern profiles, and over 400 color illustrations, this book provides in-depth coverage of: * Patterns for the design, implementation, and governance of service inventories-collections of services representing individual service portfolios that can be independently modeled, designed, and evolved. * Patterns specific to service-level architecture which pertain to a wide range of design areas, including contract design, security, legacy encapsulation, reliability, scalability, and a variety of implementation and governance issues. * Service composition patterns that address the many aspects associated with combining services into aggregate distributed solutions, including topics such as runtime messaging and message design, inter-service security controls, and transformation. * Compound patterns (such as Enterprise Service Bus and Orchestration) and recommended pattern application sequences that establish foundational processes. The book begins by establishing SOA types that are referenced throughout the patterns and then form the basis of a final chapter that discusses the architectural impact of service-oriented computing in general. These chapters bookend the pattern catalog to provide a clear link between SOA design patterns, the strategic goals of service-oriented computing, different SOA types, and the service-orientation design paradigm. This book series is further supported by a series of resources sites, including soabooks.com, soaspecs.com, soapatterns.org, soamag. com, and soaposters.com.
Sklep: Libristo.pl 121,12 zł
Książki / Literatura obcojęzyczna
"Blanchard is demanding. He won't allow you to flip through this book, nod your head, and leave. If you're in, you're going to have to invest to get your rewards." --Chris Brogan, president of Human Business Works "Social media isn't inexpensive; it's different expensive. The human effort required to do it right is significant, and not knowing precisely how social media helps your business and how to gauge that progress is a dereliction of duty. In Social Media ROI, Blanchard provides the missing playbook for sensible, sustainable, profitable social communication. It's about time." --Jay Baer, coauthor of The NOW Revolution: 7 Shifts to Make Your Business Faster, Smarter, and More Social "Social Media ROI gets down to the heart of the matter: How will social communications positively impact my organizational goals? Olivier takes us through a journey starting from the start, creating a strategy to achieve objectives, and in turn, the means to measure return on investment. If you want to get serious about online communications, you can't go wrong with Social Media ROI." --Geoff Livingston, author of Welcome to the Fifth Estate and Now Is Gone "Olivier explains the intricacies of building a social media-influenced company for every layman to understand. It is important to understand reach, attention, and influence for social media ROI. This is the book to help with that understanding." --Kyle Lacy, principal at MindFrame (yourmindframe.com) and author of Branding Yourself "Ladies and gentlemen, the social media code has officially been cracked. In Social Media ROI, Blanchard reveals how companies can apply the massive power of social media to achieve equally massive results. Incredibly practical, yet supremely enjoyable, this book offers a clear roadmap to growing your revenue in the dizzying world of tweets and retweets, likes and shares, connections and comments." --Sally Hogshead, author of Fascinate: Your 7 Triggers to Persuasion and Captivation "If you know Olivier, you know he goes beyond the bullshit. He 'gets it.' This book will put you in the mindset to successfully plan and achieve real business objectives with social media. It's a hard fact that good business decisions depend on real results. Olivier avoids the fluff with clear-cut ideas that will help you produce results." --Brandon Prebynski, social media strategist Use Social and Viral Technologies to Supercharge Your Customer Service! Use this book to bring true business discipline to your social media program and align with your organization's goals. Top branding and marketing expert Olivier Blanchard brings together new best practices for strategy, planning, execution, measurement, analysis, and optimization. You will learn how to define the financial and nonfinancial business impacts you are aiming for--and achieve them. Social Media ROI delivers practical solutions for everything from structuring programs to attracting followers, defining metrics to managing crises. Whether you are in a startup or a global enterprise, this book will help you gain more value from every dime you invest in social media. You'll learn how to: *Align social communications with broader business goals and functions*Plan for effective performance measurement*Establish clarity of vision, purpose, and execution*Implement guidelines and operations for effectively managing social media*Get started by "listening before talking"*Integrate social media into long-term marketing programs, short-term campaigns, and brand initiatives*Use social media to deliver real-time, optimized customer support*Leverage mobility and the "on-the-fly" social media culture*Measure FRY (Frequency, Reach, and Yield) Includes a foreword by Brian Solis.
Sklep: Libristo.pl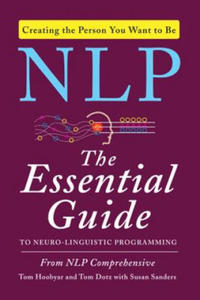 54,98 zł
Książki / Literatura obcojęzyczna
NLP (Neuro-Linguistic Programming) has already helped millions of people overcome fears, increase confidence, enrich relationships, and achieve greater success. Now, from the company and training team behind NLP: The New Technology of Achievement, one of the bestselling NLP books of all time, comes "NLP: A Power User's Manual". Written by an NLP Master Practitioner and Training Coach, with an introduction from the President of NLP Comprehensive, "NLP: The Power User's Manual guides" users to peak performance in business and life, and gets specific results. In twelve illuminating sections, "NLP: A Power User's Manual" leads you through dozens of discoveries-revelations of NLP practice that enable you to explore your own personal thinking patterns, to manage them-and to transform them. Divided into two categories, "All About You" and "All About the Other Guy", these strategies offer a personal and interpersonal program that frees you to become better at managing your feelings instead of being dominated by them, managing your motivations, being less judgemental, more productive, more confident, more flexible, more persuasive, liked, and respected. Chapters on Personal Remodeling (Discovery 9: No inner enemy) and Secrets of Making Your Point (Discovery 31: Convey understanding and safety without talking), enhance creativity, collaboration, cooperation, and communication. Through mind reading techniques-non-verbal communication, and hearing what's missing-learn the secrets of relating with others, understanding how they are thinking-and influencing them. A streamlined all-purpose guide for both newcomers and NLP veterans, "NLP: A Power User's Manual" is the new all-in-one, eye-opening blueprint for your own ultimate success.
Sklep: Libristo.pl 244,50 zł
Książki / Literatura obcojęzyczna
Diploma Thesis from the year 2009 in the subject Business economics - Business Management, Corporate Governance, grade: 1, Bournemouth University, course: MBA, language: English, abstract: The purpose of this research was to investigate how women in senior management positions combine a successful career and family life. The research was conducted in Austria, Denmark and the UK, and qualitative data was collected via a series of semi-structured interviews. Through this research different types of support, including women s priorities and values, as well as their abilities have been discussed with the aim to find out how they manage their work-life balance. Additionally, interactions between professional and private life have been considered in order to explore if there is a connection between work-life balance and work performance. The research findings indicated that there are some historical and cultural problems as well as individual circumstances which make it difficult to combine work and family life. Women manage their time effectively and organise everything, but managing multiple roles is a complex challenge, which requires sophisticated solutions. Women need support from their family; help from their partners and companies flexibility are identified as the most important things to reach a satisfactory work-life balance. Additionally, childcare has to be provided by the government or organised privately so that women can focus on their careers.This study concluded that women have to invest considerable personal resources, such as time and energy in order to achieve a satisfactory work-life balance through their career life cycle. In addition, evidence suggested that a satisfied work-life balance has a positive impact on work performance. Further research recommendations have been given as well as a pragmatic self-generated model.
Sklep: Libristo.pl 87,97 zł
Książki / Literatura obcojęzyczna
With more than two million hardcover copies in print, THE ONE MINUTE MANAGER is one of the most successful management books ever published. In this life-changing audiobook, Blanchard and Johnson, author of the international bestseller WHO MOVED MY CHEESE?, provide listeners with effective management strategies that save time and increase productivity- whether in business, at home or even managing children. Deceptively simple and measurably effective, the secrets of one- minute management will help boost profits, productivity and sense of purpose immediately.
Sklep: Libristo.pl
Sklepy zlokalizowane w miastach: Warszawa, Kraków, Łódź, Wrocław, Poznań, Gdańsk, Szczecin, Bydgoszcz, Lublin, Katowice
Szukaj w sklepach lub całym serwisie
2. Szukaj na wszystkich stronach serwisu
t1=0.035, t2=0, t3=0, t4=0, t=0.035