krainaksiazek manna and other stories 20090197
- znaleziono 11 produktów w 3 sklepach
57,99 zł
Książki Obcojęzyczne>Angielskie>Fiction & related items>Fiction: special features>Fiction in translationKsiążki Obcojęzyczne>Angielskie...
Using Settings As Varied As Germany, Italy, The Holy Land And The Far East, These Stories Explore A Theme Which Always Preoccupied Thomas Mann - The Two Faces Of Things. Written Between 1918 And 1953, They Offer An Insight Into His Development Of Though
Sklep: Gigant.pl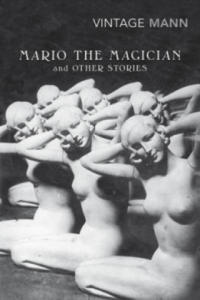 58,50 zł
Książki / Literatura obcojęzyczna
In this extraordinary collection of short stories, Thomas Mann uses settings as diverse as Germany, Italy, the Holy Land and the Far East to explore a theme which always preoccupied him: the two faces of things. Thus, in A Man and His Dog and Disorder and Early Sorrow, small domestic tempests become symbolic of the discordant muddle of humanity. In The Transposed Heads and The Tables of Law the demands of the intellect clash with the desires of physiology - an idea developed more fully in The Black Swan, where body and spirit are tragically out of harmony. Written between 1918 and 1953, these stories offer us both an insight into Mann's development of thought and also some impressive literature from these interesting times.
Sklep: Libristo.pl 48,99 zł
Książki Obcojęzyczne>Angielskie>Fiction & related items>Fiction: special features>Fiction in translationKsiążki Obcojęzyczne>Angielskie...
Gustave Von Aschenbach Is A Writer Who Travels To Venice For A Holiday. One Day He Notices A Beautiful Young Boy Who Is Staying With His Family In The Same Hotel. Soon His Days Begin To Revolve Around Seeing This Boy And He Is Too Distracted To Pay Attent
Sklep: Gigant.pl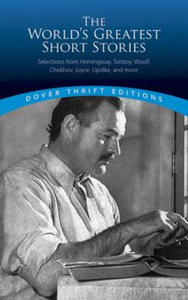 16,67 zł
Książki / Literatura obcojęzyczna
This outstanding collection features short stories by great writers from America, the United Kingdom, Ireland, and Western Europe. Ranging from the 19th to the 20th centuries, writers include Poe, Chekhov, Joyce, Kafka, Faulkner, Pirandello, Mann, and other major writers of world literature. A wonderfully wide-ranging and enjoyable anthology.
Sklep: Libristo.pl 209,99 zł
Książki Obcojęzyczne>Angielskie>Literature & literary studies>Literature: history & criticism>Fiction, novelists & prose writersKsiążki Ob...
Sklep: Gigant.pl 11,69 zł
Książki & Multimedia > Książki
Opis - NOWA SERIA WSPÓŁCZESNYCH POWIEŚCI OBYCZAJOWO-KRYMINALNYCH, KTÓRYCH AKCJA ROZGRYWA SIĘ W USA, A ICH WSPÓLNYM MOTYWEM SĄ DAMSKIE MARKOWE TOREBKI. Kryminał, jakiego jeszcze w Polsce nie było! Żywa, dowcipna, dynamiczna akcja, pełna nieoczekiwanych i zaskakujących zwrotów. Powieść barwniejsza niż hollywoodzki film - czyta się doskonale! Jeśli spodobała Ci się książka Diabeł ubiera się u Prady, musisz przeczytać serię o Haley Randolph. Torebki i morderstwo to dowcipna i inteligentna powieść dziejąca się w Los Angeles, Mieście Aniołów, z rozlicznymi centrami handlowymi, butikami i straganami gdzie sprzedaje się damskie torebki. Pasją życiową bohaterki, Haley Randolph, są właśnie torebki. Ale wyłącznie MARKOWE, zaprojektowane przez stylistów z najwyższej półki... I ta namiętność sprowadzi na bohaterkę mnóstwo kłopotów, wśród których najmniejszymi będą oskarżenia o morderstwo i defraudację... Aby mieć środki na życie - i na swoja życiową pasję - Haley musi pracować na dwóch posadach. Ta główna, prestiżowa, to praca w renomowanej firmie prawniczej Pike&Warner, której centrum decyzyjne mieści się na tajemniczym, i dla urzędniczego proletariatu firmy niedostępnym, Szesnastym Piętrze. Druga posada to praca ekspedientki-kasjerki-sprzątaczki-magazynierki (zależnie od kaprysu kierownictwa...) w wielkim domu towarowym Holt`s, w którym sprzedaje się "ohydne ciuchy", "koszmarne buty" i "beznadziejne torebki"... To właśnie tam, w magazynie damskiej bielizny, znajduje zwłoki Richarda, wyjątkowo niesympatycznego faceta, którego ktoś zatłukł drążkiem wyłamanym ze stojaka na ubrania... Niebawem ona sama staje się główną podejrzaną. Haley sama musi oczyścić się z zarzutów i podejmuje prywatne śledztwo. Kończy się ono nieoczekiwanym rezultatem... Nazwa - Torebki i morderstwo Autor - Dorothy Howell Oprawa - Twarda Wydawca - Bellona Kod ISBN - 9788311132061 Kod EAN - 9788311132061 Rok wydania - 2014 Format - 13x20 Ilość stron - 382 Podatek VAT - 5% Premiera - 2014-09-30
Sklep: InBook.pl 24,38 zł
Książki & Multimedia > Książki
Opis - Charyzmatyczny, obdarzony nieprzeciętną intuicją dziennikarz w pojedynku z naśladowcą Hansa Memlinga. Emil Żądło, który zrezygnował z pracy w policji na rzecz dziennikarstwa, przeżywa kryzys. Kryzys wieloraki: związany z pracą, z brakiem natchnienia na nowy artykuł, z finansami, z uczuciami, z życiem w ogóle... Za ostatnie pieniądze kupuje alkohol i papierosy, nie ma siły wstać z łóżka i wziąć się w garść, a na dodatek jego była żona utrudnia mu kontakty z synem i męczy o zaległe alimenty. Wszystko się zmienia, gdy któregoś razu w nocnym pubie spotyka córkę swojej starej sąsiadki, Dorotę. Młoda kobieta i jej narzeczony tej samej nocy zostają brutalnie zamordowani w niejasnych okolicznościach. Zaintrygowany Emil postanawia pomóc policji w śledztwie. "Emil Żądło to świetnie skonstruowana postać, która od pierwszej chwili wzbudziła moją sympatię." Agnieszka Lingas-Łoniewska, autorka m. in. trylogii Zakręty losu, Szóstego, Łatwopalnych i Brudnego świata Nazwa - Sąd ostateczny Autor - Anna Klejzerowicz Oprawa - Miękka Wydawca - Replika Kod ISBN - 9788376742878 Kod EAN - 9788376742878 Wydanie - 1 Rok wydania - 2014 Język - polski Format - 13.0x20.0cm Ilość stron - 316 Podatek VAT - 5% Premiera - 2014-05-06
Sklep: InBook.pl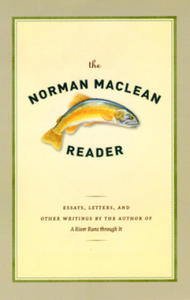 134,80 zł
Książki / Literatura obcojęzyczna
In his eighty-eight years, Norman Maclean (1902-90) played many parts: fisherman, logger, firefighter, scholar, teacher. But it was a role he took up late in life, that of writer, which won him enduring fame and critical acclaim - as well as the devotion of readers worldwide. Though the 1976 collection "A River Runs Through It and Other Stories" was the only book Maclean published in his lifetime, it was an unexpected success, and the moving family tragedy of the title novella - based largely on Maclean's memories of early twentieth-century Montana - has proved to be one of the most enduring American stories ever written. The posthumous publication in 1992 of "Young Men and Fire", Maclean's deeply personal investigative account of a deadly forest fire, only added to his reputation, reacquainting readers with the power of his spare, evocative prose.With "The Norman Maclean Reader", the University of Chicago Press is proud to add a fitting final volume to Maclean's celebrated oeuvre. Bringing together previously unpublished materials with incidental writings and selections from his two masterpieces, the Reader will serve as the perfect introduction for readers new to Maclean, while offering longtime fans new insight into his life and career.Much of the pleasure of "The Norman Maclean Reader" lies in the rounded picture it gives of Maclean the man. A series of witty, perceptive personal essays present Maclean from a variety of angles: in "This Quarter I Am Taking McKeon," the master teacher distills the lessons of decades in the classroom; in "The Pure and the Good: On Baseball and Backpacking," Maclean the scholar turns his attention to poetic rhythm and the importance of craft; in "Retrievers Good and Bad," we see Maclean the memoirist first beginning to draw on his wealth of family stories.A generous selection of letters, as well as excerpts from a 1986 interview, serve to flesh out the Reader's portrait of Maclean, showing us a writer fully aware of the nuances of his craft, and a man as at home in the recondite atmosphere of the University of Chicago as in the quiet hills of his beloved Montana. The letters find Maclean corresponding about fishing with Nick Lyons, the first significant reviewer of "A River Runs Through It"; about literature and teaching with Marie Borroff, a former student who had become a professor of literature at Yale; about the Mann Gulch fire with Lois Jansson, the widow of one of Maclean's sources; and about General Custer with historian Robert Utley.Maclean's writings on Custer comprise the most extensive unpublished material in the Reader. Fascinated by Custer's tragic end and posthumous fame, Maclean dedicated years in the late 1950s to studying the general, and though he was never able to shape his chapters on the topic into a complete book, to read them now is revelatory: as he explores the man and myth of Custer, we see Maclean groping toward the rigorous yet personal hybrid form of historical storytelling that he would employ to such effect in "Young Men and Fire".Multifarious and moving, the works collected in "The Norman Maclean Reader" serve as both a summation and a celebration, giving readers a chance once again to hear one of American literature's most distinctive voices.
Sklep: Libristo.pl 73,25 zł
Książki / Literatura obcojęzyczna
A long, hard ride from start to finish, Biker Boys features easy riders, stuntmen studs, and men who aren't just wearing chaps because they look good. The term "biker" describes a specific archetype in our culture: "real" men -- rebels, outlaws, and sometimes criminals. The racy stories of Biker Boys evoke the passion these masculine men have for their cycles and each other. Also along for the ride are grease monkeys who service bikes, guys who willingly take on the role of biker bitch, and road-weary men looking for a bed for the night. These sensational stories by Jeff Mann, Shane Allison, Simon Sheppard and more are filled with speed, danger, and lived-in leather.
Sklep: Libristo.pl 376,18 zł
Książki / Literatura obcojęzyczna
Professor Stanley's book analyses the critical response to the works of Wolfgang Hildesheimer, one of the most important German writers - of plays, short stories, travelogues, biographies and longer fiction - to emerge from the postwar period. Hildesheimer's early writing, strongly influenced by James Joyce and Beckett, is the literature of the absurd in Germany, but it was only with the publication of "Tynset" (1965) - translated into other European languages and Japanese - that his European reputation was firmly established. He became famous in English-speaking countries with his unconventional biography "Mozart" (1977), which portrays Mozart as a kind of absurdist; his next book, "Marbot", a fictional biography, is about an English nobleman of the early nineteenth century who is purported to have met and spoken with Goethe, Byron, the German Romantic poet Platen, Leopardi, and other luminaries of the period: Marbot has recently attracted considerable critical attention on both sides of the Atlantic, and Stanley provides illuminating discussions of the critical controversy surrounding the problematic relationship of author and subject. She also shows that Hildesheimer has close links to some of the great European writers of the age, such as Ionesco, but that he nevertheless, in the later works, owes much to Goethe and Thomas Mann.
Sklep: Libristo.pl 43,99 zł
Książki Obcojęzyczne>Angielskie>Society & social sciences>Warfare & defence>Other warfare & defence issues>MercenariesKsiążki Obcojęzyc...
This Is Simon's Remarkable First-hand Account Of His Life: An Account That Will Read Like A Thriller As It Takes Us Into The World Of Mercenaries And Spooks; Of Murky International Politics, Big Oil And Big Bucks; Of Action, Danger, Love, Despair And Betr
Sklep: Gigant.pl
Sklepy zlokalizowane w miastach: Warszawa, Kraków, Łódź, Wrocław, Poznań, Gdańsk, Szczecin, Bydgoszcz, Lublin, Katowice
Szukaj w sklepach lub całym serwisie
2. Szukaj na wszystkich stronach serwisu
t1=0.047, t2=0, t3=0, t4=0, t=0.047