krainaksiazek mathematical models of financial derivatives 20126133
- znaleziono 8 produktów w 2 sklepach 399,99 zł
Książki Obcojęzyczne>Angielskie>Mathematics & science>Mathematics>Probability & statistics
0x00a3d60200000000
Sklep: Gigant.pl 399,99 zł
Książki Obcojęzyczne>Angielskie>Mathematics & science>Mathematics>Applied mathematics>Mathematical modellingKsiążki Obcojęzyczne>Ang...
0x0072ddce00000000
Sklep: Gigant.pl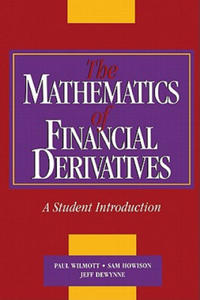 376,97 zł
Książki / Literatura obcojęzyczna
Finance is one of the fastest growing areas in the modern banking and corporate world. This, together with the sophistication of modern financial products, provides a rapidly growing impetus for new mathematical models and modern mathematical methods; the area is an expanding source for novel and relevant 'real-world' mathematics. In this book the authors describe the modelling of financial derivative products from an applied mathematician's viewpoint, from modelling through analysis to elementary computation. A unified approach to modelling derivative products as partial differential equations is presented, using numerical solutions where appropriate. Some mathematics is assumed, but clear explanations are provided for material beyond elementary calculus, probability, and algebra. Over 140 exercises are included. This volume will become the standard introduction to this exciting new field for advanced undergraduate students.
Sklep: Libristo.pl 376,97 zł
Książki / Literatura obcojęzyczna
This book offers a complete, succinct account of the principles of financial derivatives pricing. The first chapter provides readers with an intuitive exposition of basic random calculus. Concepts such as volatility and time, random walks, geometric Brownian motion, and Ito's lemma are discussed heuristically. The second chapter develops generic pricing techniques for assets and derivatives, determining the notion of a stochastic discount factor or pricing kernel, and then uses this concept to price conventional and exotic derivatives. The third chapter applies the pricing concepts to the special case of interest rate markets, namely, bonds and swaps, and discusses factor models and term structure consistent models. The fourth chapter deals with a variety of mathematical topics that underlie derivatives pricing and portfolio allocation decisions such as mean-reverting processes and jump processes and discusses related tools of stochastic calculus such as Kolmogorov equations, martingale techniques, stochastic control, and partial differential equations.
Sklep: Libristo.pl 1081,36 zł
Książki / Literatura obcojęzyczna
The remarkable growth of financial markets over the past decades has been accompanied by an equally remarkable explosion in financial engineering, the interdisciplinary field focusing on applications of mathematical and statistical modeling and computational technology to problems in the financial services industry. The goals of financial engineering research are to develop empirically realistic stochastic models describing dynamics of financial risk variables, such as asset prices, foreign exchange rates, and interest rates, and to develop analytical, computational and statistical methods and tools to implement the models and employ them to design and evaluate financial products and processes to manage risk and to meet financial goals.This handbook describes the latest developments in this rapidly evolving field in the areas of modeling and pricing financial derivatives, building models of interest rates and credit risk, pricing and hedging in incomplete markets, risk management, and portfolio optimization. Leading researchers in each of these areas provide their perspective on the state of the art in terms of analysis, computation, and practical relevance. The authors describe essential results to date, fundamental methods and tools, as well as new views of the existing literature, opportunities, and challenges for future research.
Sklep: Libristo.pl 498,36 zł
Książki / Literatura obcojęzyczna
This is the first book about the emerging field of utility indifference pricing for valuing derivatives in incomplete markets. Ren Carmona brings together a who's who of leading experts in the field to provide the definitive introduction for students, scholars, and researchers. Until recently, financial mathematicians and engineers developed pricing and hedging procedures that assumed complete markets. But markets are generally incomplete, and it may be impossible to hedge against all sources of randomness. Indifference Pricing offers cutting-edge procedures developed under more realistic market assumptions. The book begins by introducing the concept of indifference pricing in the simplest possible models of discrete time and finite state spaces where duality theory can be exploited readily. It moves into a more technical discussion of utility indifference pricing for diffusion models, and then addresses problems of optimal design of derivatives by extending the indifference pricing paradigm beyond the realm of utility functions into the realm of dynamic risk measures. Focus then turns to the applications, including portfolio optimization, the pricing of defaultable securities, and weather and commodity derivatives. The book features original mathematical results and an extensive bibliography and indexes. In addition to the editor, the contributors are Pauline Barrieu, Tomasz R. Bielecki, Nicole El Karoui, Robert J. Elliott, Said Hamadne, Vicky Henderson, David Hobson, Aytac Ilhan, Monique Jeanblanc, Mattias Jonsson, Anis Matoussi, Marek Musiela, Ronnie Sircar, John van der Hoek, and Thaleia Zariphopoulou. The first book on utility indifference pricing Explains the fundamentals of indifference pricing, from simple models to the most technical ones Goes beyond utility functions to analyze optimal risk transfer and the theory of dynamic risk measures Covers non-Markovian and partially observed models and applications to portfolio optimization, defaultable securities, static and quadratic hedging, weather derivatives, and commodities Includes extensive bibliography and indexes Provides essential reading for PhD students, researchers, and professionals
Sklep: Libristo.pl 391,08 zł
Książki / Literatura obcojęzyczna
"Deals with pricing and hedging financial derivatives. Computational methods are introduced and the text contains the Excel VBA routines corresponding to the formulas and procedures described in the book. This is valuable since computer simulation can help readers understand the theory .The book succeeds in presenting intuitively advanced derivative modelling it provides a useful bridge between introductory books and the more advanced literature." --MATHEMATICAL REVIEWSThis book aims at a middle ground between the introductory books on derivative securities and those that provide advanced mathematical treatments. It is written for mathematically capable students who have not necessarily had prior exposure to probability theory, stochastic calculus, or computer programming. It provides derivations of pricing and hedging formulas (using the probabilistic change of numeraire technique) for standard options, exchange options, options on forwards and futures, quanto options, exotic options, caps, floors and swaptions, as well as VBA code implementing the formulas. It also contains an introduction to Monte Carlo, binomial models, and finite-difference methods.
Sklep: Libristo.pl 624,02 zł
Książki / Literatura obcojęzyczna
This textbook, now in its third edition, offers a rigorous and self-contained introduction to the theory of continuous-time stochastic processes, stochastic integrals, and stochastic differential equations. Expertly balancing theory and applications, the work features concrete examples of modeling real-world problems from biology, medicine, industrial applications, finance, and insurance using stochastic methods. No previous knowledge of stochastic processes is required. Key topics include: Markov processes Stochastic differential equations Arbitrage-free markets and financial derivatives Insurance risk Population dynamics, and epidemics Agent-based models New to the Third Edition: Infinitely divisible distributions Random measures Levy processes Fractional Brownian motion Ergodic theory Karhunen-Loeve expansion Additional applications Additional exercises Smoluchowski approximation of Langevin systems An Introduction to Continuous-Time Stochastic Processes, Third Edition will be of interest to a broad audience of students, pure and applied mathematicians, and researchers and practitioners in mathematical finance, biomathematics, biotechnology, and engineering. Suitable as a textbook for graduate or undergraduate courses, as well as European Masters courses (according to the two-year-long second cycle of the "Bologna Scheme"), the work may also be used for self-study or as a reference. Prerequisites include knowledge of calculus and some analysis; exposure to probability would be helpful but not required since the necessary fundamentals of measure and integration are provided. From reviews of previous editions: "The book is ... an account of fundamental concepts as they appear in relevant modern applications and literature. ... The book addresses three main groups: first, mathematicians working in a different field; second, other scientists and professionals from a business or academic background; third, graduate or advanced undergraduate students of a quantitative subject related to stochastic theory and/or applications." -Zentralblatt MATH
Sklep: Libristo.pl
Sklepy zlokalizowane w miastach: Warszawa, Kraków, Łódź, Wrocław, Poznań, Gdańsk, Szczecin, Bydgoszcz, Lublin, Katowice
Szukaj w sklepach lub całym serwisie
2. Szukaj na wszystkich stronach serwisu
t1=0.03, t2=0, t3=0, t4=0.021, t=0.03