krainaksiazek meditation techniques master your mind with the complete guide to modern meditation techniques 20118836
- znaleziono 3 produkty w 1 sklepie 92,64 zł
Książki / Literatura obcojęzyczna
The ancient meditation techniques of Taoism encompass a wide range of practices--with an aim toward cultivating a healthy body as well as an enlightened mind. These selections from classic texts of Taoist meditation represent the entire range of techniques--from sitting meditation practices to internal alchemy. Most of the texts appear here in English for the first time. Selections are taken from the following classics: "Anthology on Cultivation of Realization: " A document from 1739 (Ming Dynasty) that emphasizes development of the natural, social, and spiritual elements in human life. "Treatise on Sitting Forgetting: " A Tang Dynasty text that sets meditation practice in terms familiar to Confucians and Buddhists. "Sayings of Taoist Master Danyang: " Wisdom of the Taoist wizard and representative of the Complete Reality School. "Secret Writings on the Mechanism of Nature: " An anthology taken from one hundred sixty-three Taoist sources, including ancient classics and works on meditation and spiritual alchemy, along with admonitions and teachings of the great Taoist luminaries. "Zhang Sanfeng's Taiji Alchemy Secrets: " A treatise on the inner mediation practices that are the proper foundation of the martial art Taiji. "Secret Records of Understanding the Way: " A rare and remarkable collection of talks by an anonymous Taoist master of the later Qing dynasty (1644-1911). Traditional teachings with a sometimes strikingly modern bent.
Sklep: Libristo.pl
90,24 zł
Książki / Literatura obcojęzyczna
From an acclaimed master yoga teacher and creator of one of the most popular yoga blogs on the Internet comes a contemporary guide to the full mind-body practice, combining intention and enlightenment with athleticism and physicality.While the practice of yoga encourages fitness, its benefits extend far beyond the physical. In order to have a beautiful, fit body, a yoga practitioner must understand and respect its inextricable link to mind and spirit.Yet for those who want a deeper connection with their practice, who seek enlightenment, there are few resources to provide guidance. Master yoga teacher, athletic model, and writer Rebecca Pacheco is the ultimate twenty-first-century yoga ambassador. In Do Your Om Thing, she shows readers how to benefit from the ancient wisdom and philosophy of yoga without repudiating its modern attributes.Divided into four parts--Philosophy, Body, Mind, and Spirit--Do Your Om Thing explores the traditional practice of yoga, from the eight limbs of the ancient path to the five koshas and the seven chakras of the yoga body. Pacheco translates these ancient texts for modern readers and puts them into the context of our everyday lives. Complete with a practical overview of the many different styles of yoga, simple poses, and sequences for daily balance, plus helpful tips on meditation, Do Your Om Thing is the ultimate guidebook for anyone who wants a workout that benefits the body and the mind.
Sklep: Libristo.pl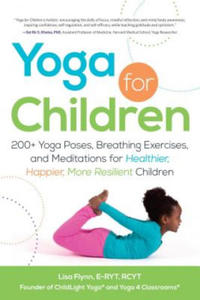 78,86 zł
Książki / Literatura obcojęzyczna
"I hadn't expected to become immersed in the world of yoga for children, but Lisa Flynn's book made it impossible to not become fully engaged. This is as much a credit to Flynn's depth of experience as a teacher and trainer in the field as it is to the book's flawless presentation. Yoga for Children is a great family book in a high-quality format that provides exceptional value for parents. In my opinion, it's already a classic." - Alive Magazine "I loved this book.... This book literally combines several of my favorite children's yoga books in one place, but does so in a new and refreshing way. Truly this a well thought out, well written book aimed at parents but definitely invaluable to teachers looking to utilize yoga in the classroom or studio." - Sky Yoga Studio blog "Yoga for Children is holistic: encouraging the skills of focus, mindful reflection, and mind/body awareness, inspiring confidence, self-regulation, and self-efficacy while teaching gratitude and optimism." - Sat Bir S. Khalsa, PhD, Assistant Professor of Medicine, Harvard Medical School; Yoga Researcher "Lisa Flynn has mastered the art of bringing yoga to children.... [This book] is absolutely packed with clear and practical guidance for any of us who want to bring the healing grace of yoga to the kids in our lives." - Stephen Cope, Director of the Kripalu Institute for Extraordinary Living; Author of Yoga and the Quest for the True Self "In this practical how-to guide, Lisa Flynn shares the secrets of empowering kids and families to connect with one another while learning positive, productive skills for managing the stresses of everyday life." - Amy McCready, Founder of Positive Parenting Solutions; Author of If I Have to Tell You One More Time... "I highly recommend Yoga for Children - Flynn presents the information in an easy-to-read and easy-to-follow format. Both of my children have enjoyed reading through the book and practicing the poses and meditations." - AutismEducationSite.com "Easy to follow, this beautifully illustrated book guides parents into the realm of yoga for kids. You'll learn how to teach your children simple poses that can help their minds and bodies grow." - Examiner.com "My favorite part of the book is the sections on partner poses and family Yoga games. I'm sure we'll also enjoy the relaxation exercises before bedtime." - Eco Chic blog "If you have a child in your care and you want to do some intelligent yoga together, this book is a real find. Songs, chants, visualization, even tips for sequencing and some innovative sequences for diverse situations - it's all here. If you interact with kids and are inspired to introduce them to yoga and guide them with wit, fun and wisdom, this book will be an invaluable resource for you." - Yoga Teacher Magazine "I have fallen in love with the book, Yoga for Children, by Lisa Flynn. The children's yoga world has needed [this] - an encyclopedia of essential kids yoga poses, games, breathing, and mindfulness techniques, that is brimming with new ideas and techniques to try. I'm going to pull this book out anytime I need some new inspiration." - Kidsyoga101.com "Yoga for Children...offers a vast choice of yoga explorations, including poses, breathing, meditation and creative play that can be guided by and used for practitioners of all levels. Complete with full-color photographs, instructional scripts, and modifications, Yoga for Children will help build your child's confidence, self-awareness, and focus while strengthening your connection--one yoga session at a time." - Yoga Living Magazine "I love practical, inspiring, research-based, and user-friendly books that are written by experienced, passionate authors. This will be my go-to reference book for kids yoga." - Kids' Yoga Stories "Yoga for Children has much to offer: succinct instruction on a variety of poses, songs, visualizations and games. Lisa Flynn's book will be a welcome addition to the reading library of every adult interested in sharing the joy of yoga with children. And, thanks to the book's friendly tone and colorful layout, it is sure to be a favorite on kids' bookshelves as well!" - Yoga for Depression "Yoga for Children is a valuable resource for parents of children from toddler to preteen who want to introduce their children not only to asanas, but to a whole healthy lifestyle based on yoga's principles." - Yoga Journal
Sklep: Libristo.pl
Sklepy zlokalizowane w miastach: Warszawa, Kraków, Łódź, Wrocław, Poznań, Gdańsk, Szczecin, Bydgoszcz, Lublin, Katowice
Szukaj w sklepach lub całym serwisie
2. Szukaj na wszystkich stronach serwisu
t1=0.045, t2=0, t3=0, t4=0, t=0.046