krainaksiazek men women and boats 20121225
- znaleziono 10 produkty w 3 sklepach 135,51 zł
Książki
Sklep: KrainaKsiazek.pl 81,56 zł
Książki
Sklep: KrainaKsiazek.pl 46,56 zł
Książki
Sklep: KrainaKsiazek.pl
28,48 zł
Książki
Sklep: KrainaKsiazek.pl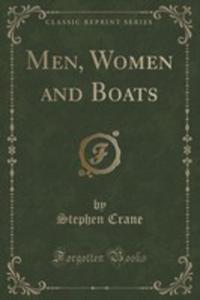 55,99 zł
Książki Obcojęzyczne>Nieprzypisane
0x00093fce00000000
Sklep: Gigant.pl 119,99 zł
Książki Obcojęzyczne>Nieprzypisane
0x001a362100000000
Sklep: Gigant.pl 102,59 zł
Książki / Literatura obcojęzyczna
Flying boats have been a familiar sight in the Solent since the dawn of aviation. Two of Britain's major manufactures, Saunders-Roe and Supermarine, were based in Cowes and Woolston respectively. The area has been home to flying boats of Imperial Airways and, latterly, BOAC and Aquila Airways. With a terminal at Hythe and then Southampton Docks, one could view not just majestic ocean liners but huge flying boats too, from the Empire boats of Imperial Airways to the majestic Saunders-Roe Princess, built in the post-war period. During wartime, BOAC operated their vital flying boat services from Poole Harbour. In fact, BOAC was based at Poole for longer than Southampton - a fact frequently overlooked, mostly due to wartime censorship. Post-war route expansion was also undertaken while still at Poole. Military aviation in the area saw flying boats operated from RAF Calshot and RAF Hamworthy, with types ranging from elderly biplanes to Sunderlands. Mike Phipp takes us on a tour of the Solent area and Poole Harbour's flying boat heritage using many previously unpublished images of the aircraft plus the men and women that flew and maintained them.
Sklep: Libristo.pl 71,98 zł
Książki / Literatura obcojęzyczna
Source: Wikipedia. Pages: 33. Chapters: Henley Boat Races, Double Sculls Challenge Cup, List of Charles River boathouses, Tracy Cameron, Durham College Rowing, Rowing at the 2008 Summer Olympics - Women's coxless pair, Mike Spracklen, Pocock Racing Shells, Union Boat Club, Vespoli, Skiff Racing Association, Welsh Amateur Rowing Association, Lake of Banyoles, Andrew Byrnes, Melanie Kok, Women's Eastern Sprints, Ekaterina Karsten, Malcolm Howard, Redgrave Pinsent Rowing Lake, Rowing Federation of India, Skiff Championships Regatta, RowPerfect, Hubbard Hall (Annapolis, Maryland), International Regatta KRC Ghent, Ann Redgrave, Welsh Sea Rowing Association, Hampton Court and Dittons Regatta, Metropolitan Regatta, David Calder, Scottish Rowing, Reading Amateur Regatta, Home International Regatta, Jane Rumball, Wallingford Regatta, London Regatta Centre, Andréanne Morin, Bćrum RK, Vivaldi Atlantic 4, Chertsey Regatta, Outrigger, Schools' Head of the River Race, Ashley Brzozowicz, Shrewsbury crew, Sarah Bonikowsky, British Rowing Championships, Sunbury Amateur Regatta, Staines amateur regatta, Royal Canadian Henley Regatta, Princess Grace Challenge Cup, Heather Mandoli, Sulkavan Suursoudut, WinTech Racing, Empacher, Blue Boat, Scullers Head of the River Race, May - Regatta, Thames Challenge Cup, Christiania RK, Sydney International Regatta Centre, Marlow Town Regatta and Festival, Bowloader, Levator Boatworks, Egham Regatta, Croker, Henley Women's Regatta, Vector training, Hazewinkel, Reading Town Regatta, Britannia Challenge Cup, Victoria Nolan, Marlow Regatta, Hudson Boatworks, Fawley Challenge Cup, Wedau, Janousek Racing Boats, Ormsund RK, Rate of striking, Henley Prize, Maidenhead Regatta, Vesta Veterans International Eights Head of the River Race, Stämpfli Express, Crew trailer, Nagaragawa International Regatta Course, Prince of Wales Challenge Cup, Wyfold Challenge Cup, Lausanne-Sports Aviron, Rowing Association of American Colleges, Queen Mother Challenge Cup, King of the Channel, Ten Eyck Trophy, Visitors' Challenge Cup, Remenham Challenge Cup, Princess Royal Challenge Cup, Peiron, Maria Magdalena Dumitrache, Zephyr. Excerpt: The Henley Boat Races are a number of rowing races between the University of Oxford and the University of Cambridge. Taking place on the River Thames at Henley, they are for crews that do not compete in the main University Boat Race on the 6,779m Championship Course in London: The races currently take place over a 2,000 m course, downstream - the opposite direction to the Henley Royal Regatta course - and finish halfway down Temple Island. Currently Cambridge have abandoned their Granta boat due to lack of funding. The 2011 event took place on Sunday 27th March. The Cambridge University Women's Boat Club was only founded in 1941, when Girton College became the second women's college to cater for rowing. Until that year, Cambridge was represented by Newnham College Boat Club. *The events until 1935 were not run as races, but were instead largely judged on style merit marks. For the first couple of races, the two crews were not allowed to be on the river at the same time The Double Sculls Challenge Cup is a rowing event for men's double sculls at the annual Henley Royal Regatta on the River Thames at Henley-on-Thames in England. It is open to male crews from all eligible rowing clubs. Two clubs may combine to make an entry. On the centenary of the regatta in 1939 a Centenary Double Sculls event ...
Sklep: Libristo.pl 101,94 zł
Książki / Literatura obcojęzyczna
Source: Wikipedia. Commentary (films not included). Pages: 78. Chapters: The Bridge on the River Kwai, The Thin Red Line, Empire of the Sun, Australia, The Pacific, Letters from Iwo Jima, Fires on the Plain, 1941, The Gallant Hours, Grave of the Fireflies, Merrill's Marauders, Merry Christmas, Mr. Lawrence, Never So Few, Too Late the Hero, South Pacific, Kokoda, Between Heaven and Hell, The Burmese Harp, Flying Tigers, Windtalkers, PT 109, Flying Leathernecks, The Proud and Profane, Heaven Knows, Mr. Allison, Objective, Burma!, Halls of Montezuma, The Great Raid, Ambush Bay, The Long and the Short and the Tall, Attack Force Z, American Guerrilla in the Philippines, Pride of the Marines, None But the Brave, Cry 'Havoc', Father Goose, Home of the Brave, King Rat, The Hill, Away All Boats, So Proudly We Hail!, South Sea Woman, The Girls of Pleasure Island, The Purple Heart, The Naked and the Dead, Sunset at Chaophraya, Leftenan Adnan, Beachhead, The Camp on Blood Island, To End All Wars, Three Came Home, Operation Bikini, Hell in the Pacific, Paradise Road, Junior G-Men of the Air, Beach Red, Battle Cry, Blood Oath, Shima, MacArthur, Paloh, Francis, Seven Women from Hell, Once Before I Die, When Taekwondo Strikes, Guadalcanal Diary, Hell to Eternity, China Girl, Women of Valor, Malaya, Back Door to Hell, Corregidor, Salute to the Marines, Thai Thief, No Man Is an Island, The Mountain Road, The Horizontal Lieutenant, Hong Kong 1941, Monkey on My Back, The Steel Claw, Saturday Island, First to Fight, Cry of Battle, The Extraordinary Seaman, The Deep Six. Excerpt: The Thin Red Line is a 1998 American war film which tells a fictional story of United States forces during the Battle of Guadalcanal in World War II. It portrays men in C Company, and in particular, those soldiers played by Jim Caviezel, Nick Nolte, and Ben Chaplin. The film marked director Terrence Malick's return to filmmaking after a 20-year absence. He wrote the screenplay based on the novel by James Jones. It features a large ensemble cast, including performances and cameos by notable actors, including Sean Penn, Adrien Brody, George Clooney, John Cusack, Jared Leto, and John Travolta. Reportedly, the first assembled cut took seven months to edit and ran five hours. By the final cut, all footage of the performances by Billy Bob Thornton, Martin Sheen, Gary Oldman, Bill Pullman, Lukas Haas, Jason Patric, Viggo Mortensen and Mickey Rourke had been removed. The film was scored by Hans Zimmer, with additional music from John Powell and shot by John Toll. While not successful at the North American box office, the film was popular elsewhere, grossing $98 million against its $52 million budget. Critical response was generally strong and the film was nominated for seven Academy Awards: Best Picture, Best Director, Best Adapted Screenplay, Best Cinematography, Best Film Editing, Best Original Score and Best in Sound Mixing. It won the top prize Golden Bear at the 1999 Berlin International Film Festival. Martin Scorsese ranked it as his second favorite film of the 1990s on At the Movies. Gene Siskel called it "the greatest contemporary war film I've seen." When the film opens, U.S. Army Private Witt (Jim Caviezel), is AWOL from his unit and living with Melanesian natives in the South Pacific. He is found and imprisoned on a troop carrier by his company First Sergeant, Welsh (Sean Penn). In Welsh's conversation with Witt, it is clear that the private is unenthusiastic abo...
Sklep: Libristo.pl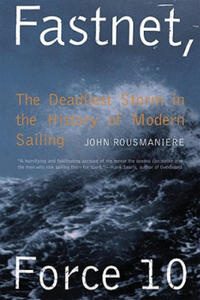 69,21 zł
Książki / Literatura obcojęzyczna
In August 1979, the 600-mile Fastnet Race, which began in fine weather off the Irish coast, became, for the men and women sailing it, a terrifying ordeal. A Force 10, 60-knot storm swept across the Atlantic, with a speed that confounded weathermen, into the fleet of 303 boats. For 24 hours, over 2500 men and women were smashed by 40-foot breaking waves. John Rousmaniere, who was there, tells the story of this great disaster in the history of yachting.
Sklep: Libristo.pl
Sklepy zlokalizowane w miastach: Warszawa, Kraków, Łódź, Wrocław, Poznań, Gdańsk, Szczecin, Bydgoszcz, Lublin, Katowice
Szukaj w sklepach lub całym serwisie
2. Szukaj na wszystkich stronach serwisu
t1=0.036, t2=0, t3=0, t4=0.02, t=0.036