krainaksiazek mentalization based treatment for personality disorders a practical guide 20052069
- znaleziono 5 produktów w 1 sklepie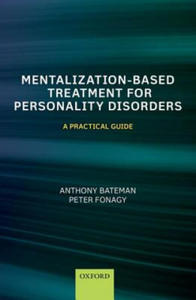 169,07 zł
Książki / Literatura obcojęzyczna
Loss of mentalizing leads to interpersonal and social problems, emotional variability, impulsivity, self-destructive behaviours, and violence. This practical guide on MBT treatment of personality disorders outlines the mentalizing model of borderline and antisocial personality disorders and how it translates into an effective clinical treatment.
Sklep: Libristo.pl 194,46 zł
Książki / Literatura obcojęzyczna
Imagery is one of the new, exciting frontiers in cognitive therapy. From the outset of cognitive therapy, its founder Dr. Aaron T. Beck recognised the importance of imagery in the understanding and treatment of patient's problems. However, despite Beck's prescience, clinical research on imagery, and the integration of imagery interventions into clinical practice, developed slowly. It is only in the past 10 years that most writing and research on imagery in cognitive therapy has been conducted. The Oxford Guide to Imagery in Cognitive Therapy is a landmark book, which will play an important role in the next phase of cognitive therapy's development. Clinicians and researchers are starting to recognise the centrality of imagery in the development, maintenance and treatment of psychological disorders - for example, in social phobia, agoraphobia, depression, PTSD, eating disorders, childhood trauma, and personality disorder. In the fields of cognitive psychology and cognitive neuroscience, researchers are identifying the key role that imagery plays in emotion, cognition and psychopathology. The Oxford Guide to Imagery in Cognitive Therapy has been written both for clinicians and researchers. For clinicians, it is a user-friendly, practical guide to imagery, which will enable therapists to understand imagery phenomenology, and to integrate imagery-based interventions into their cognitive therapy practice. For researchers, it provides a state-of-the-art summary of imagery research, and points the way to future studies. Written by three well-respected CBT researcher-clinicians, it is essential reading for all cognitive therapists, who have recognised the limitations of purely 'verbal' CBT techniques, and want to find new ways to work with clients with psychological disorders.
Sklep: Libristo.pl 280,31 zł
Książki / Literatura obcojęzyczna
Extensively updated to include clinical findings over the last two decades, this third edition of A Practitioner's Guide to Rational-Emotive Behavior Therapy reviews the philosophy, theory, and clinical practice of Rational Emotive Behavior Therapy (REBT). This model is based on the work of Albert Ellis, who had an enormous influence on the field of psychotherapy over his 50 years of practice and scholarly writing. Designed for both therapists-in-training and seasoned professionals, this practical treatment manual and guide introduces the basic principles of rational-emotive behavior therapy, explains general therapeutic strategies, and offers many illustrative dialogues between therapist and patient. The volume breaks down each stage of therapy to present the exact procedures and skills therapists need, and numerous case studies illustrate how to use these skills. The authors describe both technical and specific strategic interventions, and they stress taking an integrative approach. The importance of building a therapeutic alliance and the use of cognitive, emotive, evocative, imaginal, and behavioral interventions serves as the unifying theme of the approach. Intervention models are presented for the treatment of anxiety, depression, trauma, anger, personality disorders, and addictions. Psychologists, clinical social workers, mental health counselors, psychotherapists, and students and trainees in these areas will find this book useful in learning to apply rational-emotive behavior therapy in practice.
Sklep: Libristo.pl 1022,77 zł
Książki / Literatura obcojęzyczna
With its sixth edition, The American Psychiatric Publishing Textbook of Psychiatry, the definitive reference for students, residents, and clinicians, introduces a new generation of textbooks for the field. The only comprehensive psychiatry textbook to integrate all the new DSM-5(R) criteria, this acclaimed gold standard has been revised, updated, and restructured to serve as a practical, authoritative guide for a new era in psychiatric education and practice. Key features include the following: - The only comprehensive psychiatry textbook to be based on all the new DSM-5(R) criteria- Serves as a companion book to DSM-5(R) DSM-5(R) readers seeking to learn more about treatment can turn to the Textbook - Part II, which discusses psychiatric disorders, parallels exactly the organizational format of DSM-5(R)- 17 DSM-5(R) Task Force and Work Group members are chapter authors- More than 70 new authors, including the leading authorities in their specialties with outstanding expertise in research, education, and treatment- Concise yet comprehensive coverage of the topics most relevant to clinical practice- Six new chapters, including "DSM-5(R) as a Framework for Psychiatric Diagnosis," "Trauma- and Stressor-Related Disorders," "Neurodevelopmental Disorders," and "Mentalization Therapy"- The latest evidence-based findings and standards of care for assessment and development, psychiatric disorders, treatments, and special populations- "Key Clinical Points" at the end of each chapter- Designed so readers can easily find and acquire information- Streamlined, user-friendly format rich in easy-to-view features- Recommended Web sites and readings for clinicians and patients in every chapter- Ideal for psychiatry board preparation The American Psychiatric Publishing Textbook of Psychiatry, Sixth Edition, continues the tradition of leading the field as the most authoritative, inclusive, relevant, and practical reference available.
Sklep: Libristo.pl 267,69 zł
Książki / Literatura obcojęzyczna
Combining years of research, teaching, and experience treating trauma survivors, Dr. Jon G. Allen offers compassionate and practical guidance to understanding trauma and its effects on the self and relationships. Coping With Trauma is based on more than a decade of Dr. Allen's experience conducting educational groups for persons struggling with psychiatric disorders stemming from trauma. Written for a general audience, this book does not require a background in psychology. Readers will gain essential knowledge to embark on the process of healing from the complex wounds of trauma, along with a guide to current treatment approaches. In this supportive and informative work, readers will be introduced to and encouraged in the process of healing by an author who is both witness and guide. This clearly written, insightful book not only teaches clinicians about trauma but also, equally important, teaches clinicians how to educate their patients about trauma. Reshaped by recent developments in attachment theory, including the importance of cumulative stress over a lifetime, this compelling work retains the author's initial focus on attachment as he looks at trauma from two perspectives. From the psychological perspective, the author discusses the impact of trauma on emotion, memory, the self, and relationships, incorporating research from neuroscience to argue that trauma is a physical illness. From the psychiatric perspective, the author discusses various trauma-related disorders and symptoms: depression, posttraumatic stress disorder, and dissociative disorders, along with a range of self-destructive behaviors to which trauma can make a contribution. Important updates include substantive and practical information on -Emotion and emotion regulation, prompted by extensive contemporary research on emotionAwhich is becoming a science unto itself. -Illness, based on current developments in the neurobiological understanding of trauma. -Depression, a pervasive trauma-related problem that poses a number of catch-22s for recovery. -Various forms of self-destructivenessAsubstance abuse, eating disorders, and deliberate self-harmAall construed as coping strategies that backfire. -Suicidal states and self-defeating aspects of personality disorders. The author addresses the challenges of healing by reviewing strategies of emotion regulation as well as a wide range of sound treatment approaches. He concludes with a new chapter on the foundation of all healing: maintaining hope. This exceptionally comprehensive overview of a wide range of traumatic experiences, written in nontechnical language with extensive references to both classic and contemporary theoretical, clinical, and research literature, offers a uniquely useful guide for victims of trauma, their family members, and mental health care professionals alike.
Sklep: Libristo.pl
Sklepy zlokalizowane w miastach: Warszawa, Kraków, Łódź, Wrocław, Poznań, Gdańsk, Szczecin, Bydgoszcz, Lublin, Katowice
Szukaj w sklepach lub całym serwisie
2. Szukaj na wszystkich stronach serwisu
t1=0.035, t2=0, t3=0, t4=0, t=0.035