krainaksiazek microsoft azure planning deploying and managing your data center in the cloud 20051923
- znaleziono 7 produktów w 1 sklepie 248,27 zł
Książki / Literatura obcojęzyczna
This book will help you understand the capabilities of Microsoft Hyper-V, architect a Hyper-V solution for your datacenter, plan a deployment/migration, and then manage it all using native tools and System Center. Coverage also includes hybrid cloud scenarios specifically with Windows Azure to complete the full virtualization piece of providing data both on premise and off premise. In addition, you will explore the Windows Azure capabilities for virtual machines and managing a hybrid cloud, including Windows Azure's Internet as a Service (IaaS) and storage capabilities, how seamless management is possible with PowerShell and System Center, plus how Azure Storage can play a part in a company's complete solution. Key topics covered include: virtualization fundamentals, network virtualization, storage configuration, Hyper-V management and maintenance, failover clustering and migration, Hyper-V replica and cloud orchestration, private cloud implementation, Azure IaaS, Azure storage, managing with PowerShell, Hyper-V decoding, and Windows Server 2012 R2 integration.
Sklep: Libristo.pl 120,18 zł
Książki / Literatura obcojęzyczna
Learn the basics of Microsoft Azure and understand how SQL Server on Azure VMs (Infrastructure-as-a-Service) and Azure SQL Databases (Platform-as-a-Service) work. This book shows you how to deploy, operate, and maintain your data using any one or a combination of these offerings along with your on-premise environment. You will find out why it is all very different, but at the same time all so familiar.§§Pro SQL Server on Microsoft Azure is a quintessential book for any IT professional who is planning to host their data on Microsoft Azure. This book will not only equip you with the tips, tricks, and tools to manage SQL Server offerings on Azure but also help you in deciding between PaaS, IaaS, or hybrid.§§It can be a daunting task when you are responsible for deciding whether to go with Platform-as-a-Service or Infrastructure-as-a-Service or even hybrid or maybe even a combination of all of these. These are decisions which could give you headaches which no medicines can cure. Once you have deployed to the cloud, you will learn that the biggest challenge is yet to come. The world of operations as you knew it has been turned upside down. This is precisely why this book was written. We will help you understand why things are different in today's cloud world. At the same time, we clear up the clouds for smooth operational flying.§§What You'll Learn§§Understand the Microsoft Azure IaaS architecture§Work with Azure Storage and Networking §Deploy SQL Server on Azure VMs using best practices§Apply effective security principles to SQL Azure Databases§Measure and optimize the performance of SQL Server offerings on Azure§Implement Business continuity and disaster recovery options with Azure SQL Databases Who This Book Is For §This book is for IT admins and SQL Server DBAs who are managing or would be managing SQL Server deployments on Microsoft Azure.§§v
Sklep: Libristo.pl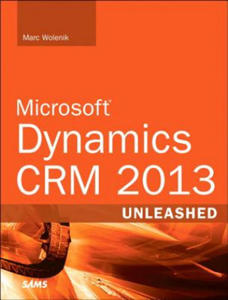 238,21 zł
Książki / Literatura obcojęzyczna
Microsoft(R) Dynamics CRM 2013 Unleashed presents start-to-finish guidance for planning, customizing, deploying, integrating, managing, and securing both cloud and on-premise based versions of Dynamics CRM. Leading Dynamics implementer Marc Wolenik fully covers Microsoft Dynamics CRM 2013, Microsoft Dynamics CRM Online Fall '13, and many features first introduced in Microsoft's "Polaris" and Update Rollup 12. You'll find thorough coverage of Dynamics' revamped "Flow" interface and advanced cross-platform mobile client support. Extensive new coverage also includes: Business Process Flows, Portable Business Logic, reporting and forms improvements, server-side email synchronization, MarketingPilot, NetBreeze, Yammer, and much more. Drawing on extensive insider knowledge, Wolenik presents proven best practices and pitfalls to avoid in using every significant Dynamics CRM 2013 capability-information available in no other book. Marc J. Wolenik, is CEO of Webfortis, a Microsoft Gold Customer Relationship Management Competency Partner that specializes in delivering Microsoft Dynamics CRM/xRM solutions for companies of all sizes. Learn from experience and dive deep into CRM technologies that cross almost every industry and vertical. His books include Microsoft Dynamics CRM 2011 Unleashed, Microsoft CRM 4 Unleashed, and Microsoft CRM 4 Integration Unleashed. Detailed information on how to...* Compare on-premise and cloud versions of Dynamics CRM, make your best choice, and deploy painlessly * Use the advanced configuration and customization options that offer you the most value * Take full advantage of Dynamics CRM's new flow interface and productivity shortcuts * Learn about new add-on features for Dynamics, including MarketingPilot, NetBreeze, and Yammer * Personalize dashboards, activities, calendars, data import/export, and more * Manage leads, opportunities, accounts, contacts, marketing lists, collateral, campaigns, quotes, orders, and invoices * Integrate schedules, cases, contacts, and product/service information * Build powerful automated workflows, processes, and complete solutions * Deliver CRM applications to smartphones and tablets, including iOS devices * Provide watch lists, automatic alerts, and other sales help through InsideView Social Insights * Extend Dynamics CRM with custom plug-ins and add-ons * Integrate Dynamics CRM 2013 with SharePoint, Azure, SQL Server, SRSS, Visual Studio, and .NET Framework ON THE WEB: Download all examples and source code presented in this book from informit.com/title/9780672337031 as it becomes available
Sklep: Libristo.pl 196,34 zł
Cloud 2.0 O'Reilly Media, Inc, USA
Książki / Literatura obcojęzyczna
Whether you're planning or just starting to think about your long-term cloud strategy, this practical book will help you evaluate existing public and private cloud technologies and service providers. Author James Bond, Chief Technologist for Hewlett Packard Enterprise Services, shows business and IT executives how to adopt cloud services and transform from traditional managed data center services to a service-oriented cloud environment. You'll learn real-world lessons in operations, security, billing/financials, application transformation, and deployment.Gain real-world guidance for planning, deploying, and managing IT in a cloud-computing environmentUse best practice checklists based on lessons learned in cloud adoptionLearn about cloud from the perspective of a consumer and as an owner/operator of your own private or hybrid cloudGet updated definitions and trends in cloud computing, deployment models, and how to build or buy cloud servicesUnderstand hybrid cloud computing and the future of data center modernization
Sklep: Libristo.pl 333,17 zł
Książki / Literatura obcojęzyczna
Cisco Unified Contact Center Enterprise (UCCE) The complete guide to managing UCCE environments: tips, tricks, best practices, and lessons learned Gary Ford Cisco Unified Contact Center Enterprise (UCCE) integrates multiple components and can serve a wide spectrum of business requirements. In this book, Gary Ford, an experienced Cisco UCCE consultant brings together all the guidance you need to optimally configure and manage UCCE in any environment. The author shares in-depth insights covering both the enterprise and hosted versions of UCCE. He presents an administrator's view of how to perform key UCCE tasks and why they work as they do. He thoroughly addresses application configuration, agents, scripting, IVR, dial plans, UCM, error handling, reporting, metrics, and many other key topics. You'll find proven, standardized configuration examples that help eliminate errors and reduce downtime, step-by-step walkthroughs of several actual configurations, and thorough coverage of monitoring and troubleshooting UCCE systems. Cisco Unified Contact Center Enterprise (UCCE) is an indispensable resource to help you deploy and operate UCCE systems reliably and efficiently. Gary Ford has spent more than 13 years designing, deploying, and maintaining Cisco telephony and contact center solutions together with several of the world's largest systems integration companies, Cisco ATPs, and customers. He was first introduced to contact centers in 1997 while working for British Telecom (BT) as a test engineer tasked with integrating the GeoTel ICR platform into BT's core telephony network. After Cisco acquired GeoTel, Ford's role evolved to include broader Cisco contact center and unified communications consulting. He holds a bachelor's of engineering degree in computer systems engineering, the status of Chartered Engineer, and several Cisco, Microsoft, and business-related professional qualifications. * Understand the Cisco Unified Contact Center product portfolio and platform architecture * Choose the right single-site, multi-site, or clustered deployment model for your environment * Take a lifecycle services approach to UCCE deployment and application configuration--including preparation, planning, design, and implementation * Implement traditional, current-generation, and next-generation call routing * Master the latest best practices for call flow scripting * Understand UCCE's nodes and distributed processes and build a clean system startup sequence * Design, implement, and deliver unified CM/IP IVR solutions * Set up and efficiently manage UCCE databases * Make the most of UCCE's reporting tools * Create advanced applications with Data-Driven Routing * Effectively maintain any UCCE deployment, including older versions * Use a best-practice methodology for troubleshooting, and master valuable, little-known Cisco diagnostic tools This IP communications book is part of the Cisco Press(R) Networking Technology Series. IP communications titles from Cisco Press help networking professionals understand voice and IP telephony technologies, plan and design converged networks, and implement network solutions for increased productivity.
Sklep: Libristo.pl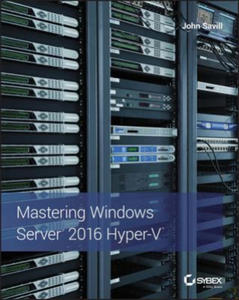 248,27 zł
Książki / Literatura obcojęzyczna
Build a seamless, flexible, full-service datacenter solution Microsoft Windows Server 2016 Hyper-V is the IT administrator's guide to this rising datacenter solution. Hyper-V has already surpassed VMWare in datacenter management, identity service for multiple devices, and more; this book shows you how to harness the power of this hypervisor to simplify the infrastructure, reduce costs, improve productivity, and better manage system resources. From a tour of the technology through architecture, deployment, and integration of System Center, Microsoft Azure, and Microsoft Azure Stack, the discussion illustrates the skills you need to create a complete solution for optimum enterprise management. Coverage includes Windows Azure capabilities for virtual machines, managing a hybrid cloud, IaaS, storage capabilities, PowerShell, and more, with practical real-world guidance from a leading authority in the field. Hyper-V has recently undergone improvements in scalability and features that have positioned it as an ideal solution in the Small/Medium Business and Enterprise markets. This book shows you how to exploit these new capabilities to build a robust data solution for your organization. * Discover the capabilities of Microsoft Hyper-V * Architect a Hyper-V datacenter solution * Plan and manage a deployment or migration * Integrate complementary technologies for full scalability Data is everywhere--on desktops, laptops, phones, and multiple operating systems, accessed through email, text messages, web searches, online services, and more. All of this data must be stored, accessible, updated, backed up, secured, managed, sorted, and analyzed--sometimes instantly. Hyper-V is the rising star in the virtualization space, and Microsoft Windows Server 2016 Hyper-V shows you how to turn greater capabilities into better datacenter solutions.
Sklep: Libristo.pl 205,74 zł
Książki / Literatura obcojęzyczna
Trust the bestselling Official Cert Guide series from VMware Press to help you learn, prepare, and practice for VCP5 exam success. They are the only VMware authorized self-study books and are built with the objective of providing assessment, review, and practice to help ensure you are fully prepared for your certification exam. **Note to readers** In March 2013 VMware renamed the VCP5 (VMware Certified Professional on vSphere 5) to VCP5-DCV (VMware Certified Professional on vSphere 5 - Data Center Virtualization). The Official VCP5 Certification Guide presents you with an organized test preparation routine through the use of proven series elements and techniques. "Do I Know This Already?" quizzes open each chapter and enable you to decide how much time you need to spend on each section. Exam topic lists make referencing easy. Chapter-ending Exam Preparation Tasks help you drill on key concepts you must know thoroughly. * Master VMware VCP510 exam topics * Assess your knowledge with chapter-opening quizzes * Review key concepts with exam preparation tasks * Practice with realistic exam questions on the DVD The Official VCP5 Certification Guide focuses specifically on the objectives for the VCP510 VMware Certified Professional on vSphere 5. VMware Certified Instructor (VCI) Bill Ferguson shares preparation hints and test-taking tips, helping you identify areas of weakness and improve both your conceptual knowledge and hands-on skills. Material is presented in a concise manner, focusing on increasing your understanding and retention of exam topics. The companion DVD contains a powerful Pearson IT Certification Practice Test engine that enables you to focus on individual topic areas or take a complete, timed exam. The assessment engine also tracks your performance and provides feedback on a module-by-module basis, laying out a complete assessment of your knowledge to help you focus your study where it is needed most. Well-regarded for its level of detail, assessment features, comprehensive design scenarios, and challenging review questions and exercises, this official study guide helps you master the concepts and techniques that will enable you to succeed on the exam the first time. The official study guide helps you master all the topics on the VCP510 exam, including: * Understanding how virtualization can best be integrated into today's real-world IT environments * Recognizing what to change, and what to leave alone * Planning, installing, configuring, and upgrading vCenter Server and VMware ESXi Planning and configuring vSphere networking and storage * Deploying and Administering Virtual Machines and vApps * Establishing and Maintaining Service Levels * Performing basic troubleshooting * Monitoring vSphere implementations * Managing vCenter Server alarms * Preparing for the future of VMware virtualization The Official VCP5 Certification Guide is part of a recommended learning path from VMware that includes simulation and hands-on training from authorized VMware instructors and self-study products from VMware Press. To find out more about instructor-led training, e-learning, and hands-on instruction offered worldwide, please visit www.vmware.com/training. Pearson IT Certification Practice Test minimum system requirements: Windows XP (SP3), Windows Vista (SP2), or Windows 7; Microsoft .NET Framework 4.0 Client; Microsoft SQL Server Compact 4.0; Pentium class 1GHz processor (or equivalent); 512 MB RAM; 650 MB disc space plus 50 MB for each downloaded practice exam Also available from VMware Press for VCP5 study is The Official VCP5 Certification Guide Premium Edition eBook and Practice Test available exclusively from pearsonITcertification.com. This digital-only certification preparation product combines an eBook with enhanced Pearson IT Certification Practice Test. This integrated learning package: * Allows you to focus on individual topic areas or take complete, timed exams * Includes direct links from each question to detailed tutorials to help you understand the concepts behind the questions * Provides unique sets of exam-realistic practice questions * Tracks your performance and provides feedback on a module-by-module basis, laying out a complete assessment of your knowledge to help you focus your study where it is needed most
Sklep: Libristo.pl
Sklepy zlokalizowane w miastach: Warszawa, Kraków, Łódź, Wrocław, Poznań, Gdańsk, Szczecin, Bydgoszcz, Lublin, Katowice
Szukaj w sklepach lub całym serwisie
2. Szukaj na wszystkich stronach serwisu
t1=0.035, t2=0, t3=0, t4=0, t=0.035