krainaksiazek minority politics in the punjab 20106842
- znaleziono 9 produktów w 3 sklepach 93,84 zł
Książki / Literatura obcojęzyczna
Seminar paper from the year 2013 in the subject Politics - International Politics - Region: Near East, Near Orient, grade: 1,0, University of Potsdam, language: English, abstract: The Tyranny of the Minority: The effectiveness of policy making in Israel.§Introduction to Israel s Political System§As a fledgling nation facing a unique set of social challenges and physical threats, the democracy of Israel was created in an incredibly volatile environment. Nonetheless, in certain respects Israeli democracy has shown itself to be remarkably stable for example, not once in Israel s sixty-five year history have the results of a major election been challenged. In other respects, however, Israeli democracy has presented itself as fundamentally unstable and subject to perpetual inefficiency. This is further exacerbated by the fact that unlike most Western democracies, the state of Israel lacks a formal constitution; instead, Israel has passed a set of Basic Laws intended to fill the gap. One symptom of this perpetually unstable condition is the frequency in which Israel changes the makeup of its governing coalitions in Israel s brief history of sixty-five years, there have been thirty-one different governments. The question becomes, to what extent is such an erratic democracy able to set policy and govern effectively? In what follows, this question will be analyzed thoroughly, with an emphasis placed on the role that Israel s multiparty political system plays in this process. §The political system in Israel is a parliamentary system based strictly on proportional representation. This was a system Israel adopted in the aftermath of the period of the British Mandate in order to accommodate the starkly different social, political and religious groups and particularly the vast waves of immigrants that composed its population. In Israel s parliamentary system, a party receives seats in the Knesset in proportion to the number of votes that they received in the legislative elections. Keeping in line with an accepted principle in political science known as Dueverger s law , this is a political system which tends to promote the existence of many parties, and Israeli democracy can serve as the poster child for this theory. In Israel s most recent legislative elections in January of 2013, thirty-four different parties were represented on the ballot, twelve of which passed the 2% electoral threshold and are currently sitting in the Knesset. §The political system in Israel is further complicated by the complex interplay between the diverse religious, economic, political and social groups it possesses...
Sklep: Libristo.pl 45,42 zł
Książki / Literatura obcojęzyczna
John Griffiths delves into the history, culture, social fabric, internal politics and economy of this intriguing and backward country. He reveals a nation living in the shadow of perpetual conflict: from the early incursions (Persian, Greek, and Hun Mongol) through the Russian invasion and subsequent withdrawal, to the rise of the Taliban and the resulting international crisis which led to the War on Terror and the ongoing Allied occupation of the country. Set against Afghanistan's deep-rooted religious, ethnic and social divisions and the more recent bitter civil war that left as many as 2 million Afghans dead and over 6 million homeless, Griffiths examines the political situation, in particular the role of the Taliban - who controlled approximately 90 per cent of the country before the war - under their fanatical and reclusive leader. He analyses their stance on minority groups, the importance of Islam, the place of women in Taliban society, their views on education and their support for the Islamic fundamentalist Osama bin Laden. He also discusses the difficulties that the West has and will continue to face when attempting to impose law and order on a country which has as its core a collection of diverse, independent and proud people, and stresses the importance of ultimately creating stability in what is becoming a vitally important strategic and political flashpoint. Fully updated, "Afghanistan: Land of Conflict and Beauty" provides an insightful and informative account of a country trapped between the middle ages and the twentieth-first century.
Sklep: Libristo.pl 54,10 zł
Inne 1
The Third Reich in Power examines how it was possible for a group of ideological obsessives to remould a society famous for its sophistication and complexity into a one-party state directed at war and race hate.  Richard J. Evans shows how the Nazis won over the hearts and minds of German citizens, twisted science, religion and culture, and transformed the economy, education, law and order to achieve total dominance in German politics and society.  Drawing on an extraordinary range of research, blending narrative, description and analysis he creates a picture of a dictatorship consumed by visceral hatreds and ambitions, and driven by war. 'Authoritative history... impressive sweep... This essential book comes as a stark reminder, should we need one, of how much freedom a people is prepared to give away in a political climate dominated by fear.' Daily Telegraph Extract from The Third Reich in Power, 1933-1939 by Richard J. Evans Despised minorities were, to be sure, put in the concentration camps; but to focus exclusively on this ignores the much larger number of political and other deviants condemned by the courts and put in state prisons and penitentiaries.  The further in time we get from Nazi Germany, the more difficult it becomes for historians living in democratic political systems and in cultures which respect the rights of the individual to make the leap of imagination necessary to understand people's behaviour in a state such as Nazi Germany, where imprisonment, torture or even death might await anyone who dared to voice the slightest criticism of the regime and its leaders.  Those who approved of such repression were in all likelihood a minority, active supporters and functionaries of the Party like the Block Wardens, and a good number of middle- and upper-class, conservative Germans who thought the best place for Marxists to be was in prison anyway.  Even they, however, knew well enough that they had to be careful about what they said and did, and the dangers of not doing so became abundantly clear once opposition began to spread among these groups too.  The shots that killed Kurt von Schleicher, Herbert von Bose, Edgar Jung, Gustav von Kahr, Erich Klausener and Kurt von Bredow at the beginning of July 1934 were also a warning to upper- and middle-class conservatives to keep their heads down if they did not want them to be blown off. Ordinary conservative citizens like Luise Solmitz, who harboured no thoughts of political activism, may have turned aside from the bleak fact of the regime's willingness to murder its opponents, revealed so starkly in late June and early July 1934, in their relief that the order they craved had been restored; to such people, Röhm's stormtroopers seemed as great a menace as the Reichsbanner or the Red Front-Fighters' League of the Weimar years.  Yet behind closed doors they cannot have been oblivious to the fate of the conservative clique around Vice-Chancellor von Papen.  It was not only the third or so of the population who had been committed to the Marxist left before 1933 that was subject to massive intimidation.  Indeed, scarcely had the murderous violence of the 'Night of the Long Knives' receded, than an even larger minority than the Marxists, that of the German Catholics, began to be prosecuted and imprisoned as they gave vent to their increasingly critical views of the regime in public.  More general still were measures such as the Law on Malicious Gossip, which clamped down on the most trivial expressions of dissent and put people who told jokes about Hitler and Göring in prison.  These were mainly members of the German working class, it is true, but the working class after all made up around half the entire population, and middle- and even upper-class offenders in this respect were brought before the Special Courts as well.  Successful prosecutions under this law were a further instrument of mass intimidation, adding to the general climate of fear and helping to create the spiral of silence in which the regime could commit ever greater crimes without fear of public censure or opposition. The truth is that far from Nazi terror being levelled exclusively against small and despised minorities, the threat of arrest, prosecution and incarceration in increasingly brutal and violent conditions loomed over everyone in the Third Reich, even, as we have seen in the cases brought before the Special Courts, over members of the Nazi Party itself.  The regime intimidated Germans into acquiescence, visiting a whole range of sanctions upon those who dared to oppose it, systematically disorienting people, and depriving them of their traditional social and cultural milieux, such as the pub or the club or the voluntary association, above all where these could be seen as a potential source of resistance, as in the case of the labour movement.  Fear and terror were integral parts of the Nazis' armoury of political weapons from the very beginning.  The state and the Party could use them because within a few months of Hitler's appointment as Reich Chancellor, they had systematically deprived all Germans of virtually every basic human and civil right they had enjoyed under the Weimar Republic.  The law was no protection against the state if the state or any of its agencies suspected that a citizen was disinclined to demonstrate approval of its policies and purposes.  On the contrary, vast numbers of new, often draconian laws were decreed that gave the police, the Gestapo and the SS a virtual carte blanche to deal with anyone suspected of deviating from the norms of human behaviour laid down by the Third Reich for its citizens.  In this situation, it was not surprising that ordinary people and lower-level officials of the Nazi Party began to reinforce the atmosphere of pervasive terror and intimidation by sending their own unsolicited denunciations of deviants to the Gestapo. At the same time, the Gestapo was only one part of a much wider net of surveillance, terror and persecution cast by the Nazi regime over German society in the 1930s; others included the SA and SS, the Criminal Police, the prison service, the social services and employment offices, the medical profession, health centres and hospitals, the Hitler Youth, the Block Wardens and even apparently politically neutral organizations like tax offices, the railway and the post office.  All of these furnished information about deviants and dissidents to the Gestapo, the courts and the prosecution service, forming a polymorphous, uncoordinated but pervasive system of control in which the Gestapo was merely one institution among many.  Everything that happened in the Third Reich took place in this pervasive atmosphere of fear and terror, which never slackened and indeed became far more intense towards the end.  'Do you know what fear is?' an elderly worker asked an interviewer some years after it was all over:  'No. The Third Reich was fear.'  Yet terrorism was only one of the Third Reich's techniques of rule.  For the Nazis did not just seek to batter the population into passive, sullen acquiescence.  They also wanted to rouse it into positive, enthusiastic endorsement of their ideals and their policies, to change people's minds and spirits and to create a new German culture that would reflect their values alone.  This meant propaganda, and here too, as we shall now see, they went to unprecedented lengths to achieve their aims.
Sklep: Albertus.pl 169,96 zł
Książki / Literatura obcojęzyczna
Using Political Ideas is a unique blend of political philosophy, political theory and history of political thought. It combines a critique of the major ideologies of recent and contemporary society with an analysis of the ideas that form the very stuff of political debate. By exposing the interplay between ideas and ideologies, it shows why political opponents often speak at cross-purposes and why rational agreement is so hard to achieve in politics. The sixth edition of this well-respected and widely known text will be welcomed by those interested in questions such as: Is equality more important than personal freedom? Does the majority have the right to dictate to the minority in multicultural society? Is nationalism a progressive force in the world? Politics does not stand still, there are always new controversies and ideological conflicts and the climate of discussion changes. The sixth edition of this best-selling book is fully updated and includes a new chapter on authoritarian ideologies to reflect the growing extreme right-wing politics in parts of Europe. This edition also provides a variety of new learning features, a comprehensive glossary, detailed lists of further reading and a list of questions for discussion.
Sklep: Libristo.pl 40,80 zł
Literatura faktu
'Only with the greatest of simplifications, for the sake of convenience, can we say Africa. In reality, except as a geographical term, Africa doesn't exist'. Ryszard Kapuscinski has been writing about the people of Africa throughout his career. In a study that avoids the official routes, palaces and big politics, he sets out to create an account of post-colonial Africa seen at once as a whole and as a location that wholly defies generalised explanations. It is both a sustained meditation on the mosaic of peoples and practises we call 'Africa', and an impassioned attempt to come to terms with humanity itself as it struggles to escape from foreign domination, from the intoxications of freedom, from war and from politics as theft. The Beginning: Collision, Ghana 1958 More than anything, one is struck by the light. Light everywhere. Brightness everywhere. Everywhere, the sun. Just yesterday, an autumnal London was drenched in rain. The airplane drenched in rain. A cold, wind, darkness. But here, from the morning
Sklep: Albertus.pl 493,91 zł
Książki / Literatura obcojęzyczna
Society and contemporary culture seem forever fascinated by the topic of time. In modern fiction, Ian McEwan (The Child in Time) and Martin Amis (Time's Arrow) have led the way in exploring the human condition in relation to past, present and future. In cinema, several cultural texts (Memento, Minority Report, The Hours) have similarly reflected a preoccupation with temporality and human experience. And in the sphere of politics, debates about the 'end of history', prompted by Francis Fukuyama, indicate that how we live is deeply determined by our relationship not only to place but also to the passing of time. But what did the ancients think about time? Is our interest in chronology a relatively recent phenomenon? Or does it go further back? In his major new work, Duncan Kennedy indicates that our own fascination with time-reckoning is by no means unique. Discussing a number of key texts (such as Homer's Odyssey; Sophocles' Oedipus Rex; Virgil's Aeneid; and Ovid's Metamophoses) and imaginatively setting these side-by-side with modern works (such as Sterne's Tristram Shandy and Joyce's Ulysses), he shows that, from era to era, and in different ways, human beings have uniformly striven to understand the unfolding of history and their relationship to it.
Sklep: Libristo.pl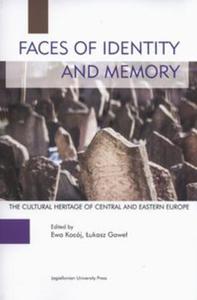 35,50 zł
Książki
Cultural Heritage of Central and Eastern Europe is still little known, but is increasingly being exposed as an area for scientific research. This region of Europe has experienced exceptional historical events in the twentieth century. Along the majority societies associated with different states, there lived communities of the minority and stateless, torn by totalitarian regimes of the previous century. The politics of assimilation aimed at the national, ethnic, and religious minorities has taken an enormous toll on their cultural heritage. The empty, devastated Jewish synagogues, Orthodox, Greek and Roman Catholic churches serving as warehouses are still to be seen on these lands. We encounter fallen mansions or houses abandoned in a hurry of those who once lived their life in a colourful multicultural reality of the borderland. The fall of communism in this part of Europe has restored the memory of the ?absent? and triggered activities to rescue their tangible and intangible cultural heritage. In Central-Eastern Europe, the passing decades have been characterized by many interesting and new projects created within the framework of the forgotten and uncomfortable heritage, undertaken by many public, self-government, private and non-profit institutions They are supported by the organizers and implementers of culture, as well as regional activists and enthusiasts who realize there will be a big void in the history and collective memory of this region if the minorities? heritage is to disappear. The monograph includes papers from international researchers tackling various issues on cultural heritage and its management. They present multiple involvements of this area of culture within different European countries? politics or ideology.Ewa Kocój, Introduction
Sklep: Booknet.net.pl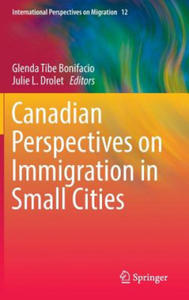 435,67 zł
Książki / Literatura obcojęzyczna
This book examines immigration to small cities throughout Canada. It explores the distinct challenges brought about by the influx of people to urban communities which typically have less than 100,000 residents. §§The essays are organized into four main sections: partnerships, resources, and capacities; identities, belonging, and social networks; health, politics, and diversity, and Francophone minority communities. Taken together, they provide a comprehensive, multi-disciplinary perspective on the contemporary realities of immigration to small urban locations.§§Readers will discover how different groups of migrants, immigrants, and Francophone minorities confront systemic discrimination; how settlement agencies and organizations develop unique strategies for negotiating limited resources and embracing opportunities brought about by changing demographics; and how small cities work hard to develop inclusive communities and respond to social exclusions.§§In addition, each essay includes a case study that highlights the topic under discussion in a particular city or region, from Brandon, Manitoba to the Thompson-Nicola Region in British Columbia, from Peterborough, Ontario to the Niagara Region.§§As a complement to metropolitan-based works on immigration in Canada, this collection offers an important dimension in migration studies that will be of interest to academics, researchers, as well as policymakers and practitioners working on immigrant integration and settlement.§
Sklep: Libristo.pl 170,75 zł
Książki / Literatura obcojęzyczna
Linguistic Minorities in Democratic Context, now in paperback for the first time, blends a discussion of the role of language minorities in politics with a detailed understanding of applied language policy in a variety of contexts ranging from Quebec, the Basque Country and Wales to Gaelic Scotland and Northern Ireland. Colin Williams discusses the controversial and contemporary issues of minority rights and language protection, the policies of the state in privileging powerful majorities, the new opportunities and challenges ushered in by regional-level devolution in Europe and the influence which globalization has on language competition and survival. He argues that after centuries of discrimination, well placed linguistic minorities are in positions of power and influence and must devise new strategies and justification to cope with the demands of responsible government. His analysis provides a fresh interpretation of the role of minorities within plurinational states and poses difficult questions for the framers of policies which seek to promote unity in diversity in both Europe and North America.
Sklep: Libristo.pl
Sklepy zlokalizowane w miastach: Warszawa, Kraków, Łódź, Wrocław, Poznań, Gdańsk, Szczecin, Bydgoszcz, Lublin, Katowice
Szukaj w sklepach lub całym serwisie
2. Szukaj na wszystkich stronach serwisu
t1=0.083, t2=0, t3=0, t4=0.029, t=0.084