krainaksiazek modern labor economics 20100939
- znaleziono 13 produktów w 4 sklepach 473,90 zł
Książki / Literatura obcojęzyczna
Reflections on the State of the Art in Labor Economics 3 William Darity, Jr. /I 21 ESSAYS 1 The Methodology and Practice of Modern Labor 23 Economics: A Critique Rhonda M. Williams 2 Discrimination Against Women: Theory and Evidence 53 Francine D. Blau 3 Theoretical Explanations of the Persistence of Racial 91 Unemployment Differentials Julianne Malveaux 4 The Effect of Racial Differences in Background 119 on Schooling: A Survey Linda P. Datcher 5 133 Occupational Safety and Health Regulation and Economic Theory William T. Dickens v vi CONTENTS 6 Structure, Process, and the Labor Market 175 Samuel Friedman 7 The Phillips Curve Controversy and Orthodox 219 Visions of the Labor Market Kathryn E. Allen 11/ COMMENTS 239 Comment on Chapters by Blau and Datcher 241 Saul D. Hoffman Labor Economics, Preferences, and the 257 Rationality Assumption: A Comment on Blau, Dickens, and Malveaux Samuel L. Myers, Jr. Occupational Safety and Health Regulation and 269 Economic Theory: A Comment Stephen A. Woodbury A Comment on the Market in Labor Power 279 Paul Zarembka Author Index 285 Subject Index 289 Contributing Authors 295 I INTRODUCTION REFLECTIONS ON THE STATE OF THE ART IN LABOR ECONOMICS William Darity, Jr. Preliminary Remarks As Rhonda Williams observes in the lead chapter in this volume, modern labor economics has become, for the most part, an extensive branch of ap plied microeconomics. Williams' observation has been echoed by Paul McNulty (pp.
Sklep: Libristo.pl 330,16 zł
Książki / Literatura obcojęzyczna
For one-semester courses in labor economics at the undergraduate and graduate levels An overview of labor market behavior that emphasizes how theory drives public policy Modern Labor Economics: Theory and Public Policy, Twelfth Edition gives students a thorough overview of the modern theory of labor market behavior, and reveals how this theory is used to analyze public policy. Designed for students who may not have extensive backgrounds in economics, the text balances theoretical coverage with examples of practical applications that allow students to see concepts in action. Experienced educators for nearly four decades, co-authors Ronald Ehrenberg and Robert Smith believe that showing students the social implications of the concepts discussed in the course will enhance their motivation to learn. As such, the text presents numerous examples of policy decisions that have been affected by the ever-shifting labor market. This text provides a better teaching and learning experience-for you and your students. It will help you to: * Demonstrate concepts through relevant, contemporary examples: Concepts are brought to life through analysis of hot-button issues such as immigration and return on investment in education. * Address the Great Recession of 2008: Coverage of the current economic climate helps students place course material in a relevant context. * Help students understand scientific methodology: The text introduces basic methodological techniques and problems, which are essential to understanding the field. * Provide tools for review and further study: A series of helpful in-text features highlights important concepts and helps students review what they've learned.
Sklep: Libristo.pl 419,99 zł
Książki Obcojęzyczne>Angielskie>Economics, finance, business & management>Economics>Labour economics
Sklep: Gigant.pl 135,37 zł 670,16 zł
Książki / Literatura obcojęzyczna
This Handbook brings together a systematic review of the research topics, empirical findings, and methods that comprise modern labor economics. It serves as an introduction to what has been done in this field, while at the same time indicating possible future trends which will be important in both spheres of public and private decision-making. Part I is concerned with the classic topics of labor supply and demand, the size and nature of the elasticities between the two, and their impact on the wage structure. This analysis touches on two fundamental questions: what are the sources of income inequality, and what are the disincentive effects of attempts to produce a more equal income distribution? The papers in Part II proceed from the common observation that the dissimilarity in worker skills and employer demands often tempers the outcomes that would be expected in frictionless labor markets. And the last section of the Handbook deals explicitly with the role of institutional structures (e.g. trade unions) that now form an important part of modern labor economics.
Sklep: Libristo.pl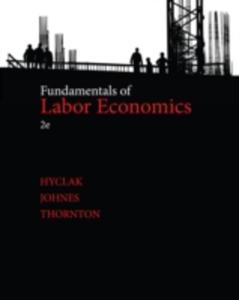 1949,99 zł
Książki Obcojęzyczne>Angielskie>Economics, finance, business & management>Economics>Labour economics
Covers The Essential Aspects Of Modern Labor Economics From An International Perspective. This Title Provides Numerous Examples, Key Terms, And Class-tested End-of-chapter Questions.
Sklep: Gigant.pl 419,99 zł
Książki Obcojęzyczne>Angielskie>Economics, finance, business & management>Finance & accounting>Finance>Public finance>TaxationKsiążk...
Presents Richard Blundell's Outstanding Research On The Modern Economic Analysis Of Labour Markets And Public Policy Reforms And Brings Together, In Revised And Integrated Form, A Number Of The Author's Key Papers.
Sklep: Gigant.pl 242,80 zł
Biznes
The second edition of this well-received text blends coverage of traditional topics with modern theory and developments into a superb text by one of our top Labor Economists. The author's current experience at the Kennedy School of Government allows him to incorporate new policy examples and a leaner presentation of the theory.
Sklep: Albertus.pl 1143,90 zł
Książki / Literatura obcojęzyczna
The basic characteristic of Modern Linear and Nonlinear Econometrics is that it presents a unified approach of modern linear and nonlinear econometrics in a concise and intuitive way. It covers four major parts of modern econometrics: linear and nonlinear estimation and testing, time series analysis, models with categorical and limited dependent variables, and, finally, a thorough analysis of linear and nonlinear panel data modeling. Distinctive features of this handbook are:§-A unified approach of both linear and nonlinear econometrics, with an integration of the theory and the practice in modern econometrics. Emphasis on sound theoretical and empirical relevance and intuition. Focus on econometric and statistical methods for the analysis of linear and nonlinear processes in economics and finance, including computational methods and numerical tools.§-Completely worked out empirical illustrations are provided throughout, the macroeconomic and microeconomic (household and firm level) data sets of which are available from the internet; these empirical illustrations are taken from finance (e.g. CAPM and derivatives), international economics (e.g. exchange rates), innovation economics (e.g. patenting), business cycle analysis, monetary economics, housing economics, labor and educational economics (e.g. demand for teachers according to gender) and many others.§-Exercises are added to the chapters, with a focus on the interpretation of results; several of these exercises involve the use of actual data that are typical for current empirical work and that are made available on the internet.§What is also distinguishable in Modern Linear and Nonlinear Econometrics is that every major topic has a number of examples, exercises or case studies. By this `learning by doing' method the intention is to prepare the reader to be able to design, develop and successfully finish his or her own research and/or solve real world problems. §
Sklep: Libristo.pl 391,72 zł
Książki / Literatura obcojęzyczna
Monopolies, mismanagement, app development, Google delivery drones, trouble in the retail sector--2015 was another year of profound changes in the world of business and finance. Featuring articles that range from clear-eyed assessments of new developments in business and finance to muckraking reports on corruption, these incisive stories are a must-read for those interested in the surprising ways business influences economics, politics, and culture. Selections include Fortune's fascinating autopsy of the failed JCPenney makeover, Associated Press's shocking account of the slave labor used to harvest the world's seafood, Medium's expos of tech software's vast vulnerabilities, and Peter Osborne's condemnation of the cozy relationship between news journalism and corporate interests, articulated in his famous resignation letter from the Independent. Profiles include the amusing portrait of a young investor who made a fortune betting on penny stocks; the inspiring story of an undocumented immigrant who became a star trader at Goldman Sachs; and a detailed account of the efforts by Philippe Selendy to secure a major settlement from the banks responsible for the 2008 financial crisis. Articles also explore new frontiers in revolutionizing the way we do chores, eat takeout, order online, and dumpster-dive, showcasing the infinite ways that business continues to evolve, along with our ability to tell its stories and tell them well.
Sklep: Libristo.pl 952,56 zł
Książki / Literatura obcojęzyczna
This volume contains essays by or about Jacob Mincer who is a founding father of modern empirical labor economics. This personal collection not only examines Mincer s research, it also assesses the impact of his work on the careers of several important economists and includes portions of Mincer s correspondence with those scholars. Contributors to this volume include Gary Becker and James Heckman, each of whom is a Nobel Laureate and former Mincer collaborator.This volume contains essays by or about Jacob Mincer who, along with Gary Becker, is a founding father of modern empirical labor economics. His methodology analyzes the economics of the working world, and his human capital model is a fundamental tool in empirical economics. §This is a very personal collection. It not only examines Mincer s research; it also assesses the impact of his work on the careers of several important economists and includes portions of Mincer s correspondence with those scholars. §Shoshana Grossbard is professor of economics at San Diego State University and founding editor of the Review of Economics of the Household. She graduated from the University of Chicago where she studied New Home Economics with Jacob Mincer and Gary Becker. Professor Grossbard teaches and lectures throughout the world and is the author of five previous books and more than 40 journal articles.
Sklep: Libristo.pl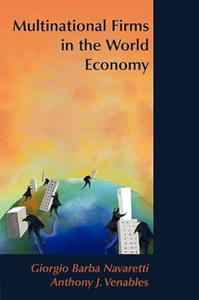 296,84 zł
Książki / Literatura obcojęzyczna
Depending on one's point of view, multinational enterprises are either the heroes or the villains of the globalized economy. Governments compete fiercely for foreign direct investment by such companies, but complain when firms go global and move their activities elsewhere. Multinationals are seen by some as threats to national identities and wealth and are accused of riding roughshod over national laws and of exploiting cheap labor. However, the debate on these companies and foreign direct investment is rarely grounded on sound economic arguments. This book brings clarity to the debate. With the contribution of other leading experts, Giorgio Barba Navaretti and Anthony Venables assess the determinants of multinationals' actions, investigating why their activity has expanded so rapidly, and why some countries have seen more such activity than others. They analyze their effects on countries that are recipients of inward investments, and on those countries that see multinational firms moving jobs abroad. The arguments are made using modern advances in economic analysis, a case study, and by drawing on the extensive empirical literature that assesses the determinants and consequences of activity by multinationals. The treatment is rigorous, yet accessible to all readers with a background in economics, whether students or professionals. Drawing out policy implications, the authors conclude that multinational enterprises are generally a force for the promotion of prosperity in the world economy.
Sklep: Libristo.pl 56,99 zł
Książki Obcojęzyczne>Angielskie>Economics, finance, business & management>Industry & industrial studies>Industrial relations, health & saf...
First-hand Account Of The Largest Pro-labor Mass Mobilization In Modern American History.
Sklep: Gigant.pl
Sklepy zlokalizowane w miastach: Warszawa, Kraków, Łódź, Wrocław, Poznań, Gdańsk, Szczecin, Bydgoszcz, Lublin, Katowice
Szukaj w sklepach lub całym serwisie
2. Szukaj na wszystkich stronach serwisu
t1=0.042, t2=0, t3=0, t4=0.017, t=0.042