krainaksiazek modernism a critical introduction 20124194
- znaleziono 9 produktów w 3 sklepach 207,10 zł
Informatyka
Summary: This book is an introduction to critical and theoretical perspectives on digital information. It outlines the origins of information management in nineteenth-century humanism, the adoption of scientific perspectives in the documentation and information science movements, and modern theoretical frameworks for understanding the social, cultural and political place of digital information. Digital Information Contexts is the first book aimed at information professionals to give a detailed outline of important perspectives on information and meaning, including post-structuralism and post-modernism. It explores parallels between information management and media, communication and cultural studies. Each chapter includes recommended further reading to guide the reader to further information. It is a comprehensive introduction to theoretical frameworks for understanding and studying digital information. Key Features: 1. General theoretical introduction to digital information management 2. Explores the application of critical theory, communications and media theory to understanding digital information 3. Historical and critical perspective The Author: Luke Tredinnick is a Senior Lecturer in Information Management at London Metropolitan University and Course Director for the MSc on Digital Information Management. He teaches on a wide range of topics around the digital information area, including digital libraries, intranets and extranets, knowledge applications and technologies, cyberculture, and the social, political and theoretical aspects of digital information. He is the author of Why Intranets Fail (and How to Fix Them), also published by Chandos Publishing. Readership: Information management academics and students; information management professionals; allied academic fields, such as cultural studies, communications studies and media studies. Contents: The meaning of information Librarianship and print culture Digital information, science and the social sciences Digital information and computer science Digital information, language and representation Digital information and semiotics Digital information and post-structuralism Digital information and post-modernism Digital information and complexity Understanding digital information
Sklep: Albertus.pl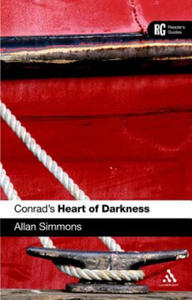 114,91 zł
Książki / Literatura obcojęzyczna
"Reader's Guides" provide a comprehensive starting point for any advanced student, giving an overview of the context, criticism and influence of key works. Each guide also offers students fresh critical insights and provides a practical introduction to close reading and to analysing literary language and form. They provide up-to-date, authoritative but accessible guides to the most commonly studied classic texts. Joseph Conrad's novella, "Heart of Darkness" (1902), is a key text in the development of modernism and one of the most important literary works of the early twentieth century. This guide provides an invaluable introduction to reading Conrad's "Heart of Darkness" and includes sections on its contexts, language and style, critical reception and literary and film adaptations, including Coppola's "Apocalypse Now", and finally an annotated guide to further reading.
Sklep: Libristo.pl 114,91 zł
Książki / Literatura obcojęzyczna
Continuum's "Introductions to British Literature and Culture Series" provides practical guides to key literary periods. Guides in the series help to orientate students as they begin a new module or area of study, providing concise information on the historical, cultural, literary and critical context and acting as an initial map of the knowledge needed to study the literature and culture of a specific period. Each guide includes an overview of the historical period, intellectual contexts, major genres, critical approaches and a guide to original research and resource materials in the area, enabling students to progress confidently to further study. The guide to "Renaissance Literature and Culture" provides students with the ideal introduction to literature and its context from 1533-1642, including: the historical, cultural and intellectual background including religion, politics, exploration and visual culture; major writers and genres including Spenser, Sidney, Marlowe, Shakespeare and Jonson; concise explanations of key terms needed to understand the literature and criticism; key critical approaches to modernism from contemporary critics to the present; and a chronology mapping historical events and literary works and further reading including websites and electronic resources.
Sklep: Libristo.pl 219,90 zł
WYDAWNICTWA ALBUMOWE > Architektura > Ogólne
Brazil's Modern Architecture ISBN: 9780714842929 Autor: Andreolli Elisabetta, Forty Adrian Rok wydania: 2004-11-15 Ilość stron: 240 Oprawa: twarda Format: 294 x 260 mm This is the most comprehensive survey and analysis of twentieth-century Brazilian Architecture, written by Brazilian architects and writers for an international audience. Its key events and buildings appear not in a conventional chronological account but within a series of thematic chapters (critical reception, construction issues, urbanism, typological description of the modern house, affordable housing and new fields of practice, survey of recent works). It is a history of Brazilian modern architecture retold with a Brazilian voice by the new generation of critics and historians. This book offers a fresh reading of the well-known era of high-modernism of the 1930s-1960s placing it within both the context of architecture before and since and the broader changes taking place in Brazilian culture at the time. It also charts post-Brasilia developments, including contemporary projects, showing how architects have adapted to the contradictions of an increasingly polarised society and the relevance of Brazilian architecture for current debates around issues such as large-scale urban growth and the tension between local identities and global civilisation. Covering around 200 projects, it is extensively illustrated with both historical black and white photographs and new colour photographs and drawings In cultural terms, Brazil is famous for its music and its architecture. As the largest and richest country in Latin America, Brazil is set apart from the others by its language, and by the ethnic diversity of its population, all of which contribute to its cultural distinctiveness. Yet, the architecture of twentieth-century Brazil is all too often represented by the work of one man (Oscar Niemeyer) or by two cities (Rio de Janeiro and Sao Paulo). This book is a study of Brazilian architecture in the twentieth-century, from the first modern houses of the 1920s and Le Corbusier's seminal visits to the country, through the well-known 'heroic' period of the 1940s-1950s and its crisis post-1964 up to contemporary developments. The high-modernist era coincided with the period of Brazil's most rapid economic growth around the middle of the century, when the country was transformed from a predominantly agricultural economy with coffee as its principal export, into an urbanised society with an industrial economy that saw the creation of Brasilia, one of the most utopian projects of the Modern Movement. Towards the end of this period, as society became increasingly polarised between a prosperous middle class and a very poor underclass, architects also became more pre-occupied with the nature of public buildings and the problems linked to accelerated urban growth. What has usually been seen as a period of creative experimentation in architecture underwent a crisis with the advent of the military dictatorship in 1964, while the rapid growth of the economy was sustained and even increased, with the consequent rise in activity of the building industry until the 1980s, one of the inherent contradictions of Brazil that this book seeks to address. While conventional accounts treat 1964 as the end of Brazilian architecture, this was not the case. Brazilian architects adapted to the changed circumstances, and developed new strategies that were no less creative, but sometimes less demonstrative. This has been particularly so since the restoration of democracy in the early 1980s, and again, a major theme of the book is to show continuities between the more recent work and that of the high-modernist era of the mid-century. The book will be edited by Elisabetta Andreoli and Adrian Forty, who will frame the main chapters with the introduction and a foreword to the survey of recent works. Five Brazilian writers will contribute essays to the body of the book that, together, provide a thorough study of modernist architecture and beyond in Brazil, and examine the works from the 'inside', explaining the social, cultural and political context that is so crucial to understanding the architecture.
Sklep: Multistore24.pl 479,57 zł
Książki / Literatura obcojęzyczna
D. H. Lawrence's power as a writer, his passionate exploration of male and female relations, and his instinctive recoil from the emotional straitjacket of modernity make him a prophet of our time. This essential volume brings together the best contemporary critical accounts of two of Lawrence's most popular and enduring novels, The Rainbow and Women in Love. The essays are drawn from a wide range of theoretical perspectives, covering language, history, psychoanalysis, feminism and the relation of the novels to modernism, and look forward to new developments in Lawrence scholarship. A helpful introduction locates the two novels in their historical and critical contexts, making this selection of criticism an ideal resource for students and teachers of Lawrence's fiction.
Sklep: Libristo.pl 294,87 zł
Książki / Literatura obcojęzyczna
In 1962, the philosopher Richard Taylor used six commonly accepted presuppositions to imply that human beings have no control over the future. David Foster Wallace not only took issue with Taylor's method, which, according to him, scrambled the relations of logic, language, and the physical world, but also noted a semantic trick at the heart of Taylor's argument. Fate, Time, and Language presents Wallace's brilliant critique of Taylor's work. Written long before the publication of his fiction and essays, Wallace's thesis reveals his great skepticism of abstract thinking made to function as a negation of something more genuine and real. He was especially suspicious of certain paradigms of thought-the cerebral aestheticism of modernism, the clever gimmickry of postmodernism-that abandoned "the very old traditional human verities that have to do with spirituality and emotion and community." As Wallace rises to meet the challenge to free will presented by Taylor, we witness the developing perspective of this major novelist, along with his struggle to establish solid logical ground for his convictions. This volume, edited by Steven M. Cahn and Maureen Eckert, reproduces Taylor's original article and other works on fatalism cited by Wallace. James Ryerson's introduction connects Wallace's early philosophical work to the themes and explorations of his later fiction, and Jay Garfield supplies a critical biographical epilogue.
Sklep: Libristo.pl 105,92 zł
Książki / Literatura obcojęzyczna
This Readers Guide offers a stimulating and accessible introduction to the key criticism which surrounds the diverse range of literature of the modernist period. Sarah Davison explores a variety of critical works, from initial pronouncements to recent studies which have shaped the way that Anglo-American modernism is understood and theorized today.
Sklep: Libristo.pl 436,91 zł
Książki / Literatura obcojęzyczna
This Readers Guide offers a stimulating and accessible introduction to the key criticism which surrounds the diverse range of literature of the modernist period. Sarah Davison explores a variety of critical works, from initial pronouncements to recent studies which have shaped the way that Anglo-American modernism is understood and theorized today.
Sklep: Libristo.pl 197,45 zł
Książki / Literatura obcojęzyczna
"Geography and Plays" is a collection of Gertrude Stein's writing from 1910 to 1920. This new paperback edition, incorporating a critical introduction, aims to help students and other devotees of Stein to see the developing strategies of one of the acknowledged giants of literary modernism.
Sklep: Libristo.pl
Sklepy zlokalizowane w miastach: Warszawa, Kraków, Łódź, Wrocław, Poznań, Gdańsk, Szczecin, Bydgoszcz, Lublin, Katowice
Szukaj w sklepach lub całym serwisie
2. Szukaj na wszystkich stronach serwisu
t1=0.045, t2=0, t3=0, t4=0.022, t=0.045