krainaksiazek modernism a critical introduction 20124194
- znaleziono 12 produktów w 4 sklepach 207,10 zł
Informatyka
Summary: This book is an introduction to critical and theoretical perspectives on digital information. It outlines the origins of information management in nineteenth-century humanism, the adoption of scientific perspectives in the documentation and information science movements, and modern theoretical frameworks for understanding the social, cultural and political place of digital information. Digital Information Contexts is the first book aimed at information professionals to give a detailed outline of important perspectives on information and meaning, including post-structuralism and post-modernism. It explores parallels between information management and media, communication and cultural studies. Each chapter includes recommended further reading to guide the reader to further information. It is a comprehensive introduction to theoretical frameworks for understanding and studying digital information. Key Features: 1. General theoretical introduction to digital information management 2. Explores the application of critical theory, communications and media theory to understanding digital information 3. Historical and critical perspective The Author: Luke Tredinnick is a Senior Lecturer in Information Management at London Metropolitan University and Course Director for the MSc on Digital Information Management. He teaches on a wide range of topics around the digital information area, including digital libraries, intranets and extranets, knowledge applications and technologies, cyberculture, and the social, political and theoretical aspects of digital information. He is the author of Why Intranets Fail (and How to Fix Them), also published by Chandos Publishing. Readership: Information management academics and students; information management professionals; allied academic fields, such as cultural studies, communications studies and media studies. Contents: The meaning of information Librarianship and print culture Digital information, science and the social sciences Digital information and computer science Digital information, language and representation Digital information and semiotics Digital information and post-structuralism Digital information and post-modernism Digital information and complexity Understanding digital information
Sklep: Albertus.pl 328,56 zł
Książki / Literatura obcojęzyczna
This book is an introduction to critical and theoretical perspectives on digital information. It outlines the origins of information management in nineteenth-century humanism, the adoption of scientific perspectives in the documentation and information science movements, and modern theoretical frameworks for understanding the social, cultural and political place of digital information. Digital Information Contexts is the first book aimed at information professionals to give a detailed outline of important perspectives on information and meaning, including post-structuralism and post-modernism. It explores parallels between information management and media, communication and cultural studies. Each chapter includes recommended further reading to guide the reader to further information. It is a comprehensive introduction to theoretical frameworks for understanding and studying digital information. * General theoretical introduction to digital information management* Explores the application of critical theory, communications and media theory to understanding digital information* Historical and critical perspective
Sklep: Libristo.pl 493,00 zł
Książki / Literatura obcojęzyczna
This book is an introduction to critical and theoretical perspectives on digital information. It outlines the origins of information management in nineteenth-century humanism, the adoption of scientific perspectives in the documentation and information science movements, and modern theoretical frameworks for understanding the social, cultural and political place of digital information. Digital Information Contexts is the first book aimed at information professionals to give a detailed outline of important perspectives on information and meaning, including post-structuralism and post-modernism. It explores parallels between information management and media, communication and cultural studies. Each chapter includes recommended further reading to guide the reader to further information. It is a comprehensive introduction to theoretical frameworks for understanding and studying digital information. * General theoretical introduction to digital information management* Explores the application of critical theory, communications and media theory to understanding digital information* Historical and critical perspective
Sklep: Libristo.pl 159,50 zł
Książki / Literatura obcojęzyczna
Critical theories such as those of the Frankfurt School of the twenties and thirties gave rise to a complex and sophisticated critique of modernity and modernism. The history and theory of twentieth-century architecture, which developed rather independently of this rich tradition, appear naive and unbalanced in comparison. In this exploration of the relationship between modernity, dwelling, and architecture, Hilde Heynen attempts to bridge this gap between the discourse of the modern movement and cultural theories of modernity. On one hand, she discusses architecture from the perspective of critical theory, and on the other she modifies positions within critical theory by linking them with architecture. She assesses architecture as a cultural field that structures daily life and that embodies major contradictions inherent in modernity, arguing that architecture nonetheless has a certain capacity to adopt a critical stance vis--vis modernity.Besides presenting a theoretical discussion of the relation between architecture, modernity, and dwelling, the book provides architectural students with an introduction to the discourse of critical theory. The subchapters on Walter Benjamin, Ernst Bloch, Theodor Adorno, and the Venice School (Tafuri, Dal Co, Cacciari) can be studied independently.
Sklep: Libristo.pl 219,90 zł
WYDAWNICTWA ALBUMOWE > Architektura > Ogólne
Brazil's Modern Architecture ISBN: 9780714842929 Autor: Andreolli Elisabetta, Forty Adrian Rok wydania: 2004-11-15 Ilość stron: 240 Oprawa: twarda Format: 294 x 260 mm This is the most comprehensive survey and analysis of twentieth-century Brazilian Architecture, written by Brazilian architects and writers for an international audience. Its key events and buildings appear not in a conventional chronological account but within a series of thematic chapters (critical reception, construction issues, urbanism, typological description of the modern house, affordable housing and new fields of practice, survey of recent works). It is a history of Brazilian modern architecture retold with a Brazilian voice by the new generation of critics and historians. This book offers a fresh reading of the well-known era of high-modernism of the 1930s-1960s placing it within both the context of architecture before and since and the broader changes taking place in Brazilian culture at the time. It also charts post-Brasilia developments, including contemporary projects, showing how architects have adapted to the contradictions of an increasingly polarised society and the relevance of Brazilian architecture for current debates around issues such as large-scale urban growth and the tension between local identities and global civilisation. Covering around 200 projects, it is extensively illustrated with both historical black and white photographs and new colour photographs and drawings In cultural terms, Brazil is famous for its music and its architecture. As the largest and richest country in Latin America, Brazil is set apart from the others by its language, and by the ethnic diversity of its population, all of which contribute to its cultural distinctiveness. Yet, the architecture of twentieth-century Brazil is all too often represented by the work of one man (Oscar Niemeyer) or by two cities (Rio de Janeiro and Sao Paulo). This book is a study of Brazilian architecture in the twentieth-century, from the first modern houses of the 1920s and Le Corbusier's seminal visits to the country, through the well-known 'heroic' period of the 1940s-1950s and its crisis post-1964 up to contemporary developments. The high-modernist era coincided with the period of Brazil's most rapid economic growth around the middle of the century, when the country was transformed from a predominantly agricultural economy with coffee as its principal export, into an urbanised society with an industrial economy that saw the creation of Brasilia, one of the most utopian projects of the Modern Movement. Towards the end of this period, as society became increasingly polarised between a prosperous middle class and a very poor underclass, architects also became more pre-occupied with the nature of public buildings and the problems linked to accelerated urban growth. What has usually been seen as a period of creative experimentation in architecture underwent a crisis with the advent of the military dictatorship in 1964, while the rapid growth of the economy was sustained and even increased, with the consequent rise in activity of the building industry until the 1980s, one of the inherent contradictions of Brazil that this book seeks to address. While conventional accounts treat 1964 as the end of Brazilian architecture, this was not the case. Brazilian architects adapted to the changed circumstances, and developed new strategies that were no less creative, but sometimes less demonstrative. This has been particularly so since the restoration of democracy in the early 1980s, and again, a major theme of the book is to show continuities between the more recent work and that of the high-modernist era of the mid-century. The book will be edited by Elisabetta Andreoli and Adrian Forty, who will frame the main chapters with the introduction and a foreword to the survey of recent works. Five Brazilian writers will contribute essays to the body of the book that, together, provide a thorough study of modernist architecture and beyond in Brazil, and examine the works from the 'inside', explaining the social, cultural and political context that is so crucial to understanding the architecture.
Sklep: Multistore24.pl 91,21 zł
Parade's End CARCANET PRESS/PN REVIEW
Książki / Literatura obcojęzyczna
"A Man Could Stand Up", the third volume of "Parade's End", brings Ford's characters to the 'crack across the table of History', across which lie their uncertain post-war futures. Divided into three parts, the novel is a kaleidoscopic vision of society at a climactic moment. The Armistice Day fireworks heard by Valentine Wannop in London with which the novel opens are echoed in the nightmare bombardment of the second part, as we are taken back to the war and Christopher Tietjens, staggering through the mud of "No Man's Land" with a wounded soldier in his arms. The final section returns to Armistice Day and joins the two characters in a frenetic dance, while Tietjens' wartime comrades smash glasses drunkenly around them. "A Man Could Stand Up" includes: the first reliable text, based on the hand-corrected typescript and first editions; a major critical introduction by Sara Haslam, Senior Lecturer in Literature at the Open University and author of "Fragmenting Modernism: Ford Madox Ford, the Novel and the Great War"; an account of the novel's composition and reception; annotations explaining historical references, military terms, literary and topical allusions; a full textual apparatus including transcriptions of significant deletions and revisions; and, a bibliography of further reading.
Sklep: Libristo.pl 281,76 zł
Książki / Literatura obcojęzyczna
In 1962, the philosopher Richard Taylor used six commonly accepted presuppositions to imply that human beings have no control over the future. David Foster Wallace not only took issue with Taylor's method, which, according to him, scrambled the relations of logic, language, and the physical world, but also noted a semantic trick at the heart of Taylor's argument. Fate, Time, and Language presents Wallace's brilliant critique of Taylor's work. Written long before the publication of his fiction and essays, Wallace's thesis reveals his great skepticism of abstract thinking made to function as a negation of something more genuine and real. He was especially suspicious of certain paradigms of thought-the cerebral aestheticism of modernism, the clever gimmickry of postmodernism-that abandoned "the very old traditional human verities that have to do with spirituality and emotion and community." As Wallace rises to meet the challenge to free will presented by Taylor, we witness the developing perspective of this major novelist, along with his struggle to establish solid logical ground for his convictions. This volume, edited by Steven M. Cahn and Maureen Eckert, reproduces Taylor's original article and other works on fatalism cited by Wallace. James Ryerson's introduction connects Wallace's early philosophical work to the themes and explorations of his later fiction, and Jay Garfield supplies a critical biographical epilogue.
Sklep: Libristo.pl 149,95 zł
Książki / Literatura obcojęzyczna
This is a charming and insightful contribution to an understanding of the "Science Wars" between postmodernist humanism and science, driving toward a resolution of the mutual misunderstanding that has driven the controversy. It traces the root of postmodern theory to a debate on the foundations of mathematics, early in the 20th century then compares developments in mathematics to what took place in the arts and humanities, discussing issues as diverse as literary theory, arts, and artificial intelligence. This is a straight forward, easily understood presentation of what can be difficult theoretical concepts and demonstrates that a pattern of misreading mathematics can be seen on both the part of science and on the part of postmodern thinking. This is a humorous, playful yet deeply serious look at the intellectual foundations of mathematics for those in the humanities and is the perfect critical introduction to the bases of modernism and postmodernism for those in the sciences.
Sklep: Libristo.pl 120,34 zł
Książki / Literatura obcojęzyczna
John Millington Synge was a leading literary figure of the Irish Revival who played a significant role in the founding of Dublin's Abbey Theatre in 1904. This Companion offers a comprehensive introduction to the whole range of Synge's work from well-known plays like Riders to the Sea, The Well of the Saints and The Playboy of the Western World, to his influential prose work The Aran Islands. The essays provide detailed and insightful analyses of individual texts, as well as perceptive reflections on his engagements with the Irish language, processes of decolonisation, gender, modernism and European culture. Critical accounts of landmark productions in Ireland and America are also included. With a guide to further reading and a chronology, this book will introduce students of drama, postcolonial studies, and Irish studies as well as theatregoers to one of the most influential and controversial dramatists of the twentieth century.
Sklep: Libristo.pl 264,72 zł
Książki / Literatura obcojęzyczna
What happens when poets combine vernacular language with the spirit of modernity? Can a poem be cosmopolitanism and vernacular at the same time? Nations of Nothing But Poetry answers these questions through case studies of Scottish, English, and "Black Atlantic" poetries from the landmark modernist year of 1922 through the mid 1970s. Hart combines discussions of canonical poets, such as T.S. Eliot and W. H. Auden, with chapters on key but lesser known poets noted for their unique and creative introduction of their native vernaculars, like Hugh MacDiarmid, Basil Bunting, and Melvin B. Tolson. Throughout, Hart puts forward a new interpretation of Anglophone modernist verse that disrupts the literary-critical conflict between "national" and "transnational" poetries. Describing how these poets make "synthetic vernacular" poems out of a disordered medley of formal and linguistic parts, this study explains how poetic modernism is shaped by the incompletely globalized nature of twentieth-century history.
Sklep: Libristo.pl 222,38 zł
Książki / Literatura obcojęzyczna
"Geography and Plays" is a collection of Gertrude Stein's writing from 1910 to 1920. This new paperback edition, incorporating a critical introduction, aims to help students and other devotees of Stein to see the developing strategies of one of the acknowledged giants of literary modernism.
Sklep: Libristo.pl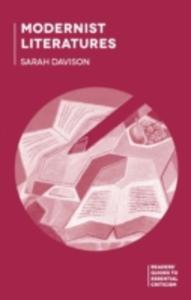 149,99 zł
Książki Obcojęzyczne>Angielskie>Literature & literary studies>Literature: history & criticism>Literary studies: general>From c 1900 -
This Readers Guide Offers A Stimulating And Accessible Introduction To The Key Criticism Which Surrounds The Diverse Range Of Literature Of The Modernist Period. Sarah Davison Explores A Variety Of Critical Works, From Initial Pronouncements To Recent Studies Which Have Shaped The Way That Anglo-American Modernism Is Understood And Theorized Today.
Sklep: Gigant.pl
Sklepy zlokalizowane w miastach: Warszawa, Kraków, Łódź, Wrocław, Poznań, Gdańsk, Szczecin, Bydgoszcz, Lublin, Katowice
Szukaj w sklepach lub całym serwisie
2. Szukaj na wszystkich stronach serwisu
t1=0.054, t2=0, t3=0, t4=0.018, t=0.055