krainaksiazek most uncommon events at ryan park 20116752
- znaleziono 9 produktów w 2 sklepach 63,46 zł
Książki / Literatura obcojęzyczna
Source: Wikipedia. Pages: 25. Chapters: Fair Park, Barnes Foundation, Detroit Institute of Arts, Cincinnati Museum Center at Union Terminal, Eternal Light Peace Memorial, Main Building, Benjamin Franklin Bridge, Folger Shakespeare Library, George Rogers Clark Memorial Bridge, Indianapolis - Marion County Public Library, Chateau-Thierry American Monument, Connecticut Avenue Bridge over Klingle Valley, Central Heating Plant, Rodin Museum, Flanders Field American Cemetery and Memorial, Duke Ellington Bridge, Texas Memorial Museum, Eccles Building, National Memorial Arch. Excerpt: Dallas Fair Park is a 277-acre (1.12 km) recreational and educational complex located in Dallas, Texas (USA). The complex is registered as a Dallas Landmark, National Historic Landmark and is home to nine museums, six performance facilities, a lagoon, and the largest Ferris wheel in North America. Many of the buildings on the complex were constructed for the Texas Centennial Exposition in 1936 which drew over six million visitors. Most of the buildings built for the exposition still survive and Fair Park is recognized as a significant example of Art Deco architecture. The site was established as an 80-acre (320,000 m) fairground on the outskirts of East Dallas for the Dallas State Fair in 1886. In 1904 after a fire and financial loss by the fair association, voters approved the "Reardon Plan," which strove to keep the site out of the hands of real-estate developers. It became Dallas' second public park and became known as "Fair Park." A milestone year in the history of Fair Park was 1936, when the Texas Centennial Exposition was held on the site. In preparation for the six-month long event, the appearance of the park was dramatically altered by architect George Dahl and consulting architect Paul Cret. The park was transformed from an early twentieth century fairground into the Art Deco showcase it is today. While many of the exposition's buildings were meant to be temporary, several have survived and are now restored. Over the years the park was expanded to its current 277 acres (1.12 km). Fair Park was declared a National Historic Landmark in 1986 and in 1988 administration of the park was transferred to the Dallas Parks Department. Today, the cultural facilities and annual events attract 7+ million visitors each year. Hall of Religion awaiting restorationThe City of Dallas, State Fair of Texas, and Friends of Fair Park have plans to further restore Fair Park to its 1936 appearance and schedule programing to promote the park. Many of the existing art deco buildings
Sklep: Libristo.pl 186,54 zł
Książki / Literatura obcojęzyczna
In 1989, the memorable year when the Wall came down, a university student in Berlin on his early morning run finds a corpse lying on a park bench and alerts the authorities. This classic police-procedural scene opens an extraordinary novel, a masterwork that traces the fate of myriad Europeans - Hungarians, Jews, Germans, and Gypsies - across the treacherous years of the mid-twentieth century. The social and political circumstances of their lives may vary richly, their sexual and spiritual longings may seem to each of them entirely unique, yet Peter Nadas' magnificent tapestry unveils uncanny, reverberating parallels that link them across time and space. Three unusual men are at the heart of "Parallel Stories": Hans von Wolkenstein, whose German mother is linked to dark secrets of fascist-Nazi collaboration during the 1940s, Agost Lippay-Lehr, whose influential father has served Hungary's different political regimes for decades, and Andras Rott, who has his own dark record of dark activities abroad. They are friends in Budapest when we eventually meet them in the spring of 1961, a pivotal time in the postwar epoch and in their clandestine careers. But the richly detailed, dramatic memories and actions of these men, like those of their friends, lovers and family members, range from Berlin and Moscow to Switzerland and Holland, from the Mediterranean to the North Sea, and of course, across Hungary. The ever-daring, ever-original episodes of "Parallel Lives" explore the most intimate, most difficult human experiences in a prose glowing with uncommon clarity and also with mysterious uncertainty - as is characteristic of Nadas' subtle, spirited art. The web of extended dramas in "Parallel Stories" reaches not just forward to the transformative year of 1989 but back to the spring of 1939, with Europe trembling on the edge of war; to the bestial times of 1944-45, when Budapest was besieged, the final solution devastated Hungary's Jews, and the war came to an end; and to the cataclysmic Hungarian Revolution of October 1956. But there is much more to "Parallel Stories" than that: it is a daring, demanding, and very moving exploration of humanity at its most constrained and its most free.
Sklep: Libristo.pl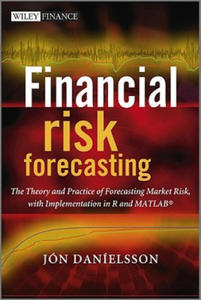 280,45 zł
Książki / Literatura obcojęzyczna
Financial Risk Forecasting is a complete introduction to practical quantitative risk management, with a focus on market risk. Derived from the authors teaching notes and years spent training practitioners in risk management techniques, it brings together the three key disciplines of finance, statistics and modeling (programming), to provide a thorough grounding in risk management techniques. Written by renowned risk expert Jon Danielsson, the book begins with an introduction to financial markets and market prices, volatility clusters, fat tails and nonlinear dependence. It then goes on to present volatility forecasting with both univatiate and multivatiate methods, discussing the various methods used by industry, with a special focus on the GARCH family of models. The evaluation of the quality of forecasts is discussed in detail. Next, the main concepts in risk and models to forecast risk are discussed, especially volatility, value-at-risk and expected shortfall. The focus is both on risk in basic assets such as stocks and foreign exchange, but also calculations of risk in bonds and options, with analytical methods such as delta-normal VaR and duration-normal VaR and Monte Carlo simulation. The book then moves on to the evaluation of risk models with methods like backtesting, followed by a discussion on stress testing. The book concludes by focussing on the forecasting of risk in very large and uncommon events with extreme value theory and considering the underlying assumptions behind almost every risk model in practical use - that risk is exogenous - and what happens when those assumptions are violated. Every method presented brings together theoretical discussion and derivation of key equations and a discussion of issues in practical implementation. Each method is implemented in both MATLAB and R, two of the most commonly used mathematical programming languages for risk forecasting with which the reader can implement the models illustrated in the book. The book includes four appendices. The first introduces basic concepts in statistics and financial time series referred to throughout the book. The second and third introduce R and MATLAB, providing a discussion of the basic implementation of the software packages. And the final looks at the concept of maximum likelihood, especially issues in implementation and testing. The book is accompanied by a website - www.financialriskforecasting.com - which features downloadable code as used in the book.
Sklep: Libristo.pl 129,15 zł
Książki / Literatura obcojęzyczna
Source: Wikipedia. Pages: 46. Chapters: Darling Scarp, Mount Augustus National Park, Purnululu National Park, Pilbara craton, Yilgarn Craton, Kambalda type komatiitic nickel ore deposits, Argyle diamond mine, Widgiemooltha Komatiite, Earthquakes in Western Australia, Tumblagooda sandstone, Emily Ann and Maggie Hays nickel mines, Musgrave Block, Barrow Island, Gascoyne Complex, Stirling Range, Petermann Orogeny, Narryer Gneiss Terrane, Bedout, South West Seismic Zone, Statham's Quarry, Murrin Murrin Joint Venture, Woodleigh crater, Gogo Formation, Shoemaker crater, Veevers crater, Wolfe Creek Crater, Windimurra intrusion, Connolly Basin crater, Amadeus Basin, Donnybrook stone, Piccaninny crater, Spider crater, Yarrabubba crater, Glikson crater, Warrawoona Group, Dalgaranga crater, Goat Paddock crater, Eucla Basin, Murchison River Gorge, Wallabi Limestone, Carnarvon Basin, Darling Fault, Tamala limestone, Centralian Superbasin, Officer Basin, Shell House, Pencell Pool, Collie Sub-basin, Canning Basin, Stone Wall. Excerpt: The Pilbara craton (the Pilbara province in northwest Western Australia), along with the Kaapvaal craton (the Kaapvaal province of South Africa) are the only remaining areas of pristine Archaean 3.6-2.7 Ga crust on Earth. Similarities of their rock records, especially the similarities in the overlying Late Archean sequences of both these cratons, suggest that they were once part of the Vaalbara supercontinent, and then believed to have belonged to Ur continent. The Pilbara Craton comprises a mid-Archaean granite-greenstone terrane and an overlying late-Archaean volcano-sedimentary sequence called the Hamersley Basin. The Tabba Tabba Shear Zone is the major division between the East and West Pilbara craton. The Tabba Tabba Shear Zone is a granodioritic suite that forms the eastern boundary fault of the Mallina Basin. The Pilbara craton evolved over two approximately 360 Ma tectonic cycles. Zircon geochronology indicates that the bulk of the intermediate to silicic igneous rocks in the Pilbara formed during seven periods of paired volcanic and plutonic activity. The extent of pre-3.5 Ga rocks is uncertain, but appears limited to the greenstone belts and batholiths in the eastern Pilbara. This period was the major episode of crustal growth in the eastern Pilbara domains with calc-alkaline basalts, andesites and dacites with intrusive anorthosites in most greenstone belts, and tonalite-trondhjemite-granodiorite (TTG) suite granitoids in most batholiths. The compositions of calc-alkaline volcanic rocks resemble those from modern supra-subduction environments with TTG magmas derived via melting of underplated or subducted mafic crust. According to Bagas (2002), other major magmatic events occurred at 3.47 3.41, 3.33 3.10, 3.00 2.93 and 2.85 2.83 Ga. with calc-alkaline basalts, andesites and dacites that formed in most greenstone belts, and TTG suite granitoids in most batholiths. Some of the granitoids are as old as 3.4 Ga. The compositions of the calc-alkaline volcanic r
Sklep: Libristo.pl 61,54 zł
Healing Land Grove Press / Atlantic Monthly Press
Książki / Literatura obcojęzyczna
Acclaimed by Rian Malan as "full of mystery, magic and strange coincidence," The Healing Land is a moving account of a remarkable personal journey through the Kalahari desert. Although brought up in "grey, drearily ordinary" London, Rupert Isaacson's links to Africa have always been strong. His mother was once a South African and his father was raised in what was then Rhodesia. Isaacson senior fled to England with no regrets, but Polly, Rupert's mother kept her memories of Africa alive, and handed them on to her children via the Bushmen nursery stories and remembrances of her early life there. Thus, from an early age, Isaacson was fascinated: "Long before I ever went to southern Africa, its names and regions had been described to me so many times that I could picture them in my mind's eye." Isaacson's relatives, mostly his grandfather Robbie, a Rhodesian farmer, frequently visited with exotic gifts and stories in tow, leaving the little boy wide-eyed and curious to go to the land of his ancestors. At eight, Isaacson finally visited Robbie in Africa, and "found the place as seductively, intensely exciting as all the stories had led [him] to expect." He also witnessed the other, less pleasant side of Africa. The war for independence was still being fought, and his grandfather's farm was fenced in with barbed wire and guarded by armed men. This first visit, however, sealed his connection to the African continent, and from then on he considered himself part English, part African. His curiosity now knew no boundaries and by the time he was twenty he embarked on his first solo trip to Africa. This marks the de facto beginning of the book as Isaacson, now a grown man, finds himself restless at home in England, yearning to be united with the Kalahari which he has made central to his identity as a young man. He visits Botswana's capital Gaborone where he meets his cousin Frank Taylor, a rather atypical white African, living in an austere home where he moved with his family, quitting his prosperous farm in South Africa, in order to help Botswana's rural poor. Isaacson learns of the plight of the Bushmen. Due to an upsurge in cattle ranching, the territories traditionally used for hunting have been fenced off and the game the Bushmen relied upon has been prevented from following the rain thus dying in droves. Eager to go deeper into the desert and to experience the Kalahari, Issacson makes several trips to the area during the following few years but never really makes it into the heart of the desert, but explores the areas surrounding it, living on a farm in Zimbabwe, traveling in South Africa and learning of its Bushman heritage. There he becomes enmeshed in the civil strife of 1993, which immediately preceded the first free elections and the rise of Nelson Mandela. He comes to experience the resentment of the black population towards the whites: he is attacked, mugged, chased by a mob of angry South African youths, but somehow all these events never put into question his resolve to come back. Eighteen months later he is back with his girlfriend and a contract to write a guidebook to Zimbabwe, Botswana, and Namibia. They start off from the Namibian capital Windhoek and two days later encounter two Bushmen while camping under a great baobab tree. Greetings are exchanged and it turns out that one of the Bushmen works for an NGO helping the cause of the local population. He speaks perfect English and invites Isaacson to go hunting with him the next day. The couple is naturally thrilled, but when they show up early next morning in the Bushman village no one seems to be up. It takes quite a while for everyone to wake up (presumably from alcoholic stupor) but all is well, and they ultimately leave for the hunting ground. The experience is disappointing, as Benjamin and his friend Xau make several attempts to catch antelopes but fail rather miserably. On their way back to the village Isaacson once again learns of the Bushmen plight, this time first-hand, and the lack of interest by the government to resolve their claims. He decides to help and try to involve a London travel agency to package tours into the Kalahari from which the Bushmen would benefit financially. Meantime, he and his girlfriend become friends with most of the villagers, sharing stories and songs, buying trinkets, and in the end witnessing a full-blown tribal dance. After his move to the USA that same year, Isaacson comes across an issue of National Geographic which features a photograph of two Bushmen kneeling in the red sand of South Africa next to a ancient figure of their dying father. According to the caption, it turns out this is a picture of the dying Regopostaan, patriarch of South Africa's Xhomani Bushmen, the last remaining clan of traditionally living Bushmen in the country. They've been ejected from a National Park, which used to make up their traditional hunting grounds, and the park authorities are resisting the Bushman land claaaaaaim. After some research, Isaacson learns of the few South Africans who are trying to counter the government indifference and fight for the Bushmen rights. With the new Mandela government chances for the Bushmen winning the claim are better but still far from becoming a reality. Later that year, in October of 1997, Isaacson arrives to the Xhomani village with a filmmaker friend who wants to make a documentary about the land claim. They meet Dawid Kruiper, the leader of the tribe, and one of the Bushmen from the National Geographic photograph, as well as the entire tribe. (Regopostaan was the tribal elder and Dawid's father, and the other person in the picture, Dawid's brother.) After spending time with them, recording interviews with Dawid, observing their day-to-day life, Isaacson begins to understand the extent of the Bushmen disenfranchisement. They are hardly the idealized hunters from his mother's stories and seem to be at the bottom of the social hierarchy not only in South Africa, but in the entire Kalahari as well. Ruined by alcohol as well as by the indifference of the politicians to take up their cause, the traditionally living Bushmen have not only dwindled in number, but have been literally reduced to beggars having lost their land and their traditional means of subsistence, and with that their identity as a people has been profoundly threatened. Dawid, the tribal leader, was once a great healer but due to his bouts with alcohol he has lost his powers. Moved by what he witnesses, Isaacson is keen to find out the other side of the story, and hence decides to interview the officials at the National Park, which has become the bane of the Bushmen's existence. The interview only serves to prove the underlying racism and corruption of the Park management which was just a few years ago a "whites only" establishment. What complicates matters even further and very much endangers the success of the Bushmen claim, is another parallel claim to the same land by another black tribe called Miet. All throughout his travels and interactions with the Bushmen, Isaacson's narrative displays an unusual sense of humanity, warmth, and openness. It's precisely these qualities that distinguish The Healing Land, and allow Isaacson to bring out the truly extraordinary spiritual legacy of the Bushmen. Thus, both the reader and the narrator bear witness to some rather remarkable displays of the Bushmen healing techniques as well as a general sense of genuine magic. The themes of healing, of Isaacson's personal quest alongside the larger, political one involving the entire Bushmen population, come together in a poignant ending which features all of the leading personalities that inhabit this extraordinary book.
Sklep: Libristo.pl 16,65 zł
Książki & Multimedia > Książki
Opis - Wiersze młodej poetki poruszają najważniejsze wartości, a jednocześnie jest w nich ocean emocji i ogromnej wrażliwości. Odnaleźć w nich można smutek, żal, niepokój i gorycz, lecz zarazem pojawia się nadzieja" Strofy w niezwykły sposób oddają tęsknotę, tak silną, i tak głęboką, że zapiera dech" Niewątpliwie każdy czytelnik znajdzie w tym tomiku kawałek siebie? Nazwa - Przejść na drugi brzeg Autor - Natalia Skrzypczak Oprawa - Miękka Wydawca - Rozpisani.pl Kod ISBN - 9788394159801 Kod EAN - 9788394159801 Rok wydania - 2015 Język - polski Ilość stron - 74 Podatek VAT - 5% Premiera - 2015-05-25
Sklep: InBook.pl 70,79 zł
Książki / Literatura obcojęzyczna
"Strange and Obscure Stories of the Civil War" is an entertaining look at the Civil War stories that don't get told, and the misadventures you haven't read about in history books. Share in all the humorous and strange events that took place behind the scenes of some of the most famous Civil War moments. Picture a pedestal in a public park with no statue on top; Rowland's book explains that when the members of the New York Monument Commission went to hire a sculptor to finish the statue, they were shocked to discover that there was no money left in the agency's accounts to pay for the project. The money for the statue of Dan Sickles had been stolen--stolen by former monument committee chairman Dan Sickles!Brig. Gen. Philip Kearny was the son of a New York tycoon who had helped found the New York Stock Exchange, and who groomed his boy to be a force on Wall Street. The younger Kearny decided his call was to be a force on the field of battle, so despite a law degree and an inheritance of better than $1 million, he joined the U.S. Army and studied cavalry tactics in France. His dashing figure in the saddle earned him the name of Kearny the Magnificent, probably because Kearny rode with a pistol in one hand and a sword in the other while holding the horse's reins in his teeth. This habit proved useful after he lost his left arm in the Mexican War, because he was able to continue to wave his sword with all the menace to which he was accustomed while still guiding his horse.
Sklep: Libristo.pl 51,66 zł
Książki / Literatura obcojęzyczna
When you've broken 25 of the USA's most absurd laws, what do you do next? If you're Rich Smith, you return to the scene of the crime, and then: attend the National Hobo Convention in Britt, Iowa, which includes such treats as the Hobo bake sale, a giant parade, a pie and ice-cream social and the 'cheerleader omelette breakfast'. Watch the convicts compete in The Prison Rodeo at Louisiana State Penitentiary. Browse for treasures at the World's Longest Yardsale, held each August along 630 miles of Alabama, Tennessee and Kentucky Expose yourself at the Amtrak Mooning in Orange County, California.This year sees the 28th annual mooning of Amtrak. After 8pm, night mooning starts. Mooners are advised to: 'bring a torch with plenty of batteries...Night mooning is better because it is less crowded, cooler temperature, and more authentic'. Compete in the Redneck Games, in Buckeye Park, Georgia, where eager participants engage in such high-brow events as the mudpit belly flop, the armpit serenade, and bobbing for pig's feet.
Sklep: Libristo.pl 90,56 zł
Książki / Literatura obcojęzyczna
The Tour de France is one of the best-known and most challenging athletic events in the world. In the first three weeks of July every year, the pros pit their strength, wit and skill against each other over the gruelling 3,500km route. And every year, amateur riders the world over dream of tackling one of the Tour's legendary stages themselves. Ride a Stage of the Tour de France is the first book that allows non-professional cyclists to do just that. A thorough 'how to' guide, it covers forty of the Tour's classic ascents, including Mount Ventoux, Galibier and Tourmalet. Each route is described in detail by an author who has ridden them all. There's information to help you prepare, train and choose the right stage, and each route comes with a map and vital statistics like altitude, length and difficulty. From where to park to when to go, from what to wear to the characteristics of the road, Riding a Stage of the Tour de France has all you need to complete the challenge safely and successfully.
Sklep: Libristo.pl
Sklepy zlokalizowane w miastach: Warszawa, Kraków, Łódź, Wrocław, Poznań, Gdańsk, Szczecin, Bydgoszcz, Lublin, Katowice
Szukaj w sklepach lub całym serwisie
2. Szukaj na wszystkich stronach serwisu
t1=0.043, t2=0, t3=0, t4=0.027, t=0.043