krainaksiazek murder on the back nine 20054546
- znaleziono 9 produktów w 2 sklepach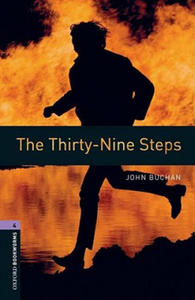 43,56 zł
Książki / Literatura obcojęzyczna
'I turned on the light, but there was nobody there. Then I saw something in the corner that made my blood turn cold. Scudder was lying on his back. There was a long knife through his heart, pinning him to the floor.' Soon Richard Hannay is running for his life across the hills of Scotland. The police are chasing him for a murder he did not do, and another, more dangerous enemy is chasing him as well - the mysterious 'Black Stone'. Who are these people? And why do they want Hannay dead?
Sklep: Libristo.pl 71,76 zł
Książki / Literatura obcojęzyczna
'I turned on the light, but there was nobody there. Then I saw something in the corner that made my blood turn cold. Scudder was lying on his back. There was a long knife through his heart, pinning him to the floor.' Soon Richard Hannay is running for his life across the hills of Scotland. The police are chasing him for a murder he did not do, and another, more dangerous enemy is chasing him as well - the mysterious 'Black Stone'. Who are these people? And why do they want Hannay dead?
Sklep: Libristo.pl 3,10 zł
Książki & Multimedia > Książki
Nazwa - Temperówka kum z pojemnikiem fluorescencyjna 210K Fish Wydawca - KUM Kod ISBN - 4064900016314 Kod EAN - 4064900016314 Podatek VAT - 23%
Sklep: InBook.pl 61,46 zł
We Own This Game Grove Press / Atlantic Monthly Press
Książki / Literatura obcojęzyczna
Although its participants are still in grade school, Pop Warner football is serious business in Miami, where local teams routinely advance to the national championships. Games draw thousands of fans; recruiters vie for nascent talent; drug dealers and rap stars bankroll teams; and the stakes are so high that games sometimes end in gunshots. In America's poorest city, troubled parents dream of NFL stardom for children who long only for a week in Disney World at the Pop Warner Super Bowl. In 2001, journalist Robert Andrew Powell spent a year following two young teams through rollercoaster seasons. The Liberty City Warriors, former national champs, will suffer the team's first-ever losing season. The inner-city kids of the Palmetto Raiders, undefeated for two straight years, are rewarded for good play with limo rides and steak dinners. But their flamboyant coach (the "Darth Vader of youth football") will be humbled by defeat in a down-to-the-wire playoff game. TITLE OF BOOK is an inside-the-huddle look into a world of innocence and corruption, where every kickoff bares political, social, and racial implications. By an award-winning journalist whose work has appeared in The Best American Sports Writing, it is an unforgettable drama that shows us just what it is to win and to lose in America. INTRODUCTION A portrait of Miami, a city whose government, even after race riots which crippled the black community in the 80s, serves the interest mostly of the Cuban-American constituency and has been rocked by various political scandals (bribery, fiscal mismanagement, etc.). The author tells how he witnessed inner-city blacks find hope and identity during a high school football semifinal that was attended by tens of thousands. He takes a newspaper assignment covering Pop Warner football games and sees much he admires ("a depressed community proud that its boys could do something better than anyone else") but also "the corruption of sport at its infancy" (recruiting, fans assaulting the coach after the team's only loss, parents living through their kids, gambling, etc.). He quits his job to cover a season of Pop Warner, from the first day to the last game, attending every single season and game of the 95-pound Gwen Cherry Bulls, whose coach is dubbed the 'Darth Vadar of Pop Warner'. Prologue Registration day. Coach Brian Johnson of the Liberty City Warriors is introduced as he prints out ridiculously complicated game strategies for his team, based on the Georgia Southern Eagles game plans. It is his first year as head coach and he is determined to prove himself. "I wouldn't be a man if I didn't aspire to run my own team." We're introduced to the "Darth Vadar of Pop Warner" Raul Campos, the ostentatious coach of the 110-pound Palmetto Raiders, who is editing a video hyping his team as the greatest of all time, winners of back-to-back national champions at Disney World Sport Center, undefeated in the last 2 seasons. We're introduced to Diamond Pless, a young kid whose uncle was confined to a wheelchair after a shooting with a rival drug dealer, and who is now helping his uncle live his dream of NFL superstardom vicariously We're introduced to Mark Peterson, the head of the league who tries without much success to discourage the recruitment of black inner city players to suburban ballparks, and is still torn over last year's national championship, where a Suniland team made up mostly of recruits won 56-6. The coach lost his job because he ran up the store, but is suing to be reinstated. CHAPTER ONE: First Practice The first practice, plus a history of Pop Warner football, the largest youth football league in America, started in 1929 in Philly to prevent youth crime and eventually to over 6,000 teams nationally competing to play in the national champion at Disney World. CHAPTER TWO: Liberty City A tour of Liberty City--past the wealthy enclaves of Miami and the poverty of Little Havana is a black neighborhood torn by race riots in the 80s and gang-related assassinations in the 90s. The neighborhood grew out of a black ghetto called Nigger Town which eventually became a progressive experimental black-only community named Knight Manor until a highway ran through it and tore the neighborhood apart. This is wear porno rapper Luther Campbell of 2 Live Crew comes from, who helped found the Liberty City program. Since then, the Warriors have won city championships in 7 of 8 weight divisions and have spawned other all-black parks. CHAPTER THREE: CAMPOS Inside the home of the Cuban exile turned real estate wizard Coach Campos, who is hated and called a "cracker" and takes his players to games in chartered motor coaches and used to take them in Hummer limos. After being banned from another Pop Warner team, Campos took over the Palmetto team comprised mostly of white suburban kids and replaced them with mostly black players recruited from West Perrine via varsity letter jackets, steak dinnnnnnners, etc. CHAPTER FOUR: DIAMOND Diamond's mom tries to petition for him to get a larger role on the team, but Diamond doesn't show much promise. Diamond's uncle Durell describes his gun injury. CHAPTER FIVE: SUNILAND We're introduced to Phillip, whose father is dead from AIDS and whose HIV+ mother's behavior is erratic because of drugs. He is often left to his own devices. He sees football as his way out. We're introduced to the Suniland Devils, a suburban team comprised of recruited back players whose coach Gator Rebhan was banned after he ran up the score in a championship game. Rebhan thinks the League is jealous because he took a white ballpark and made it successful. CHAPTER SIX: GOULDS The history of the Railroad Shop, a black settlement that developed nearly a century ago, was condemned by the city, but eventually turned black again. Now Goulds is black and poor. In their first game, Liberty City loses to Goulds, with Coach Johnson's playbook proving way too complex for the pee wees. CHAPTER SEVEN: SEPTEMBER 11 Warriors lose their second game. News of 9/11 comes, but Florida is very removed from the goings-on in NYC and Washington. The coaches convene at the field despite cancelled games and try to make sense of things. CHAPTER EIGHT: McADOO We're introduced to shadowy figure named McAdoo, who "takes care" of high school and college players in vague ways. He's a street agent, of which every major college sports program has at least one. They operate under the radar, even going so far as to buy cars for young players even though he has no traceable source of income besides selling watermelons and gambling. He points out all of the players he "raised"-- rappers, NFL players, etc. McAdoo's cash flow is "supplemented by his relationships with some of Liberty City's more prominent entrepreneurs," including drug dealers and gang members. McAdoo has switched his focus from encouraging kids to go into football to encouraging them to read. CHAPTER NINE: LIBERTY CITY AT PALMETTO Liberty City is now 1-4 and their chances at the championship are slipping. A player is hit hard and has to go to the hospital in an ambulance. Coach Johnson is questioning why he even bothers. CHAPTER ELEVEN: PLEX The story of drug-related gang violence in Liberty City. Gang members bet up to $10,000 and intimidated coaches and player. Diamond's father-in-law "Plex" was arrested for a murder associated with protecting the distribution channels of a crack laboratory. He is serving 5 life sentences. CHAPTER ELEVEN: ELECTION The Elian Gonzalez debacle, and how it further turned the black community against the Cubans. The Warriors win a game. CHAPTER THIRTEEN: THE GAME A story about a legendary street game decades ago between a group of white kids and black kids. The black kids
Sklep: Libristo.pl 103,28 zł
Książki / Literatura obcojęzyczna
Hardly a day goes by when nine-year-old Laurent Lepage doesn't cry wolf. From alien invasions, to walking trees, to winged beasts in the woods, to dinosaurs spotted in the village of Three Pines, his tales are so extraordinary no one can possibly believe him. But when the boy disappears, the villagers are faced with the possibility that one of his tall tales might have been true. And so begins a frantic search for the boy and the truth. What they uncover deep in the forest sets off a sequence of events that leads to murder, leads to an old crime, leads to an old betrayal. A monster once visited Three Pines. And put down deep roots. And now, it is back.
Sklep: Libristo.pl
72,23 zł
Książki / Literatura obcojęzyczna
Hardly a day goes by when nine-year-old Laurent Lepage doesn't cry wolf. His boundless sense of adventure and vivid imagination mean he has a tendency to concoct stories so extraordinary and so far-fetched that no one can possibly believe him.§But when Laurent disappears, former Chief Inspector Armand Gamache is faced with the possibility that one of his tall tales might have been true.§So begins a frantic search for the boy and the truth.§And what Gamache uncovers deep in the forest leads back to crimes of the past, betrayal and murder, with more sinister consequences than anyone could have possibly imagined
Sklep: Libristo.pl 132,43 zł
Książki / Literatura obcojęzyczna
Source: Wikipedia. Commentary (music and lyrics not included). Pages: 125. Chapters: Love?, Kelly Rowland's third album, Detox, Vices & Virtues, The R.E.D. Album, Christina Milian's fourth album, Teargarden by Kaleidyscope, American Tragedy, I Remember Me, Born This Way, The Unforgiving, Make a Scene, Screaming Bloody Murder, Awesome as Fuck, I Will Praise You, Glee: The Music Presents The Warblers, Fishin' for Woos, On a Mission, Jumping Trains, The Taking, The Book of David, Violeta Violeta, Gold Cobra, Imaginarium, Wyclef Jean, Hot Sauce Committee, Pt. 2, Electro Love, Beach Cruiser, Holding On to Strings Better Left to Fray, Follow Me Home, Coldplay's fifth album, Move Like This, Soul Punk, In Your Dreams, From Fear to Eternity, Lupercalia, Perfectionist, Under Your Skin, Europe '72: The Complete Recordings, J. Cole's debut studio album, Panic of Girls, All Things Bright and Beautiful, New World Agenda, Telesterion, Laws of Power, The Album, Transition, Fly from Here, Have It All, Checkmate!, Time, K.I.S.S., Now That's What I Call Music! 78, Adam Ant Is the Blueblack Hussar in Marrying the Gunner's Daughter, Wasting Light, The Mighty Death Pop!, We the Best Forever, WTF, Clockwork Angels, Careless World, Remixes 2: 81-11, I'll Scratch Yours, Block Party, CeCe, Welcome 2 My Nightmare, Walk with Me Now, All 6's And 7's, Helplessness Blues, Bright Black Heaven, WTF?!, Suck It and See, Live on I5, James River, As If!, Illud Divinum Insanus, Brilliant! Tragic!, Înapoi În Viitor, Time of My Life, The Mushroom Cloud Effect, So Beautiful or So What, Blood Alliance, Sounds of a Playground Fading, Volatile Times, Celestial Completion, Director's Cut, Wonderland, Glam Nation Live, Biophilia, When Ronan Met Burt, Safari Disco Club, Ultrawired, Destroyed, The Great Escape, Call to Arms, Cats & Dogs, World of Fantasy, New L.O.X. Order, Back Through Time, The Hardship Diaries, Night of the Living Drums, Black and White America, Daybreak, This Is Country Music, Without Regret, Superheroes, Live at River Plate, Blood Pressures, Euphoric Heartbreak, Live from the Kitchen, We All Bleed, Kairos, In Memory Of..., Goblin, Steady as She Goes, MGMT, The Unseen Empire, The Remedy, Love, Tweet, Hot Sauce Committee, Pt. 1, Emotional Rollercoaster, Diotima, Good & Evil, Loso's Way 2: Rise to Power, Liquid Swords 2: The Return of the Shadowboxer, Nine Types of Light, When I Come of Age, Eclipse, Births, Deaths & Marriages, Simple Math, The Wombats Proudly Present: This Modern Glitch, My Heart, Powerless, Introducing Johnny Reid, I Will Stand by You: The Essential Collection, Tough Love: Best of the Ballads, Getting Laid on a School Bus, Mona, I Am What I Am, Two, The Fastest Kid Alive, Inside This Machine, Year of the Wolf, U2 Duals, Into the Wild, Days of the New Presents Tree Colors, Eureka, Raydiation 2, Laugh Now, Laugh Later, The Best of Mark Schultz, Mind Bokeh, The Graveyard of the Atlantic, First World Manifesto, Flee the Flock, From Chaos to Eternity, Everything Always Now, The Lay Of Thrym, Surrounded by Liars, Bluestars 2, Da Yellow Bus Rydah, Now: The Hits of Autumn 2011, Paper Airplane, Child of the Corn, Muscle Car Chronicles, In Love with Oblivion, If Not Now, When?, One Reality, My Brain Says Stop, But My Heart Says Go!, Född förlorare, Vices and Virtues, Building, A Dying Man's Hymn, Creep On Creepin' On, Free, Midnight in the Labyrinth, Merzcow, Covert Coup, Meredead, Take Care, Take Care, Take Care, The Time of the Sun, A propósito, Apocalyps...
Sklep: Libristo.pl 82,05 zł
Książki / Literatura obcojęzyczna
Source: Wikipedia. Pages: 49. Chapters: Op zoek naar Zorro, Game of Thrones, Top Chef Suomi, The X Factor, Forensic Heroes III, Life's Too Short, The Last Airbender: Legend of Korra, Terra Nova, Star Wars live-action TV series, The Voice, The Paul Reiser Show, Paris Hilton's Dubai BFF, Mad Love, Franklin & Bash, Necessary Roughness, Dwellings of Men and Women, Love Bites, Breaking In, Reunion, Salute Laughing Sir, Happy Endings, Journey to the West, Despera, Captain Barbell, Ultimate Spider-Man, Voltron Force, A Legal Mind, The Problem Solverz, The Great State of Georgia, Happily Divorced, Falling Skies, Drew Carey's Improv-A-Ganza, The Looney Tunes Show, Frozen Planet, Exit 19, Angry Boys, Hell on Wheels, The Biggest Loser: Pinoy Edition, The Nine Lives of Chloe King, Soul Quest Overdrive, Back to the Three Kingdoms, Audrina, Teen Wolf, ThunderCats, Utoy, My Sister of Eternal Flower, The Truth, The Lying Game, Wild Decembers, Friends with Benefits, Sunshine Angel, Kourtney and Kim Take New York, Octavia, Switched at Birth, Root of Evil, Sanlakas Kids, Yes Sir, Sorry Sir, The King Among Ten Thousand Phoenixes, Forever Young, The Queen of All, Borgia, Men with No Shadows, Khloé & Lamar, Bucket & Skinner's Epic Adventures, Against the Wall, Galema, Ang Anak ni Zuma, Enlightened, Luck, Twist of Kate, The Shadow Line, ANT Farm, Sweet F.A., El Derecho, Theodore, Magic City, Duckworth, Setup Squad, Sa Sinungaling Mong Puso, The Glee Project, Secret Mountain Fort Awesome, This Might Hurt, The Slap, Boss, Junior MasterChef Pinoy Edition, Clue, Moon River, The Irwin's Australia Zoo, Tight Bros, Crownies, Modern Lady, Dragon Age: Redemption, STORIbook Weddings, The Governator, The Body Farm, Kokhav Nolad 9, Sesame Square, The Phryne Fisher Murder Mystery Series, Sing If You Can, Arranged Marriage. Excerpt: Op zoek naar Zorro (Looking for Zorro) is a Dutch television talent series broadcast on AVRO from late 2010 until early 2011. It will document the search for a new, undiscovered musical theatre performer to play the role of Zorro in the forthcoming stage production of Zorro. Produced by Eyeworks for the AVRO, the series will be hosted by Frits Sissing and judged by Willem Nijholt. The series follows previous collaborations between the AVRO and Willem Nijholt to find new musical theatre performers: Op zoek naar Evita which was won by Brigitte Heitzer, Op zoek naar Joseph which was won by Freek Bartels and Op zoek naar Mary Poppins which was won by Noortje Herlaar. Applications for the series from those from 20 to 35 were solicited in March 2010 all over the Netherlands. Eleven potential Zorros made it through the audition rounds and will perform during the live shows starting from 1 January 2011 but this time, the live shows will be shifted from Sunday to Saturday nights. The final will be broadcast on 19 February 2011. Each potential Zorro wore a black jacket and a sash of a certain colour, which made identification easier. At the end of every live show, the losing Zorro would have his jacket and sash stripped by the Zorro who survived the singoff. One finalist, Tommie Christiaan, had previously initially made it to the finals in Op zoek naar Joseph in 2008, but had dropped out when he had been offered a lead role in High School Musical. * at the start of the series 1 Willem's choice for Zorro was Roman van der Werff 2 Pia could not make a choice 3 Monique van de Ven could not make a choice The first of the live finals on New Y...
Sklep: Libristo.pl 117,85 zł
Książki / Literatura obcojęzyczna
Source: Wikipedia. Commentary (films not included). Pages: 103. Chapters: The Battleship Potemkin, Waterloo, Liberation, Stalker, Andrei Rublev, Solaris, Come and See, War and Peace, Office Romance, The Mirror, Operation Y and Other Shurik's Adventures, Alexander Nevsky, Ivan's Childhood, Kin-dza-dza!, I Am Cuba, The Irony of Fate, The Diamond Arm, Battle of Moscow, Ivan Vasilievich: Back to the Future, Ballad of a Soldier, Taming of the Fire, Moscow Does Not Believe in Tears, Ilya Muromets, Siberiade, Nostalghia, The Cranes Are Flying, Kidnapping, Caucasian Style, Dersu Uzala, The Fall of Berlin, White Sun of the Desert, The Pokrovsky Gate, The Steamroller and the Violin, The Battle of Stalingrad, Scarlet Sails, I Step Through Moscow, Beware of the Car, Agony, Teheran 43, The Red Tent, The Forty-First, The Ascent, Two Comrades Were Serving, At Home Among Strangers, Air Crew, Jolly Fellows, Kosmicheskiy reys, The Elusive Avengers, Gentlemen of Fortune, Nine Days in One Year, Soldiers of Freedom, Mary Poppins, Goodbye, The Crown of the Russian Empire, or Once Again the Elusive Avengers, Welcome, or No Trespassing, The Very Same Munchhausen, Carnival Night, Time, Forward!, Viy, Earthly Love, The New Adventures of the Elusive Avengers, A Man from the Boulevard des Capucines, Take Aim, The Chairman, Lenin in Paris, Volga-Volga, Solo Voyage, Stariki-razboyniki, Miles of Fire, Destiny, Hussar Ballad, Mimino, Station for Two, The Sannikov Land, My Friend, Kolka!, The Star, Circus, Anna Karenina, Optimistic Tragedy, Lenin in 1918, Queen of the Gypsies, We Are from Jazz, Intergirl, Takeoff, The Assassin of the Tsar, The Garage, The Brothers Karamazov, Adventures of a Dentist, Hostile Whirlwinds, Hot Snow, An Ordinary Miracle, The Ballad of the Valiant Knight Ivanhoe, Minin and Pozharsky, Bootleggers, Pugachev, Going Inside a Storm, Formula of Love, Hopelessly Lost, Aerograd, Dead Souls, A Hunting Accident, Thirty Three, Suvorov, Admiral Nakhimov, Chronicle of Flaming Years, The Alive and the Dead, The Cossacks, Uncle Vanya, Five Days, Five Nights, Little Tragedies, A Very English Murder, Zhukovsky, Anna Karamazoff, In the Name of the Fatherland, Michurin, Autumn Marathon, Sofiya Perovskaya, The Return of Vasili Bortnikov, The Kreutzer Sonata, The Blizzard, Balzaminov's Marriage, The Little Golden Calf, Aybolit-66, The Adjutant of His Excellency, The Murderers are Coming, Wolfhound, A Lesson in History, Tchaikovsky, Victory, Do Not Shoot at White Swans, Afonya, Private Life, June 31st. Excerpt: Liberation (Russian: , translit. Osvobozhdenie, German: , Polish: ) is an epic five-part film series considered the most large-scale World War II film ever made in the Soviet Union. Filmed from 1967 to 1971, the first part was released during 1970 for the 25th anniversary of Victory Day. The series was a Soviet-Polish-East German-Italian-Yugoslavian co-production, by the studios Mosfilm, ZF-Start/PRF-ZF, Deutsche Film AG, Dino de Laurentiis Cinematografica and Avala Film. It was directed by Yuri Ozerov. The script was written by Yuri Bondarev and Oscar Kurganov. The films are a dramatized account of the liberation of the Soviet Union's territory and the subsequent defeat of Nazi Germany in the Great Patriotic War, focusing on five major Eastern Front campaigns: the Battle of Kursk, the Lower Dnieper Offensive, Operation Bagration, the Vistula-Oder Offensive and the Battle of Berlin. The series was created under the aegis of Soviet authorities, with the mil...
Sklep: Libristo.pl
Sklepy zlokalizowane w miastach: Warszawa, Kraków, Łódź, Wrocław, Poznań, Gdańsk, Szczecin, Bydgoszcz, Lublin, Katowice
Szukaj w sklepach lub całym serwisie
2. Szukaj na wszystkich stronach serwisu
t1=0.044, t2=0, t3=0, t4=0, t=0.045