krainaksiazek museums and social change 20124157
- znaleziono 8 produktów w 3 sklepach 139,99 zł
Książki Obcojęzyczne>Angielskie>Law>Jurisprudence & general issues
0x0062d12b00000000
Sklep: Gigant.pl 60,97 zł
Książki / Literatura obcojęzyczna
Excerpt from The Role of the Research Museums, Vol. 2: Hearing Before the Task Force on Science Policy of the Committee on Science and Technology, House of Representatives, Ninety-Ninth Congress, First Session, April 17, 1985 Wednesday, April 17, 1985 House of Representatives, Committee on Science and Technology, Task Force on Science Policy, Washington, DC. The task force met, pursuant to notice, at 9:39 a.m., in room 2318, Rayburn House Office Building, Hon. Don Fuqua (chairman of the task force) presiding. Mr. Fuqua. The task force will come to order. Today the task force will begin its regular hearings on various aspects of American science policy. During February and March, we conducted a series of minihearings which were held more or less weekly. These were focused on the general topic of the goals and objectives of national science policy, and they served to give us a useful overview and a good preparation for the hearings on the individual, more specific topics which we begin today. The research activities carried out at American museums are perhaps less well recognized and less clearly understood than research done at universities, in Government laboratories, and in industry. Yet, in certain disciplines, especially in many of the social sciences, museum-based research is highly important. Such research is frequently based on extensive collections of artifacts which are the reason for the existence of the museums in the first place. The large collections are, however, expensive to develop and maintain. In that sense, they are not unlike other aspects of big science which also require extensive facilities and demand high operating costs. Collection-based research is undergoing much change, all of which may not be for the better. Some universities are phasing out such research, and that raises questions about the disposition of their collections, about the divorce from graduate education, and about the future supply of scholars in certain fields. Before we call our first witness, we will place opening statements of any members who so desire into the record at this point. [The prepared opening statement of Mr. Lujan follows:] Opening Remarks of Hon. Manuel Lujan, Jr., Science Policy Task Force Today's meeting on the role of the scientific research museums begins our task force's more formal and directed hearing schedule. Over the past two months, the task force has received overview briefings on the goals and purpose of U.S. science policy from five distinguished individuals: Dr. George Pimentel of Berkeley, Dr. Alex Roland of Duke University, Dr. John Foster of TRW, Dr. James Wyngaarden of the NIH and Dr. Lewis Branscomb of IBM. About the Publisher Forgotten Books publishes hundreds of thousands of rare and classic books. Find more at www.forgottenbooks.com This book is a reproduction of an important historical work. Forgotten Books uses state-of-the-art technology to digitally reconstruct the work, preserving the original format whilst repairing imperfections present in the aged copy. In rare cases, an imperfection in the original, such as a blemish or missing page, may be replicated in our edition. We do, however, repair the vast majority of imperfections successfully; any imperfections that remain are intentionally left to preserve the state of such historical works.
Sklep: Libristo.pl 223,93 zł
Książki / Literatura obcojęzyczna
Open Conversations: Public Learning in Libraries and Museums is a provocative book, one that is designed to offer courage to cultural institution administrators and staff even as it opens their eyes to the possibility that their facilities can offer more than they are. Rather than offering prescriptive answers, the author invites readers to consider museums and libraries in fresh ways. Author David Carr believes professionals in libraries and museums need to think more broadly. He challenges them to address communities, national social change, psychology, and learning, and to think about ways to frame their institutions, not as repositories or research chambers, but as instruments for human thinking. Now is the time for these institutions to recover their integrity and purpose as fundamental, informing structures in a struggling democracy. Based on lectures and previously published writings by the author, and drawing on new scholarship and research, the essays here will inspire professionals to understand their collections and institutions as instruments of personal, social, and cultural change.
Sklep: Libristo.pl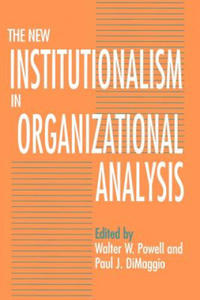 170,97 zł
Książki / Literatura obcojęzyczna
Long a fruitful area of scrutiny for students of organizations, the study of institutions is undergoing a renaissance in contemporary social science. This volume offers, for the first time, both often-cited foundation works and the latest writings of scholars associated with the "institutional" approach to organization analysis. In their introduction, the editors discuss points of convergence and disagreement with institutionally oriented research in economics and political science, and locate the "institutional" approach in relation to major developments in contemporary sociological theory. Several chapters consolidate the theoretical advances of the past decade, identify and clarify the paradigm's key ambiguities, and push the theoretical agenda in novel ways by developing sophisticated arguments about the linkage between institutional patterns and forms of social structure. The empirical studies that follow--involving such diverse topics as mental health clinics, art museums, large corporations, civil-service systems, and national polities--illustrate the explanatory power of institutional theory in the analysis of organizational change. Required reading for anyone interested in the sociology of organizations, the volume should appeal to scholars concerned with culture, political institutions, and social change.
Sklep: Libristo.pl 531,71 zł
Książki / Literatura obcojęzyczna
Six decades after the defeat of National Socialism, commemoration and mourning are ongoing, open-ended projects in Germany and Austria, and continue to generate a steady stream of literature and film about the Nazi past that, while comparatively modest in volume, is often disproportionately influential in public debates. At the same time, new museums and memorials are being established all the time in what Andreas Huyssen has called a 'memory boom', while what is remembered and how it is remembered is subject to continuous change. Scholars have to keep pace with each new development in this culture of commemoration. Rather than add to the growing body of surveys of literature and film about the Third Reich, this study instead puts scholars' critical approaches under the microscope. Chloe Paver considers how far the object of the study is not just analysed but also constructed by the scholar's approach and identifies the criteria by which academics judge the values of works that deal with the Third Reich. This book brings aspects of film, fiction, and memorial culture together in a single study that pays as much attention to images (and in the case of film to sound) as it does to text. The study of film, historical exhibitions, and sites of memory also demands consideration of social contexts and practices. A case study of memory at two of Austria's sites of terror demonstrates the methods used in the study of memorials and museums and considers the ways in which memory attaches itself to place.
Sklep: Libristo.pl 479,57 zł
Książki / Literatura obcojęzyczna
Transformations in Urban Education: Urban Teachers and Students Working Collaboratively addresses pressing problems in urban education, contextualized in research in New York City and nearby school districts on the Northeast Coast of the United States. The schools and insti-tutions involved in empirical studies range from elementary through college and include public and private schools, alternative schools for dropouts, and museums. Difference is regarded as a resource for learning and equity issues are examined in terms of race, ethnicity, language proficiency, designation as special education, and gender. The contexts for research on teach-ing and learning involve science, mathematics, uses of technology, literacy, and writing comic books. A dual focus addresses research on teaching and learning, and learning to teach in ur-ban schools. Collaborative activities addressed explicitly are teachers and students enacting roles of re-searchers in their own classrooms, cogenerative dialogues as activities to allow teachers and students to learn about one another's cultures and express their perspectives on their experi-enced realities and negotiate shared recommendations for changes to enacted curricula. Coteaching is also examined as a means of learning to teach, teaching and learning, and under-taking research. The scholarship presented in the constituent chapters is diverse, reflecting multi-logicality with-in sociocultural frameworks that include cultural sociology, cultural historical activity theory, prosody, sense of place, and hermeneutic phenomenology. Methodologies employed in the research include narratology, interpretive, reflexive, and authentic inquiry, and multi-level inquiries of video resources combined with interpretive analyses of social artifacts selected from learning environments. This edited volume provides insights into research of places in which social life is enacted as if there were no research being undertaken. The research was intended to improve practice. Teachers and learners, as research participants, were primarily concerned with teaching and learning and, as a consequence, as we learned from research participants were made aware of what we learned-the purpose being to improve learning environments. Accordingly, research designs are contingent on what happens and emergent in that what we learned changed what happened and expanded possibilities to research and learn about transformation through heightening participants' awareness about possibilities for change and developing interventions to improve learning.
Sklep: Libristo.pl 131,91 zł
Książki / Literatura obcojęzyczna
The conclusion of the Cold War in 1989 signalled the beginning of a new era in Eastern Europe, and this widespread change was felt no less strongly in the world of art. In Art and Democracy in Post-Communist Europe, Piotr Piotrowski examines the art made after 1989 in Eastern Europe in light of the profound political, social, economic and cultural transformations in the region. As well as discussing these transformations, Piotrowski describes the changing nature of artworks themselves - from work moulded by the cultural imperatives of the communist state, used as a tool of political propaganda, to autonomous work protesting against and resisting the ruling powers. He describes the rich tradition of anarchistic motifs and themes of protest in Eastern European art, and the emergence of a utopian vision in more recent times. The discussion includes themes of communist memory; the critique of nationalism; issues of gender after 1989; and the representation of historic trauma in contemporary museology, going on to discuss the recent foundation of museums of contemporary art in Bucharest, Tallinn and Warsaw. The function of art in post-communist Europe is assessed, and above all its restrictions and hidden censorship mechanisms. Throughout the book the author provides close readings of many artists, some new to a Western audience, such as Ilya Kabakov and Krzysztof Wodiczko, and Marina Abramovic's work responding to the atrocities of the Balkans. This cogent investigation of the artistic reorientation of the former Eastern Bloc breaks important new ground, and fills a major gap in contemporary artistic and political discourse.
Sklep: Libristo.pl 40,80 zł
Literatura faktu
'Only with the greatest of simplifications, for the sake of convenience, can we say Africa. In reality, except as a geographical term, Africa doesn't exist'. Ryszard Kapuscinski has been writing about the people of Africa throughout his career. In a study that avoids the official routes, palaces and big politics, he sets out to create an account of post-colonial Africa seen at once as a whole and as a location that wholly defies generalised explanations. It is both a sustained meditation on the mosaic of peoples and practises we call 'Africa', and an impassioned attempt to come to terms with humanity itself as it struggles to escape from foreign domination, from the intoxications of freedom, from war and from politics as theft. The Beginning: Collision, Ghana 1958 More than anything, one is struck by the light. Light everywhere. Brightness everywhere. Everywhere, the sun. Just yesterday, an autumnal London was drenched in rain. The airplane drenched in rain. A cold, wind, darkness. But here, from the morning
Sklep: Albertus.pl
Sklepy zlokalizowane w miastach: Warszawa, Kraków, Łódź, Wrocław, Poznań, Gdańsk, Szczecin, Bydgoszcz, Lublin, Katowice
Szukaj w sklepach lub całym serwisie
2. Szukaj na wszystkich stronach serwisu
t1=0.033, t2=0, t3=0, t4=0.015, t=0.033