krainaksiazek museums and social change 20124157
- znaleziono 12 produktów w 3 sklepach 139,99 zł
Książki Obcojęzyczne>Angielskie>Law>Jurisprudence & general issues
0x00d101f700000000
Sklep: Gigant.pl 287,17 zł
Książki / Literatura obcojęzyczna
Aimed at museum educators, Multiculturalism in Art Museums Today seeks to marry museum and multicultural education theories. It reveals how the union of these theories yields more equitable educational practices and guides museum educators to address misrepresentation, exclusivity, accessibility, and educational inequality. This contemporary text is directive; it encourages museum educators to consider the critical multicultural education theoretical framework in their day-to-day functions in order to illuminate and combat shortcomings at the crux of museum education: *Museum Educators as Change Agents *Inclusion versus Exclusion *Collaboration with Diverse Audiences *Responsive Pedagogy This book adopts a broad definition of multiculturalism, which names not only race and ethnicity as concerns, but also gender, sexual orientation, religion, ability, age, and class. While focusing on these various facets of identity, the authors demonstrate how museums are social systems that should offer comprehensive, diverse educational experiences not only through exhibitions but through other educational activities. The authors pull from their own research and practical experiences which exemplify how museums have been and can be attentive to these areas of identity. Multiculturalism in Art Museums Today is hopeful and inspiring, as it identifies and commends the positive and effective practices that some museum educators have enacted in an effort to be inclusive. Museum educators are at the front-line interacting with the public on a daily basis. Thus, these educators can be the real vanguard of change, modeling critical multicultural behavior and practices.
Sklep: Libristo.pl 218,60 zł
Książki / Literatura obcojęzyczna
Museums are rarely acknowledged in the global discussion of climate change, environmental degradation, the inevitability of depleted fossil fuels, and the myriad local issues concerning the well-being of particular communities - suggesting the irrelevance of museums as social institutions. This book explores the meaning and role of museums.
Sklep: Libristo.pl 140,78 zł
Książki / Literatura obcojęzyczna
At the close of the nineteenth century, industrialization and urbanization marked the end of the traditional understanding of society as rooted in agriculture. Urban Modernity examines the construction of an urban-centered, industrial-based culture--an entirely new social reality based on science and technology. The authors show that this invention of modernity was brought about through the efforts of urban elites--businessmen, industrialists, and officials--to establish new science- and technology-related institutions. International expositions, museums, and other such institutions and projects helped stem the economic and social instability fueled by industrialization, projecting the past and the future as part of a steady continuum of scientific and technical progress. The authors examine the dynamic connecting urban planning, museums, educational institutions, and expositions in Paris, London, Chicago, Berlin, and Tokyo from 1870 to 1930. In Third Republic Paris, politicians, administrators, social scientists, architects, and engineers implemented the future city through a series of commissions, agencies, and organizations; in rapidly expanding London, cultures of science and technology were both rooted in and constitutive of urban culture; in Chicago after the Great Fire, Commercial Club members pursued civic ideals through scientific and technological change; in Berlin, industry, scientific institutes, and the popularization of science helped create a modern metropolis; and in Meiji-era Tokyo (Edo), modernization and Westernization went hand in hand.
Sklep: Libristo.pl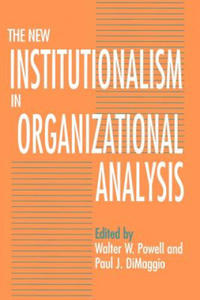 169,80 zł
Książki / Literatura obcojęzyczna
Long a fruitful area of scrutiny for students of organizations, the study of institutions is undergoing a renaissance in contemporary social science. This volume offers, for the first time, both often-cited foundation works and the latest writings of scholars associated with the "institutional" approach to organization analysis. In their introduction, the editors discuss points of convergence and disagreement with institutionally oriented research in economics and political science, and locate the "institutional" approach in relation to major developments in contemporary sociological theory. Several chapters consolidate the theoretical advances of the past decade, identify and clarify the paradigm's key ambiguities, and push the theoretical agenda in novel ways by developing sophisticated arguments about the linkage between institutional patterns and forms of social structure. The empirical studies that follow--involving such diverse topics as mental health clinics, art museums, large corporations, civil-service systems, and national polities--illustrate the explanatory power of institutional theory in the analysis of organizational change. Required reading for anyone interested in the sociology of organizations, the volume should appeal to scholars concerned with culture, political institutions, and social change.
Sklep: Libristo.pl 177,71 zł
Książki / Literatura obcojęzyczna
Routledge Companion to Museum Ethics is a theoretically informed reconceptualization of museum ethics discourse as a dynamic social practice central to the project of creating change in the museum. Through twenty-seven chapters by an international and interdisciplinary group of academics and practitioners it explores contemporary museum ethics as an opportunity for growth, rather than a burden of compliance. The volume represents diverse strands in museum activity from exhibitions to marketing, as ethics is embedded in all areas of the museum sector. What the contributions share is an understanding of the contingent nature of museum ethics in the twenty-first century - its relations with complex economic, social, political and technological forces and its fluid ever-shifting sensibility. The volume examines contemporary museum ethics through the prism of those disciplines and methods that have shaped it most. It argues for a museum ethics discourse defined by social responsibility, radical transparency and shared guardianship of heritage. And it demonstrates the moral agency of museums: the concept that museum ethics is more than the personal and professional ethics of individuals and concerns the capacity of institutions to generate self-reflective and activist practice.
Sklep: Libristo.pl 130,73 zł
Książki / Literatura obcojęzyczna
The conclusion of the Cold War in 1989 signalled the beginning of a new era in Eastern Europe, and this widespread change was felt no less strongly in the world of art. In Art and Democracy in Post-Communist Europe, Piotr Piotrowski examines the art made after 1989 in Eastern Europe in light of the profound political, social, economic and cultural transformations in the region. As well as discussing these transformations, Piotrowski describes the changing nature of artworks themselves - from work moulded by the cultural imperatives of the communist state, used as a tool of political propaganda, to autonomous work protesting against and resisting the ruling powers. He describes the rich tradition of anarchistic motifs and themes of protest in Eastern European art, and the emergence of a utopian vision in more recent times. The discussion includes themes of communist memory; the critique of nationalism; issues of gender after 1989; and the representation of historic trauma in contemporary museology, going on to discuss the recent foundation of museums of contemporary art in Bucharest, Tallinn and Warsaw. The function of art in post-communist Europe is assessed, and above all its restrictions and hidden censorship mechanisms. Throughout the book the author provides close readings of many artists, some new to a Western audience, such as Ilya Kabakov and Krzysztof Wodiczko, and Marina Abramovic's work responding to the atrocities of the Balkans. This cogent investigation of the artistic reorientation of the former Eastern Bloc breaks important new ground, and fills a major gap in contemporary artistic and political discourse.
Sklep: Libristo.pl 739,70 zł
Książki / Literatura obcojęzyczna
'Nineteenth-Century European Painting: From Barbizon to Belle Epoque' represents a comprehensive guide to the range of stylistically diverse genres of nineteenth-century European painting. Accessible and insightful, this exquisitely illustrated volume presents the historical context behind the century's essential artistic movements including Romantic Painting, The Pre- Raphaelite Brotherhood, Realist Painting, Academic Painting, and Impressionist Painting. Influenced by an overwhelming wave of political, military and social change, nineteenth-century Europe represented an era more diverse in painterly subjects and styles than any before it. Indeed, it was a period that saw many European painters moving away from the strictures of the academy system, choosing instead to use their training to develop new techniques and traditions. A collection of independent stories, this book also outlines the unique progression between the different movements, exciting and enlightening the reader about the most magnificent period of art the world has ever known. Contents: Foreword; Dr. Vern G. Swanson; Introduction; Author's Note; STYLES: The Barbizon School; Romantic Painting; Orientalist Painting; The Pre-Raphaelite Brotherhood; Realist Painting; Academic Painting; Impressionist Painting; The Newlyn School; Post-Impressionist Painting; SUBJECTS: Landscape Painting; Venetian View Painting; Maritime Painting; Sporting Painting; Animal Painting; Genre Painting; Cardinal Painting; Costume Painting; British Neoclassical Revival Painting; Belle Epoque Painting; Conclusion; Endnotes; Bibliography. Featured works from museums and collections including: Louvre, Paris, Yale University Art Gallery, New Haven, Wallace Collection, London, Fine Art Museum of San Francisco, The Tate Gallery, London, The Schaeffer Collection, New South Wales, The Royal Collection, The Royal Academy of Arts, England, The Musee D Orsay Paris, Henri de Toulouse-Lautrec, The Metropolitan Museum of Art, New York (Catherine Lorillard Wolfe Collection), The J. Paul Getty Museum, Los Angeles, The Hermitage, Saint Petersburg, Russia, Russell-Cotes Art Gallery and Museum, Bournemouth, England, Rijksmuseum, Amsterdam, Plymouth City Museum and Art Gallery, Stanhope Forbes, Philadelphia Museum of Art, Pennsylvania, PA, USA, Paisnel Gallery, London, National Gallery, London, National Gallery of Victoria, Melbourne, Museum of Fine Arts, Boston, Museo e Gallerie Nazionale di Capodimonte, Naples, Italy, Museo de Arte, Ponte, Puerto Rico, Musee Marmottan, Paris, Musee D Orsay, Paris, Auguste Renoir, Metropolitan Museum of Art, New York, among many others.
Sklep: Libristo.pl 126,11 zł
First City University of Pennsylvania Press
Książki / Literatura obcojęzyczna
First City Philadelphia and the Forging of Historical Memory Gary B. Nash "A wonderful volume, filled with stories of historical discovery, describing the preservation of Philadelphia's past for the benefit of all...First City is a first-rate piece of historical interpretation that will be a great contribution to America's cultural history."--Journal of the Early Republic "A synthetic history of what is arguably the nation's most historically conscious city...It represents well the tensions and opportunities that await writers seeking to push the craft of history to a new level of self-awareness and creativity."--American Historical Review "A remarkable book."--Public Historian With its rich foundation stories, Philadelphia may be the most important city in America's collective memory. By the middle of the eighteenth century William Penn's "greene countrie town" was, after London, the largest city in the British Empire. The two most important documents in the history of the United States, the Declaration of Independence and the Constitution, were drafted and signed in Philadelphia. The city served off and on as the official capital of the young country until 1800, and was also the site of the first American university, hospital, medical college, bank, paper mill, zoo, sugar refinery, public school, and government mint. In First City, acclaimed historian Gary B. Nash examines the complex process of memory making in this most historic of American cities. Though history is necessarily written from the evidence we have of the past, as Nash shows, rarely is that evidence preserved without intent, nor is it equally representative. Full of surprising anecdotes, First City reveals how Philadelphians--from members of elite cultural institutions, such as historical societies and museums, to relatively anonymous groups, such as women, racial and religious minorities, and laboring people--have participated in the very partisan activity of transmitting historical memory from one generation to the next. Gary B. Nash is Professor of History at the University of California, Los Angeles, and author of many books, including The Unknown American Revolution: The Unruly Birth of Democracy and the Struggle to Create America and History on Trial: Culture Wars and the Teaching of the Past. Early American Studies 2001 | 392 pages | 7 x 10 | 134 illus. ISBN 978-0-8122-3630-9 | Cloth | $59.95s | GBP39.00 ISBN 978-0-8122-1942-5 | Paper | $26.50s | GBP17.50 ISBN 978-0-8122-0288-5 | Ebook | $26.50s | GBP17.50 World Rights | American History Short copy: Covering more than two centuries of social, economic, and political change, and offering a challenging, innovative approach to urban as well national history, First City tells the Philadelphia story through the wealth of material culture its citizens have chosen to preserve.
Sklep: Libristo.pl 40,80 zł
Literatura faktu
'Only with the greatest of simplifications, for the sake of convenience, can we say Africa. In reality, except as a geographical term, Africa doesn't exist'. Ryszard Kapuscinski has been writing about the people of Africa throughout his career. In a study that avoids the official routes, palaces and big politics, he sets out to create an account of post-colonial Africa seen at once as a whole and as a location that wholly defies generalised explanations. It is both a sustained meditation on the mosaic of peoples and practises we call 'Africa', and an impassioned attempt to come to terms with humanity itself as it struggles to escape from foreign domination, from the intoxications of freedom, from war and from politics as theft. The Beginning: Collision, Ghana 1958 More than anything, one is struck by the light. Light everywhere. Brightness everywhere. Everywhere, the sun. Just yesterday, an autumnal London was drenched in rain. The airplane drenched in rain. A cold, wind, darkness. But here, from the morning
Sklep: Albertus.pl 31,32 zł
Książki / Literatura obcojęzyczna
Enamel signs emerged as the jewel in the crown of British advertising in the late Victorian era, commanding public attention for over half a century before technological, economic and social change combined to render them redundant. From the 1950s onwards they disappeared from the original locations on shop walls, to be replaced by hoardings. Of the millions of enamel signs produced between 1880 and 1950 onlya few thousand survived, often commandeered for secondary uses as 'free'materials to build huts and fencing on allotment gardens. By the early 1960s a few trend-setting collectors started to rescue them as ornamental items. With the birth of the restored steam railway, some signs found their way back to original locations, lending 'authentic' atomsphere to station platforms, and many of the industrial museums have followed suit to great effect.
Sklep: Libristo.pl 177,71 zł
Książki / Literatura obcojęzyczna
Explores the ways in which museums are shaped and configured and how they themselves attempt to shape and change the world around them. This volume includes topics such as: disciplinary practices, ethnic representation, postcolonial politics, economic aspiration, social reform, indigenous models, conceptions of history and urban regeneration.
Sklep: Libristo.pl
Sklepy zlokalizowane w miastach: Warszawa, Kraków, Łódź, Wrocław, Poznań, Gdańsk, Szczecin, Bydgoszcz, Lublin, Katowice
Szukaj w sklepach lub całym serwisie
2. Szukaj na wszystkich stronach serwisu
t1=0.076, t2=0, t3=0, t4=0, t=0.077