krainaksiazek musings from a demented mind 20040564
- znaleziono 13 produktów w 3 sklepach 109,99 zł
Muzyka>Rock
1. Baby 2. Sally 3. A Party At The Beach (Live) 4. French Blues 5. Is It True 6. I Will Make It 7. Bye Bye Baby 8. I Dont Mind 9. She Should Be Like Me (Demo Version From 1986 W/ke 10. You Treat Me Bad 11. Star Will Start To Shine 12. She Should Be Like Me 13. You Treat Me Bad (Live)
Sklep: Gigant.pl 45,80 zł
Nauki humanistyczne
Alain de Botton, best-selling author of How Proust can Change Your Life, has set six of the finest minds in the history of philosophy to work on the problems of everyday life. Here then are Socrates, Epicurus, Seneca, Montaigne, Schopenhauer and Nietzsche on some of the things that bother us all; lack of money, the pain of love, inadequacy, anxiety, the fear of failure and the pressure to conform.
Sklep: Albertus.pl 60,48 zł
Książki / Literatura obcojęzyczna
Anais Nin, Anne Frank and Sylvia Plath wrote the world's most famous diaries. And where are they today? Dead. But the world's OTHER great diarist, Joan Rivers, is alive and kicking. And complaining.§§In the extraordinary tradition of The Habit of Being: Letters of Flannery O'Connor and George Orwell's Diaries , comes an intimate and enriching glimpse into the mind of the most illuminating woman-of-letters of her Generation - the provocative exploration of an age in which she has lived on and on and on and on.§§Now in paperback, following up the phenomenal success of her headline-making New York Times bestseller I Hate Everyone...Starting With Me , the unstoppable Joan Rivers is at it again. When her daughter Melissa gives her a diary for Christmas, at first Joan is horrified who the hell does Melissa think she is? That fat pig, Bridget Jones? But as Joan, being both beautiful and introspective, begins to record her day-to-day musings, she realizes she has a lot to say.§§About everything. And everyone, God help them. §§The result? A no-holds-barred, delightfully vicious and always hilarious look at the everyday life of the ultimate diva. Follow Joan on a family vacation in Mexico and on trips between New York and Los Angeles where she mingles with the stars, never missing a beat as she delivers blistering critiques on current events, and excoriating insights about life, pop culture, and celebrities (from A to D list), all in her relentlessly funny signature style.§§This is the Diary of a Mad Diva . For the first time in a century, a diary by someone that's actually worth reading.§§WITH NEW MATERIAL§
Sklep: Libristo.pl 113,76 zł
Książki / Literatura obcojęzyczna
The New Yorker calls it "unusual and beautiful." The LA Weekly raves, "the photos are strikingly inventive, revealing yet another side of this modern-day Renaissance man." MTV calls it "a charming, well-shot document of a the legendary punk rocker's photographic dabbling." Detroit Metrotimes: "A unique insight into Watt's mind." "Mike Watt: On and Off Bass" is getting a lot of buzz. And for good reason, considering the author and photographer is the legendary punk bassist himself. Mike Watt got his musical start thumping the bass with legendary San Pedro punk trio, The Minutemen in 1980 and he has been at it ever since. Over the years, he's toured with Dos, fIREHOSE, his own The Black Gang, The Secondmen, The Missingmen, and others, and he has worked bass as a sideman for Porno for Pyros, J Mascis and the Fog, as well as punk godfathers The Stooges. Off the road, at his beloved San Pedro, CA home base, Watt developed a deep interest in photography. In Spring 2010, Track 16 Gallery in Santa Monica, CA hosted an exhibit of his photos: "Mike Watt: Eye-Gifts from Pedro." According to Track 16 executive director Laurie Steelink, who curated the exhibit, "He has this knack for finding the early morning sweet spots when venturing out alone on his bike or kayak. The resulting photographs never seem to dry: light, flight, salt, rust, and tide commingle in fiery sunrises, endless heavens, roiling waves and fog." The photos offer another side of Watt that fans of his punk rock music may not be familiar with: While seemingly serene, many have an underlying tension and that often shows the sharp contrast between industry and nature. In "Mike Watt: On and Off Bass," photographs that appeared in the exhibit are punctuated by Watt's poetry and snippets selected from 10 years of his diaries. Watt's writing is insightful, funny, intimate and honest, as he explores topics like John Coltrane, long hauls and overcoming performance fears. "Mike Watt: On and Off Bass" exposes Watt's vision as a photographer, diarist and poet, taking its readers on a trip. And when you stop turning the pages of Watt's story, you start turning the pages of yours, re-ignited. " Mike Watt's photos are the poetry of San Pedro...every time he goes out on that kayak he comes back with gold. These gorgeous images paired with the raw reflections of three decades on the road are sure to blow the minds of all who love punk rock and our beloved vision questing troubadour." - Jack Black " Here is the last stand of the fruited earth and the ship-freighted sea. How lovely America was. God bless San Pedro and Mike Watt." - Iggy Pop " The heart and mind and EYES of Michael Watt, half-brother of us all, in black/white and color. No blue-eyed beatnik Buddhist ever breathed such humility; no jackleg science-fictioneer ever oozed such enchantment. That's right!" - Richard Meltzer "Watt covers the waterfront." - Raymond Pettibon " Susan Sontag wrote that photographs of people are haunted by death. There aren't many people in Mike Watt's photographs so maybe that's why they seem haunted rather by life -- the large operations of man around the harbor and the smaller scale activity of wildlife that puts up with them. Mike is out at sun-up and getting to see SoCal's lands end from his kayak is an unearned privilege, the best kind a book can deliver. Paired with excerpts from his journal which catch him rolling across the continents as a working musician gives a precise idea what besides exercise Mike gets out of it." - Joe Carducci " Mike Watt is poetry. He's like one half of a metaphor. Watt can only be matched in poetry. When you mix pirate, Pedro pix, music, d. boon forever, hard work, weird sincerity, good will, curiosity, love, and an adult moustache, what do you have? Poetry is the answer. Poetry poetry poetry. Watt Watt Watt!" - Richard Hell Reviews The LA Review of Books' Craig Hubert offers a keen and insightful review of "Mike Watt: On and Off Bass" in this week's edition. Hubert notes, "[Watt] has a keen eye for capturing unexpected disruptions within seemingly normal, even mundane situations...Loss is prevalent throughout "On and Off Bass," but it is undercut with hope; there is always the sustaining reservoir of inspiration -- from Boon, from music, from San Pedro itself -- to dip back into. It's the same reservoir that John Coltrane described in a 1966 interview with Nat Hentoff: 'There is never any end. There are always new sounds to imagine, new feelings to get at.'" Rick Moody's extensive interview with Mike Watt on TheRumpus.Net is an essential read for fans of the legendary punk rock bass player, photographer, poet and writer. It starts with major props for the Three Rooms Press book "Mike Watt: On and Bass," which Moody notes, "As with everything that Watt has turned his attention to since he began making art in 1980, On and Off Base is sincere, funny, handmade, beautiful, totally idiosyncratic, and entirely original." MTV Hive writer Austin L. Ray is impressed with the econo nature of the new Three Rooms Press book, "Mike Watt: On and Off Bass" by the legendary punk bassist. The book features photos from Watt's gallery show at Track 16 in Santa Monica, juxtaposed with poetry, reflections and diary snippet from Watt's massive 1,500 page collection of musings on Hootpage.com. The article features Watt discussing the origins of some of the photos in the book. The New Yorker loves "Mike Watt: On and Off Bass", calling it an "unusual and beautiful photographic memoir." LA Weekly writer Nicholas Pell interviews Mike Watt, revealing exclusive photos from the new book "Mike Watt: On and Off Bass." Pell raves, "His skill lies not in classical composition -- although photo nerds will nonetheless find plenty to like in the book. Rather, Watt's strength comes from his ability to capture everyday scenes. His pictures make the mundane into the sublime." Rockerzine writer Katy Dang raves about "Mike Watt: On and Off Bass," noting that through the photos and text, "Watt brings his world and his experiences into focus, sharing them unabashedly with whoever chooses to come on board. He brings the past into the present, never merely resting on his laurels and always missing D. Boon, his missing friend." Greg Barbrick, on blogcritics.com says it's a "collection that rewards repeated viewings and is very well crafted."
Sklep: Libristo.pl 45,28 zł
Książki / Literatura obcojęzyczna
A collection of the best moments from the 'Ricky Gervais Show' with further musings from Karl Pilkington, star of Sky 1's 'An Idiot Abroad'. Karl Pilkington's is a brilliant mind, locked inside a perfectly round head and uncluttered by the unhelpful constraints of logic or common sense. He both baffles and enlightens with his take on topics as diverse as population control, the rights of monkeys and how long you can stay alive with your head chopped off. Featuring the best conversations from 'The Ricky Gervais Show' podcasts and original illustrations and scribblings by Karl Pilkington, this is a unique trip into the mind of our most innovative visionary - or, as Gervais and Merchant know him, 'the funniest man alive in Britain today'.
Sklep: Libristo.pl 50,40 zł
Książki / Literatura obcojęzyczna
'Most smart people tend to feel queasy when the conversation turns to things like 'certain death' and 'total failure' and the idea of 'a doomed generation'. But not me. I am comfortable with these themes'. Hunter S. Thompson, celebrated author of "Fear and Loathing in Las Vegas", has been writing a weekly column for the "San Francisco Examiner" for the last two years. Those columns are collected here to offer a chronicle of the adventures of a Generation of Swine. The incomparable 'Dr Gonzo' has journeyed no small distance in search of intelligent life and reports back, instead, on the demented state of current events. He keeps tabs on the 1998 presidential race, quotes from the Bible (reference books in hotel rooms are supplied exclusively by the Gideons) and asks why the President appears to be a hundred and twenty-eight years old. 'He is working from a dementia that no one in his right mind would want to share. It is the dementia, however, that makes Thompson great' - "Playboy". 'His hallucinated vision strikes one as having been, after all, the sanest' - Nelson Algren.
Sklep: Libristo.pl 75,68 zł
Książki / Literatura obcojęzyczna
Widely regarded as one of America's most important contemporary thinkers, Susan Sontag had a particular gift for reflecting on the meaning and influence of the visual, and "On Photography" became a seminal work for all those concerned with the interplay of images with the world. Now, more than thirty years after "On Photography" was first published, comes "Sontag on Film": a collection of her writings and musings on films and cinema, gathered together here for the very first time by critic David Thomson and producer Tom Luddy. Inspired, vigorous and enlightening, the collection includes lucid discussions of the intersection between film and literature; in-depth studies of films and directors; and other such delightful and illuminating fragments as a list of Sontag's top-ten films taken from a 1982 issue of "Sight and Sound". "Sontag on Film" is set to become a key work on the importance and significance of cinema in the modern world. Praise for "Susan Sontag": "What ultimately matters about Sontag ...is what she has defended: the life of the mind, and the necessity for reading and writing as "a way of being fully human"". (Hilary Mantel, "Los Angeles Times Book Review"). "Intellectually and imaginatively gifted to an extraordinary degree, she used her fearless intelligence to illuminate some of the deepest contradictions of contemporary life". (John Gray, "New Statesman"). "Complex and contradictory ...one of America's greatest public intellectuals". ("Observer"). Susan Sontag's books include four novels and numerous works of non fiction, among them "Regarding the Pain of Others", "On Photography", "Illness as Metaphor", "At the Same Time" and "Against Interpretation and Other Essays". Two volumes of her diaries, "Reborn" and "As Consciousness is Harnessed to Flesh", are also available from Hamish Hamilton/ Penguin.
Sklep: Libristo.pl
123,20 zł
Książki / Literatura obcojęzyczna
Fela Anikulapo-Kutiís universal ideas were fresh as dawn. His compositions were sophisticated, a highly 'musical construction'. From 1987, Fela was the only band in the world with two bass guitars in glissade, a form where the music slides between two notes in which all intermediate notes are played. Fela's behaviour was not extreme, when you eliminate his excesses, his socio-political musings indicate a complete intellectual capacity. He chewed up all books by great Africanists and his thoughts went deeper with his analytical mind. His music was opened to the power of the written word and it was the dawn of awareness for Fela's musical orientation, the beginning of his "Felasophy"; a total reawakening into the inhumanity against humanity. He felt for Africa and their wretched lives. Every successive government in Nigeria kicked Fela and through multiple detentions they almost broke his spirit, however during these times he wrote, composed and arranged the best music of his career. Fela Anikulapo-Kuti: The Primary Man Of An African Personality is a dramatic presentation of "Felasophy". It chronicles the music, politics, life and courage of the legendary Afro-beat activist who died on August 2, 1997.
Sklep: Libristo.pl 65,44 zł
Książki / Literatura obcojęzyczna
Sandi Toksvig - broadcaster, writer, actor, and seeker of all things whimsical, has turned her probing mind to many of the most intriguing questions of our times in the pages of the Sunday Telegraph for many years. Now, for the very first time, these musings have been collected in one hilarious collection. In The Chain of Curiosity, Sandi takes the reader on a side-splitting journey through life's peculiarities in a book packed with wit, wisdom and wonderment. From pondering the joys of World Pencil Day to examining the intricacies of applause etiquette, and from tip-toeing around the delicate art of school report vocabulary to researching the oddest way to meet a sticky end, the tickling tidbits and intriguing revelations contained within the book will delight Sandi's fans, both old and new.
Sklep: Libristo.pl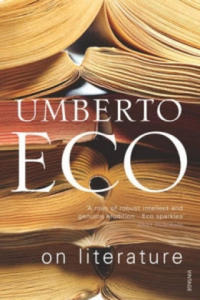 50,40 zł
Książki / Literatura obcojęzyczna
Remarkably accessible and unfailingly stimulating, this collection of essays exhibits the diversity of interests and the depth of knowledge that made Umberto Eco one of the world's leading writers. From musings on Ptolemy and reflections on the experimental writing of Borges and Joyce, to revelations of his own authorial ambitions and fears, Eco's luminous intelligence is on display throughout. This volume will appeal to anyone interested in how new light is shed on old masters by a great contemporary mind.
Sklep: Libristo.pl 72,80 zł
Unnecessary Woman Grove Press / Atlantic Monthly Press
Książki / Literatura obcojęzyczna
"I can't remember the last time I was so gripped simply by a novel's voice...Aaliya is thoughtful, she's complex, she's humorous and critical."--NPR.com "Beautiful and absorbing."--"New York Times" "An Unnecessary Woman" is a breathtaking portrait of one reclusive woman's late-life crisis, which garnered a wave of rave reviews and love letters to Alameddine's cranky yet charming septuagenarian protagonist, Aaliya, a character you "can't help but love" (NPR). Aaliya's insightful musings on literature, philosophy, and art are invaded by memories of the Lebanese Civil War and her volatile past. As she tries to overcome her aging body and spontaneous emotional upwellings, Aaliya is faced with an unthinkable disaster that threatens to shatter the little life she has left. Here, the gifted Rabih Alameddine has given us a nuanced rendering of one woman's life in the Middle East and an enduring ode to literature and its power to define who we are. "A paean to the transformative power of reading, to the intellectual asylum from one's circumstances found in the life of the mind."--"LA Review of Books" "[The novel] throbs with energy...[Aaliya's] inventive way with words gives unfailing pleasure, no matter how dark the events she describes, how painful the emotions she reveals."--"Washington Post"
Sklep: Libristo.pl 73,28 zł
Książki / Literatura obcojęzyczna
Here, for the first time, is a riveting collection of Fowles's fugitive and intensely personal writings composed sinced 1963, ranging from essays and literary criticism to commentaries, autobiographical statements, memoirs and musings. Wormholes is a delicious sampling of the various matters that have plagued, preoccupied, or delighted Fowles throughout his life; it is a rich mine of essays as art and a 'geography' of the mind of one of the twentieth century's greatest novelists.
Sklep: Libristo.pl 78,56 zł
Książki / Literatura obcojęzyczna
Excerpt from Memoirs of Vidocq: Principal Agent of the French Police; Written by Himself As a piece of Autobiography, the present Work has many and singular characteristics, which stamp it at once as one of the most interesting and powerful narratives ever penned. Replete with astonishing incident and instructive moral, it affords for the lovers of romance all that the wildest taste could desire of hair-breadth escapes, imminent dangers, thrilling horrors, and powerful description. For the amateurs of fun, there are sketches as comic as humour can devise; and for the reflective reader, who, not content with the mere detail of events, searches into the motives, and philosophizes on the wit or weakness, power or puerility of the human mind, herein will be found ample scope for his most meditative musings. To those who may assert their disbelief of the personal deeds and perils of Vidocq, we suggest this plain fact - none of them have been contradicted; and yet many of the persons whom he has handled with severity, and spoken of in no very measured terms, are still living, and would, doubtless, be too happy to refute the charges alleged, did not truth forbid denial. About the Publisher Forgotten Books publishes hundreds of thousands of rare and classic books. Find more at www.forgottenbooks.com This book is a reproduction of an important historical work. Forgotten Books uses state-of-the-art technology to digitally reconstruct the work, preserving the original format whilst repairing imperfections present in the aged copy. In rare cases, an imperfection in the original, such as a blemish or missing page, may be replicated in our edition. We do, however, repair the vast majority of imperfections successfully; any imperfections that remain are intentionally left to preserve the state of such historical works.
Sklep: Libristo.pl
Sklepy zlokalizowane w miastach: Warszawa, Kraków, Łódź, Wrocław, Poznań, Gdańsk, Szczecin, Bydgoszcz, Lublin, Katowice
Szukaj w sklepach lub całym serwisie
2. Szukaj na wszystkich stronach serwisu
t1=0.046, t2=0, t3=0, t4=0, t=0.046