krainaksiazek my thought journal 20123591
- znaleziono 8 produktów w 1 sklepie 45,68 zł
Książki / Literatura obcojęzyczna
Be inspired by the captivating gorjuss girls and their heartfelt nuggets of wisdom as you scribble your secret thoughts, inspirational ideas and deepest feelings in this exquisite guided journal. This is a perfect keepsake for dreamy doodles, pretty poems, precious photographs and other treasured mementos. Be inspired by the captivating gorjuss girls and their heartfelt nuggets of wisdom as you scribble your secret thoughts, inspirational ideas and deepest feelings in this exquisite guided journal. This inviting journal features guided prompts, encouraging diarists to explore feelings, note likes and dislikes, and more. Branded Gorjuss merchandise is gaining in popularity. There are currently more than 600 licenses worldwide. The character strikes an interesting balance between sweetness, mystery, and edge. Gorjuss is a truly beautiful and captivating property from Santoro London, which has a well-established following among crafters, digital artists and collectors of fine art prints and precious things. The compelling artworks feature sweet stripy-socked female characters, wildlife, plants and other natural imagery and childhood toys. They are pictured in heartfelt situations, often with tender and thought-provoking titles, that resonate with children and adults alike.
Sklep: Libristo.pl 22,86 zł
Książki / Literatura obcojęzyczna
This book provides a creative, fun way for kids to explore all the positive things about their lives. Chock-full of thought-provoking prompts that inspire a feel-good attitude, My Happiness Journal suggests drawing pictures of people who make you smile, listing movies that put you in a good mood, writing about a friend who makes you laugh, and more.
Sklep: Libristo.pl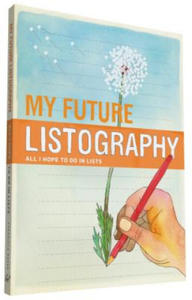 61,12 zł
Książki / Literatura obcojęzyczna
This illustrated journal includes over 70 inspiring and thought-provoking list topics focusing on the THE FUTURE, encouraging users to think not only about memories/places/things of the past and present, but to think about future goals and aspirations. All prompts are all new/original and span a wide range of topics, such as list cities/countries to visit, cuisines to try, classes to take, habits to break/develop, artists/authors to check out, and many more! See TOC for sample prompts
Sklep: Libristo.pl 85,97 zł
Książki / Literatura obcojęzyczna
A journal and drawing book for children whose parents have separated or divorced. Drawing is an effective means for children to express their thought and feelings, helping them cope with the issues they are experiencing. The entries are open-ended.
Sklep: Libristo.pl 181,22 zł
Książki / Literatura obcojęzyczna
From reviews: "Its warm and familiar style of writing makes it accessible for all. Throughout each of the 29 chapters, there was a real feel that the authors knew what was needed of you...Many of the questions I spent hours flicking through appendices in other books for were clearly answered here...There is a nice feel to this book. It is as if someone has sat down and really thought about each chapter. It feels more like your clever friend than a textbook. Current curriculums have been considered, as have common themes and questions...In conclusion, although I have always believed that examination topics, with all randomness and occasional obscurity, can and never will be fully covered by a solo text, this book comes close. It is an excellent core text for anyone needing to learn physics in anaesthesia." European Journal of Anaesthesiology, April 2014 "Overall, Physics in Anaesthesia succeeds in providing a concise and easy to read review text covering what has historically been a dry and difficult to present topic. The book is easy to understand and sufficiently covers most topics one would expect from such a book. It seems well suited for those studying for exams, but it can also serve as a good reference text for all levels of anesthesia providers." Anesthesiology, September 2013 "This is an excellent refreshing and practical text when compared with various older textbooks on physics for anesthesia...The text is written in a concise, uncomplicated, and easily understood manner, and representative clinical scenarios are often used...In my view, this is a superb teaching textbook on basic physics...I would recommend this textbook to our Anesthesia Post-Graduate Program!" Canadian Journal of Anesthesia (2012) 59: 1161-1162 "...a refreshing change from the more traditional textbooks with their pages of derivations and small, bland, obscure figures..." Technic: The Journal of Operating Department Practice, May 2012 Volume Issue 3 "...this text provides a fantastic resource for those wishing to consolidate their learning...A major strength of this book is its clear writing style. The well organised text is supported by excellent diagrams and highlighted key terms. There are clear learning objectives at the beginning of each chapter, with a short summary and a multiple choice question test at the end...Overall, this is an excellent resource and essential revision tool." Nursing Standard, June 2012, 30: vol. 26 no. 41 "This is a book specifically for anesthesia professionals written by Anesthetists, Physicists and Perfusionists. After reading the book cover to cover I can say without reservation, it is most certainly the easiest book on physics I have ever read. The simple and intuitive layout, easy to understand diagrams, relevant objectives and the quizzes at the end of each chapter help me expand my understanding of topics I was already a master of. That is saying something. This book is not just a 'must have' for students of anesthesia and any prospective anesthesia students looking to brush up before training but also for the working Nurse Anesthetists as a quick and easy to use reference." www.nurse-anesthesia.org, June 2012 Physics in Anaesthesia caters especially for those who consider themselves non-physicists. It covers the FRCA syllabus in an informative and accessible way from the very basics, and provides an important link between theory and practice. Worked examples highlight the relevance to clinical practice, and along with graphs and charts, make the basics of physics understandable not only to doctors, but also to operating department practitioners and students. It does not assume that readers will have A level physics. Two different types of self-assessment questions at the end of each chapter will test understanding of the key concepts, while a summary section for each topic is ideal as a rapid refresher, highlighting any problem areas.
Sklep: Libristo.pl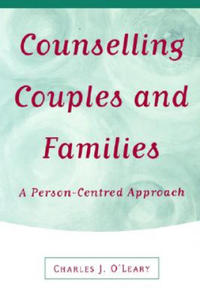 154,71 zł
Książki / Literatura obcojęzyczna
Reader's comments: 'Then along comes your book - lands on my desk like a gift, which I have barely put down since. It stopped me searching for external answers, helped me to dig into the knowledge, philosophy and way of working which already existed in me. I draw on it all the time for inspiration and a way of grounding me in the tentative moments of working towards a delicate connection with the families I encounter. I have a lot to be thankful to you for - I have now developed a way of working which seems helpful and which enables those around me to find a way forward, but perhaps most of all I finally feel comfortable and free to be the same counsellor I am with individuals - Hurrah!' - Kim Barber, Counsellor Lecturers' comments: 'A fascinating book which combines couple counselling with person-centred counselling. Will be recommended reading for social work students working with couple relationships' 'Very readible. Useful for students of counselling beyomd the 'title' focus of couples and families' 'The only book on couple and family counselling from the person-centred approach' 'This book is unique in its articulation of family therapy and the person-centred approach.It is also engaging in the way couples and the families come to life through Charlie O'Leary's acute and sensitive observation. It is an essential text in any person-centred therapy library'- Dave Mearns, University of Strathclyde 'Compelling reading...I liked this book. It is intelligent, thought-provoking, occasionally funny and a delight to read. I warmed to the author's passion for the work of Carl Rogers...All Relate counsellors will find something of value - even the strict psychodynamic practitioners' - Relate News 'The author deserves congratulations on his easy, readable style. This will ensure that the book will be read, rather than simply browsed by many' - Sexual and Relationship Therapy 'Provides a very good introduction for counsellors in working with families.' - British Journal of Guidance & Counselling 'In this highly readable text, the theory and practice of counselling couples and families are successfully integrated with principles from the Rogerian/person-centred approach.In this sense the book is unique: although a lot of counsellors in fact practice relational therapy from a person-centred perspective, until now, no basic text was available in this field' - Alfons Vansteenwegen, INTAMS Review In this unique book, the theory and practice of counselling couples and families are integrated with principles from the person-centred approach. With numerous examples from actual sessions, the book clearly illustrates the key issues that couples and families face, and the ways in which the counsellor can help them to resolve these to their own satisfaction. Written primarily from the viewpoint of working with couples and families, issues specific to relational counselling are contrasted to those that arise when counselling individuals or non-related groups. The author then explores the process of relational counselling using the person-centred principles of empathy, congruence, unconditional positive regard and non-interference with the clients' actualizing tendency.
Sklep: Libristo.pl 49,32 zł
Książki / Literatura obcojęzyczna
This funny, fascinating journal follows the development of a boy and his changing attitudes during WW II from its outbreak in September 1939 to victory in the summer of 1945. It is a memoir based on the original letters, around a hundred and ninety in total, written by the author to his parents and carefully preserved over the years. There are also several contemporary photographs. He was an only child and full of his own selfish needs, vanity, hypochondria, prejudices and unquestioning patriotism. The letters carry strong echoes of 'Just William' and 'Adrian Mole' . 'Health and Safety' was nowhere in sight! There is also a wealth of information about childhood games, hobbies, mock battles, sport, school life and wartime concerns.Actor Bernard Cribbins read an extract as part of BBC concert to mark 70 years since VE Day. The concert aired on BBC 1 and Radio 2 was a mixture of live musical performances and readings from famous actors and actresses of various accounts from the second world war.Geoffrey Iley: "It was a truly amazing experience for me - and even more so for the wonderful veteran servicemen who were able to attend. I still have no idea how the producers stumbled across my book and found that excerpt. I thought that Bernard Cribbins did a really brilliant job with the reading - a former Doctor Who! It doesn't get much better than this."
Sklep: Libristo.pl 384,90 zł
Książki / Literatura obcojęzyczna
For many years I have been interested in computer chess and have collected almost every learned paper and article on the subject that I could find. My files are now quite large, and a considerable amount of time, effort and expense has been required to build up this collection. I have often thought how difficult it must be for many computer chess enthusiasts to acquire copies of articles that they see referenced in some other work. Unless one has access to a good reference library, the task is almost impossible. I therefore decided to try to make available, in one volume, as many as possible of the most interesting and important articles and papers ever written on the subject. Such a selection is naturally somewhat subjective, and I hope that I will not offend authors whose works have been excluded. In particular I have decided to exclude any material which has appeared in the Journal of the International Computer Chess Association (ICCA), or in its precursor, the ICCA Newsletter. The reason is simply that the ICCA itself is in the process of compiling a compendium containing the most important material published in those sources. For further information on ICCA membership and publications the reader is invited to contact: Professor H. 1. van den Herik, or Dr Jonathan Schaeffer University of Limburg, Computing Science Dcpaitment, Department of Computer Science University of Alberta, 6200 MD Maastricht Edmonton Netherlands Alberta, Canada T6G 2HI.
Sklep: Libristo.pl
Sklepy zlokalizowane w miastach: Warszawa, Kraków, Łódź, Wrocław, Poznań, Gdańsk, Szczecin, Bydgoszcz, Lublin, Katowice
Szukaj w sklepach lub całym serwisie
2. Szukaj na wszystkich stronach serwisu
t1=0.074, t2=0, t3=0, t4=0, t=0.074