krainaksiazek my trip to the museum 20043803
- znaleziono 7 produktów w 4 sklepach 21,99 zł
Książki Obcojęzyczne>Angielskie>Children
0x003a92cf00000000
Sklep: Gigant.pl 21,67 zł
Książki
Sklep: KrainaKsiazek.pl 58,52 zł
Książki
Sklep: KrainaKsiazek.pl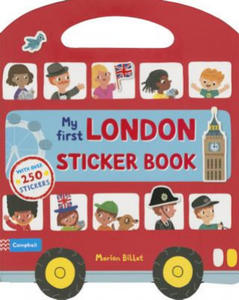 34,52 zł
Książki / Literatura obcojęzyczna
Complete with a carry handle and postcards to send, this sticker activity book is the ideal companion on a trip to London, or for any child to enjoy the excitement of the big city. Packed with activities from colouring to imagining your own exhibit at the Natural History Museum, it promises to keep young children very busy while they find out about London's landmarks. With over 250 stickers, children can enjoy completing London scenes, playing matching activities, and decorating the pages as they go. Marion Billet's spirited scenes feature lively children and lots of detail to spot and talk about. Including Buckingham Palace, London Zoo, Tower Bridge and the London Eye, this book will also make a wonderful souvenir to keep.
Sklep: Libristo.pl 247,52 zł
Książki / Literatura obcojęzyczna
Source: Wikipedia. Pages: 297. Chapters: Super Smash Bros. Brawl, Metroid: Other M, The Conduit, Tatsunoko vs. Capcom: Ultimate All-Stars, Super Mario Galaxy, Zack & Wiki: Quest for Barbaros' Treasure, Wii Sports, Super Mario Galaxy 2, Wii Fit, New Super Mario Bros. Wii, Metroid Prime 3: Corruption, Sonic and the Secret Rings, MadWorld, Resident Evil: The Umbrella Chronicles, No More Heroes, Nights: Journey of Dreams, Mario Kart Wii, Epic Mickey, Metroid Prime: Trilogy, Dance Dance Revolution Hottest Party 2, Fire Emblem: Radiant Dawn, Conduit 2, The House of the Dead: Overkill, Super Paper Mario, WarioWare: Smooth Moves, Trauma Team, Final Fantasy Crystal Chronicles: The Crystal Bearers, Tales of Symphonia: Dawn of the New World, No More Heroes 2: Desperate Struggle, Kirby's Epic Yarn, Little King's Story, Dragon Quest Swords: The Masked Queen and the Tower of Mirrors, Donkey Kong Country Returns, The Legend of Zelda: Skyward Sword, Resident Evil: The Darkside Chronicles, Sonic and the Black Knight, Final Fantasy Crystal Chronicles: My Life as a King, Wii Music, Pong Toss! Frat Party Games, Monster Hunter Tri, A Boy and His Blob, Wii Play, Klonoa, Trauma Center: Second Opinion, Wii Sports Resort, Red Steel, Animal Crossing: City Folk, Link's Crossbow Training, Castlevania Judgment, Muramasa: The Demon Blade, Red Steel 2, Battalion Wars 2, Bit.Trip Void, Mario Strikers Charged, Trauma Center: New Blood, Fragile Dreams: Farewell Ruins of the Moon, Sadness, Ju-on: The Grudge, Elebits, Endless Ocean 2: Adventures of the Deep, Pro Evolution Soccer 2008, Punch-Out!!, Overlord: Dark Legend, Disaster: Day of Crisis, LostWinds, Sin & Punishment: Star Successor, Prince of Persia: The Forgotten Sands, Lost in Shadow, Victorious Boxers: Revolution, Pokémon Battle Revolution, The Last Story, The Sky Crawlers: Innocent Aces, Dewy's Adventure, Just Dance 2, Contra ReBirth, Excite Truck, Mario Sports Mix, Destroy All Humans! Big Willy Unleashed, Mario Super Sluggers, Taiko no Tatsujin Wii, Castlevania: The Adventure ReBirth, Mario Party 8, Captain Rainbow, LostWinds: Winter of the Melodias, My Pokémon Ranch, Arc Rise Fantasia, Monsteca Corral, Soulcalibur Legends, Excitebots: Trick Racing, Wario Land: The Shake Dimension, Dead Rising: Chop Till You Drop, Big Brain Academy: Wii Degree, Octomania, Blast Works: Build, Trade, Destroy, Bomberman Blast, Dance Dance Revolution Music Fit, The Kore Gang, Wii Party, Taiko no Tatsujin Wii: Minna de Party 3 Daime, Zero: Tsukihami no Kamen, Xenoblade Chronicles, Final Fantasy Crystal Chronicles: My Life as a Darklord, Dr. Mario Online Rx, Harvest Moon: Animal Parade, One Piece: Unlimited Adventure, Dance Dance Revolution Disney Grooves, Super Monkey Ball: Banana Blitz, Harvest Moon: Tree of Tranquility, Dragon Quest X, Boom Blox Bash Party, Deadly Creatures, Cooking Mama: Cook Off, NHL Slapshot, Another Code: R - A Journey into Lost Memories, Flip's Twisted World, NHL 2K11, Wii Fit Plus, Gyrostarr, SimCity Creator, Guilty Party, GT Pro Series, EA Sports Active, Rage of the Gladiator, Space Invaders Get Even, Dragon Blade: Wrath of Fire, Jungle Speed, Blaster Master: Overdrive, Star Soldier R, MaBoShi: The Three Shape Arcade, Pokémon Rumble, Niki - Rock 'n' Ball, Club Penguin: Game Day!, HoopWorld, Escape from Bug Island, Spectrobes: Origins, Spore Hero, Rune Factory Frontier, SPOGS Racing, Worms: A Space Oddity, Namco Museum Remix, Zangeki no Reginleiv, Evasive Space, Spyborgs, Dragon Ball: Revenge of King Piccolo...
Sklep: Libristo.pl 25,24 zł
Książki / Literatura obcojęzyczna
Jack and Sam think their school trip to the Ancient Greece Museum is boring, until they see a glowing statue ...Finding themselves whisked away to fight a deadly monster, suddenly Ancient Greece doesn't seem so dull after all. This exciting graphic novel by Linda Chapman is brought to life with illustrations from Dylan Coburn. * Collins Big Cat Progress builds confidence, helping struggling pupils not only to read, but to love reading * Dual-banded books provide age-appropriate interest level material matched with a lower reading ability level * Every book is levelled by reading expert Cliff Moon to ensure precise, systematic, measurable progression to help close the ability gap * The books use a range of reading strategies: phonic, graphic, syntactic and contextual to build confident, accurate, fluent readers * Designed to build speaking and listening skills, as well as reading skills, the books are highly visual and include incredible illustrations and photographs * Every book has a Key Stage 2 look-and-feel to engage older pupils and avoid stigmatisation * Topics are relevant for children in years 3-6 and connected to the curriculum and framework objectives for these years to support inclusion * Progress titles contain a Reader Response page to encourage the pupil to respond to and recall what they have read. This offers an ideal opportunity to check comprehension * Ideas for Reading, written by primary literacy expert Gill Howell are included in the back of every book to help you support the reading needs of each child
Sklep: Libristo.pl 55,90 zł
Azja > Tajwan
The Rough Guide to Taiwan is the ultimate guide to this fascinating island. Discover Taiwan
Sklep: ArtTravel.pl
Sklepy zlokalizowane w miastach: Warszawa, Kraków, Łódź, Wrocław, Poznań, Gdańsk, Szczecin, Bydgoszcz, Lublin, Katowice
Szukaj w sklepach lub całym serwisie
2. Szukaj na wszystkich stronach serwisu
t1=0.058, t2=0, t3=0, t4=0.02, t=0.058