krainaksiazek new wine into old wineskins 20168766
- znaleziono 4 produkty w 2 sklepach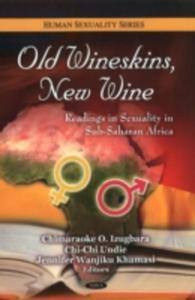 249,99 zł
Książki Obcojęzyczne>Angielskie>Society & social sciences>Sociology & anthropology>Sociology>Family & relationships>Sexual relations
Sklep: Gigant.pl 84,75 zł
Książki / Literatura obcojęzyczna
A collection of inspirational essays on aspects of Irish society at the beginning of the twenty-first century. Writing from a unique perspective, the author offers spiritual nourishment through issues such as loneliness, second marriages, contemporary culture and lapsing faith, conscience and forgiveness.
Sklep: Libristo.pl 161,10 zł
Książki / Literatura obcojęzyczna
Description: SINCE 2002, THE SYMPOSIUM NEW WINE, NEW WINESKINS HAS OFFERED AN OPPORTUNITY for young Catholic moral theologians to engage in shared work and conversation. Here, the fruits of these labors are gathered into one collection, which represents the wide scope of the future of Catholic sexual ethics. This volume offers the żrst collection of a new generation's approaches to Catholic sexual ethics. The collection displays young scholars with diverse views, yet whose work moves beyond the impasses that have beset the żeld. The volume offers original and engaging essays on a variety of topics, from the hook-up culture and dating violence, to cohabitation and homosexuality, to contraception and natural family planning, to the promises and pitfalls of ""the theology of the body."" The authors display a fresh engagement with these issues in conversation with the Christian tradition and with contemporary culture. David Cloutier provides an introduction that locates this work within the past decades of Catholic scholarship, and articulates new categories for future work. The essays also offer practical insights and models that will interest pastors and lay ministers, as well as scholars. Endorsements: ""In this excellent collection of essays on sexuality and marriage, we see emerging theological voices effectively move beyond the impasse of a previous generation. These authors both acknowledge the deep inżuence of contemporary culture on Christian understandings of sex and marriage, and critically respond with a surprisingly sophisticated set of theological resources. Alternatively fascinating and disconcerting, this collection has a real chance to seriously engage a 'hooked up' and 'porniżed' undergraduate culture. An excellent resource for teaching."" --JOHN BERKMAN, Associate Professor of Moral Theology, Regis College, University of Toronto ""Leaving and Coming Home is a breath of fresh air in Catholic moral thinking about sexuality. The authors take the warring personalisms of decades past and present and nest them in the setting of 'home.' The resulting essays, suitable for use in both undergraduate and graduate moral theology courses, offer refreshing takes on hard questions."" --WILLIAM L. PORTIER, Mary Ann Spearin Chair of Catholic Theology, University of Dayton ""By countering the trivialization, as well as overly gloriżed accounts, of sex and marriage, the authors of Leaving and Coming Home convincingly argue that any Christian understanding of sexuality and marriage must be incorporated into a theology of discipleship and connected to the practices of the Christian life. Challenging and engaging, each of the essays offers a liberating alternative to contemporary notions of sex and marriage by demonstrating that the fundamental purpose of both is to deepen our ability to love God and neighbor."" --PAUL J. WADELL, Professor of Religious Studies, St. Norbert College, De Pere, Wisconsin ""Leaving and Coming Home offers wide-ranging treatments and fresh perspectives on issues in sexual ethics, both new and old. The blend of voices from different points on the theological spectrum is harmonized in a shared attention to practices--understood not just as sociological descriptions of human behaviors, but as productive of virtue and vice within persons and communities. An excellent addition to college or introductory graduate courses on marriage or sexual ethics."" --JOHN S. GRABOWSKI, Associate Professor of Moral Theology/Ethics, The School of Theology and Religious Studies, The Catholic University of America About the Contributor(s): David Cloutier is Associate Professor of Theology at Mount St. Mary's University in Emmitsburg, MD. He is the author of Love, Reason, and God's Story: An Introduction to Catholic
Sklep: Libristo.pl 169,33 zł
Koine Greek Books LLC, Reference Series
Książki / Literatura obcojęzyczna
Source: Wikipedia. Pages: 187. Chapters: Greek literature (post-classical), Hellenistic writers, New Testament words and phrases, Ptolemaic Greek inscriptions, Roman-era Greek inscriptions, Scholars of Koine Greek, Texts in Koine Greek, Marcus Aurelius, Rosetta Stone, Epimenides paradox, Anointing of the Sick, Last Supper, Rapture, Enchiridion of Epictetus, Sermon on the Mount, Massacre of the Innocents, Turning the other cheek, Ptolemy II Philadelphus, Dionysius Thrax, Winefat, Favorinus, Thorn in the flesh, Syrophenician, Sycamine, Three Taverns, Names and titles of Jesus in the New Testament, Koine Greek phonology, Star of Bethlehem, Baptism for the dead, Number of the Beast, Render unto Caesar..., Judaizers, Manetho, Good news, Longinus, Greek diacritics, Beatitudes, Disciple whom Jesus loved, Greek Anthology, Patrologia Graeca, Berossus, Alexander romance, Nazarene, Serpent, Divine Liturgy, Apocalypse of Peter, Ichthys, Sayings of Jesus on the cross, Ka'ba-ye Zartosht, The True Word, Woman of the Apocalypse, Chi Rho, Thirty pieces of silver, Meditations, Apology of Aristides, But to bring a sword, Alexamenos graffito, Greek Primacy, Kurt Aland, Mercy seat, Paschal troparion, F. Wilbur Gingrich, Salt and Light, Daniel B. Wallace, Confession inscriptions of Lydia and Phrygia, Jesus wept, Tomb of Aline, Chaldean Oracles, Inscription of Abercius, Lucius Annaeus Cornutus, Karamagara Bridge, Heroninos Archive, Seven seals, Legion, Deipnosophistae, Jesus is Lord, Man of Sin, Diogenes of Oenoanda, Chronicon, King of Kings, Walter Bauer, University of Michigan Papyrus Collection, Donald Foster Hudson, Spirits in prison, Gustav Adolf Deissmann, Periplus Ponti Euxini, Spiros Zodhiates, Discourses of Epictetus, Deponent verb, Good Shepherd, Son of perdition, Nazareth Inscription, Koine Greek grammar, Pig stele of Edessa, Babrius, New Wine into Old Wineskins, Armor of God, Sell your cloak and buy a sword, Antoninus Liberalis, Decree of Canopus, Iota subscript, Philopatris, He who does not work, neither shall he eat, The Vine, Live by the sword, die by the sword, Milan Papyrus, Sheep Go to Heaven, Dryton and Apollonia Archive, Katolophyromai, Oxyrhynchus hymn, Great White Throne, Cynic epistles, Letter to Flora, Rylands Papyri, Light of the World, Outer darkness, New International Commentary on the New Testament, In saecula saeculorum, Physician, heal thyself, Ptolemaic Decrees, Iotacism, Monumentum Adulitanum, Doubting Thomas, New International Greek Testament Commentary, Archibald Thomas Robertson, Faithful saying, William D. Mounce, Address to Young Men on Greek Literature, Suffer fools gladly, Stanley E. Porter, Movable nu, Root of all evil, That they all may be one, Amarantus of Alexandria, Delphi Inscription, Decree of Memphis, The powers that be, Pearls Before Swine, Misopogon, Xisuthros, Anacreontea, Krokus, Salt of the earth, O generation of vipers, Basilissa, Get Thee Behind Me Satan, Itching ears, Pearl of Great Price, City on a Hill. Excerpt: Marcus Aurelius (Latin: ; 26 April 121 - 17 March 180), was Roman Emperor from 161 to 180. He ruled with Lucius Verus as co-emperor from 161 until Verus' death in 169. He was the last of the "Five Good Emperors", and is also considered one of the most important Stoic philosophers. During his reign, the Empire defeated a revitalized Parthian Empire; Aurelius' general Avidius Cassius sacked the capital Ctesiphon in 164. Aurelius fought the Marcomanni, Quadi, and Sarmatians with success during the Ma...
Sklep: Libristo.pl
Sklepy zlokalizowane w miastach: Warszawa, Kraków, Łódź, Wrocław, Poznań, Gdańsk, Szczecin, Bydgoszcz, Lublin, Katowice
Szukaj w sklepach lub całym serwisie
2. Szukaj na wszystkich stronach serwisu
t1=0.042, t2=0, t3=0, t4=0, t=0.042