krainaksiazek nights before the novel 20090889
- znaleziono 14 produktów w 1 sklepie 77,58 zł
Książki / Literatura obcojęzyczna
This is from one of the greatest writers of our time: the most spellbinding, entertaining, wildly imaginative novel of his great career, which blends history and myth with tremendous philosophical depth. It is a masterful, mesmerising modern tale about worlds dangerously colliding, the monsters that are unleashed when reason recedes, and a beautiful testament to the power of love and humanity in chaotic times. Inspired by 2,000 years of storytelling yet rooted in the concerns of our present moment, this is a spectacular achievement - enchanting, both very funny and terrifying. It is narrated by our descendants 1000 years hence, looking back on 'The War of the Worlds' that began with 'the time of the strangenesses': a simple gardener begins to levitate; a baby is born with the unnerving ability to detect corruption in people; the ghosts of two long-dead philosophers begin arguing once more, and storms pummel New York so hard that a crack appears in the universe, letting in the destructive djinns of myth (as well as some graphic superheroes). Nothing less than the survival of our world is at stake. Only one, a djinn princess who centuries before had learnt to love humankind, resolves to help us: in the face of dynastic intrigue, she raises an army composed of her semi-magical great-great-etcetera-grandchildren - a small motley crew of endearing characters who come together to save the world in a battle waged for 1,001 nights - or, to be precise, 2 years, 8 months and 28 nights.
Sklep: Libristo.pl 42,47 zł
Książki / Literatura obcojęzyczna
As Queen Victoria's reign reaches its end, Grace Farringdon dreams of polar explorations and of escape from her stifling home with her protective parents and eccentric, agoraphobic sister. But when Grace secretly applies to Candlin, a women's college filled with intelligent, like-minded women, she finally feels her ambitions beginning to be take shape. There she forms an Antarctic Exploration Society with the gregarious suffragette Locke, the reserved and studious Hooper and the strange, enigmatic Parr, and before long the group are defying their times and their families by climbing the peaks of Snowdonia and planning an ambitious trip to the perilous Alps. Fifteen years later, trapped in her Dulwich home, Grace is haunted by the terrible events that took place out on the mountains. She is the society's only survivor and for years people have demanded the truth of what happened, the group's horrible legacy a millstone around her neck. Now, as the eve of the Second World War approaches, Grace is finally ready to remember and to confess ...From one of the finest writers of the psychological thriller comes this beautifully woven, deeply unsettling historical novel; powerfully atmospheric, shivering with menace and reminiscent of the very best of Sarah Waters.
Sklep: Libristo.pl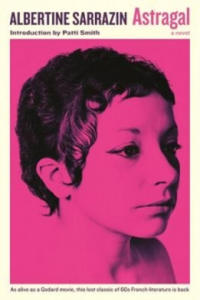 47,28 zł
Książki / Literatura obcojęzyczna
'My Albertine, how I adored her! Her luminous eyes led me through the darkness of my youth. She was my guide through the nights of one hundred sleeps. And now she is yours.' At the age of twenty-one, a sad and hungry Patti Smith walked into a bookshop in Greenwich Village and decided to spend her last 99 cents on a novel that would change her life forever. The book was Astragal, by Albertine Sarrazin. Sarrazin was an enigmatic outsider who had spent time in jail and who wrote only two novels and a book of poems in her short life - she died the year before Patti found her book, at the age of twenty-nine. Astragal tells the story of Anne, a young woman who breaks her ankle in a daring escape from prison. She makes it to a highway where she's picked up by a motorcyclist, Julien, who's also on the run. As they travel through nights and days together, they fall in love and must do whatever they can to survive, living their lives always on the edge of danger. A bewitching and timeless novel of youthful rebellion and romance, this new edition of Patsy Southgate's original translation includes an introduction by Patti Smith.
Sklep: Libristo.pl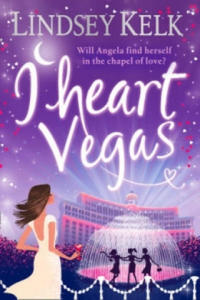 41,99 zł
Książki / Literatura obcojęzyczna
After her first standalone novel, The Single Girl's To-Do List, Lindsey returns with a sparkling and romantic new novel in the I Heart series. Angela Clark loves her life in New York. She a Brit who's conquered the Big Apple. Unfortunately, she's also a Brit who's lost her job. And when, just a couple of weeks before Christmas, the immigration department gets wind of this, Angela needs to find a new job urgently. Or a husband. And she doesn't think her boyfriend Alex will be keen. A girls' weekend in Vegas with her best friend Jenny seems the perfect way to forget her troubles. From the minute they arrive Angela is swept up in a whirl of cocktails, outrageous outfits, late nights and brushes with the chapel of love. But rather than escaping trouble, Angela is up to her neck in it...But what happens in Vegas stays in Vegas - right? With a bonus Angela's Guide to Vegas - the ultimate city break guide!
Sklep: Libristo.pl
71,00 zł
Just Whistle Caffeine Nights Publishing
Książki / Literatura obcojęzyczna
My name is John Osbourne, well It was before I started writing this bloody book, now I'm not sure who the hell I am. If you think you know me, please telephone 01482 21...Unemployed and recently divorced, John Osbourne's life was slowly falling apart, then, encouraged to get a hobby by his daughter things took a different turn, a turn that he did not realise would change his life. As he starts writing his first novel, the characters seem to come alive before his very eyes. Osbourne's ceation, Detective Sergeant Harry "H" Blackburn and his team find themselves involved in the investigation of the murder of a young female student which leads them to the dangerous world of drug trafficking. When their only witness is murdered it becomes even more difficult for the team to get justice. As the lines between reality and fiction blur, Osbourne struggles to maintain his grip on reality as he enters the realm of fiction Will Harry and the team get their man, but if they do, will John Osbourne be lost in the world of fiction forever?
Sklep: Libristo.pl 71,00 zł
Turtle Island Caffeine Nights Publishing
Książki / Literatura obcojęzyczna
When the body of a man is washed up in the river; Turtle Island, Missouri is awoken from being a peaceful haven and thrust into the attention of the national media. The case is solved rather all too conveniently and F.B.I agent Georgina O'Neil is left with severe doubts - have they caught the right man? A feeling that is justified after case Detective Montoya and his family are kidnapped and a web site is set up promising America its first 'live execution'. Turtle Island is now thrust into global spotlight and the world gets to vote on who the killer will choose next. As O'Neil digs deeper she finds evidence of a paedophile ring that could run into the heart of the police. No longer sure who they she trust, O'Neil and case partner, Detective LaPortiere, have to find the Montoya's and save them before an 8pm deadline. The clock is ticking. Born in London. Darren began writing seriously in the 1990's and had success in winning a BBC Radio 4 short story competition. He had various short stories published in magazines and an anthology before publishing a collection of short stories in late 1998. Darren works in a top PR agency in Kent and lives with his wife, Natalie.Turtle Island is the first novel in the Georgina O'Neil trilogy and follows 'Tripping' published in 2007.
Sklep: Libristo.pl 71,00 zł
Deadly Focus Caffine Nights Publishing
Książki / Literatura obcojęzyczna
The first novel in the D.I. Jack Dylan series by RC Bridgestock. Deadly Focus is a gripping crime fiction novel set in Yorkshire. When a young girl is abducted fear and suspicion haunts the streets of Harrowfield. Dylan's worst fears are confirmed when the body of Daisy Hind is found on a bleak windswept moor. As the murder investigation swings into action another child is abducted and suddenly Dylan has to confront the possibility of a serial killer preying on children and solve the case before a third child is snatched. Deadly Focus is written by husband and wife writing team Bob and Carol Bridgestock. Bob brings the authenticity of 30 years serving as a policeman with the West Yorkshire police force. For over half of his service he was a senior detective, retiring at the rank of Detective Superintendent. Bob took charge of many leading homicide cases and his expertise in solving these cases was endorsed by Crown Court Judges. and working on many leading homicide cases. Carol also dedicated her professional career to the police force and received a Chief Constable's commendation for outstanding work. She is now the Chair of a local writing circle on the Isle of Wight that involves the community in writing competitions for all ages. 'A Cracking Story' Natasha Harding 'The Sun Newspaper'
Sklep: Libristo.pl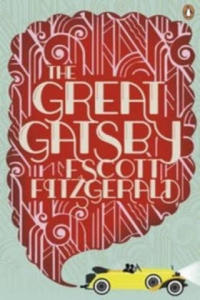 47,28 zł
Książki / Literatura obcojęzyczna
A beautiful new edition of F. Scott Fitzgerald's classic novel The Great Gatsby to coincide with the release of Baz Luhrmann's film. 'There was music from my neighbour's house through the summer nights. In his blue gardens men and girls came and went like moths among the whisperings and the champagne and the stars.' Everybody who is anybody is seen at the glittering parties held in millionaire Jay Gatsby's mansion in West Egg, east of New York. The riotous throng congregates in his sumptuous garden, coolly debating Gatsby's origins and mysterious past. None of the frivolous socialites understands him and among various rumours is the conviction that 'he killed a man'. A detached onlooker, Gatsby is oblivious to the speculation he creates, but always seems to be watching and waiting, though no one knows what for. As writer Nick Carraway is drawn into this decadent orbit, Gatsby's destructive dreams and passions are revealed, leading to disturbing and tragic consequences. "Not only a page turner and heartbreaker, it's one of the most quintessentially American novels ever written". (Time). F. Scott Fitzgerald was born in St Paul, Minnesota in 1896. He studied at Princeton University before joining the army in 1917. In 1920 he married Zelda Sayre. Their traumatic relationship and subsequent breakdowns became a major influence on his writing. Among his publications were five novels, This Side of Paradise, The Great Gatsby, The Beautiful and the Damned, Tender is the Night and The Last Tycoon (his last and unfinished work); six volumes of short stories and The Crack-Up, a selection of autobiographical pieces. F. Scott Fitzgerald died suddenly in 1940.
Sklep: Libristo.pl 75,97 zł
Książki / Literatura obcojęzyczna
Meet Konstantin Boryakov, the enigmatic ex-KGB agent and tramp from the best-selling debut novel, The Fix. He's a man with a dark history and darker future. Trouble has a habit of seeking out Konstantin, whether he wants it or not. Starting with small time drug dealer Dave the Rave from the moment he arrives in the seedy seaside town of Margate where he's supposed to hide, to Nikos the loan shark and Fat Gary, all round idiot. Then there's the so-called good guys, the councilors and lawyers who are worse than the criminals. But Konstantin isn't alone, despite his wishes. Fidelity Brown, aka Plastic Fantastic, dildo wielding dominatrix who has her own melange of secrets and lies, and nightclub owner Ken who's connected to all the wrong people, help the Russian with the heap of problems delivered to his doorstep. Cue deception, murder, mayhem as Konstantin settles into his new life. Margate will never be the same again. 'Lean, mean and gritty, with writing as sharp as a razor cut. Keith Nixon serves up a 'Konstantin Kocktail', with equal parts Vodka to Vodka, that'll hit you just where it's needed.' Matt Hilton - Author of the Joe Hunter thrillers. 'Keith Nixon gets better with each new book. Among a promising crop of new writers he's the one to watch. A rare and diverse talent who has the ability to surprise and impress ... sometimes in the same sentence.' Tony Black, author of The Last Tiger and The Inglorious Dead. 'Nixon writes hard-hitting fiction, with a dash of humour, a cast of great characters, and a dollop of violence. Konstantin is a fantastic creation and this collection of novellas is hopefully a taste of bigger things to come.' Luca Veste, author of Dead Gone and The Dying Place 'If you told me that Konstantin put the K in KGB, I wouldn't even argue. This character is a badass of the highest calibre.' Gerard Brennan, author of Undercover. 'Russian Roulette, Keith Nixon's fast-paced collection of seven novellas, feels cinematic, like Snatch meets a steampunk Sherlock Holmes: deliciously foreign and saturated in the other, offering American audiences a first class seat to see how noir is done across the pond. Navigating an exotic subculture of ecstasy-dealing English toughs, dominatrixes, crime lords, loan sharks and all sorts of lowlifes, Nixon continues the story of Russian-born Konstanin, anti-hero for the modern age. Like Marlowe before him, Konstantin has a penchant for finding trouble-and an unflinching sense of morality to get him out of it.' Joe Clifford, author of Lamentation and Junkie Love. 'Nixon delivers a series of hard-edged twists and turns that will leave you reeling and turning the pages in what is an unforgettable story.' Richard Godwin, author of Hitman and One Lost Summer. 'Hardboiled action and sharp, gritty humour. Highly recommended.' Paul D. Brazill, author of Guns Of Brixton and A Case Of Noir. 'Flat, monotoned, dreary landscapes against which two of the most original characters ever seen in literature-Konstantin and Fidelity-operate together and separately in linked stories in a series of nourish nightmares that will have you screaming inside your skull. This is what noir is all about. Masterful, deadly and powerful.' Les Edgerton, author of The Rapist, The Bitch and The Genuine, Imitation, Plastic Kidnapping. 'If you thought "The Fix" was a blast of black comedy, you ain't seen nothing yet. In this collection of fast-moving novellas, reacquaint yourself with Konstantin Boryakov, a tramp claiming to be ex-KGB. The people who cross him may be sorry, but you won't be.' Nick Quantrill, author of The Late Greats."
Sklep: Libristo.pl 41,99 zł
Książki / Literatura obcojęzyczna
Distraught that her academic career has stalled, Alba is walking through her hometown of Cambridge, England, when she finds herself in front of a house she's never seen before, 11 Hope Street. A beautiful older woman named Peggy greets her and invites her to stay, on the house's usual conditions: she has ninety-nine nights to turn her life around. With nothing left to lose, Alba takes a chance and moves in.She soon discovers that this is no ordinary house. Past residents have included George Eliot and Beatrix Potter, who, after receiving the assistance they needed, hung around to help newcomers-literally, in talking portraits on the wall. As she escapes into this new world, Alba begins a journey that will heal her wounds-and maybe even save her life.Filled with a colorful and unforgettable cast of literary figures, The House at the End of Hope Street is a charming, whimsical novel of hope and feminine wisdom that is sure to appeal to fans of Jasper Fforde and especially Sarah Addison Allen.
Sklep: Libristo.pl 117,49 zł
Książki / Literatura obcojęzyczna
Winner of the Malice Domestic Competition for Best First Traditional Mystery Novel, this is a delightful Southern cosy from an award-winning author. Beth McKenzie's attempt to turn an old Southern mansion into a Bed and Breakfast called The Dixie Dew is thwarted when her first guest is found dead in bed. Murdered, it turns out. Three days later a young priest who looks better in tennis whites than cleric black, is found strangled in his chapel. The whole town of Littleboro is abuzz, and Ossie Delbardo, the town cop whose job heretofore mainly involved controlling football traffic on Friday nights, is not cut out to solve the murders. With her barely opened B&B in danger of failing, and aided by her friend from high school and trusty handyman, Beth sets out to discover the truth of the murders. Littleboro has its share of characters, some of which are helpful and others misleading. There's Crazy Reba who lives in a tree, bathes in any bathtub she finds empty, and dumpster dives; Verna, the town know-it-all and affectionate owner of Robert Redford, a huge white rabbit; and Miss Tempie Merritt, music teacher and organist who always wears hat, gloves, and lace-trimmed white socks. When Beth herself is attacked, there's no more time for baking muffins and stencilling pineapples on the porch. She's in a race to uncover her neighbours' secrets before her hometown becomes her burial ground.
Sklep: Libristo.pl 56,42 zł
Książki / Literatura obcojęzyczna
Can you overdose on paradise? Chris Angostura already has. The scion of a prominent family in Freeport, he has nothing to lose - because he has nothing to gain. He doesn't need a job and he already has a yacht. With his lifelong friend Shark, the son of his former nanny, Chris spends his days sailing and diving, and his nights drinking and club hopping. Drifting with the current through the azure seas, Chris is a victim of too much time, too much money, and too much easy sex. And then Chris meets Robin - a conceptual artist and a stranger in his island paradise, as mysterious as she is alluring. The more he pursues her, the faster she retreats - until he realizes that she is in the Bahamas seeking an alternative cure for her rapidly spreading cancer. Robin is struggling to live, while Chris and Shark are killing themselves with their lifestyle. As Chris tries to love Robin, he sees Shark slipping deeper into the dangerous undertow of drug dealing. But before Chris can help either of them, he must first learn to love himself - to overcome his family's legacy of death, denial, and abandonment. A poignant romance, a tumultuous rite of passage, and a thriller about the invasion of Eden by drug dealers, Paradise Overdose is a moving first novel about the redemptive power of love and friendship.
Sklep: Libristo.pl 47,76 zł
Książki / Literatura obcojęzyczna
Arriving in London, Hayleigh finds work as lap dancer 'Layla'. Determined to beat the sleaze and the system, her plan is to make enough money to prove to the world - and especially her mother and herself - that she is a fit parent. Layla survives on wit and skillful moves, confident of her looks and in her ability to exploit men before they can exploit her. Side-stepping the changing-room politics and staggering through boozy nights, she sweet talks her boss, dodges stalking clients and keeps the whole truth from her housemates. But over the course of a chaotic week, a series of shocking events force her to confront both the reality of her past mistakes and the danger of her present circumstances. Layla must make a life-changing decision and fight for the one thing she truly wants - a life with her baby son. This is a brilliant and moving novel, imaginatively powerful and authentically conceived. Thirty years after the resounding success of Jay McInerney's Bright Lights, Big City, and written in a similarly intense second-person narrative, Layla speaks for a new generation.
Sklep: Libristo.pl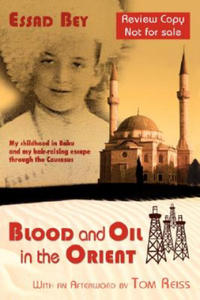 97,77 zł
Książki / Literatura obcojęzyczna
An Autobiography like Something Out of the Arabian Nights In this lively and witty autobiography, Essad Bey, a.k.a. Lev Nussimbaum, tells us the story of his childhood in Baku, the capital of Azerbaijan, and of his flight from the Russian Revolution in 1917, which brought him first straight through the Caucasus, then to Istanbul - where this book concludes - and finally to Berlin. When Essad Bey speaks of the people of the Caucasus and their customs so strange to us, a sort of anthropological cabinet of curiosities unfolds before our eyes, and we cannot help but be astonished. All the while, through his affectionate and sometimes openly ironic words, even the excesses of the Revolution sound like children's pranks and his hair-raising escape like an adventure novel. Blood and Oil in the Orient is an informative and entertaining book; in the 1930s, it was a bestseller in the U.S. and Germany.
Sklep: Libristo.pl
Sklepy zlokalizowane w miastach: Warszawa, Kraków, Łódź, Wrocław, Poznań, Gdańsk, Szczecin, Bydgoszcz, Lublin, Katowice
Szukaj w sklepach lub całym serwisie
2. Szukaj na wszystkich stronach serwisu
t1=0.045, t2=0, t3=0, t4=0, t=0.046