krainaksiazek no toys for girls and boys 20131316
- znaleziono 11 produktów w 4 sklepach 59,47 zł
Książki / Literatura obcojęzyczna
Make your own mini motorboat, jack-in-the-box, dollhouse furniture, and dozens of other timeless...
Sklep: Libristo.pl 86,90 zł
Książki
Sklep: KrainaKsiazek.pl 205,00 zł
WYDAWNICTWA ALBUMOWE > Hobby > Zabawki
Toys for Kids   ISBN: 9789076886657 Autor: Masso Patricia Rok wydania: 2008-11-06 Ilość stron: 300 Oprawa: twarda Format: 210 x 310 mm After the success of Toys for Boys and Toys for Girls, Tectum Publishers presents another book to take you into a world of luxury and extravagance. This edition focuses on the most valuable part of our lives - our children. Toys for Kids introduces the most impressive luxury products for children. More than 150 products show the reader how sweet growing up can be. From birth to a child's first steps into a fascinating world that waits to be discovered, to the teenage years, this amazing book reveals the most beautiful and exclusive toys. You will want to be a child again! We love our children above everything else. Could there be a better way to show them our love than by giving them a present that is just as special and valuable as they are? And maybe they will even let us join in the fun!
Sklep: Multistore24.pl 78,02 zł
Książki / Literatura obcojęzyczna
Cuddle up with these adorable handmade creations to sew and give! Not the kind of plush toys you will find in any toyshop, the DIY toys in this book are unique and so cute they are guaranteed to make children of all ages smile. With clear diagrams inspired by Japanese pattern books, the tutorials are easy to follow and suitable for all sewing abilities, even complete beginners. The 12 designs will delight boys and girls alike and include patterns for a monkey, an owl, a bear, a dragon, a tiger, a cat, a dog, a hippo and more. All the toys are made in washable and affordable quilt-weight cotton, so you can choose your own favourite colours and prints to get creative with. In each project, designer Mariska Vos-Bolman (creator of the popular Fluffles and DIY Fluffies brands of soft toys) has broken down each step with such clear step-by-step diagrams that more experienced sewers can follow the instructions without even reading the words, while beginners will benefit from the detailed written advice too. As well as finding all the advice you need on materials, stuffing and sewing techniques, all the templates are given at full size, so there is nothing stopping you from starting straight away!
Sklep: Libristo.pl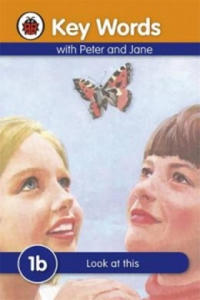 15,54 zł
Książki / Literatura obcojęzyczna
The first Key Words with Peter and Jane book, from Ladybird. Key Words with Peter and Jane uses the most frequently met words in the English language as a starting point for learning to read successfully and confidently. The Key Words reading scheme is scientifically researched and world renowned. Book 1b follows on from 1a and introduces 16 new words, including 'toys', 'has', 'trees' and 'ball'. Once this book has been completed, the child moves on to book 3b. The Key Words with Peter and Jane books work because each of the key words is introduced gradually and repeated frequently. This builds confidence in children when they recognise these key words on sight (also known as the 'look and say' method of learning). Examples of key words are: the, one, two, he. There are 12 levels, each with 3 books: a, b, and c. Series a: gradually introduces new words. Series b: provides further practise of words featured in the 'a' series. Series c: links reading with writing and phonics. All the words that have been introduced in each 'a' and 'b' book are also reinforced in the 'c' books The Ladybird Key Words with Peter and Jane series: Play With Us; Reading with Sounds; Boys and Girls; Read and Write; Fun and Games; Mountain Adventure; The Carnival; Books are Exciting; Happy Holiday; Jump from the Sky; I Like to Write; We like to Help; The Big House; The Mystery on the Island; Adventure at the Castle; Sunny Days; Out in the Sun; More Sounds to Say; Learning is Fun; Say the Sound; Enjoying Reading; The Open Door to Reading; Easy to Sound; Let me Write; Adventure on the Island; Boxset; Fun with Sounds; Games We Like; Have a Go; Fun at the Farm; Where we Go; The Holiday Camp Mystery; Our Friends; We have Fun; Things We Like; Things We Do; Look at This; and Flash Cards.
Sklep: Libristo.pl 24,99 zł
Literatura dla dzieci
LIPPY AND MESSY. TOYS FOR GIRLS AND BOYS to seria materiałów do nauki języka angielskiego dla dzieci w wieku przedszkolnym i wczesnoszkolnym, oparta o telewizyjny serial "Lippy and Messy". W książce można znaleźć zabawy i proste ćwiczenia językowe, płytę DVD z 10 odcinkami Lippy and Messy, naklejki oraz zestaw praktycznych wskazówek dla nauczycieli i rodziców.
Sklep: Planetaksiazki.pl 105,61 zł
Książki / Literatura obcojęzyczna
This book helps you create stunning modern crochet projects perfect for your favourite little ones. From the best-selling author of Cuddly Crochet and Crocheted Softies, this book is packed with 21 beginner-friendly projects to crochet for baby boys and girls. Crochet novel designs that babies and parents will adore include: afghans, a blanket with colourful appliqued circles, stuffed-animal bookends, a bee mobile, and textured toys.
Sklep: Libristo.pl 88,65 zł
Książki / Literatura obcojęzyczna
Gorgeous knits for babies and toddlers. If the arrival of a newborn baby inspires you to give a handmade knitted gift, then "Baby & Toddler Knits Made Easy" is just the book you're looking for. Perfect for beginners with step-by-step directions and photographs of finished projects as well as giving the more experienced knitter inspirational ideas and patterns. With over 50 projects, ranging from simple hats, blankets, and nursery items to more advanced patterns such as jackets, jumpers, and fun toys, you'll be sure to find a pattern to cast on to. Also find options for boys and girls, or unisex items and patterns you can adapt to each age group, from newborn to toddler. Filled with techniques, patterns, and ideas, "Baby & Toddler Knits Made Easy" will help you knit the perfect gift for friends, family, or your own baby.
Sklep: Libristo.pl 75,64 zł
Książki / Literatura obcojęzyczna
Get your kids snipping, threading and stitching with Felt Button Bead. Kids love crafting, and fabric-based crafts are particularly good, as many of the items needed can be found around the house - odd socks, fabric remnants and outgrown school uniforms will all come in handy. Felt Button Bead is divided into four vibrant sections containing 40 funky projects. Toys and Games features sock glove-puppets and a roll-up draughts set. Gifts contains dozens of great gift ideas, including hand-print tea towels, a glasses case and a patchwork cushion. Clothing includes funky gear such as decorated jeans and customized t-shirts for girls and boys. Finally, Accessories includes felt flower badges, jewellery, and a trendy denim 'jeans' shoulder bag. Every project can be completed in four or eight steps - just follow the instructions and you can't go wrong!
Sklep: Libristo.pl 83,25 zł
Książki / Literatura obcojęzyczna
"As with her other books, Chachula pays special attention to detail in her patterns and finishing. There's plenty of help in this book to get you through each project. Beginners and more experienced crocheters will benefit equally from the details Chachula includes." - Craft Gossip "Robyn is innovative in her construction and designs, while still down to earth and realistic about what little kids will wear. This book is a must-have." - Petite Purls "...the most wonderful baby book for crochet that I've read... As usual with Robyn (and Interweave Press), the how-to section and illustrations are magnificent. Even a new crocheter could make many of these great designs, and they'd grow into a more experienced and adventurous crocheter." - Annie Modesitt "All of the pieces have practical features only a designing-mom could think of like snap openings for the booties, and easy-on necklines on all the sweaters." - Amy O'Neill Houck "It's the accessories that really sway me into thinking this book would be a worthwhile investment for prolific crocheters. There are several creative accessories patterns that I could see making many times over, possibly even several times for each new arrival." - About.com Guide to Crochet "Modern, Cheery, Useful Designs." - Annie's Attic "I love the designs...this a great teaching book for a beginner or an advanced crocheter. I love how the charts and schematics are done in such a clear way that you have no difficulty using them. The photography is incredible." - At First Glance: Review of Knitting "We've all seen thousands of baby wearables, cute as can be, but Robyn has a very original approach." - Crochet Insider "Her style is modern and wearable, and her designs make knitters do a double take." - Linda Permann, author, Crochet Adorned "She's a pro at construction and fit (after all, she's also a structural engineer, so her brain just works that way). Robyn really puts a lot of thought into how to engineer a design, how to select a yarn that will really make your work pay off and how to make crochet look modern and stylish - so you know you will never be disappointed when making one of her patterns." - Brett Bara, host, Knit & Crochet Today "Robyn is a huge crochet talent and her eye for all things baby make this book a complete treat. For you new crocheters Robyn is a genius and experienced teacher. She is known for breaking down instructions clearly and for visual crochet, which is the use of charts. Robyn's instructional section in the book is like none other." - Susan B. Anderson, author, Spud and Chloe at the Farm and Itty-Bitty Toys "It is simply ADORABLE," - Kristin Omdahl, author, Crochet So Fine and Wrapped in Crochet "Robyn Chachula has once again proven that she is a top designer in the crochet industry. Her new book Baby Blueprint Crochet - Irresistible Projects for Little Ones is, well, irresistible!" - Drew Emborsky, The Crochet Dude "Irresistible, Darling, & Super Cute are what I would describe when surfing through this fabulous book." - Michael Sellick, The Crochet Crowd "Baby Blueprint Crochet, Irresistible Projects for Little Ones; by Robin Chachula; a collection of 19 soft and sweet projects for babies and toddlers. This explores several crochet techniques, including colorwork, crochet applique, sculptural crochet, Tunisian and combining stitches. Designs are for both boys and girls, no fussy fibers or embellishments, but still fun and original." - Quick and Easy Crochet Magazine
Sklep: Libristo.pl 90,87 zł
Książki / Literatura obcojęzyczna
For over a year, the photographer and journalist Gabriele Galimberti visited more than fifty countries and created colourful images of boys and girls in their homes and neighborhoods with their most prized possessions: their toys. From Texas to India, Malawi to China, Miata, Fiji and the Philippines, Galimberti recorded the spontaneous and natural joy that unites kids despite their diverse backgrounds. Whether the child owns a veritable fleet of miniature cars or a single stuffed monkey, the pride that Galimberti captures is moving, funny and thought provoking.
Sklep: Libristo.pl
Sklepy zlokalizowane w miastach: Warszawa, Kraków, Łódź, Wrocław, Poznań, Gdańsk, Szczecin, Bydgoszcz, Lublin, Katowice
Szukaj w sklepach lub całym serwisie
2. Szukaj na wszystkich stronach serwisu
t1=0.039, t2=0, t3=0, t4=0.036, t=0.039