krainaksiazek not my mother omnibus my daughter and her man 20093944
- znaleziono 10 produkty w 3 sklepach 53,78 zł
Książki / Literatura obcojęzyczna
This is the story of Asha a beautiful young girl who grows up surrounded by luxury in a palace in India and believes her mother is dead. But it is a lie perpetrated by her grandparents, who have kept her away from their wayward daughter Sona, who left husband, home, daughter and the wealth of her grandparents to make a career in films. Asha is unleashed into her mother's stormy life on the death of her grandparents and finds her mother living in with Mandy, a young man of dubious origin who is much younger than Sona. Asha longs for her father Parijat, who lives in America and is estranged from her mother but not divorced. Asha tries to oust Mandy from her mother's life but is drawn to him like a moth to a flame. The consequences are disastrous.Sona is seen through the eyes of two people who play a pivotal part in her life: Asha and Mandy
Sklep: Libristo.pl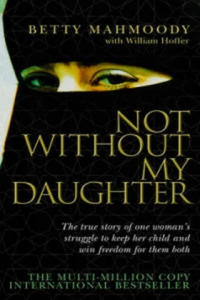 40,70 zł
Książki / Literatura obcojęzyczna
'You are here for the rest of your life. Do you understand? You are not leaving Iran. You are here until you die.' Betty Mahmoody and her husband, Dr Sayyed Bozorg Mahmoody ('Moody'), came to Iran from the USA to meet Moody's family. With them was their four-year-old daughter, Mahtob. Appalled by the squalor of their living conditions, horrified by what she saw of a country where women are merely chattels and Westerners are despised, Betty soon became desperate to return to the States. But Moody, and his often vicious family, had other plans. Mother and daughter became prisoners of an alien culture, hostages of an increasingly tyrannical and violent man. Betty began to try to arrange an escape. Evading Moody's sinister spy network, she secretly met sympathisers opposed to Khomeini's savage regime. But every scheme that was suggested to her meant leaving Mahtob behind for ever...
Sklep: Libristo.pl 128,47 zł
Książki / Literatura obcojęzyczna
No.1 NEW YORK TIMES BESTSELLER - LONGLISTED FOR THE MAN BOOKER PRIZE - A simple hospital visit becomes a portal to the tender relationship between mother and daughter in this extraordinary novel by the Pulitzer Prize-winning author of Olive Kitteridge and The Burgess Boys . NAMED ONE OF THE BEST BOOKS OF THE YEAR BY THE WASHINGTON POST Look for Elizabeth Strout's highly anticipated new work of fiction, Anything Is Possible, which is available for pre-order now. Lucy Barton is recovering slowly from what should have been a simple operation. Her mother, to whom she hasn't spoken for many years, comes to see her. Gentle gossip about people from Lucy's childhood in Amgash, Illinois, seems to reconnect them, but just below the surface lie the tension and longing that have informed every aspect of Lucy's life: her escape from her troubled family, her desire to become a writer, her marriage, her love for her two daughters. Knitting this powerful narrative together is the brilliant storytelling voice of Lucy herself: keenly observant, deeply human, and truly unforgettable. Praise for My Name Is Lucy Barton "There is not a scintilla of sentimentality in this exquisite novel. Instead, in its careful words and vibrating silences, My Name Is Lucy Barton offers us a rare wealth of emotion, from darkest suffering to-'I was so happy. Oh, I was happy'-simple joy." -Claire Messud, The New York Times Book Review "Spectacular . . . Smart and cagey in every way. It is both a book of withholdings and a book of great openness and wisdom. . . . [Strout] is in supreme and magnificent command of this novel at all times." -Lily King, The Washington Post "A short novel about love, particularly the complicated love between mothers and daughters, but also simpler, more sudden bonds . . . It evokes these connections in a style so spare, so pure and so profound the book almost seems to be a kind of scripture or sutra, if a very down-to-earth and unpretentious one." -Marion Winik, Newsday "Potent with distilled emotion. Without a hint of self-pity, Strout captures the ache of loneliness we all feel sometimes." - Time "An aching, illuminating look at mother-daughter devotion." - People "A quiet, sublimely merciful contemporary novel about love, yearning, and resilience in a family damaged beyond words." - The Boston Globe "Sensitive, deceptively simple . . . It is Lucy's gentle honesty, complex relationship with her husband, and nuanced response to her mother's shortcomings that make this novel so subtly powerful. . . . [It's] more complex than it first appears, and all the more emotionally persuasive for it." - San Francisco Chronicle "Strout maps the complex terrain of human relationships by focusing on that which is often unspoken and only implied. . . . A powerful addition to Strout's body of work." - The Seattle Times "Impressionistic and haunting . . . [Strout] reminds us of the power of our stories-and our ability to transcend our troubled narratives." - Miami Herald "Writing of this quality comes from a commitment to listening, from a perfect attunement to the human condition, from an attention to reality so exact that it goes beyond a skill and becomes a virtue." -Hilary Mantel "Magnificent." -Ann Patchett
Sklep: Libristo.pl 32,40 zł
Powieści i opowiadania
Blood. That
Sklep: Albertus.pl 66,03 zł
Książki / Literatura obcojęzyczna
'This is the sweet memory of Mme, my dear mother. The first sweet memory ...Sometimes her laughter bursts into my head or I hear her call me - my name full and round in her mouth. Frustratingly though, as with all the memories I have of Mme, her face always blurs under the pressure of my focus.'Celia Mphephu works as a maid for Mr and Mrs Steiner in a leafy, white man's suburb of 1960s Johannesburg. When racial tensions in the country reach fever pitch and the Steiners plan to relocate to England, they offer to adopt Celia's young daughter Miriam and raise her as their own. But Miriam finds England to be very different to the place the Steiners have told her about. And so begins her long journey through the years, back to South Africa, to find her mother and herself. Set against the violent backdrop of apartheid South Africa and then the calm of late twentieth century Britain, Shifting Colours traces the lives of a mother and daughter separated by land, sea and heart-rending circumstance.
Sklep: Libristo.pl 66,53 zł
Książki / Literatura obcojęzyczna
An unforgettable cast of small-town characters copes with love and loss in this new work of fiction by No.1 bestselling author and Pulitzer Prize winner Elizabeth Strout. Recalling Olive Kitteridge in its richness, structure, and complexity, Anything Is Possible explores the whole range of human emotion through the intimate dramas of people struggling to understand themselves and others. Here are two sisters: One trades self-respect for a wealthy husband while the other finds in the pages of a book a kindred spirit who changes her life. The janitor at the local school has his faith tested in an encounter with an isolated man he has come to help; a grown daughter longs for mother love even as she comes to accept her mother's happiness in a foreign country; and the adult Lucy Barton (the heroine of My Name Is Lucy Barton, the author's celebrated New York Times bestseller) returns to visit her siblings after seventeen years of absence. Reverberating with the deep bonds of family, and the hope that comes with reconciliation, Anything Is Possible again underscores Elizabeth Strout's place as one of America's most respected and cherished authors. Praise for Elizabeth Strout's My Name Is Lucy Barton "There is not a scintilla of sentimentality in this exquisite novel. Instead, in its careful words and vibrating silences, My Name Is Lucy Barton offers us a rare wealth of emotion, from darkest suffering to . . . simple joy." - The New York Times Book Review "Spectacular . . . My Name Is Lucy Barton is smart and cagey in every way. It is both a book of withholdings and a book of great openness and wisdom. . . . [Strout] is in supreme and magnificent command of this novel at all times." - The Washington Post " My Name Is Lucy Barton is a short novel about love, particularly the complicated love between mothers and daughters, but also simpler, more sudden bonds. . . . It evokes these connections in a style so spare, so pure and so profound the book almost seems to be a kind of scripture or sutra, if a very down-to-earth and unpretentious one." - Newsday "A quiet, sublimely merciful contemporary novel about love, yearning, and resilience in a family damaged beyond words." - The Boston Globe "Sensitive, deceptively simple . . . It is Lucy's gentle honesty, complex relationship with her husband, and nuanced response to her mother's shortcomings that make this novel so subtly powerful. . . . My Name Is Lucy Barton -like all of Strout's fiction-is more complex than it first appears, and all the more emotionally persuasive for it." - San Francisco Chronicle
Sklep: Libristo.pl 17,99 zł
Muzyka>Muzyka świata>Folk / Ludowa / Etno
1. O Dowda, Brendan - Irish Mother 2. Mcevan, Father Sydney - Ireland's My Home 3. Clancy Brothers, The & Makem, Tommy - The Maid Of 4. O Dowda, Brendan - Are You Right There Michael 5. Murray, Ruby - At Finnegan's Ball 6. Locke, Joseph - Macushla 7. Maccoll, Ewan / Isla Cameron - Whistle, Daughter, 8. O Hara, Mary - Londonderry Air 9. Murray, Ruby & O Dowda, Brendan - A Pretty Irish G 10. Murphy, Delia - My Bonny Irish Boy 11. Clancy Brothers, The & Makem, Tommy - The Real Old 12. Melody Greenwood - The Isle Of Innisfree 13. Locke, Joseph - When It's Moonlight In Mayo 14. Mcewan, Father Sydney - Star Of The Country Down 15. O'duffy, Michael - My Lagan Love 16. Maccoll, Ewan / Cameron, Isla - Once I Had A True 17. O Dowda, Brendan - Donegan's Daughter 18. O Hara, Mary - The Spinning Wheel 19. Murphy, Delia - Down By The Glenside 20. Giltrap, Joe - May Your House Be Blessed 101. Clancy Brothers, The & Makem, Tommy - The Rising O 102. Maccoll, Ewan & Isla Cameron - Let No Man Steal Yo 103. O Hara, Mary - Farewell But Whenever 104. Greenwood, Melody - The Mountains Of Mourne 105. O Dowda, Brendan - The Emigrant's Letter 106. O Hara, Mary - Castle Of Dromore 107. Clancy Brothers, The / Makem, Tommy - The Wind Tha 108. O Dowda, Brendan - Father O'callaghan 109. Greenwood, Melody - Believe Me If All Those Endear 110. Murphy, Delia - Three Lovely Lasses 111. Mcewan, Father Sydney - Mother Macree 112. Clancy Brothers, The / Makem, Tommy - Tipperary Fa 113. Greenwood, Melody - Irish Lullaby 114. O Hara, Mary - Haigh Didli Dum 115. O Dowda, Brendan - Come Back Paddy Reilly 116. Mcewan, Father Sydney - Rose Of Killarney 117. Giltrap, Joe - Met Her In Mullingar 118. Locke, Josef - Marie My Girl 119. O Hara, Mary - The Weaving Song 120. Clancy Brothers, The / Makem, Tommy - The Men Of T
Sklep: Gigant.pl 69,47 zł
Książki / Literatura obcojęzyczna
The characters in this terrific new book by Brenna Lemieux are hybrids worthy of Edward Hopper, Salvador Dali, and Charles Simic. They inhabit their houses, their clothing, their bodies, their lives like Russian dolls, packed inside interiors freighted with pitchforks and ribs. They zip "bones into a person who drinks coffee by the bucket." Half object, half injury, the living "go crazy and propose." Lemieux's is a purgatorial world of couples-mothers, fathers, sons, daughters, lovers, husbands wives-enmeshed with and in pursuit of each other through surreal suburban landscapes. Lemieux's paradise is urban: "a city apartment with eccentric neighbors and no roaches," where true lovers "listen to jazz at night and if they have/ a telephone at all they'll keep their numbers unlisted." In "Courting," a woman exfoliates herself to the very bone while her partner asks "did you get a haircut or something." Beneath the poems' extravagant exteriors, heartbreaking sacrifice is reset like a broken bone by platitude: "What a blessing," says a nurse relieved of her duties. A dying mother says to the daughter who sacrifices herself: "You're my savior." What saves these poems from bleakness is their startling wit, electric language, and the satisfactions of precisely observed truth. ~ Katherine Smith, author of Argument by Design A man whose garments lose their openings-buttonholes, armholes, socks and boxers fused shut; a son who, coping with his alcoholic father's death and his mother's depression, maps his house, his life, his world obsessively as a stay from oblivion; a woman whose desire to be noticed by her lover exfoliates her skin down to the bones: the characters in Lemieux's Blankness, Melancholy, and Other Ways of Dying move in a surrealistic world in which the only reality is absence. Breton says, "the whims of imagination alone [cause] real things." Only a poet in the height of her imaginative powers can fashion these darkly whimsical worlds that speak volumes about our human condition. Each poem opens a door to an alternate reality which enlarges and enriches the reader's known world, rendering it rife with possibility. Lemieux's superb narrative, lyrical, and imaginative gifts give voice to our deepest griefs and our need to be loved-but always with deftness, wit, and great empathy. As one of her characters reflects, "the best thing a person/could ever give you is an absence for you to fill." A stunning collection from a singular, unforgettable voice. ~ Angela Narciso Torres, author of Blood Orange
Sklep: Libristo.pl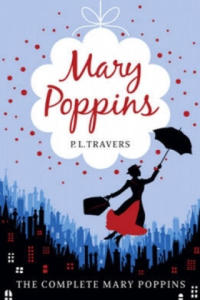 99,54 zł
Książki / Literatura obcojęzyczna
This fantastic omnibus edition contains all six original Mary Poppins stories: Mary Poppins, Mary Poppins Comes Back, Mary Poppins Opens the Door, Mary Poppins in the Park, Mary Poppins in Cherry Tree Lane / Mary Poppins and the House Next Door (2-in-1 edition). All magical children's classics, it's the perfect gift. When their new nanny, Mary Poppins, arrives on a gust of the East Wind, greets their mother, and slides up the banister, Jane and Michael's lives are turned magically upside down. Familiar to anyone who has seen the film or the West End adaptation, you can now read all six of these wonderfully original tales about Jane and Michael's adventures with the magical Mary Poppins. In each book Mary takes the children on the most extraordinary outings: to a fun fair inside a pavement picture; to visit Uncle Andrew who floats up to the ceiling when he laughs; on a spectacular trip to see the Man-in-the-Moon! With her strict but fair, no-nonsense attitude, combined with amazing magical powers, things are never straightforward with Mary Poppins! But she has only promised to stay until the wind changes...Titles include: * Mary Poppins * Mary Poppins in Cherry Tree Lane * Mary Poppins and the House Next Door * Mary Poppins Opens the Door * Mary Poppins in the Park * Mary Poppins Comes Back
Sklep: Libristo.pl 82,49 zł
Muzyka>Inne
1. The Twist 2. The Fly 3. Ya Ya 4. Too Many Rules 5. Wiggling Fool 6. Twist A St. Tropez 7. Patty Baby 8. Let's Dance 9. Wild One 10. St. Tropez Twist 11. Sally Twist 12. Wap-dou-wap 13. Top Ten Twist 14. Let's Go, Let's Go, Let's Go 15. Kissin' Twist 16. Robot Man 17. Twist And Shout 18. The Twist 19. Twistin' Postman 20. Scratch 'N' Twist 21. Si Tu Me Telephone 22. Can't Stop Twistin' 23. Dance With Mr. Domino 101. Mister Twister 102. Come Twist Around The Clock 103. Fanny Mae 104. Twistin' U.s.a. 105. Finger Poppin' Time 106. Buzz Buzz A-diddle It 107. Some Kinda Fun 108. Kissin' Time 109. Girl, Girl, Girl 110. The Duck 111. The Locomotion 112. Lipstick On Your Collar 113. Spanish Twist 114. Arkansas Twist 115. Tequila Twist 116. Twistin' The Night Away 117. Soul Twist 118. Dear Lady Twist 119. Twistin' With Linda 120. Peppermint Twist 121. Sam'di Soir 122. Twistin' In The Old Town Tonight 123. Whistler's Twist 201. Muskrat Ramble 202. Teach Me How To Twist 203. Twistin' In The Kitchen With Dinah 204. Twist In The Morning 205. I Know 206. The Hucklebuck 207. Hello Josephine 208. The Continental Twist 209. Ti Pi Tin Twist 210. The Hoochi Coochi Coo 211. Teach Me To Twist 212. Who Is Me 213. Rockin' Blues 214. Hello 215. Twistin' Blues 216. Johnny Darling 217. Twisting Time 218. Twistin' All Night Long 219. Twist Chango 220. Everybody's Twistin' 221. Shimmy Baby 222. South Pacific Twist 223. Meet Me At The Twistin' Place 301. The Twist 302. Boogie Woogie Twist 303. Let's Twist Again 304. Tintarella Di Luna 305. Kansas City 306. The Continental Walk 307. Way Down Yonder In New Orleans 308. Shout 309. The Third House 310. The Twist 311. If You Ever Get It Once 312. The Wiggle 313. Surboum 314. Ain't That Better Baby 315. Patricia Twist 316. The Twist Set Me Free 317. Basie Twist 318. The Twister 319. Muddy Waters' Twist 320. New Orleans Twist 321. Shout 322. Twistin' Train 323. The Lemon Twist 401. Twist And Shout 402. Let's Go Again 403. Limbo Rock 404. (Baby) Hully Gully 405. Peppermint Twist 406. Swingin' School 407. Choo-choo Twist 408. Mommy Your Daughter's Fallin' In Love 409. Okefenokee 410. Mama Papa Twist 411. Tag Rhat Rwistin' Dolly 412. The Watusi 413. Let's Stomp 414. Shimmy Lou 415. (I Do The) Shimmy Shimmy 416. Twistin' In The Old Town Tonight 417. Twistin' Off A Cliff 418. Jam Up Twist 419. Twistin' Out In Space 420. The Alvin Twist 421. Twistin' On A Liner 422. The Frankenstein Twist 423. Twisteree 501. Peppermint Twist 502. Country Twist 503. Ya Ya Twist 504. Twistin' The Stomp 505. (Make With) The Shake 506. Marie 507. Tintarella Di Luna 508. Camptown Twist 509. The Crawl 510. Kiss 'N' Twist 511. La Lecon De Twist 512. Spellin' Twist 513. The Twist 514. The Float 515. Meet Me At The Twistin' Place 516. Alright, Okay, You Win 517. Doctor Feelgood 518. Hey Let's Twist 519. P' Tit Wap 520. Danse Le Twist Avec Moi 521. Let's Have A Party 522. Twistin' At The Top 523. Big Bad Jon The Twister 601. Doin' The Twist 602. The Switch-a-roo 603. Slow Twistin' 604. Sticks And Stones 605. Si Seulement 606. Walkin' 'N' Twistin' 607. I Won't Be Home To You 608. Twist Twist Senora 609. A Kissin' And A Twistin' 610. Hey, Let's Twist 611. Twistin' Matilda 612. Dactylo Rock 613. Twistin' The Night Away 614. Let's Twist Again 615. Dear Lady Twist 616. Twist Talk 617. Tu Peux La Prendre 618. Twist It Up 619. Twist De Paris 620. Roly Poly 621. Buzzsaw Twist 622. Queen Of The Twist 623. Twistin' In The Usa 701. Let's Twist Again 702. Twist Around The Clock 703. Crazy Twist 704. Night Train 705. My Real Happiness 706. Hey Pony 707. Double Order Mashed Potatoes 708. Keep On Dancing 709. Sugartime Twist 710. Twist And Shout 711. Bristol Twistin' Annie 712. The Italian Twist 713. Cherie, Oh Cherie 714. What'd I Say 715. Twist Her 716. Route 66 717. Exactly Like You 718. Twist And Freeze 719. Ya Ya Twist 720. Wing-ding 721. Ooh Poo Pah Doo 722. Dance To The Locomotion 723. Come On Let's Twist 801. It's Twistin' Time 802. Twistin' Cowboy Joe 803. Twistin' 'N' Twangin' 804. Glow Worm 805. Peppermint Twist 806. Twistin' King 807. Ooh-la-la-limbo 808. Merry Twistmas 809. Gonna Git That Man 810. Twisting With The King 811. Twist On Little Girl 812. Miss Twist 813. Pop Pop Pop-pie 814. Le Twist 815. Twistin' U.s.a. 816. Mother Goose Twist 817. Whitehouse Twist 818. Bristol Twistin' Danny 819. Big Split Twist 820. La Faute Au Twist 821. Pony Time 822. Twist '62 823. I've Been Twistin' 901. Someone Else's Boy 902. Side By Side 903. Good Twistin' Tonight 904. Fou D'elle 905. Choo-choo Twist 906. When The Saints Go Twistin' In 907. Sack O'woe Twist 908. At The Hopop 909. The Peppermint Twist 910. Baby Roo 911. X-mas Twist 912. The Honeydripper 913. Twist, Turn And Twirl 914. Be Bop A Lula Twist 915. The Twist 916. Do You Know How To Twist? 917. Wobble Twist 918. Dance 919. Lover Please 920. Twistin' Party 921. Whole Lotta Shakin' Goin' On 922. The Witch's Twist 923. Twistin' And Kissin'
Sklep: Gigant.pl
Sklepy zlokalizowane w miastach: Warszawa, Kraków, Łódź, Wrocław, Poznań, Gdańsk, Szczecin, Bydgoszcz, Lublin, Katowice
Szukaj w sklepach lub całym serwisie
2. Szukaj na wszystkich stronach serwisu
t1=0.106, t2=0, t3=0, t4=0.022, t=0.106