krainaksiazek object oriented methods a new comprehensive study 20116245
- znaleziono 14 produktów w 3 sklepach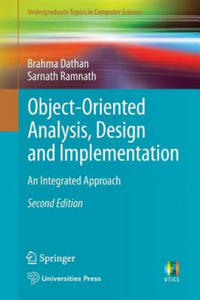 144,28 zł
Książki / Literatura obcojęzyczna
The second edition of this textbook includes revisions based on the feedback on the first edition. In a new chapter the authors provide a concise introduction to the remainder of UML diagrams, adopting the same holistic approach as the first edition.§§Using a case-study-based approach for providing a comprehensive introduction to the principles of object-oriented design, it includes:§§A sound footing on object-oriented concepts such as classes, objects, interfaces, inheritance, polymorphism, dynamic linking, etc.§A good introduction to the stage of requirements analysis§Use of UML to document user requirements and design§An extensive treatment of the design process§Coverage of implementation issues§Appropriate use of design and architectural patterns§Introduction to the art and craft of refactoring§Pointers to resources that further the reader's knowledge §The focus of the book is on implementation aspects, without which the learning is incomplete. This is achieved through the use of case studies for introducing the various concepts of analysis and design, ensuring that the theory is never separate from the implementation aspects.§§All the main case studies used in this book have been implemented by the authors using Java. An appendix on Java provides a useful short tutorial on the language.§
Sklep: Libristo.pl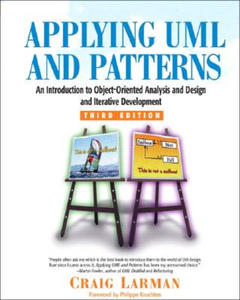 442,11 zł
Książki / Literatura obcojęzyczna
"This edition contains Larman's usual accurate and thoughtful writing. It is a very good book made even better." -Alistair Cockburn, author, Writing Effective Use Cases and Surviving OO Projects"Too few people have a knack for explaining things. Fewer still have a handle on software analysis and design. Craig Larman has both." -John Vlissides, author, Design Patterns and Pattern Hatching"People often ask me which is the best book to introduce them to the world of OO design. Ever since I came across it Applying UML and Patterns has been my unreserved choice." -Martin Fowler, author, UML Distilled and Refactoring"This book makes learning UML enjoyable and pragmatic by incrementally introducing it as an intuitive language for specifying the artifacts of object analysis and design. It is a well written introduction to UML and object methods by an expert practitioner." -Cris Kobryn, Chair of the UML Revision Task Force and UML 2.0 Working Group*A brand new edition of the world's most admired introduction to object-oriented analysis and design with UML *Fully updated for UML 2 and the latest iterative/agile practices *Includes an all-new case study illustrating many of the book's key points Applying UML and Patterns is the world's #1 business and college introduction to "thinking in objects"-and using that insight in real-world object-oriented analysis and design. Building on two widely acclaimed previous editions, Craig Larman has updated this book to fully reflect the new UML 2 standard, to help you master the art of object design, and to promote high-impact, iterative, and skillful agile modeling practices. Developers and students will learn object-oriented analysis and design (OOA/D) through three iterations of two cohesive, start-to-finish case studies. These case studies incrementally introduce key skills, essential OO principles and patterns, UML notation, and best practices. You won't just learn UML diagrams-you'll learn how to apply UML in the context of OO software development. Drawing on his unsurpassed experience as a mentor and consultant, Larman helps you understand evolutionary requirements and use cases, domain object modeling, responsibility-driven design, essential OO design, layered architectures, "Gang of Four" design patterns, GRASP, iterative methods, an agile approach to the Unified Process (UP), and much more. This edition's extensive improvements include * A stronger focus on helping you master OOA/D through case studies that demonstrate key OO principles and patterns, while also applying the UML * New coverage of UML 2, Agile Modeling, Test-Driven Development, and refactoring * Many new tips on combining iterative and evolutionary development with OOA/D * Updates for easier study, including new learning aids and graphics * New college educator teaching resources * Guidance on applying the UP in a light, agile spirit, complementary with other iterative methods such as XP and Scrum * Techniques for applying the UML to documenting architectures * A new chapter on evolutionary requirements, and much more Applying UML and Patterns, Third Edition, is a lucid and practical introduction to thinking and designing with objects-and creating systems that are well crafted, robust, and maintainable.
Sklep: Libristo.pl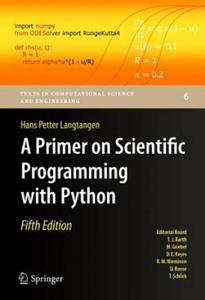 263,27 zł
Książki / Literatura obcojęzyczna
The book serves as a first introduction to computer programming of scientific applications, using the high-level Python language. The exposition is example and problem-oriented, where the applications are taken from mathematics, numerical calculus, statistics, physics, biology and finance. The book teaches "Matlab-style" and procedural programming as well as object-oriented programming. High school mathematics is a required background and it is advantageous to study classical and numerical one-variable calculus in parallel with reading this book. Besides learning how to program computers, the reader will also learn how to solve mathematical problems, arising in various branches of science and engineering, with the aid of numerical methods and programming. By blending programming, mathematics and scientific applications, the book lays a solid foundation for practicing computational science.§§From the reviews: Langtangen ... does an excellent job of introducing programming as a set of skills in problem solving. He guides the reader into thinking properly about producing program logic and data structures for modeling real-world problems using objects and functions and embracing the object-oriented paradigm. ... Summing Up: Highly recommended. §§F. H. Wild III, Choice, Vol. 47 (8), April 2010§§Those of us who have learned scientific programming in Python 'on the streets' could be a little jealous of students who have the opportunity to take a course out of Langtangen's Primer."§ John D. Cook, The Mathematical Association of America, September 2011§§This book goes through Python in particular, and programming in general, via tasks that scientists will likely perform. It contains valuable information for students new to scientific computing and would be the perfect bridge between an introduction to programming and an advanced course on numerical methods or computational science.§ Alex Small, IEEE, CiSE Vol. 14 (2), March _ /April 2012 §§"This fourth edition is a§wonderful, inclusive textbook that covers pretty much everything one needs to§know to go from zero to fairly sophisticated scientific programming in Python..."§Joan Horvath, Computing Reviews, March§2015 §§
Sklep: Libristo.pl 51,27 zł
Książki & Multimedia > Książki
Opis - Książka, posiadająca istotne walory praktyczne, jest pierwszą pozycją polskiej autorki w tak kompleksowy sposób analizującą nie tylko istotę funkcjonowania kredytowych instrumentów pochodnych, ale również modele ich wyceny, doskonalenie których autorka słusznie uznaje za kluczowe dla rozwoju tego rynku. Niewątpliwą zaletą opracowania jest mnogość przykładów, przeprowadzających Czytelnika przez kolejne etapy szacowania wartości omawianych struktur i tworzących idealną bazę dla zrozumienia konstrukcji tych złożonych produktów. Prof. zw. dr hab. Janusz Soboń Publikacja stanowi cenne kompendium wiedzy zarówno dla praktyków rynku finansowego, jak i studentów oraz słuchaczy studiów podyplomowych i doktoranckich, jak również dla pracowników nauki zainteresowanych wdrażaniem metod kwantyfikacji ryzyka kredytowego w praktykę. Prof. nadzw. SGH dr hab. Paweł Niedziółka Nazwa - Pochodne instrumenty kredytowe Autor - Izabela Pruchnicka-Grabias Oprawa - Miękka Wydawca - CeDeWu Kod ISBN - 9788375563733 Kod EAN - 9788375563733 Wydanie - 1 Rok wydania - 2011 Język - polski Format - 16.5x23.0cm Ilość stron - 280 Podatek VAT - 5%
Sklep: InBook.pl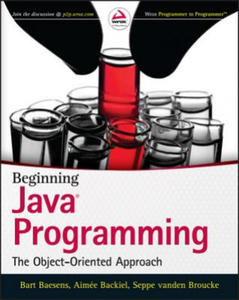 151,75 zł
Książki / Literatura obcojęzyczna
A comprehensive Java guide, with samples, exercises, case studies, and step-by-step instruction Beginning Java Programming: The Object Oriented Approach is a straightforward resource for getting started with one of the world's most enduringly popular programming languages. Based on classes taught by the authors, the book starts with the basics and gradually builds into more advanced concepts. The approach utilizes an integrated development environment that allows readers to immediately apply what they learn, and includes step-by-step instruction with plenty of sample programs. Each chapter contains exercises based on real-world business and educational scenarios, and the final chapter uses case studies to combine several concepts and put readers' new skills to the test. Beginning Java Programming: The Object Oriented Approach provides both the information and the tools beginners need to develop Java skills, from the general concepts of object-oriented programming. Learn to: Understand the Java language and object-oriented concept implementation Use Java to access and manipulate external data Make applications accessible to users with GUIs Streamline workflow with object-oriented patterns The book is geared for those who want to use Java in an applied environment while learning at the same time. Useful as either a course text or a stand-alone self-study program, Beginning Java Programming is a thorough, comprehensive guide.
Sklep: Libristo.pl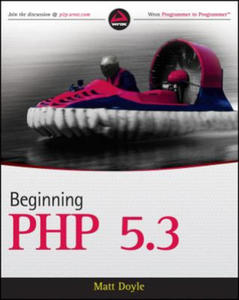 130,81 zł
Książki / Literatura obcojęzyczna
This book is intended for anyone starting out with PHP programming. If you've previously worked in another programming language such as Java, C#, or Perl, you'll probably pick up the concepts in the earlier chapters quickly; however, the book assumes no prior experience of programming or of building Web applications. That said, because PHP is primarily a Web technology, it will help if you have at least some knowledge of other Web technologies, particularly HTML and CSS. Many Web applications make use of a database to store data, and this book contains three chapters on working with MySQL databases. Once again, if you're already familiar with databases in general -- and MySQL in particular -- you'll be able to fly through these chapters. However, even if you've never touched a database before in your life, you should still be able to pick up a working knowledge by reading through these chapters. What This Book Covers This book gives you a broad understanding of the PHP language and its associated technologies. You explore a wide range of topics, including: installing a copy of the PHP engine on Ubuntu Linux, Windows, and Mac OS X;other ways you can install or use PHP; how to write a simple PHP script. basic PHP language concepts. variables, data types, operators, expressions, and constants. how to change the flow of your scripts by creating decisions and loops. if , else , and switch statements; the ternary operator; and the do , while , for , break , and continue statements. how to nest loops, and how to mix decisions and looping with blocks of HTML. PHP's handling of strings, or sequences of characters; how to create strings; how to retrieve characters from a string; and how to manipulate strings with functions such as strlen() , substr() , strstr() , strpos() , str-replace() , and printf() , to name but a few. arrays -- variables that can hold multiple values. You learn the difference between indexed and associative arrays, and find out how to create arrays and access their individual elements; array manipulation, including functions such as print-r() , array-slice() , count() , sort() , array-merge() , and list() . You also learn how to create foreach loops, as well as how to work with multidimensional arrays. functions -- blocks of code that you can use again and again. You look at how to call built-in functions, and how to work with variable functions. You also study how to create your own functions, including defining parameters, returning values, understanding scope, and using anonymous functions. Other function-related topics such as references and recursion are also explored. object-oriented programming. You look at the advantages of an object-oriented approach, and learn how to build classes, properties, and methods, and how to create and use objects. You also explore more advanced topics such as overloading, inheritance, interfaces, constructors and destructors, autoloading, and namespaces. how to use PHP to create interactive Web forms. You learn how to create HTML forms, how to capture form data in PHP, and how to use PHP to generate dynamic forms. You also explore file upload forms and page redirection. how to preserve an application's state between page views. You explore three different strategies: query strings, cookies, and PHP sessions. Includes an example user login system. PHP's file and directory handling functions. You learn how to open and close files; how to find out more information about a file; how to read from and write to files; how to work with file permissions; how to copy, rename, and delete files; and how to manipulate directories.Simple text editor as an example. databases in general and MySQL in particular, and how to work with MySQL databases using PHP. You learn some database and SQL theory; look at how to connect to MySQL from PHP; and study how to retrieve, insert, update, and delete data in a MySQL database. PEAR, the PHP Extension and Application Repository. It's a large collection of reusable code modules that can really help to speed up your application development. You look at how to install and use PEAR packages, and explore three useful packages: Net-UserAgent-Detect , HTML-Table , and HTML-QuickForm . ways that your PHP applications can interact with the outside world.A detailed look at date and time handling, including various useful built-in date functions, as well as the DateTime and DateTimeZone classes. Also how to work closely with HTTP request and response headers, how to retrieve Web server information, and how to send email from within your scripts. using PHP to generate graphics on the fly. You study some computer graphics fundamentals, then look at how to create new images, as well as modify existing images. Along the way you explore colors, drawing functions, image formats, transparency, opacity, and generating text within images. regular expressions. These clever pattern-matching tools let you search for very specific patterns of text within strings; regular expression syntax, how to use PHP's regular expression functions to search for and replace patterns of text. Lots of examples are included to make the concepts clear. XML -- eXtensible Markup Language -- and how to manipulate XML from within your PHP scripts. You learn about XML and its uses, and look at various ways to read and write XML with PHP, including XML Parser, the XML DOM extension, and SimpleXML. You also take a brief look at XML stylesheets, including XSL and XSLT. how to configure PHP, and all the configuration directives available. alternative databases to MySQL that are supported by PHP. using PHP to write command-line scripts, further enhancing the power and flexibility of your applications. Also, as you'd imagine, this book covers the new features added to PHP in version 5.3. However, if you're still using an older version of PHP, don't panic -- the vast majority of the book applies to all versions of PHP.
Sklep: Libristo.pl 253,26 zł
Książki / Literatura obcojęzyczna
This significantly updated new edition of Developing Java Software is a thorough presentation of object-oriented design and programming concepts using the Java 5 programming language. The book takes the reader from the basics of using Java 5 to the creation of complete, object-oriented programs. Following an 'objects early' approach, the core elements of the Java language are covered, including the use of recently added features such as generics. The encouragement of the proper creation and use of classes, and the demonstration of the strategies used to create good quality code are at the core of this book. You will learn how Java programs work and how they can be designed and implemented in an organized and systematic way. In addition, the book addresses how a Java programming project should be managed and introduces the Ant build tool and the Subversion version control system. Testing has always been an important part of Developing Java Software. This edition provides new chapters which give a detailed introduction to Test-driven Development (TDD). This approach to programming introduces more rigor to writing programs by placing emphasis on writing high quality testable and tested code from the outset. A series of examples and case studies shows how TDD works and highlights the strategies for testing code. Reflecting recent changes to the Java programming language and newly focused on first courses in programming, this excellent primer is ideal for classroom use or self-study. The many motivating examples and larger case studies show how core ideas can be applied when creating real applications, and show how to use object-oriented methods effectively to create robust, reliable, and fully-tested Java applications.
Sklep: Libristo.pl
227,61 zł
Książki / Literatura obcojęzyczna
"One of the great things about the book is the way the authors explain concepts very simply using analogies rather than programming examples-this has been very inspiring for a product I'm working on: an audio-only introduction to OOP and software development." -Bruce Eckel "...I would expect that readers with a basic understanding of object-oriented programming and design would find this book useful, before approaching design patterns completely. Design Patterns Explained complements the existing design patterns texts and may perform a very useful role, fitting between introductory texts such as UML Distilled and the more advanced patterns books." -James Noble Leverage the quality and productivity benefits of patterns-without the complexity! Design Patterns Explained, Second Edition is the field's simplest, clearest, most practical introduction to patterns. Using dozens of updated Java examples, it shows programmers and architects exactly how to use patterns to design, develop, and deliver software far more effectively. You'll start with a complete overview of the fundamental principles of patterns, and the role of object-oriented analysis and design in contemporary software development. Then, using easy-to-understand sample code, Alan Shalloway and James Trott illuminate dozens of today's most useful patterns: their underlying concepts, advantages, tradeoffs, implementation techniques, and pitfalls to avoid. Many patterns are accompanied by UML diagrams. Building on their best-selling First Edition, Shalloway and Trott have thoroughly updated this book to reflect new software design trends, patterns, and implementation techniques. Reflecting extensive reader feedback, they have deepened and clarified coverage throughout, and reorganized content for even greater ease of understanding. New and revamped coverage in this edition includes * Better ways to start "thinking in patterns" * How design patterns can facilitate agile development using eXtreme Programming and other methods * How to use commonality and variability analysis to design application architectures * The key role of testing into a patterns-driven development process * How to use factories to instantiate and manage objects more effectively * The Object-Pool Pattern-a new pattern not identified by the "Gang of Four" * New study/practice questions at the end of every chapter Gentle yet thorough, this book assumes no patterns experience whatsoever. It's the ideal "first book" on patterns, and a perfect complement to Gamma's classic Design Patterns. If you're a programmer or architect who wants the clearest possible understanding of design patterns-or if you've struggled to make them work for you-read this book.
Sklep: Libristo.pl 389,97 zł
Książki / Literatura obcojęzyczna
Based on the needs of the educational community, and the software professional, this book takes a unique approach to teaching software testing. It introduces testing concepts that are managerial, technical, and process oriented, using the Testing Maturity Model (TMM) as a guiding framework. The TMM levels and goals support a structured presentation of fundamental and advanced test-related concepts to the reader. In this context, the interrelationships between theoretical, technical, and managerial concepts become more apparent. In addition, relationships between the testing process, maturity goals, and such key players as managers, testers and client groups are introduced. Topics and features:- Process/engineering-oriented text- Promotes the growth and value of software testing as a profession- Introduces both technical and managerial aspects of testing in a clear and precise style- Uses the TMM framework to introduce testing concepts in a systemmatic, evolutionary way to faciliate understanding- Describes the role of testing tools and measurements, and how to integrate them into the testing process Graduate students and industry professionals will benefit from the book, which is designed for a graduate course in software testing, software quality assurance, or software validation and verification§Moreover, the number of universities with graduate courses that cover this material will grow, given the evoluation in software development as an engineering discipline and the creation of degree programs in software engineering.Software testing is rapidly evolving as a critical sub-discipline of software engineering. The industry needs professionals educated in the modern methods and tools of software testing and quality assurance.§Based on the needs of software professionals, "Practical Software Testing" takes a unique approach to teaching readers how to effectively plan for testing, design test cases, test at multiple levels, organize a testing team, and optimize use of testing tools. It introduces testing concepts that are managerial-, technical-, and process-oriented, using the Testing Maturity Model (TMM) as a framework.§Features:§includes a sample test plan, comprehensive exercises, and definitions for software testing and quality§introduces both technical and managerial aspects of testing in a clear and precise style, for integrated learning§balanced perspective and comprehensive view of all testing aspects§uses the TMM framework to introduce testing in a systematic, evolutionary way, and describes industrial TMM applications §covers testing topics with either procedurally based or object-oriented programming code§With its accessible, practical, and well-focused framework, this new resource provides an integrated presentation of software-testing processes and practices. Professionals and practitioners in software testing, software quality assurance, or software validation and verification will benefit greatly from using this essential resource.
Sklep: Libristo.pl 39,91 zł
Książki / Literatura obcojęzyczna
Iterating Infusion: Clearer Views of Objects, Classes, and Systems is a one-of-a-kind book, not dependent on any single technology. Rather, it provides a way to integrate the most efficient techniques from a variety of programming methods, in a manner that makes designing and programming software look easy. §Iterating Infusion presents comprehensive tools for you to best manage and work with object orientation. These include simplified fundamental concepts, popular language comparisons, advanced designing strategies, a broad usage progression, thorough design notations (interaction algebra), and data-oriented (fundamentally-OO) languages. §The title, Iterating Infusion, alludes to the fact that any system has multiple, coexisting functional levels and that new levels; both lower and higher; are continually added to the same functional area. The practical effect is to bring processes into focus, always clarifying the vague. The extreme form of this is when separate but compatible technologies are brought together to create advancements; these can be baby-steps or great leaps, with varying amounts of effort. In more general terms, the same thing in a different context can take on much more power. And actually, this phenomenon is at the heart of object-oriented software. §Readers have been confirming that, compared to books on just low-level details, Iterating Infusion presents cohesive insights that allow you to solve more problems with the same effort in more key places.
Sklep: Libristo.pl 226,86 zł
Książki / Literatura obcojęzyczna
Essential C# 6.0 is a well-organized, no-fluff guide to the latest versions of C# for programmers at all levels of C# experience. Fully updated to reflect new features and programming patterns introduced with C# 6.0 and .NET 4.5, this guide shows you how to write C# code that is simple, powerful, robust, secure, and maintainable. Microsoft MVP Mark Michaelis and C# principal developer Eric Lippert provide comprehensive coverage of the entire language, offering a complete foundation for effective software development. The authors illustrate key constructs with succinct, downloadable code examples. Graphical mind maps at the beginning of each chapter outline the material that is covered and how individual topics interrelate. This edition also includes C# Coding Guidelines that call attention to today's best practices for writing C# code. Separate indexes of versions of C# make it easy to find answers specific to whatever version of C# you are using. Throughout, topics intended for beginners and advanced readers are clearly marked. If you're new to C#, this guide will help you start writing significant code quickly. If you're an experienced C# developer, you'll gain insight into today's most complex programming challenges and techniques as you master key C# 6.0 innovations such as async/await pattern. No matter how advanced your skills become, you'll come to rely on this indispensable reference. Coverage includes Mastering C# data types, operators, control flow, methods, and parameters Making the most of C# object-oriented constructs, including classes, inheritance, interfaces, and more Building reliable, effective exception handling into your code Using generics, delegates, Lambda expressions, and events to reduce code complexity Learning dynamic programming with reflection and attributes Querying virtually any type of data using LINQ with Query Expressions Creating custom collections that operate against business objects Understanding the Common Language Infrastructure and C# in the context of the .NET 4.5 development platform Taking advantage of declarative programming, embedded metadata, reflection, and attributes Thoroughly mastering multithreading and synchronization, including the new async/await paradigm Discussion of WinRT and programming in C# for Windows Using P/Invoke, pointers, and direct memory manipulation to interoperate with code in other languages Understanding how C# programs relate to the underlying runtime
Sklep: Libristo.pl 186,30 zł
Inne 1
For courses in Industrial/Organizational Psychology and Psychology of Work Behaviour. This inviting, comprehensive, student-oriented introduction to industrial/organizational psychology emphasizes the connections between theory and practice across the full spectrum of personnel issues, worker issues, work group and organizational issues, and work environment issues. Its focus on career information, employee-centered issues, and cutting-edge research ensures that students get and stay motivated - right from the beginning. NEW - Extensively updated material throughout Includes the latest research on each key topic, and features over 300 new references - Reflects the most current information available in the field, and provides students with an excellent resource for term papers and future coursework. NEW - Expanded emphasis on leadership Discusses leadership theories, provides information on transformational leadership and the "full range of leadership" model. NEW - Coverage of cutting-edge issues Includes working in virtual organizations; action learning; the changing nature of work; work-family balance; and on-line employee screening and evaluation - Gives students an awareness and understanding of the fields "hot topics." NEW - In-the-margin websites - Provides students with Internet addresses for career exploration and additional information relevant to text topics. Updated information on job analysis - Discusses use of the U.S. Department of Labors O*NET for job analysis and career exploration. Employee-centered approach  Focuses on "employee" issues and concerns rather than the traditional emphasis on "personnel" issues, and on teams and the value of the organizations human resources - Offers a point of view that students can relate to personally, drawing on their own experiences as "employees" rather than the often impersonal concept of "personnel." "Inside Tips" Begins each chapter - Helps students develop study strategies, deal with common confusions, and understand how the various chapters and topic areas fit together. "Stop and Review" questions - Maximizes students learning, and allows them to "self-test" their reading retention. "Up Close" sections In every chapter - Provides students with practical information concerning how I/O psychology can increase understanding of everyday work situations, and allows them to apply theories to the real world and information on careers in the field. "On the Cutting Edge" boxes In every chapter - Excites students with information about what is currently going on in the field. Presents instructors with a current topic for deeper exploration. "Applying I/O Psychology" boxes In every chapter - Serves to bridge theory and practice, and shows students how I/O psychologists apply their knowledge of theory to make positive changes in actual work settings. Chapter-end summaries of central concepts - Encourages students to think about the topics presented and to review and apply what they have learned. Annotated suggested readings At the end of each chapter - Provides students and instructors with convenient resources for more in-depth study of selected topics. Statistical Appendix - At the end of Chapter 2 Enables instructors who put greater emphasis on methods to easily include it; but it also serves as good later reference material for students who are not assigned it as part of the course.
Sklep: Albertus.pl 282,43 zł
Książki / Literatura obcojęzyczna
This book introduces the suite of techniques known as 'distance sampling', so-called because the common theme is the sampling of distances of objects from a line or point. The objects are usually animals or groups of animals ('clusters'), and the primary aim is to estimate their density or abundance in a survey area. In line transect sampling, the sampled distances are the shortest or perpendicular distance from a detected object to the line. It is the most widely used method for assessing the abundance of a wide range of terrestrial and marine animals. In point transect sampling, distances of detected objects from the sampled points are recorded. This book provides a comprehensive introduction to both techniques, and also describes several related techniques. "Introduction to Distance Sampling" updates the 1993 book "Distance Sampling", which was the first, and until now, only book devoted to the topic. The book is aimed at quantitative biologists and wildlife managers, and statisticians involved in wildlife monitoring programmes. Of particular significance in this update is the chapter on study design and field methods, which has been extensively rewritten and extended. New technologies such as laser range finders, theodolites and the Geographical Positioning System (GPS) are discussed, and advice is given on a wide range of survey methods. Analysis methods have also been generalized, through the use of various types of multiplier. Many exercises have been introduced, to make the book more useful to graduate students in wildlife and conservation management.
Sklep: Libristo.pl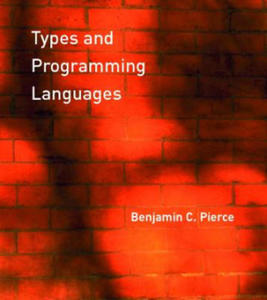 291,70 zł
Książki / Literatura obcojęzyczna
A type system is a syntactic method for automatically checking the absence of certain erroneous behaviors by classifying program phrases according to the kinds of values they compute. The study of type systems--and of programming languages from a type-theoretic perspective -- -has important applications in software engineering, language design, high-performance compilers, and security.This text provides a comprehensive introduction both to type systems in computer science and to the basic theory of programming languages. The approach is pragmatic and operational; each new concept is motivated by programming examples and the more theoretical sections are driven by the needs of implementations. Each chapter is accompanied by numerous exercises and solutions, as well as a running implementation, available via the Web. Dependencies between chapters are explicitly identified, allowing readers to choose a variety of paths through the material.The core topics include the untyped lambda-calculus, simple type systems, type reconstruction, universal and existential polymorphism, subtyping, bounded quantification, recursive types, kinds, and type operators. Extended case studies develop a variety of approaches to modeling the features of object-oriented languages.
Sklep: Libristo.pl
Sklepy zlokalizowane w miastach: Warszawa, Kraków, Łódź, Wrocław, Poznań, Gdańsk, Szczecin, Bydgoszcz, Lublin, Katowice
Szukaj w sklepach lub całym serwisie
2. Szukaj na wszystkich stronach serwisu
t1=0.057, t2=0, t3=0, t4=0.013, t=0.058