krainaksiazek old french romances done into english 20042147
- znaleziono 10 produkty w 4 sklepach 70,53 zł
Książki
Sklep: KrainaKsiazek.pl 270,24 zł
Książki / Literatura obcojęzyczna
One of the most lively of France's younger historians, Guy Chaussinand-Nogaret argues in this pioneering essay that the traditional picture of the pre-revolutionary French nobility as a caste of intransigent reactionaries and parasites is a fabrication of revolutionary propaganda. Using a whole range of new research and calculations, he argues that the nobility represented all that was most vigorous and forward-looking in eighteenth-century French society. Constantly renewing itself by recruiting the richest members of the middle classes or marrying their daughters, the nobility was in the forefront of French economic and intellectual life, and until 1789 was at the head of the movement for reform of the old regime state. In an afterword specially written for the English edition, the author explains how the revolutionaries came to turn against a group that had done more than any other to bring about the Revolution.
Sklep: Libristo.pl 45,28 zł
Książki / Literatura obcojęzyczna
Throughout history the English have been a warlike lot. Often we fight among ourselves ? there have been a good few civil wars ? and when we were not slaughtering each other, we practiced on our neighbours, the Scots, the Irish, the French ...When that got too easy, we set off around the world to find other people to fight. This was usually done with a hubris that invited some ludicrous pratfall. In THE BEASTLY BATTLES OF OLD ENGLAND, Nigel Cawthorne takes us on a darkly humorous journey through some of our ill-advised military actions. From the war over a severed ear to a general seeking out his rival's mistresses to even the score, it is a miscellany of insufferable arrogance, reckless gallantry, stunning stupidity, massive misjudgements and general beastliness.
Sklep: Libristo.pl 23,92 zł
Książki & Multimedia > Książki
Opis - Tę książkę polubisz od pierwszego wejrzenia. Znajdziesz w niej mnóstwo wiadomości, ciekawostek, zdjęć, map i ilustracji, które poszerzą twą wiedzę o wszystkim, co nas otacza. Nazwa - Encyklopedia dla najmłodszych Polska i świat Autor - Praca zbiorowa Oprawa - Twarda Wydawca - Damidos Kod ISBN - 9788378552574 Kod EAN - 9788378552574 Wydanie - 1 Rok wydania - 2014 Język - polski Format - 21.0x29.0cm Ilość stron - 192 Podatek VAT - 5% Premiera - 2014-10-02
Sklep: InBook.pl 678,40 zł
Książki / Literatura obcojęzyczna
Emerson's journals of 1847-1848 deal primarily with his second visit to Europe, occasioned by a British lecture tour that began at Manchester and Liverpool in November of 1847, took him to Scotland in the following February, and concluded in London during June after he had spent a month as a sightseer in Paris. The journals of these years, alogn with associated notebooks and letters, recorded the materials for lectures that Emerson composed while abroad, for additional lectures on England and the English that he wrote shortly after his return to Concord, and ultimately, for "English Traits," the book growing out of his travels that he was to publish in 1856. Travel abroad provided a needed change for Emerson in 1847 as it had done on previous occasions, though with his usual discounting of the values of mere change of place he was slow in deciding to make the trip. Discouragement with the prevailing political climate at the time of the Mexican War and the old uncertainty about his own proper role in the "Lilliput" of American society were much on his mind as the year began. In March he thought of withdraing temporarily "from all domestic & accustomed relations"--preferably to enjoy "an absolute leisure with books," thought he also recognized the want of some "stated task" to stimulate his flagging vitality; in July he finally agreed to accept a long-standing invitation to visit England as a lecturer. As matters turned out, a full schedule of lectures and travel, unexpectedly heavy social engagements along the way, and proliferating correspondence left Emerson little time for reading but did not prevent him from filling his journals with sharp observations on the passing scene. As Emerson moved about England his acknowledged admiration for the English rose every day, though he was careful to distinguish their less admirable qualities. The Englishman's "stuff or substance seems to be the best of the world," he told Margaret Fuller. "I forgive him all his pride. My respect is the more generous that I have no sympathy with him, only an admiration." He took a wry amusement from the new experience of being lionized by his hosts. In his journals are lively portraits of those who entertained him, such as Richard Monckton Milnes, his particular sponsor in the society of London and Paris, and sketches of literary notables including Rogers, Dc Quincey, Wilson, Tennyson, and Dickens. He renewed acquaintance with Wordsworth and recorded in detail the pronouncements of his old friend Carlyle. Settling in London in March and April of 1848, he divided his time between work at his desk, visits to nearby points of interest, and the mixed pleasures of a busy social life. In May he went to France just as an abortive uprising against the new provisional government was brewing. Four weeks in Paris served to correct his old "prejudice" against the French, who on closer acquaintance rose in his estimation just as the English had done. In June he returned to London to lecture, and in July, after visiting Stonehenge with Carlyle, he sailed home. As the journals reveal, he reached Concord refreshed and renewed by the change of scene, the new acquaintance, and the generous reception that the trip had brought him, and with an enlarged perspective that revealed to him once again the "proper glory" of his own country.
Sklep: Libristo.pl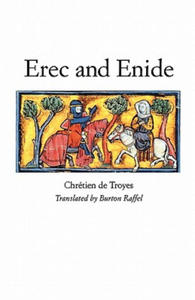 123,20 zł
Książki / Literatura obcojęzyczna
Erec and Enide, the first of five surviving Arthurian romantic poems by twelfth-century French poet Chretien de Troyes, narrates a vivid chapter from the legend of King Arthur. Chretien's romances became the source for Arthurian tradition and influenced countless other poets in England and on the Continent. Yet his swift-moving style is difficult to capture in translation, and today's English-speaking audiences remain largely unfamiliar with the pleasures of reading his poems. Now an experienced translator of medieval verse who is himself a poet has translated Eric and Enide in an original three-stress metric verse form that fully captures the movement, the sense, and the spirit of the Old French original. Burton Raffel's rendition preserves the subtlety and charm of a poem that is in turn serious, dramatic, bawdy, merry, and satiric. Erec and Enide tells the story of Erec, a knight at King Arthur's court, whose retirement to domestic bliss with his beautiful new wife Enide takes him away from his chivalric duties. To regain his knightly honor, Erec sets out with Enide on a series of amazing adventures. Eric dispatches thieves and giants with prodigious strength and valor but treats his wife rather harshly for doubting his abilities. When Enide is kidnapped by a robber baron, Erec revives from near-death to perform a courageous rescue, and at length the two are reconciled.
Sklep: Libristo.pl 59,99 zł
Muzyka>Pop
1. This Empty Place 2. Wishin' & Hopin' 3. I Cry Alone 4. Zip-a-dee-doo-dah 5. Make The Music Play 6. If You See Bill 7. Don't Make Me Over 8. It's Love That Really Counts 9. Unlucky 10. I Smiled Yesterday 11. Make It Easy On Yourself 12. The Love Of A Boy 101. Anyone Who Had A Heart (Lp Version) 102. Shall I Tell Her (Lp Version) 103. Don't Make Me Over (Lp Version) 104. I Cry Alone (Lp Version) 105. Getting Ready For The Heartbreak (Lp Version) 106. Oh Lord, What Are You Doing To Me (Lp Version) 107. Any Old Time Of Day (Lp Version) 108. Mr. Heartbreak (Lp Version) 109. Put Yourself In My Place (Lp Version) 110. I Could Make You Mine (Lp Version) 111. This Empty Place (Lp Version) 112. Please Make Him Love Me (Lp Version) 201. A House Is Not A Home (French & English) (Lp Versi 202. People (Lp Version) 203. (They Long To Be) Close To You (Lp Version) 204. Last One To Be Loved (Lp Version) (Ichiban) 205. Land Of Make Believe (Lp Version) 206. Reach Out For Me (Lp Version) 207. You'll Never Get To Heaven If You Break My Heart ( 208. Walk On By (Lp Version) 209. Wishin' & Hopin' (Lp Version) 210. I Smiled Yesterday (Lp Version) 211. Get Rid Of Him (Lp Version) 212. Make The Night A Little Longer (Lp Version) (Ichib 301. I Say A Little Prayer (Lp Version) 302. Walk Little Dolly (Lp Version) 303. Beginning Of Loneliness (Lp Version) 304. Another Night (Lp Version) 305. The Windows Of The World (Lp Version) 306. (There's) Always Something There To Remind Me (Lp 307. Somewhere (Lp Version) 308. You're Gonna Hear From Me (Lp Version) 309. Love (Lp Version) 310. What's Good About Good-bye (Lp Version) 401. As Long As There's An Apple Tree (Lp Version) 402. Up, Up & Away 403. You're My World (Lp Version) 404. Valley Of The Dolls (Theme From) (Lp Version) 405. Silent Voices (Lp Version) 406. Do You Know The Way To San Jose (Lp Version) 407. For The Rest Of My Life (Lp Version) 408. Let Me Be Lonely (Lp Version) 409. Where Would I Go(lp Version) 410. Walking Backward Down The Road (Lp Version)
Sklep: Gigant.pl
Sklepy zlokalizowane w miastach: Warszawa, Kraków, Łódź, Wrocław, Poznań, Gdańsk, Szczecin, Bydgoszcz, Lublin, Katowice
Szukaj w sklepach lub całym serwisie
2. Szukaj na wszystkich stronach serwisu
t1=0.043, t2=0, t3=0, t4=0.015, t=0.043