krainaksiazek old macdonald had a farm and other classic nursery rhymes 20052112
- znaleziono 5 produktów w 2 sklepach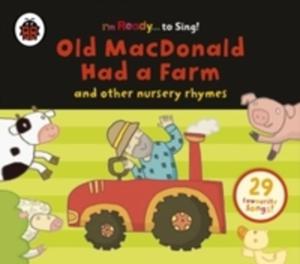 26,99 zł
Książki Obcojęzyczne>Angielskie>Children
0x004687a600000000
Sklep: Gigant.pl 16,51 zł
Książki / Literatura obcojęzyczna
Old Macdonald had a farm... Join in the fun as your all-time favourite children's nursery rhymes are brought to life by Wendy Straw's charming illustrations. This fantastic collection will put the excitement into reading, as well as being an ideal way for children to learn the classics.
Sklep: Libristo.pl 60,97 zł
Książki / Literatura obcojęzyczna
Bouncy illustrations, innovative die cutting and popular rhymes make Books with Holes a must for every child. Available in three formats, suitable for babies, toddlers, pre-schoolers and the nursery or classroom.
Sklep: Libristo.pl 97,49 zł
Box Soliton
Muzyka>Jazz
1. Dixie Jamboree 2. There's No Anaesthetic For Love 3. Ta-de-ah 4. Riffin' At The Bar-b-q 5. Harlem Swing 6. I Lost Control Of Myself 7. The Land Of Make Believe 8. That Please Be Mineable Feeling 9. Dancing In The Street 10. You're So Different 11. I Wouldn't Have Known It 12. Let's Get Happy 13. I Like To Riff 14. On The Sunny Side Of The Street 15. Black Spider Stomp 16. By The River Sainte Marie 17. Sweet Lorraine 18. Honeysuckle Rose 19. Gone With The Draft 20. This Side Up 21. Babs 22. Scotchin' With The Soda 23. Slow Down 24. Early Morning Blues 101. I Like To Riff 102. This Will Make You Laugh 103. Stop! The Red Light's On 104. Hit The Ramp 105. Call The Police 106. Are You Fer It? 107. That Ain't Right 108. Hit That Jive Jack 109. Indiana 110. I Can't Get Started 111. Tea For Two 112. Body & Soul 113. Vom, Vim Veedle 114. All For You 115. Let's Spring One 116. Beautiful Moons Ago 117. Pitchin' Up A Boogie 118. I'm Lot 119. F.s.t. 120. My Lips Remeber Your Kisses 121. Cole A Penny 122. Let's Pretend 123. Straighten Up & Fly Right 124. Gee Baby, Ain't I Good To You? 201. If You Can't Smile & Say Yes 202. Sweet Lorraine 203. Embraceable You 204. It's Only A Paper Moon 205. I Just Can't See For Lookin' 206. The Man I Love 207. Body & Soul 208. Prelude In C Sharp Minor 209. What Is This Thing Called Love? 210. Heads 211. Pro-sky 212. It Had To Be You 213. I Can't Give You Anything But Love 214. Look What You've Done To Me 215. Easy Listening Blues 216. I Realize Now 217. Bring Another Drink 218. If You Can't Smile & Say Yes, Please Don't Cry A 219. A Pile O'cole 220. Any Old Time 221. Bring Another Drink 222. Candy 223. A Trio Grooves In Brooklyn 224. You Can Depend On Me 301. Riffamarole 302. Stormy Weather 303. If I Could Be With You 304. I'm A Shy Guy 305. You're Nobody 'Till Somebody Loves You 306. Don't Blame Me 307. What Can I Say After I Say I'm Sorry 308. I'm Thru With Love 309. Sweet Georgia Brown 310. I Tho't You Ought To Know 311. It Only Happens Once 312. Black Market Stuff 313. Laguna Leap 314. I'll Never Be The Same 315. Swingin' On Central 316. Nat's Kick - Part 1 317. Nat's Kick - Part 2 318. Satchel Mouth Baby 319. Solid Potato Salad 320. It Is Beter To Be By 321. Come To Baby, Do 322. The Frim Fram Sauce 323. I'm An Errand Boy For Rhythm 324. This Way Out 325. I Know That You Know 401. Oh, But I Do 402. How Does It Feel 403. I Can't Believe That You're Love With Me 404. The Way You Look Tonight 405. Airness A La Nat 406. My Old Flame 407. I'm In The Mood For Love 408. I Don't Know Why 409. Route 66 410. Everyone Is Sayin' Hello Again 411. Route 66 412. What Can I Say After I Say I'm Sorry 413. To A Wild Rose 414. Could-'ja 415. Baby, Baby All The Time 416. Oh, But I Do 417. Rex Rhumba 418. But She's My Buddy's Chick 419. You Call It Madness (But I Call It Love) 420. The Christmas Song 421. The Best Man 422. The Christmas Song 423. You Should Have Told Me 501. (I Love You) For Sentimental Reasons 502. In The Cool Of The Evening 503. That's The Beginning Of The End 504. Smoke Gets In Your Eyes 505. I Want To Thank You Folks 506. You're The Cream In My Coffee 507. Come In Out Of The Rain 508. You Don't Learn That In School 509. You Be You 510. Can You Look Me In The Eyes 511. Meet Me At No Special Place 512. Naughty Angeline 513. I Miss You So 514. That's What 515. Honeysuckle Rose 516. It's Kind Of Lonesome Out Tonight 517. For Once In Your Life 518. I Think You Get What I Mean 519. But All I've Got Is Me 520. I Can't Be Bothered 521. When I Take My Sugar To Tea 522. Rhumba Azul 601. I Never Had A Chan 602. What'll Do 603. This Is My Night To Dream 604. Makin' Whoopee 605. There I've Said It Again 606. I'll String Along With You 607. The Trouble With Me Is You 608. Too Marvelous For Words 609. Three Little Words 610. Moonlight In Vermont 611. Poor Butterfly 612. How High The Moon 613. I'll Never Be The Same 614. These Foolish Things 615. Cole Capers 616. Blues In My Shower 617. Wanna Be A Friend Of Yours 618. Ke Mo Ki 619. Three Blind Mice 620. Save The Bones For Henry Jones 621. My Baby Likes Be-bop 622. Harmony 623. You Can't Make Money Dreamin' 624. There's A Train Out For Dreamland 701. My Sleepy Head 702. Brahm's Lullaby 703. Nature Boy 704. Nursery Rhymes 705. Old Macdonald Had A Farm 706. The Three Trees 707. Laguna Mood 708. Now He Tells Me 709. That's A Natural Fact 710. Lament In Chords 711. Thoses Things Money Can't Buy 712. Love Nest 713. Dream A Little Of Me 714. The I'll Be Tires Of You 715. Little Girl 716. No Moon 717. I Feel So Smoochie 718. A Boy From Texas - A Girl From Tenessee 719. It's A Sentimental Thing To Do 720. I've Only Myself To Blame 721. The Geek 722. Confess 723. If I Had You 801. Flo & Joe 802. If You Stub Your Toe One The Moon 803. Return Trip 804. A Woman Always Understands 805. Put'em In A Box, Rie 'Em With A Ribbon 806. I've Got A Way With Women 807. My Fair Lady 808. Lost April 809. Lost April 810. Lielette 811. Lulubelle 812. Leap Here 813. Portrait Of Jennie 814. Don't Cry, Cry Baby 815. An Old Piano Plays The Blues 816. You Can't Lose A Broken Heart 817. My Baby Just Cares For Me 818. Can I Come In For A Second? 819. Baby Won't You Say You Love Me 820. Monday Again 901. I'll Never Say Never Again 902. I Almost Lost My Mind 903. The Greatest Inventor Of Them All 904. Orange Colored Sky 905. Jam-bo 906. Get To Getting' 907. Paint Yourself A Rainbow 908. Destination Moon 909. That's My Girl 910. Too Young 911. Red Sails In The Sunset 912. Wish I Were Somebody Else 913. Unforgettable 914. Pretend 915. It's Crazy 916. You Stepped Out Of A Dream 917. Where Were You 918. Summer Is A Comin' In 919. Funny (Not Much) 920. There Goes My Heart 921. I Love You For Sentimental Reasons 922. Tenderly 923. This Can't Be Love 924. Almost Like Being In Love
Sklep: Gigant.pl 36,29 zł
Książki / Literatura obcojęzyczna
A gorgeous collection of favourite nursery rhymes. This sturdy board book has easy-to-turn pages suitable for little fingers, and a glittery cover! Packed with old favourites, such as 'Old MacDonald Had A Farm', 'Incy Wincy Spider' and 'Three Blind Mice' - it's the perfect first introduction to nursery rhymes.
Sklep: Libristo.pl
Sklepy zlokalizowane w miastach: Warszawa, Kraków, Łódź, Wrocław, Poznań, Gdańsk, Szczecin, Bydgoszcz, Lublin, Katowice
Szukaj w sklepach lub całym serwisie
2. Szukaj na wszystkich stronach serwisu
t1=0.072, t2=0, t3=0, t4=0, t=0.073