krainaksiazek on spiritual growth a christian journey to maturity 20117607
- znaleziono 7 produktów w 1 sklepie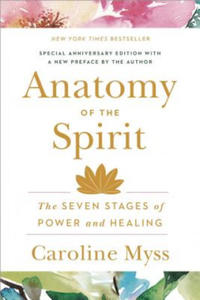 84,63 zł
Książki / Literatura obcojęzyczna
Anatomy of the Spirit is the boldest presentation to date of energy medicine by one of its premier practitioners, internationally acclaimed medical intuitive Caroline Myss, one of the "hottest new voices in the alternative health/spirituality scene" ("Publishers Weekly). Based on fifteen years of research into energy medicine, Dr. Myss's work shows how every illness corresponds to a pattern of emotional and psychological stresses, beliefs, and attitudes that have influenced corresponding areas of the human body. Anatomy of the Spirit also presents Dr. Myss's breakthrough model of the body's seven centers of spiritual and physical power, in which she synthesizes the ancient wisdom of three spiritual traditions-the Hindu chakras, the Christian sacraments, and the Kabbalah's Tree of Life-to demonstrate the seven stages through which everyone must pass in the search for higher consciousness and spiritual maturity. With this model, Dr. Myss shows how you can develop your own latent powers of intuition as you simultaneously cultivate your personal power and spiritual growth. By teaching you to see your body and spirit in a new way, Anatomy of the Spirit provides you with the tools for spiritual maturity and physical wholeness that will change your life.
Sklep: Libristo.pl 81,10 zł
Książki / Literatura obcojęzyczna
Excerpt from The Mystic Way: A Psychological Study in Christian Origins The examination of Christian origins from the psycho logical point of view suggests that Christianity began as a mystical movement of the purest kind; that its Founder and those who succeeded Him possessed the characteristic ally mystical consciousness, and passed through the normal stages of mystical growth. Hence its nature is best understood by comparison with those lesser mystical movements in which life has again and again asserted her unconquerable instinct for transcendence; and the heroic personalities through whom the Christian vision of reality was first expressed, are most likely to yield up the secret of their more abundant life when studied by the help of those psychological principles which have been deduced from the general investigation of the mystical type. The great Christians of the primitive time, the great mystics in whom their spirit has lived on, exhibit, one and all, an organic growth, pass through a series of profound psychic changes and readjustments, by which they move from the condition of that which we like to call the normal man to that state of spiritual maturity, of an actually heightened correspondence with Reality, an actually enhanced power of dealing with circumstance, which they sometimes call the Unitive Life. This sequence of psychological states is the Mystic Way, which gives its title to my book. Its existence is not a pious opinion, but a fact, which is attested by countless mystics of every period and creed, and is now acknow ledged by most students of religious psychology; yet its primary importance for the understanding of our earliest Christian documents has been generally overlooked. About the Publisher Forgotten Books publishes hundreds of thousands of rare and classic books. Find more at www.forgottenbooks.com This book is a reproduction of an important historical work. Forgotten Books uses state-of-the-art technology to digitally reconstruct the work, preserving the original format whilst repairing imperfections present in the aged copy. In rare cases, an imperfection in the original, such as a blemish or missing page, may be replicated in our edition. We do, however, repair the vast majority of imperfections successfully; any imperfections that remain are intentionally left to preserve the state of such historical works.
Sklep: Libristo.pl 75,17 zł
Książki / Literatura obcojęzyczna
You can live a deeper, more spiritual life right where you are. The heart of Christianity is transformation-a relationship with God that impacts not just our spiritual lives but every aspect of our daily lives. John Ortberg calls readers back to the dynamic heartbeat of Christianity-God's power to bring change and growth-and reveals how and why transformation takes place. The Life You've Always Wanted offers modern perspectives on the ancient path of the spiritual disciplines. But it is more than just a book about things to do to be a good Christian. It's a road map toward true transformation that starts not with the individual but with the person at the journey's end-Jesus Christ. As with a marathon runner, the secret to finishing a race lies not in trying harder, but in training consistently-training with the spiritual disciplines. The disciplines are neither taskmasters nor ends in themselves. Rather they are exercises that build strength and endurance for the road of growth. The fruit of the Spirit-joy, peace, kindness, etc.-are the signposts along the way. Paved with humor and sparkling anecdotes, The Life You've Always Wanted is an encouraging and challenging approach to a Christian life that's worth living-a life on the edge that fills an ordinary world with new meaning, hope, change, and joy.
Sklep: Libristo.pl 70,52 zł
Książki / Literatura obcojęzyczna
Unfortunately, in today's world many people fail to experience the freedom and healing power of God's grace. Even Christians too often experience judgment rather than the love that is the vital essence of Christian life. A visionary guide in the spirit of Celebration of Discipline, "Embracing the Love of God" calls Christians back to the basics - to understanding the promise of God's love to transform our most important relationships and fulfill our deepest spiritual needs.Here James Bryan Smith launches readers on a revitalizing spiritual journey. He distills the basic principles of Christian love and provides a new model for relationship with God, self, and others that is based not on fear and judgment, but rather on acceptance and care. Smith's moving insights illuminate the gentle nature of God's love and teach readers how to continue on the path of love by embracing it day by day. For both new Christians and those desiring renewal, "Embracing the Love of God" offers hope, peace, and guidance for spiritual growth.
Sklep: Libristo.pl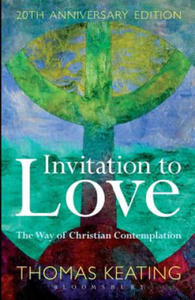 83,03 zł
Książki / Literatura obcojęzyczna
Invitation to Love provides a road map for the journey that begins when Centering Prayer is seriously undertaken. Pointing to some of the recognizable landmarks on this journey, as well as to its ultimate destination, Father Keating addresses common questions regarding contemplative practice: How will it affect my life? Where does it lead us spiritually? What obstacles will I encounter along the way? How does it work? Following on from Open Mind, Open Heart, this book establishes a dialogue between the insights of contemporary psychology and the classic Christian spiritual masters, providing a solid conceptual background for the practice of Centering Prayer. This is a practical book, articulating the stages of the process of spiritual growth, and outlining how we might develop a deeper relationship with God and move from contemplation to action.
Sklep: Libristo.pl 112,52 zł
Książki / Literatura obcojęzyczna
" Journey with a Boomer couple accepting the mission of caring for one parent with dementia, only to end up with two parents with dementia, mixed with a healthy blend of OCD, paranoia, and Parkinson's. The intense darkness of such a dynamic at times also makes for a releasing humor. Poignant stories tell the tales, while the focus remains on how, when the Teacher designs the syllabus, the classroom experience will reach the heart. Over 30 humbling lessons (most in hindsight) about mission, mercy, faith, fatigue, keys and cars, time, toothpaste, amazement, awe, earthsuits, and more are set into an eternal perspective. What was the most humbling lesson of all? Come along with Rick and Martha and discover the most important one for yourself. Aging certainly has its problems. We lose lots of things like teeth, sight, hearing, knees, hips, and sleep to name a few. However, the costliest loss of all is our memory. Caregivers and family members must take the time to read 'When Camels Slide Down Doors...' It will come to be your manual, your friend, your source of inspiration and encouragement. Your relationship with God and each family member will be enriched. DR. HANS E. JOSEPHSEN, DMin, ThD, PhD. Christian Counselor The Traders' seven-year journey through the many stages of caring for their elderly parents and their passage through dementia is a lesson in life, love, and faith. The narrative of Ann and Winston's story rivals the tellings of Philip Roth. When you infuse such a heartfelt tale with scriptural passages and the calling to ministry that Rick and Martha embody, you are presented with a rare and unique book that will change the way you view the challenges life presents. I heartily endorse 'When Camels Slide Down Doors...' MICHAEL J READINGER, President & CEO, The Council for Health & Human Service Ministries, United Church of Christ True to life, 'When Camels Slide Down Doors...' recounts the creative ways the authors overcame barriers without losing heart, their senses of humor, and most of all their faith in God. This excellent story will prepare readers for the progression through the disease process, as well as the spiritual growth that it fosters in those who care for these loved ones. DR. NINA BEAMAN, EdD, MSN, RN, Dean of Nursing, Author As a professional who trains chaplains, therapists, and caregivers, I enjoyed reading 'Camels...' It is a delightful, at times emotional, personal read which will leave you laughing, sometimes on the edge of tears, and always ready to turn the page. DR. DOUG DICKENS, Professor of Pastoral Care and Counseling, Gardner-Webb University/School of Divinity "
Sklep: Libristo.pl 52,57 zł
Książki / Literatura obcojęzyczna
This vivid and varied collection of stories with a spiritual message is gathered together by Margaret Silf from a wide range of time periods and cultures around the world. Stories can be a powerful means of communication; each of these stories has at its heart a spiritual message that reflects Christian values, which means that they can be read at different levels. They are ideal for personal use and enjoyment, and will also be a valuable resource for church leaders and school teachers. The book is divided into 8 thematic sections: The Created Universe; Human Relationships; Rites of Passage; A World in Pieces; Suffering, Healing, Growth; The Journey to the True Self; The Road to Transformation; and The Dream Fulfilled.
Sklep: Libristo.pl
Sklepy zlokalizowane w miastach: Warszawa, Kraków, Łódź, Wrocław, Poznań, Gdańsk, Szczecin, Bydgoszcz, Lublin, Katowice
Szukaj w sklepach lub całym serwisie
2. Szukaj na wszystkich stronach serwisu
t1=0.044, t2=0, t3=0, t4=0, t=0.045