krainaksiazek on the use of philosophy three essays 20106973
- znaleziono 5 produktów w 2 sklepach 45,80 zł
Nauki humanistyczne
Alain de Botton, best-selling author of How Proust can Change Your Life, has set six of the finest minds in the history of philosophy to work on the problems of everyday life. Here then are Socrates, Epicurus, Seneca, Montaigne, Schopenhauer and Nietzsche on some of the things that bother us all; lack of money, the pain of love, inadequacy, anxiety, the fear of failure and the pressure to conform.
Sklep: Albertus.pl 250,72 zł
Książki / Literatura obcojęzyczna
Michael Eisner, Jack Welch, Henry Ford, Andrew Carnegie- imagine that you could consult at will with the world's greatest business managers, past and present, whenever you were faced with a crucial management decision. The Book of Management Wisdom lets you do just that. This unique resource offers insight into how these and scores of other legendary business managers have triumphed over the conflicts, challenges, and dilemmas that come with the territory. Never before have the deepest insights of such a large and diverse group of brilliant managers been collected into a single informative and inspiring volume. The Book of Management Wisdom brings together the essays and speeches of more than fifty of the most successful business managers of all time and presents their ideas, tips, and management secrets in their own words. Drawing on their personal experiences, these world-class managers offer a range of practical advice, case studies, humorous anecdotes, and management philosophy. You'll hear from Sam Walton on creating a corporate culture, Lee Iacocca on his famous skip meetings, and Michael Dell on his "campaign of internal evangelism." Klaus Luft details what American CEOs can learn from German management; Harold Geneen describes the essential qualities of great managers; and Thomas Watson weighs in on what growth and change have taught us. These are just a few of the major figures who reveal fascinating details of their characters and personalities as they educate, enlighten, and entertain you with their often surprising views on the most compelling issues faced by managers in every corner of the business world. For easy reference, these essays and speeches are organized into eight categories, each of which highlights a certain set of management tools and techniques and how to use them. These include essential qualities of great managers; productivity, empowerment, and conflict management; hiring, firing, and day-to-day management; the power of technology; lessons from around the world; evolution of the organization; bashing bureaucracy; and reengineering and transformation. Each essay is preceded by a brief introduction that places it in historical perspective and offers interesting and insightful information about the author's life and career. Highlighted passages call your attention to each author's most pithy, profound, or quirky ideas. Offering timeless wisdom and practical advice from the most successful business managers ever, The Book of Management Wisdom is must reading for managers at every level, from the junior executive cubicle to the presidential suite. Praise for The Book of Management Wisdom "This book is worth referring to time and again for enduring truths that transcend the turbulence of the business landscape." -Warren Bennis, Distinguished Professor of Business Administration, University of Southern California,and coauthor, Co-Leaders: The Power of Great Partnerships Pearls from The Book of Management Wisdom "Dealing with conflicts lies at the heart of managing any business. As a result, confrontation facing issues about which there is disagreement can be avoided only at the manager's peril."-Andrew S. Grove "Never hire your friends. I have made this mistake three times and had to fire all three. They are no longer my friends."-David Ogilvy "It's absolutely essential to let your people express themselves. And that means letting them make mistakes. You've got to allow them to walk into your office and say, 'Boss, I blew it.' That's called growing."-Lee Iacocca "For us, the issue wasn't whether people would waste time on the Internet, but whether they would use the Internet enough. Not to become completely familiar with a transformative business tool like the Internet is just foolish-especially when it's an integral part of your company's strategy and competitive advantage."- Michael Dell "A society which values MBAs, lawyers, and financial wizards over engineers and product planners is moving in the wrong direction."-Akio Morita
Sklep: Libristo.pl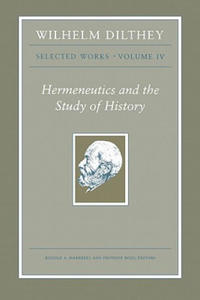 273,74 zł
Książki / Literatura obcojęzyczna
The philosopher and historian of culture Wilhelm Dilthey (1833-1911) has had a significant and continuing influence on twentieth-century Continental philosophy and in a broad range of scholarly disciplines. This volume is the third to be published in Princeton University Press's projected six-volume series of his most important works. Part One makes available three of his works on hermeneutics and its history: "Schleiermacher's Hermeneutical System in Relation to Earlier Protestant Hermeneutics" (The Prize Essay of 1860); "On Understanding and Hermeneutics" (1867-68), based on student lecture notes, and the "The Rise of Hermeneutics" (1900), which traces the history of hermeneutics back to Hellenistic Greece. All the addenda to this well-known essay are translated here, some for the first time. In them Dilthey articulates three philosophical aporias concerning hermeneutics and projects an ultimate convergence between understanding and explanation. Part Two provides translations of review essays by Dilthey on Buckle's use of statistical history and on Burckhardt's cultural history; an essay "Friedrich Schlosser and the Problem of Universal History;" and a talk recalling his early years as a student of Boeckh, Jakob Grimm, Mommsen, Ranke, and Ritter. It also contains the important historical essay "The Eighteenth Century and the Historical World," in which Dilthey reexamines the Enlightenment to show its significant contributions to the rise of historical consciousness.
Sklep: Libristo.pl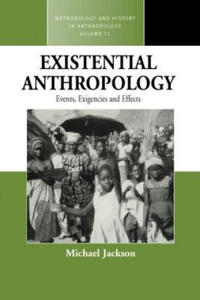 136,63 zł
Książki / Literatura obcojęzyczna
".what is truly worthwhile in this loose grouping of essays is the ethnographic examples. Powerfully presented, beautifully written (the final three pages of the book offer poignantly evocative description of ethnography as a way of living) and loaded with telling detail." * Arthur Kleinman in the JRAI Inspired by existential thought, but using ethnographic methods, Jackson explores a variety of compelling topics, including 9/11, episodes from the war in Sierra Leone and its aftermath, the marginalization of indigenous Australians, the application of new technologies, mundane forms of ritualization, the magical use of language, the sociality of violence, the prose of suffering, and the discourse of human rights. Throughout this compelling work, Jackson demonstrates that existentialism, far from being a philosophy of individual being, enables us to explore issues of social existence and coexistence in new ways, and to theorise events as the sites of a dynamic interplay between the finite possibilities of the situations in which human beings find themselves and the capacities they yet possess for creating viable forms of social life. Michael Jackson is a graduate of the Universities of Auckland (New Zealand and Cambridge (UK), and has, for many years, carried out ethnographic fieldwork in Sierra Leone and Aboriginal Australia. The author of numerous books of anthropology, including the prize-winning Paths Toward a Clearing and At Home in the World, he has also published five books of poetry and two novels. Michael Jackson has taught in his native New Zealand, Australia, the United States, and Denmark, where he is presently Professor of Anthropology at the University of Copenhagen.
Sklep: Libristo.pl 309,78 zł
Książki / Literatura obcojęzyczna
Artists and master glassblowers of international repute, Philip Baldwin and Monica Guggisberg have explored all the techniques associated with glass production to develop their own captivating style made up of shapes and colours, drawing out the very essence of light and turning it into form. Their experiments have produced extraordinarily effective combinations, such as a Scandinavian-inspired glass coated with layers of fire-blown and coloured material decorated using a cold-engraved process ofVenetian origin known as bottuto. The legacy of three decades of work is a large spectrum of creations ranging from tableware to installations of a sculptural and even monumental nature.Vases decorated with vaguely geo-metric abstract patterns, spheres arranged into mobiles or forming extravagant installations, clus-ters of sentries and guards celebrating the elasticity of matter: all works that capture our gaze with the magnetism of their poetic power Tucked away among these highly original works is a special category of pieces: boats, loaded with amphorae and objects culled from memory, evok-ing the migrations and the cultural stepping stones which mankind has left behind over the ages; a manna which posterity can appropriate and use to create a fresh page of history. Passionate about every facet of their art, Philip Baldwin and Monica Guggisberg have also made their mark in the design world, creating models for illustrious firms, such as Venini, Rosenthal and Steuben. Published in collaboration with the Ariana Museum, Swiss Museum of Ceramics and Glass, this book displays the present creations of Philip Baldwin and Monica Guggisberg, while offering a lavishly illustrated overall view of their prolific production. Five critical essays provide different viewpoints on how this exceptional pair of artists approach their work and offers insights into their way of life and the philosophy guiding them ever forward; indeed, beyond glass.
Sklep: Libristo.pl
Sklepy zlokalizowane w miastach: Warszawa, Kraków, Łódź, Wrocław, Poznań, Gdańsk, Szczecin, Bydgoszcz, Lublin, Katowice
Szukaj w sklepach lub całym serwisie
2. Szukaj na wszystkich stronach serwisu
t1=0.031, t2=0, t3=0, t4=0.019, t=0.032