krainaksiazek on the use of philosophy three essays 20106973
- znaleziono 8 produktów w 2 sklepach 45,80 zł
Nauki humanistyczne
Alain de Botton, best-selling author of How Proust can Change Your Life, has set six of the finest minds in the history of philosophy to work on the problems of everyday life. Here then are Socrates, Epicurus, Seneca, Montaigne, Schopenhauer and Nietzsche on some of the things that bother us all; lack of money, the pain of love, inadequacy, anxiety, the fear of failure and the pressure to conform.
Sklep: Albertus.pl 517,04 zł
Książki / Literatura obcojęzyczna
This anthology of essays presents a sample of studies from recent philosophy of medicine addressing issues which attempt to answer very general (interdependent) questions: (a) what is a disease and what is health? (b) How do we (causally) explain diseases? (c) And how do we distinguish diseases, i.e. define classes of diseases and recognize that an instance X of disease belongs to a given class B? (d) How do we assess and chose cure/ therapy?§The book is divided into three sections: classification, disease, and evidence. In general, attention is focused on statistics in medicine and epidemiology, issues in psychiatry, and connecting medicine with evolutionary biology and genetics. Many authors position the theories that they address within their historical contexts.§The nature of health and disease will be addressed in several essays that also touch upon very general questions about the definition of medicine and its status. Several chapters scrutinize classification because of its centrality within philosophical problems raised by medicine and its core position in the philosophical questioning of psychiatry. Specificities of medical explanation have recently come under a new light, particularly because of the rise of statistical methods, and several chapters investigate these methods in specific contexts such as epidemiology or meta-analysis of random testing. Taken together this collection addresses the question of how we gather, use and assess evidence for various medical theories.§The rich assortment of disciplines featured also includes epidemiology, parasitology, and public health, while technical aspects such as the application of game theory to medical research and the misuse of the DSM in forensic psychiatry are also given an airing. The book addresses more than the construction of medical knowledge, however, adding cogent appraisal of the processes of decision making in medicine and the protocols used to justify therapeutic choices.§
Sklep: Libristo.pl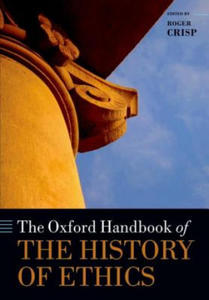 159,90 zł
Książki / Literatura obcojęzyczna
Philosophical ethics consists in the human endeavour to answer rationally the fundamental question of how we should live. The Oxford Handbook of the History of Ethics explores the history of philosophical ethics in the western tradition from Homer until the present day. It provides a broad overview of the views of many of the main thinkers, schools, and periods, and includes in addition essays on topics such as autonomy and impartiality. The authors are international leaders in their field, and use their expertise and specialist knowledge to illuminate the relevance of their work to discussions in contemporary ethics. The essays are specially written for this volume, and in each case introduce the reader to the main lines of interpretation and criticism that have arisen in the professional history of philosophy over the past two or three decades.
Sklep: Libristo.pl 383,52 zł
Książki / Literatura obcojęzyczna
Ethics: History, Theory, and Contemporary Issues, Sixth Edition, features fifty-nine selections organized into three parts, providing instructors with great flexibility in designing and teaching a variety of courses in moral philosophy. Spanning 2,500 years of ethical theory, the first part, Historical Sources, ranges from ancient Greece to the twentieth century and now includes the complete text of John Dewey's Theory of Valuation. The second part, Modern Ethical Theory, includes many of the most important essays of the past century. The discussion of varieties of normative ethics continues in the work of major contemporary philosophers, while landmark selections reflect concern with moral language and the justification of morality. In the third part, Contemporary Moral Problems, the readings present the current debates over abortion, euthanasia, famine relief, environmentalism, and the use of torture in interrogations, as well as essays on the trolley problem, death, and the meaning of life. One-third of the selections are authored by women. Wherever possible, each reading is printed in its entirety. The sixth edition adds study questions after each reading in order to help students delve more deeply into each work and also features eight new selections and expanded introductions. A password-protected Instructor's Manual is available on the book's Ancillary Resource Center.
Sklep: Libristo.pl 793,74 zł
Książki / Literatura obcojęzyczna
Dr Gregory Chaitin, one of the world's leading mathematicians, is best known for his discovery of the remarkable number, a concrete example of irreducible complexity in pure mathematics which shows that mathematics is infinitely complex. In this volume, Chaitin discusses the evolution of these ideas, tracing them back to Leibniz and Borel as well as Godel and Turing. This book contains 23 non-technical papers by Chaitin, his favorite tutorial and survey papers, including Chaitin's three Scientific American articles. These essays summarize a lifetime effort to use the notion of program-size complexity or algorithmic information content in order to shed further light on the fundamental work of Godel and Turing on the limits of mathematical methods, both in logic and in computation.Chaitin argues here that his information-theoretic approach to metamathematics suggests a quasi-empirical view of mathematics that emphasizes the similarities rather than the differences between mathematics and physics. He also develops his own brand of digital philosophy, which views the entire universe as a giant computation, and speculates that perhaps everything is discrete software, everything is 0's and 1's. Chaitin's fundamental mathematical work will be of interest to philosophers concerned with the limits of knowledge and to physicists interested in the nature of complexity.
Sklep: Libristo.pl 243,45 zł
Książki / Literatura obcojęzyczna
Sanjay Patil's tryst with architecture began in his early childhood as he soaked up the environs that surrounded him in his birthplace, Nashik. Moving on to formal education in architecture at the Sir JJ College of Architecture in Mumbai, Sanjay returned to his hometown in 1981 to immerse himself into a meaningful and sensitive architectural practice. Over the years, Sanjay Patil has received many honours from the industry and his projects have been widely published in architectural journals. His greatest reward however continues to be the appreciation and support of his numerous clients who have played a vital role in his approach to architecture. His workspace
Sklep: Libristo.pl 273,92 zł
Książki / Literatura obcojęzyczna
This book is a kaleidoscope of the diverse literary and journalistic efforts of two Austrian-born friends who use the joint pen name of
Sklep: Libristo.pl 139,09 zł
Książki / Literatura obcojęzyczna
New technologies continue to shape communication and how we think about and relate to the world around us. What is rarely examined is how these new media relate to morals and ethics in society and culture. In a series of twelve essays, written from a variety of viewpoints including philosophy, communication, media and art, and situating its arguments around the three poles of technology, community, and religion, this collection examines the relationship between morals and ethics and new media, ranging from the ways in which new communication technologies are employed to their effects on the messages communicated and those who use them.
Sklep: Libristo.pl
Sklepy zlokalizowane w miastach: Warszawa, Kraków, Łódź, Wrocław, Poznań, Gdańsk, Szczecin, Bydgoszcz, Lublin, Katowice
Szukaj w sklepach lub całym serwisie
2. Szukaj na wszystkich stronach serwisu
t1=0.047, t2=0, t3=0, t4=0, t=0.047