krainaksiazek one and only salads 20052487
- znaleziono 11 produktów w 1 sklepie 35,28 zł
Książki / Literatura obcojęzyczna
Increasing numbers of people are cutting down on meat; possibly going meat-free one or two days a week as they become aware of environmental, health and animal welfare issues. Others go all the way and become full-time vegetarians. Whatever you prefer personally there is heaps of inspiration in this funky-looking, inventive new vegetarian cookbook. The recipes are a combination of the traditional, exotic and Mediterranean. The book includes more than 100 recipes for everyday meals as well as for entertaining and is suitable for beginners as well as established vegetarians. It also includes an introduction on how to obtain the right combination of ingredients to ensure balanced, healthy nutrition. Vitally Vegetarian is a cookbook for the 21st century. So much has changed since the first vegetarian cookbooks started appearing about 40 years ago. Not only is there a much wider range of appealing ingredients to choose from today but also recipes, cooking and tastes have all been completely revolutionized. Perhaps the biggest change is the starting point that vegetarian food should above all taste good. And so in this creative collection there are recipes for tapas, wraps, salads, sauces, salsas, hot dishes using rice, quinoa, noodles and potatoes, bean stews, curries, soups, sandwiches and packed lunches, breads, porridges and mueslis and puddings. This is quite simply a fantastic book with stunning photographs which will appeal to all- vegetarians as well as meat-eaters, both adults and children. Tina Scheftelowitz is a highly successful cookery writer and food columnist. She is the author and co-author of a number of best-selling cookbooks including Best Salads Ever also published by Grub Street.
Sklep: Libristo.pl 64,46 zł
Sushi Slim QUADRILLE PUBLISHING
Książki / Literatura obcojęzyczna
Have you ever wondered why Japanese women stay so slim? Research shows that the Japanese diet is one of the healthiest in the world: balanced, slimming, and packed with superfoods. Japanese girls learn about food from their mothers: what to eat to make your hair shine, your skin glow, to get rid of wrinkles, to make your nails strong and healthy. But above all, how to stay slim ...Japanese women practise 'virtuous indulgence': they don't deny themselves foods that they love, but they only eat them in very small quantities - lots of little plates rather than one big one - and only healthy snacks in between. They count calories obsessively and know which dishes will provide all their nutritional - and beauty - needs, with the minimum of fuss. Now you, too, can benefit from their wisdom. In Sushi Slim, using the latest scientific research, Makiko shows how eating Japanese food can help you get slim and stay slim. Once you begin to eat this way you'll feel the kilos drop away, plus all the recipes are calorie counted to help you maintain your perfect weight. Sushi is light, fun, supremely tasty and extraordinarily healthy, and with Makiko's foolproof directions you'll have no trouble putting together the pretty, delicious dishes. Also included are soups and refreshing salads. Eat California Rolls for the hair-glossing benefits of black sesame, or try the fabulously covetable Collagen Soup for a lunchhour facelift. And you don't have to give up your diet at work. Makiko's tips will have you packing a bento box of healthy delights straight from your freezer, which will be perfectly ready in time for lunch.
Sklep: Libristo.pl 74,18 zł
Książki / Literatura obcojęzyczna
A gluten-free diet is one of the most challenging diets to adopt and follow, but the effort is worth it! Since there is no medication for celiac disease (gluten intolerance), the only way to manage it is to follow a completely gluten-free diet. Celiacs who follow a gluten-free diet often suddenly feel better and, for the first time in years, are able to not only reconnect with food but to actually enjoy it. This outstanding dietary guide provides comprehensive information on: Celiac disease basics, from what causes celiac disease to how it is diagnosed to what effect the disease has on an individual's quality of life Managing celiac disease, including dietary therapies, food guides, specific foods to avoid, foods to enjoy, nutritional supplements and living with celiac disease Gluten-free meal plans, including a 30-day meal plan that provides an entire month of meals and snacks in an easy-to-understand format Healthy gluten-free recipes, including breakfasts, breads and muffins, soups, salads, pasta, meat, poultry, vegetarian and vegan entrees and desserts Informative and easy to understand, "Complete Gluten-Free Diet & Nutrition Guide" provides dietary and nutritional guidelines along with 100 tantalizing recipes that can be enjoyed by everyone, not just those who are trying to manage celiac disease.
Sklep: Libristo.pl 84,08 zł
Książki / Literatura obcojęzyczna
When is a rice cooker not only a rice cooker? When it becomes one of the most versatile and useful tools in any contemporary cook's kitchen. Of course we all know that you can make perfect rice in a rice cooker, but did you know that whole grains and beans are also perfectly suited to this appliance? These wonderful recipes - created specifically to be used in a rice cooker - are inspired by flavours from around the corner and around the world. Virtually every type of meal can be prepared in a rice cooker, from appetizers, soups and salads to main dishes, one pot meals and side dishes. Home cooks in the mood for a hearty stew, paella, a heavenly risotto or some authentic homemade dim sum need look no further than their rice cooker and these recipes for perfect results every time. The delicious and time-saving recipes, perfect for the busy working family and experienced gourmet cooks alike, include: - Arroz con pollo. - Italian sausage and portobello mushroom risotto. - Grits jambalaya. - Roasted corn and quinoa salad. - Chocolate banana oatmeal. - Pancetta and pea risotto. - Caribbean pilaf with red quinoa. - Barley cioppino. - White chipotle turkey chilli. - Black-eyed pea, turkey and Swiss chard stew. - Lemony risotto with shrimp. The author also includes valuable information on rice cooker features, the background and descriptions of rice, beans and grains as well as cooking time charts for perfecting rice, beans and grains in a rice cooker. Packed with great meal ideas, easy-to-master techniques and wonderful serving suggestions, chef Katie Chin has created a book every home cook will use over and over again.
Sklep: Libristo.pl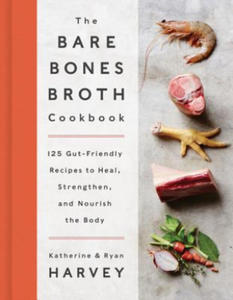 99,24 zł
Książki / Literatura obcojęzyczna
From the founders of Bare Bones Broth Company, 125 delicious recipes for making and cooking with the latest food trend that's taking the culinary and wellness communities by storm: bone broth. Bone broth is one of mankind's oldest foods-and healthiest, boasting one of the most complete nutritional profiles of any food on earth. The collagen, bone, skin, marrow, and fat that is extracted when animal bones simmer in water for hours (or days) are the building blocks of life, containing proteins that help to combat inflammation; boost immunity; strengthen bones; improve hair, skin, and nails; and help a host of digestive issues by promoting optimum gut health. In The Bare Bones Broth Cookbook, Kate and Ryan Harvey, founders of the artisanal broth manufacturer, Bare Bones Broth Co., show readers how simple, inexpensive, and delicious it is to make their own nutrient-rich broth at home. With foolproof directions for slow-cooking your own broth and more than 100 inventive ideas for incorporating it into everyday meals in delicious new ways, The Bare Bones Broth Cookbook includes: * 10 signature broth recipes, from beef and chicken to fish and vegetable recipes * Soups and stews such as Coconut Chicken Curry and a Classic Pho * Eggs and breakfast, including a Root Veggie Hash and Paleo Eggs Benedict * Meat and seafood entrees, from Pan-Roasted Fish Tacos to Lamb Apple Mint Burgers * Sides and salads, such as the Braised Baby Beet Salad with Kale or Glazed Plantain Fries * Sauces and spreads, including Chimichurri sauce, bacon jam, and cilantro salsa Discover the amazing health benefits of bone broth-the power of delicious food is only a stockpot away with The Bare Bones Broth Cookbook.
Sklep: Libristo.pl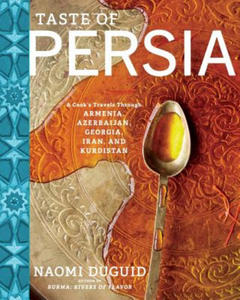 160,07 zł
Książki / Literatura obcojęzyczna
Following up on Burma, her stunningly well-received exploration of another fascinating cultural crossroads, Duguid introduces us to the next place we want to visit with recipes for food we can't wait to make, and with tales that are memorable and moving. In the way that the Mediterranean has a common palate, so too do these nations: one centered on a love for the fresh and the green (beginning with the piles of fresh herbs that accompany every dish with abandon) and also the tart, as revealed in the ingenious use of sour plums, sour cherries, pomegranates, and limes. There are the delectable filled dumplings, flatbreads, and stuffed vegetables; plus gorgeous Persian rice dishes, grilled meats, and skewered kebabs. There are fresh cheeses, sparkly salads, spice blends, and spectacular sauces based on walnuts ground to a paste.Taste of Persia is an adventure of discovery--not only of a fascinating region, rich with history and variety, but of a wealth of culinary traditions and innovations as well.
Sklep: Libristo.pl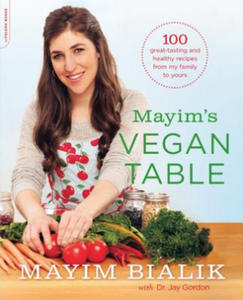 73,52 zł
Książki / Literatura obcojęzyczna
While she's an actress with a PhD in neuroscience, at the end of the day Mayim Bialik is a mom, one who knows what it's like to be a busy parent with little time to spend in the kitchen. She shares the concerns of parents everywhere: when it comes to nutrition and feeding your family, you want healthy meals, but also food that everyone--kids and parents--can enjoy, and a balanced lifestyle that's inexpensive and fuss-free. Not only does Mayim's Vegan Table share more than 100 easy plant-based recipes for dishes that are as good to eat as they are good for you, but Mayim has also teamed up with pediatrician Jay Gordon to offer: * Basic nutritional information about a plant-based diet * The real deal on raising kids on a plant-based diet (myths and misperceptions, debunked) * Vegan family essentials (including a list of what to always keep in the pantry) * Tips and strategies for easy meal planning and healthy eating out And, of course, the food: you'll find recipes for Mayim's favorite breakfasts, snacks, lunches, dinners, and desserts, including kid-approved meals like build-your-own tacos and mac n cheez, Mediterranean and Asian-inspired salads that parents will love, comfort-food classics like kugel and matzoh ball soup, and many more.
Sklep: Libristo.pl 84,40 zł
Książki / Literatura obcojęzyczna
Following on from his bestselling cookbook The Guilt-Free Gourmet, chef Jordan Bourke is back in the kitchen dishing up more of his signature indulgent yet 'guilt free' food. Showcasing fresh and wholefood ingredients, Jordan's recipes offer vibrant, seasonal dishes that are made using naturally healthy alternatives to refined ingredients. The emphasis is on healthy everyday food for everyday people, using wholesome alternatives to refined ingredients, rather than ruling out food groups entirely. The result is a mouth-watering collection of classical and globally-inspired recipes with an innovative healthy twist. These everyday dishes will have a broad appeal, from parents looking for new and healthy recipes to eat with their family, to the modern foodie, who is well travelled and places just as much importance on their health, as they do on taste. From abundant salads, using only the best seasonal produce, to sustainably caught fish and meat dishes using exotic herbs and spices inspired by Jordan's travels, and indulgent desserts that no one would ever believe are nutritious, this book aims to satisfy the ever-increasing demand for food that is not just beautiful to look at and delicious to eat, but good for you too.
Sklep: Libristo.pl 86,88 zł
Książki / Literatura obcojęzyczna
"This is an indispensable book for anyone who cares about good food, how to get it, and how to put it on the table." --Nancy Harmon Jenkins, The Mediterranean Diet Cookbook In The Good Cook's Book of Tomatoes, an installment in the expertly researched and newly updated culinary series of the Good Cook's Books, award-winning author Michele Anna Jordan brings her creative zeal to one of the most popular fruits on the market. An amazing reference for any cook's shelf, this book contains more than 150 recipes. For anyone who feels there's no such thing as too many tomatoes, this is the definitive book--the only one with recipes for beverages, appetizers, breads, soups, salads, sauces, and much more. Recipes include: Blood Mary, Bloody Maria, and Bloody Miracle Green Tomato and Onion Chutney Tomato and Crab Bisque Focaccia with Cherry Tomatoes Tomato and Polenta Tart with Basil Mayonnaise And more
Sklep: Libristo.pl 62,48 zł
Książki / Literatura obcojęzyczna
Raw Energy is the unique, health quality found only in fresh, uncooked foods. A high raw diet in which 50-75% of your foods are eaten raw can help you to lose weight, prevent colds and 'flu, and delay the ageing process. It can also help banish stress and fatigue, make you feel fitter and younger and give you a sense of vitality which you may not have experienced before. Energy Powerhouse brings together the power of Raw Energy and all the new research supporting its effectiveness with the latest scientific understanding about how to prevent degeneration, Syndrome X and restore optimal energy and joy to your life. Find out:--How to create quantum health for yourself and your family--Why powerful phytonutrients in a high-raw diet protect from ageing--How to use a high-raw diet to help your body heal itself--How to banish food cravings forever--How to create and equip a Raw Energy kitchen--How and where to shop for quantum energy foods and what to chooseAnd much, much more! With masses of delicious recipes for salads, dips, dressings, soups, main courses, breads, drinks and desserts, Energy Powerhouse demonstrates that a healthy diet need never be a dull one.
Sklep: Libristo.pl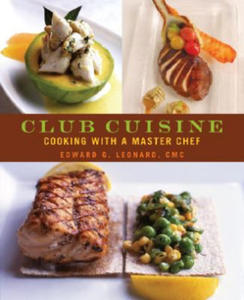 781,24 zł
Książki / Literatura obcojęzyczna
Recipes and cooking tips from the kitchen of one of the country's most exclusive clubs Club Cuisine is the new, stunningly visual cookbook featuring Certified Master Chef Edward Leonard's dynamic club fare. It presents more than 150 recipes that, until now, have typically only been enjoyed by privileged members of private clubs. Inside, you'll find helpful hints and insights to create these scrumptious dishes, as well as inspiring photographs by renowned photographer Ron Manville, who has worked extensively with the ACF Culinary Team USA and other top chefs. For serious chefs, Club Cuisine is a dream come true. Featured recipes include amuse-bouches, seafood, beef, and pasta dishes as well as delectable soups, salads, and sandwiches. Also included is a guest chef chapter featuring recipes from some of the top club chefs around the country that add to this impressive collection. Caterers and restaurant owners will also find complete seasonal menu items that have pleased distinguished diners at top private clubs. For everything from a simple nosh to a hearty but elegant meal, Club Cuisine is the cookbook to keep at your fingertips.
Sklep: Libristo.pl
Sklepy zlokalizowane w miastach: Warszawa, Kraków, Łódź, Wrocław, Poznań, Gdańsk, Szczecin, Bydgoszcz, Lublin, Katowice
Szukaj w sklepach lub całym serwisie
2. Szukaj na wszystkich stronach serwisu
t1=0.063, t2=0, t3=0, t4=0, t=0.063